What Is The Qiuue Back Shaver?
Something I have noticed with these cheap back shavers on Amazon the cheaper the product the longer the name. This isn't the first cheap back shaver I have reviewed and the Qiuue is a similar design of past back shavers I have reviewed. It is close in design but has a few different features.
Similar back shavers I have reviewed have been The Back Bro and The Ecosin Back Shaver and you can read my reviews by clicking the appropriate link.
What Is Included?
1 – Qiuue Shaving Handle
1 – Shaving head
1 – Small phillips screwdriver
1 – Pack of 5 double edge safety razors
1 – Set of instructions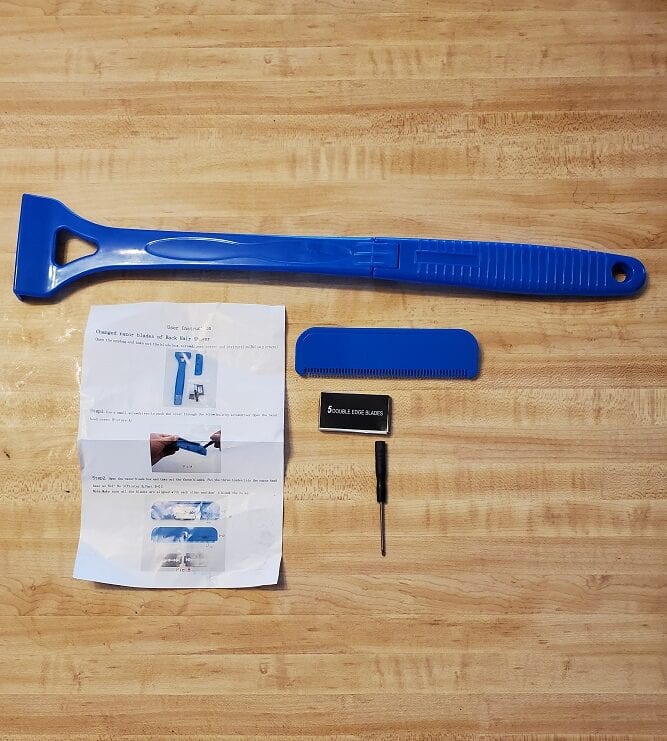 Qiuue Specs
The handle is 17 1/2″ inches long and 10 5/8″ inches long when folded up.
The shaving head is an even 5″ wide, which gives 4 1/2″ inches of razor blade width when the razors are installed. The shaving head takes three double-sided razors and stacks them side by side to get the 4 1/2″ inches wide. The shaving head also has small plastic teeth to guide hair before it is shaved off.
How Does It Perform?
This shaves pretty darn good considering how cheap this sucker is. The shaving head as far as shaving is considered obliterates back hair and it just falls to floor.
The slight problem I have is the handle should have a more pronounced curve to it as it is pretty straight. This would allow for an easier shaving experience.
Another issue that the better back shavers have been stepping away from is having three safety razors side by side and having just two safety razors side by side. This is due to the fact that three blades just don't cut at the same time despite you thinking it would on your back. Generally, this is not the case, and at most two blades are usually touching your back at any given time. Not three. So it makes sense to eliminate one of the razors.
Pros & Cons
Pros
This back shaver is pretty darn cheap. Click here to see how cheap Amazon Qiuue.
Handle folds in half for storage and travel.
The handle has a good length for back shaving 17 1/2 inches long.
Lanyard hole for attaching a lanyard or just hanging out of the way.
It shaves pretty decently and I would say it has a pretty aggressive cut to how the razor blades are positioned and how well they perform.
Cons
You have to use a physical tool (screwdriver) to change razor blades. Should have thumbscrews.
After all the back shavers I have reviewed I do not want to have to assemble anything with small parts or screws. Unacceptable!
Cheap handle material, not the best plastic.
Not enough bend in the handle to make shaving your back easier. This is relatively a pretty straight handle, with just a slight recurve in it.
No little brush to help clean out the shaving head of shaved hair.
Installing razors is a pain in the ass. After unscrewing the screws, I had a hell of a time trying to open the shaving head and install razors.
One screw stripped when just unscrewing it from the shaving head for the very first time. It had a bunch of plastic stuck on the end of the tiny screw.
Hair does seem to accumulate on the teeth and razor. If only there was a little brush to clean it out…
Some Tips On Using Qiuue Back Shaver
Since this Qiuue Back Shaver using disposable double-sided razors and there are only five included with this shaver, check out my guide to choosing safety razor blades here, Best Safety Razors For Shaving Your Back.
A similar designed back shaver going by a different name had the same handle design generally, and this similar back shaver handle broke easily with just a slight amount of top pressure. I can't recommend something that breaks that easy.
The Final Shave
Despite the cheap price and the pretty good shave it does gives I would not recommend it. Mainly, because of the issue of a similarly designed handle broke with such little effort I have zero confidence in this shaver.
If you are really hurting for money then go for it and upgrade when you can but for everybody else keep moving…
I would highly recommend any of the back shavers below in the Amazon section, these I have all tried and use and have come out with the highest rankings from me.