What Is The Electric Back Hair Shaver? (unnamed)
This product is without a name and without a manufacturer name as far as I can see, other than Model B3. Although this can be ubiquitously found throughout the web, either on Amazon or Aliexpress.
A Back Shaver With No Name?
This back shaver is the first one I have reviewed that uses standard AA batteries, at least it brings that to the table. To be honest with you I was expecting the worst with this back shaver, if someone doesn't care enough to come up with a name for it, is it really going to work that well?
My initial guess would be…Nope!
Common sense, right? Well, let us see…
What Is Included?
1 – Unnamed Electric Back Shaver (no batteries included)
1 – Small Brush
1 – Incomplete and short instruction booklet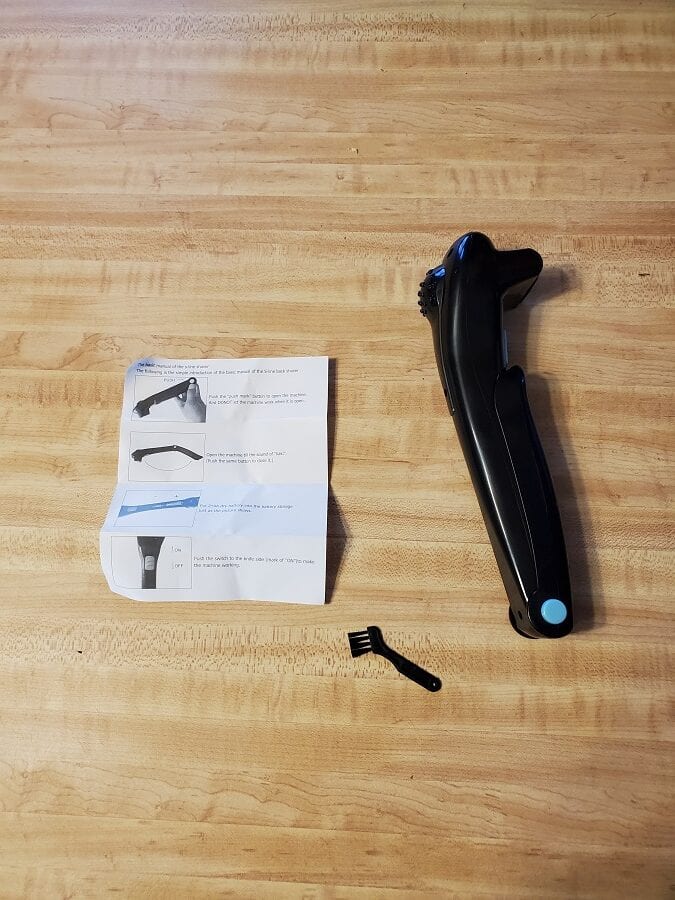 Generic Electric Specs
The shaving head comes in at a dismal 1 1/2″ wide. It has a typical foil shaver and two shear-like hair removal on the top and bottom of the foil shaver.
The handle is 14 1/2 inches long.
How It Performs? Worth Getting?
The handle is the bright spot in this shaver. Its adjustable angles and length are its highlights. The handle locks in multiple angles solidly, allowing you to reach every area on your back.
The shaving head just doesn't work effectively enough. With each pass, you can hear it cutting hair but when you look at the area you just shaved it looks like nothing happened. So you have to keep going over and over and over the area to leave it hair-free. My guess is the blades used to trim the long hairs are too small to get all the hair in one pass.
Just a piss poor design and not worth getting at all.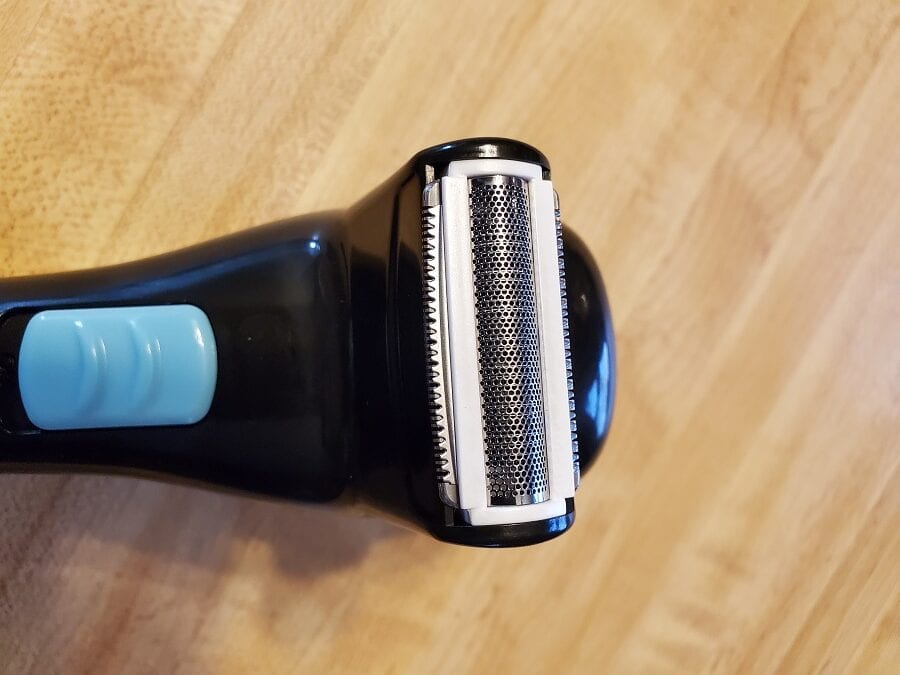 Pros & Cons
Pros
The blade head is fully removable and replaceable.
A foldable handle makes traveling and storage easy.
The handle has multiple angles that you can adjust and they stay in the locked position.
The handle is a nice length and has a decent amount of curve to it, this allows for reaching hard-to-reach spots on the back.
A small brush is included to clean the shaving head.
Cons
The instructions book is short and doesn't fully explain the device, like for example how to replace the blade head. I found this online.
No mention anywhere of where to buy a replaceable blade head. Another ding.
Not the most comfortable handle around, but not the worst either.
Small shaving head 1 1/2″ inches wide and you're going to have to shave your back with this? Not wide enough!
Not efficient! You have to go over an area multiple times and I do mean multiple times. Unacceptable.
Poor shaving head design. Doesn't shave or cut long hair well at all. Just horrible. I tried this on my leg as well it took like ten passes to get it to look like it had worked a little bit.
Has a weird nobby thing on the back behind the shaving head, back scratcher??? I don't know.
The shaving time would be insane and impractical as this nameless beast barely works at removing hair.
Baby blue accents on button and joint. This is ugly and cheap looking.
Some Tips On Using Back Shaver
Avoiding this is the best tip I have for this one!
Save your money.
Move along there is nothing to see here.
The Final Shave
Cheap Chinese junk comes right to the forefront of my mind. Avoid! Most of the blame can be put on the shaving head.
Why unemployed…because it doesn't really WORK, that's why. Just poorly designed and cheap junk for a shaving head as far as working and width as well. It is a truly frustrating time to get this to work and shave all the back hair completely. I gave up after 5 minutes, as there is little point in struggling this hard.
Just simply avoid this one!
If you are looking for an electric back shaver I highly recommend you take a look at the Mangroomer Lithium Max Plus Back Shaver Review. By far and away the best electric back shaver on the market. (pictured below)
Have you used this Electric Back Shaver? Let me know what you thought of it.