What Is The Smooth Reach Long Razor Extension Handle?
In this Smooth Reach Long Razor Extension Handle Review I will go over whether or not this would make a good back shaver. As it is marketed as a back shaver for men as well as leg hair removal for women or for people with limited mobility.
Let's get to it.
What Is Included?
1 – Smooth Reach Long Razor Extension Handle
1 – Set of instructions
Smooth Reach Specs
The base length of the Smooth Reach is 13.2 inches long and is 20.8 inches long when fully extended. This is fully adjustable between the two sizes 13.2 thru 20.8 by just holding the top part and twisting the bottom handle. This should be done without the razor attached.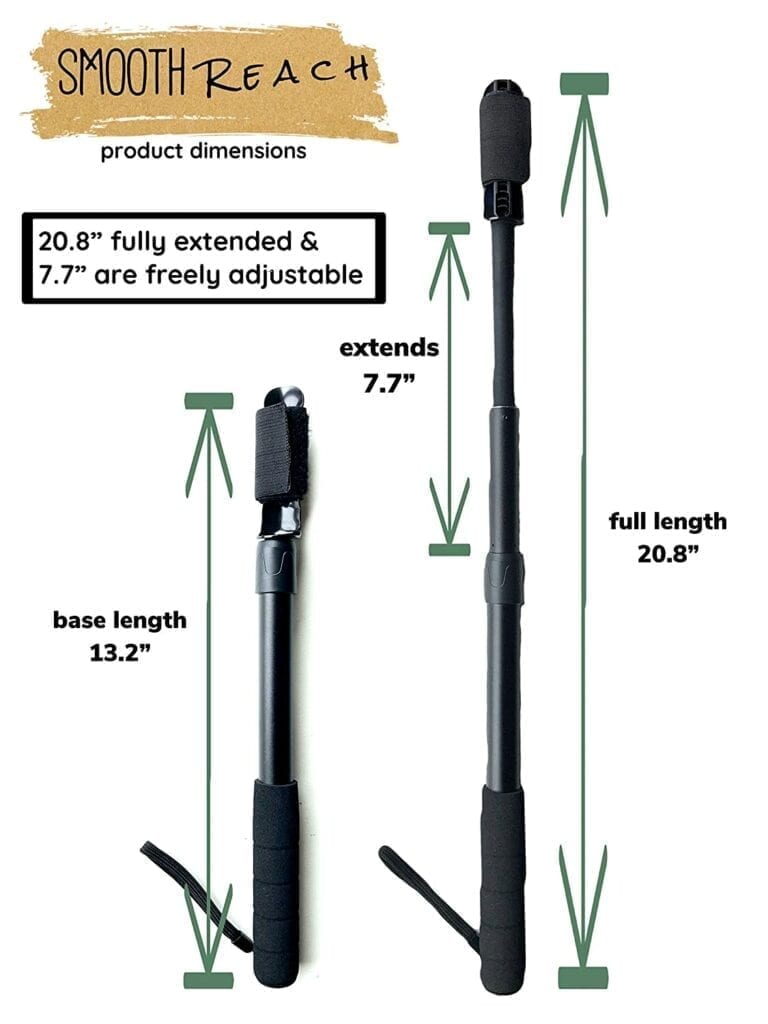 How Good Does It Perform?
Since I can not write about how well it shaves, as there are no razors sent with this product, and can talk about how well the handle and no-wobble razor holder work.
The handle is long enough for any task and is adjustable to many different angles. Holding the top while twisting the bottom handle locks the extendable arm into place. It is lightweight and has a foam handle. Attached to the bottom is a lanyard, which would be a life saver for people that would have a hard time picking it up if dropped.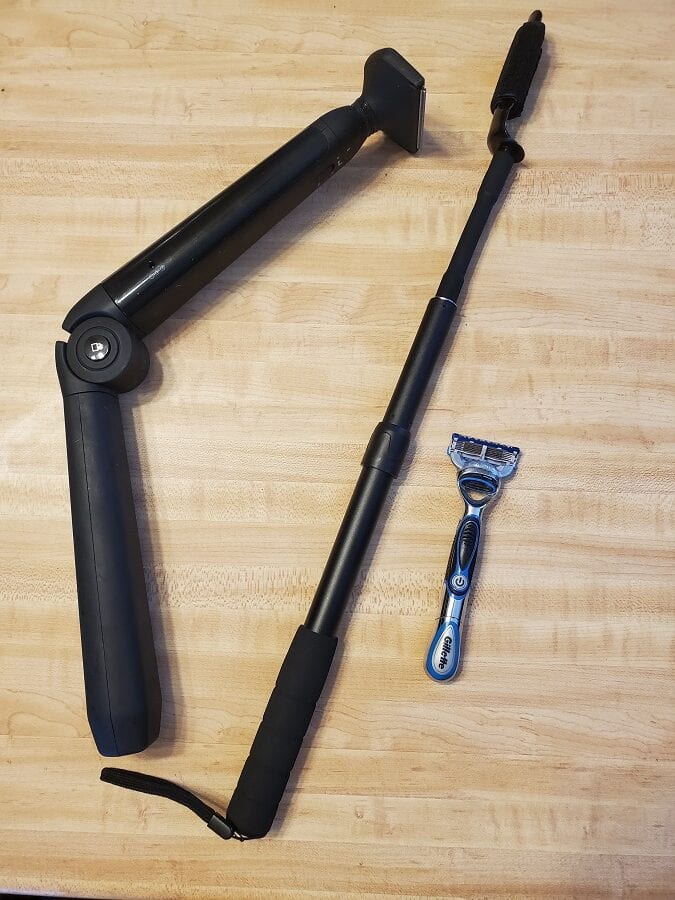 No-wobble razor holder is quite impressive because like the name states it does not move even a fraction of an inch when put on correctly.
With these feature I judge the Smooth Reach a good value and product. How it shaves will surely depend on the razor attached to the end.
Who Might Use This Device?
People that would use this for a back shaving these would be:
Pregnant Women
Disabled People with limited mobility
People recovering from surgeries.
People recovering from injuries.
Anybody, even people without a disability can find shaving various body parts easier with this device.
Pros & Cons
Pros
Love products that cater to the pregnant, disabled, or injured and that work. For leg shaving and such, this would work great!!!
Best used for leg shaving or other body parts unreachable for the physically impaired.
Always appreciate a set of instructions included with any product.
The handle is pretty flexible and adjustable to assist in shaving wherever.
The razor handle is firmly locked in place by wrapping the cloth/velcro around the handle. It just doesn't move when done right.
Lightweight and sturdy metal handle.
Lanyard attached to the bottom of the handle. This is a must for the disabled as it helps prevent dropping it on the floor.
Rubberized foam handle provides non-slip and comfortability.
Cons
This will shave a back hair but it won't do it efficiently, as you most likely will be using a beard or leg razor to shave your back. These types of razors were designed to shave a particular body part.
Using a beard shaver it will quickly get clogged with long hair.
Tips On Using the Smooth Reach Long Razor Extension Handle
If you want the widest blade possible for use in shaving your own back, I would recommend the Razorba GOAT Wide Disposable Double Razor.
I wrote a full in-depth review of it here, Razorba GOAT Wide Disposable Double Razor Review. Check it out.
The Final Shave
This holds a razor handle like a vice grip. It will not spin or turn when shaving. Kudos to the designer for this. The handle is comfortable and lightweight, as well as adjustable.
For these I give high marks.
I can not hate on this product even though it would not be a good back shaver because it provides the ability to shave a body part for the physically disabled. I know it works great for legs and what have you but backs…not so much. It would just take too long and the hair would constantly clog up the razor blades.
Skip it if your looking for a back shaver.
Get it if you are disabled or pregnant!
Take a look at my page Which Back Shaver is Right For Me? Different Back Shavers Explained. That way you can make a more informed decision before you purchase a back shaver.
If you have any questions about the Smooth Reach please feel free to ask them below. Thanks