What is The Remington BHT6455FF Back Shaver?
Remington is a big name in the shaving world. So, I am eager to give their version of a back shaver a whirl around the block.
This Remington groomer operates on a lithium battery to shave cordless either wet or dry. It can be used two ways, either attached to the curved handle or unattached and just holding the trimmer body in your hand for a more detailed approach.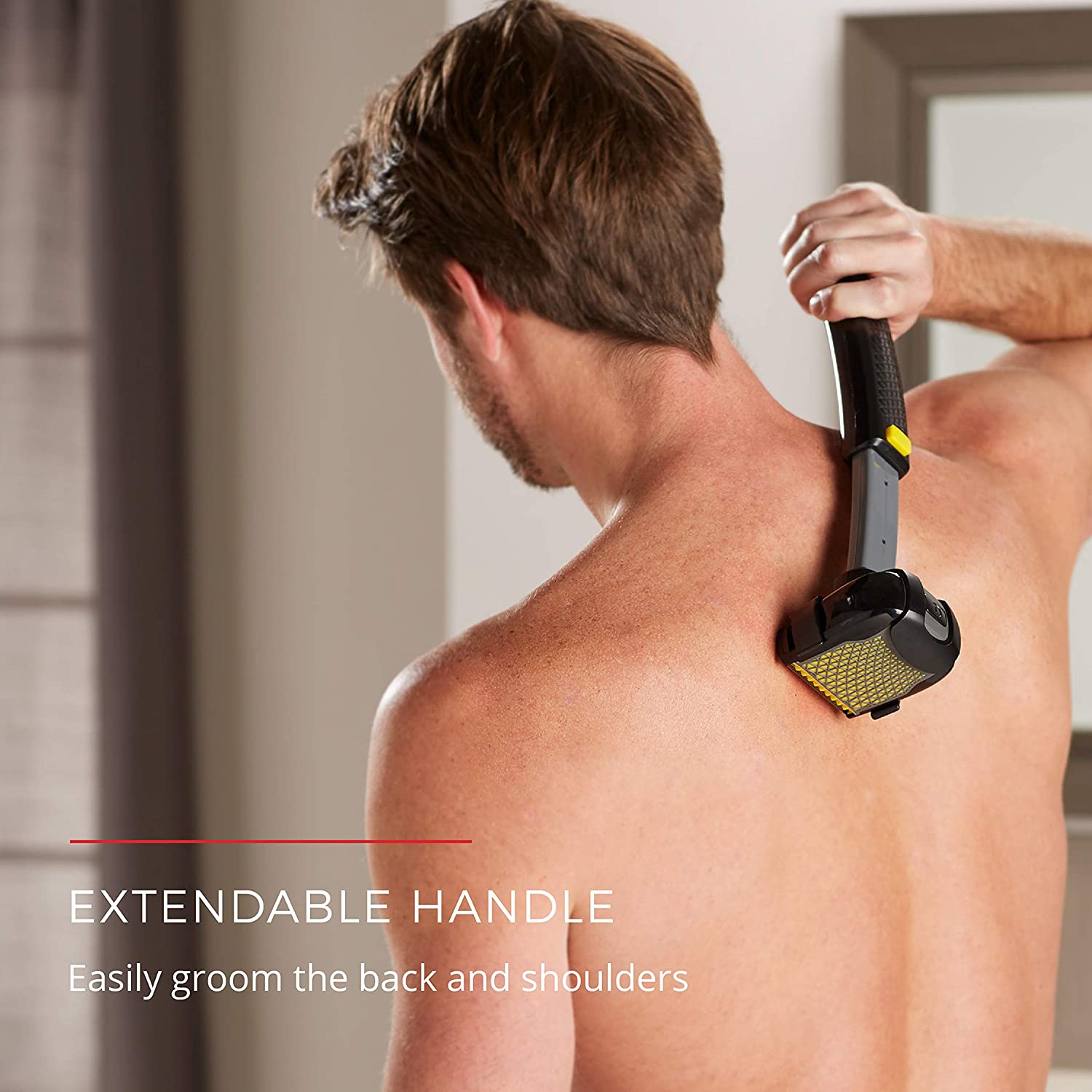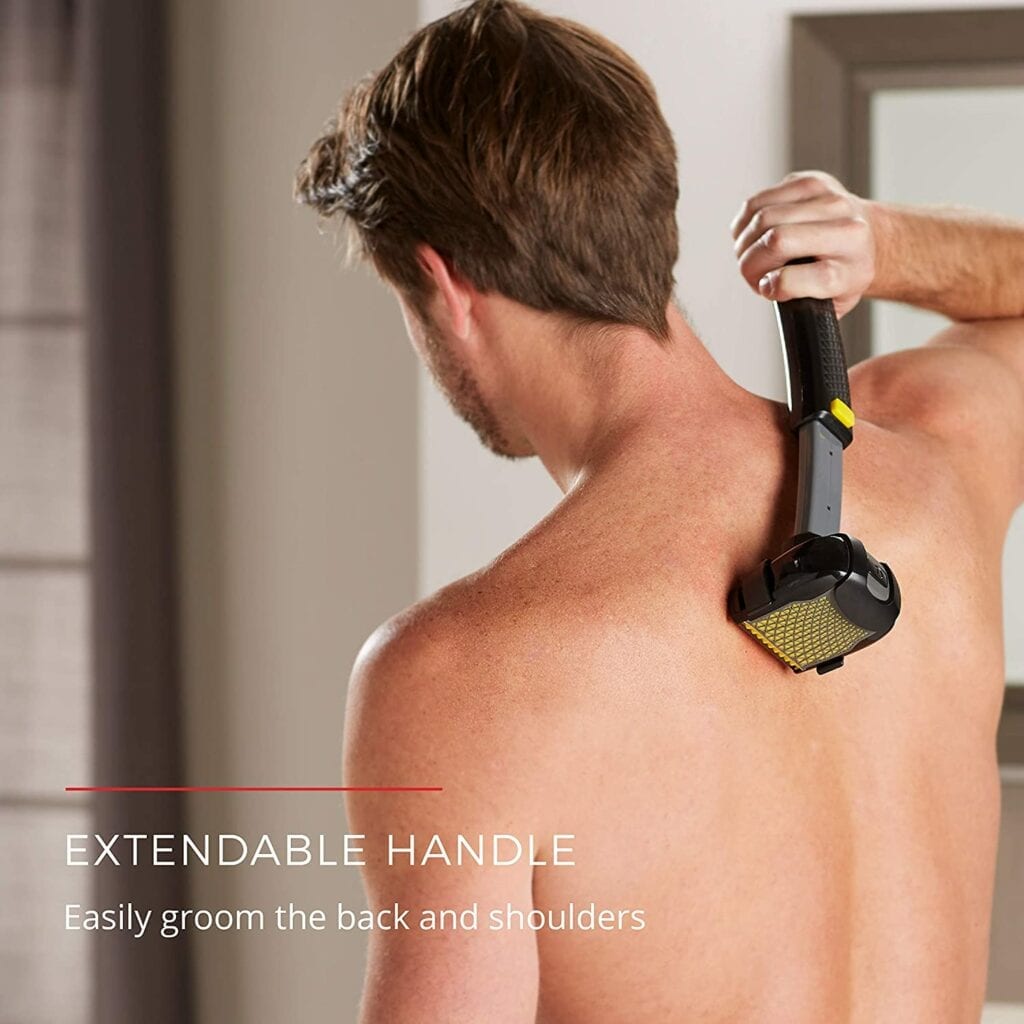 Despite what my title says, this is a back hair trimmer and not a shaver. This will leave stubble in various sizes depending on attachments and contact with skin.
Let's see how they stack up.
Shall we?
What Is Included?
1 – Trimmer Body
1 – Adjustable handle
5 – Fixed Combs (2, 4, 6, 9, and 12mm)
1 – Blade Guard
1 – Small Bottle of Oil
1 – Small Brush for Cleaning Trimmer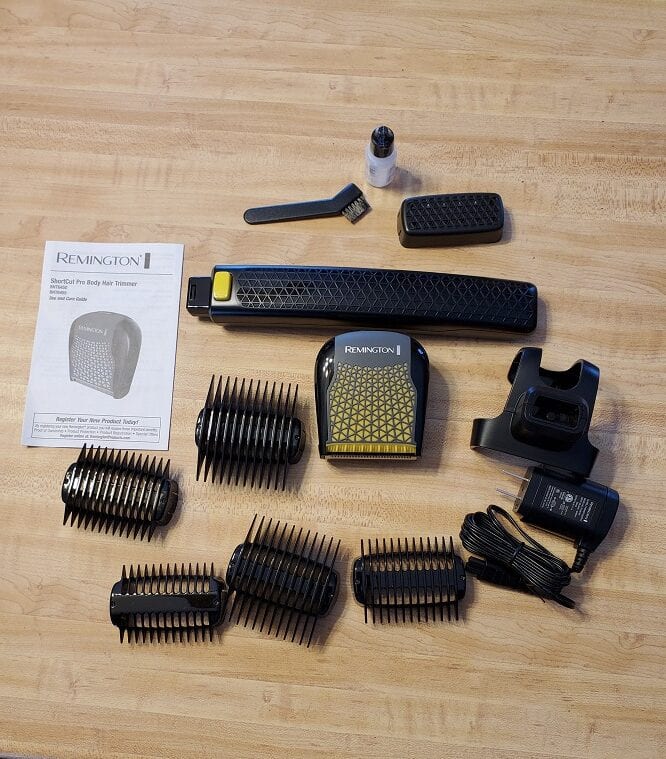 Remington Shortcut Pro Body Groomer Specs
The dual-sided extra-wide blade trimming body is 2 3/8 inches wide. The blades are stainless steel and this is a good thing because you don't want them to rust out on you since they advertise this as 100% waterproof.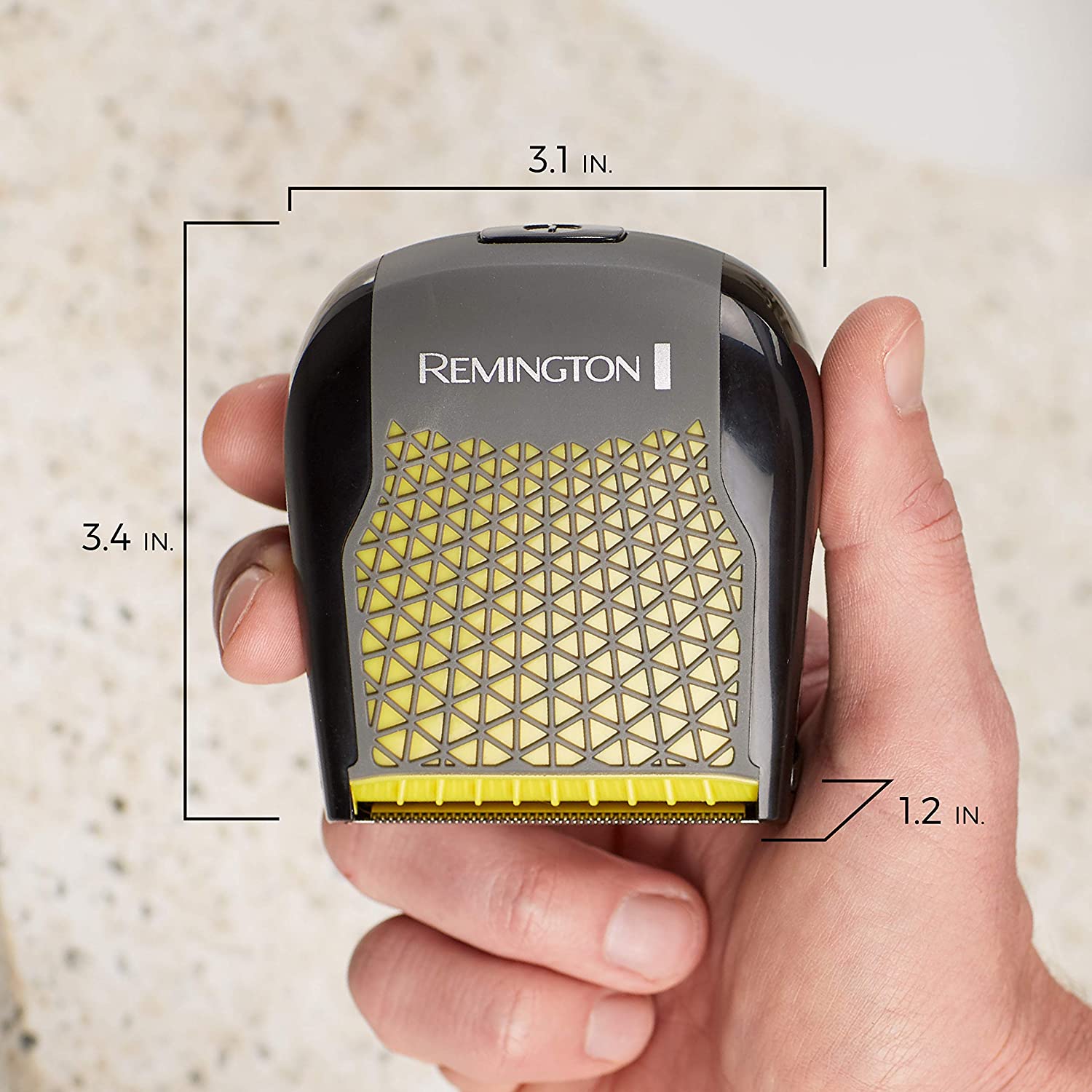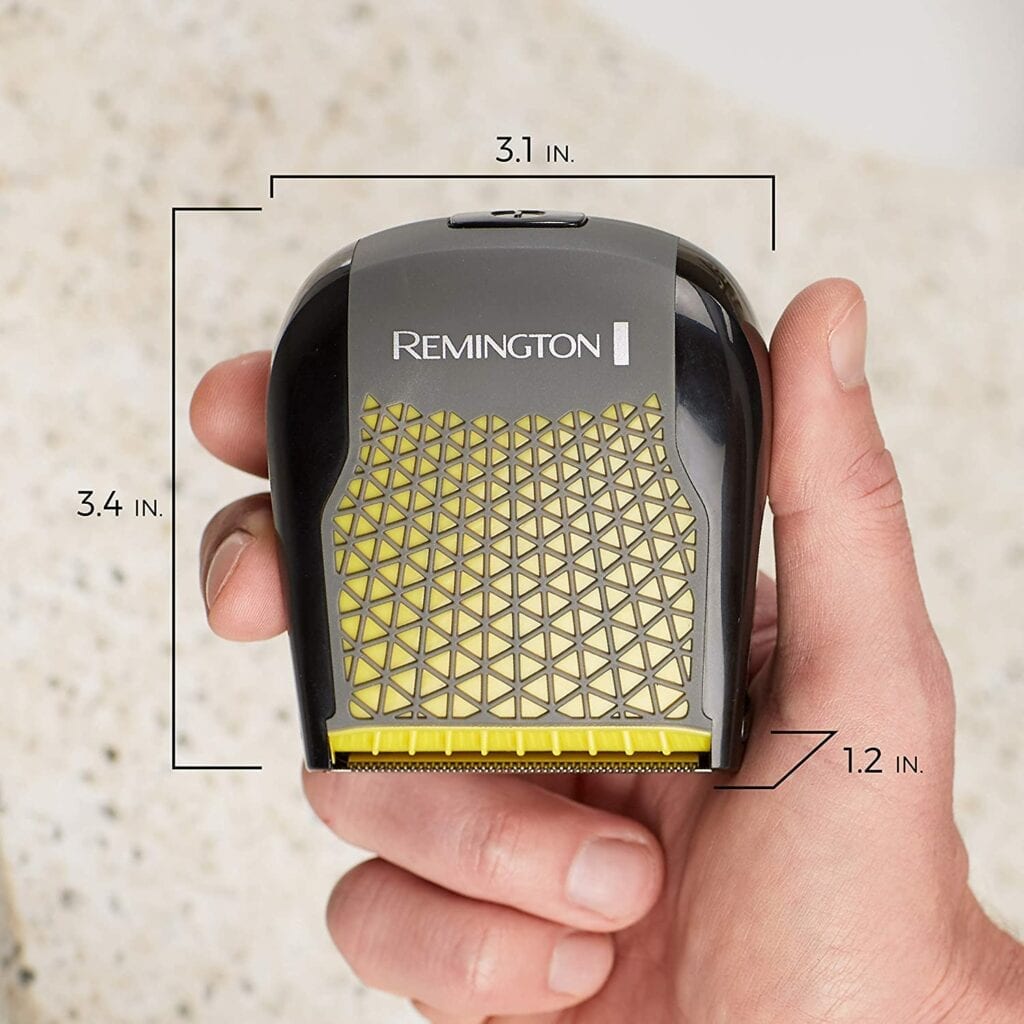 The handle starts off in a closed position at 11 1/2 inches long and extends to a whopping 18 inches long when fully extended. In between these two sizes listed above, there are an additional three more settings in which to choose.
The handle also has a slight curve to it so reaching everywhere on the back is possible and easy.
Most Importantly…How Does It Perform?
After a full 4 hour initial charge I bursting at the seams to see how this performs as a back shaver.
Okay, four hours gone by. Now…
Does it work?
It works.
Does it wow me?
No.
I guess I'm used to using a razor, as it is much more satisfying whacking hair off your skin than just trimming it. It just takes a slight little effort to get it to work just right. I found myself going over areas more than once, actually quite often to be completely honest.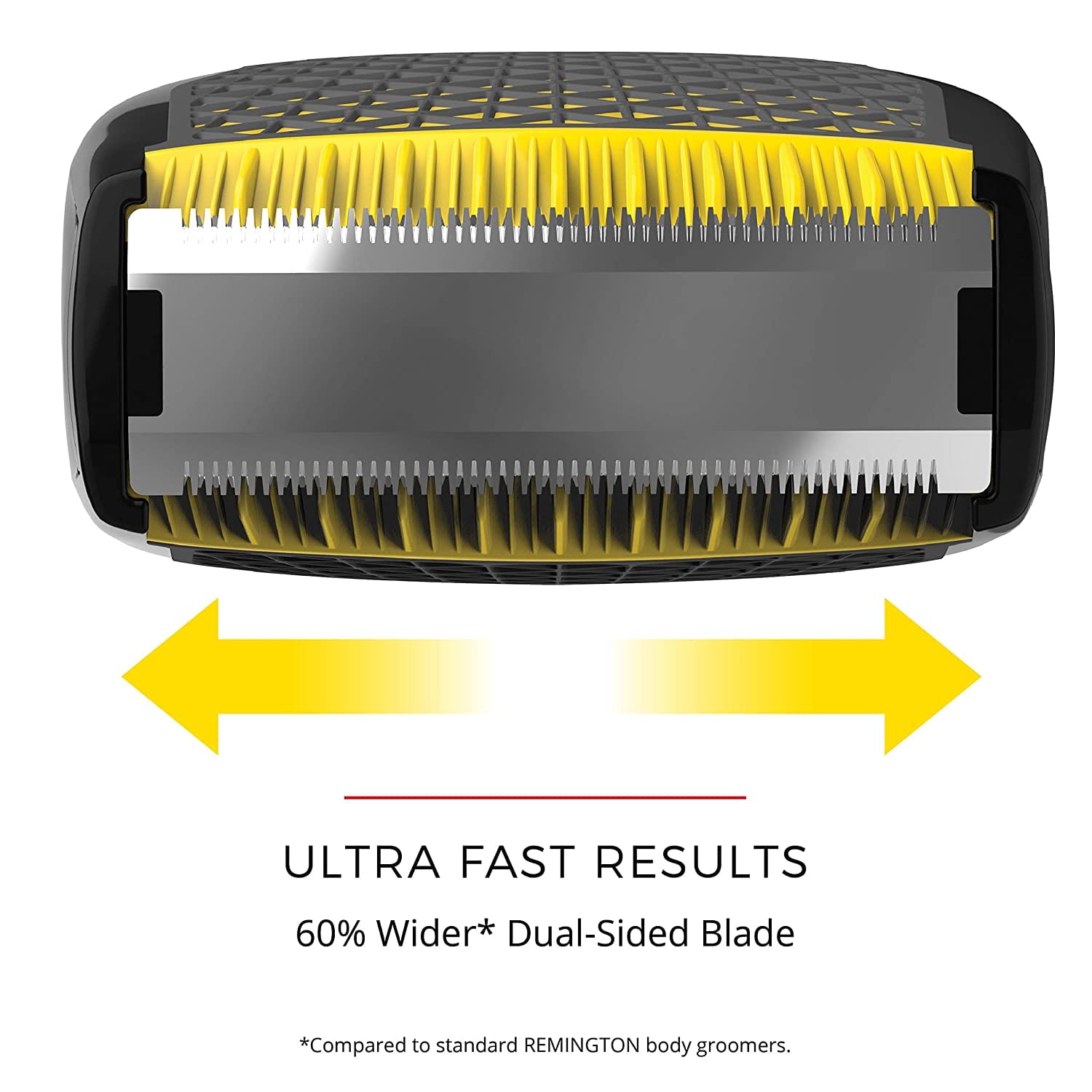 The handle is okay…I mean it is just a handle, right? But it feels boxy and just slightly too big in my hand for the most comfortable grip. Each setting on the handle, except the last and fully extended setting, is strong and secure. As the last one is just wobbly and full of too much play for my liking.
The handle too is unbalanced, with a heavy trimming head and light handle. Feels unwieldy. Not the best feeling but not a deal-breaker but worthy of note.
The trimming body when not connected to the extendable handle is surprisingly quite comfortable in the hand and is a good design.
Pros & Cons
Pros
The trimmer head will cut hair down to 0.2mm. Which is pretty good.
The packaging is amazing! The BEST packaging I have seen with any back shaver.
The cardboard box used to ship this should be used for storing the Shortcut Pro Body Groomer. Makes a nice storage box.
Instructions provided, this is always a plus in my book.
Great Functionality. Back shaver, body groomer, wet, or dry. Swiss Army knife much!?
100% Waterproof-Use. Shower approved.
The handle has five adjustable length settings to make sure you can reach any angle on your own person.
This has a lithium rechargeable battery and the run time is 40 minutes.
Limited Two-Year Warranty.
Stainless Steel Blade.
Curved handle. A straight-back shaver handle should be thrown in the trash right away. Just my honest opinion.
Reports on the internet can be used to trim your head as well. People really enjoy it for this purpose.
The little comb provided really does a good job of cleaning out the clogs of hair.
Cons
Hello, stubble! This is a trimmer and will not give you a shave. So you will have some degree of stubble after using this.
Not balanced for weight. The trimmer head is heavy compared to the handle which is light making for a less than perfect shaving experience.
Takes some getting used to as you have to constantly adjust the angle when shaving. It doesn't index very well.
When using no attachments and trimming long hair its seems to clog. Thus needing to remove clumps of hair from the trimmer area.
Also when using attachments hair still clogs in trimming head and attachments.
All these attachments for body hair. I don't understand, I can see a couple of shorter sizes for varying lengths of body hair but not five sizes.
When the handle is fully extended there is a lot of wobble and play. It feels weak in the last position, the other positions not so much, just the last one.
Must wait 4 hours to charge before first using it.
The handle feels a little bulky in the hand but not too uncomfortable.
Tips On Using Remington Back Shaver
Keep the box the Remington was shipped in to hold all the accessories and parts in one spot and keep them from getting lost.
The Final Shave
This is a back hair trimmer, not a back hair shaver. First know this!
This is okay for some men out there, that find shaving their backs smooth with no stubble leads to itchiness and discomfort. This could be a superb solution for you.
I expected more from such a stalwart of the shaving business.
Would I recommend this?
No.
Probably, because it just mediocre in performance.
Get This Instead
For a back trimmer and a back shaver all in one, I would much rather recommend the Mangroomer Lithium Max Plus, you can read my full in-depth review here Magroomer Lithium Max Plus Back Shaver Review. This is a better design and better working trimmer/shaver than the Remington Shortcut Pro.
Would love to your experience using the Remington Shortcut Pro or any questions pertaining to this or back shaving. Thanks.