A New Electric Back Shaver/Trimmer On The Market
I've been seeing this for sale on the internet for a short while and just recently got my hands on one. This is a uniquely designed electric back shaver that shaves and trims hair. I have never used any shaver like this before in the past but have seen this style around but looking forward to giving it a go. I am eager to put it through the paces and see how well it works.
Full Disclosure
I am not an affiliate of Bakscape. I did reach out to them for a product sample to review here on my website and they sent me the Bakscape Deluxe Kit. I will highlight both positives and negatives (if any) on all products….so basically, just keeping it REAL & honest. I really appreciate Bakscape for sending me their products to review.
What Is Bakscape Back Shaver?
This is a uniquely designed back shaver. As it is the first back shaver to incorporate the rotating shaving head design. Where the shaving head has six rotating shaving heads that cut hair and can adjust and contour to different angles. This is a rechargeable shaver that has a Lithion-Ion battery with a 90-minute run-time.
The Bakscape Back Shaver is both a back hair trimmer and a shaver, as it comes with two different head attachments, a trimmer head, and a shaving head. The handle is foldable.
This is sold in three kit forms, a Starter Kit, a Deluxe Kit, and an Advanced Kit. I will not be reviewing the different kits just the Bakscape Back Shaver itself.
What Is Included?
1 – Handle
1 – Shaving Head
1 – Trimmig Head
1 – Shaver Body
1 – Charging Cable
1 – Shaving Head Guard
1 – Trimming Head Guard
1 – Cleaning Brush
1 – Head Spinner
2 – Red Waterproof Caps
1 – User Manual
Specs
This has a Lithion-Ion battery with a run time of 90 minutes from a full charge. It should take two hours to fully charge this. It has a water resistance of IPX4 (splash resistant) rating.
The handle measures 17 inches long will unfolded and measures 8 13/16″ inches long when folded. There is a curve on the handle to allow reaching all areas of the back. The shaving head measures 2 13/16″ across at its widest points. The shaving head has six rotating razors.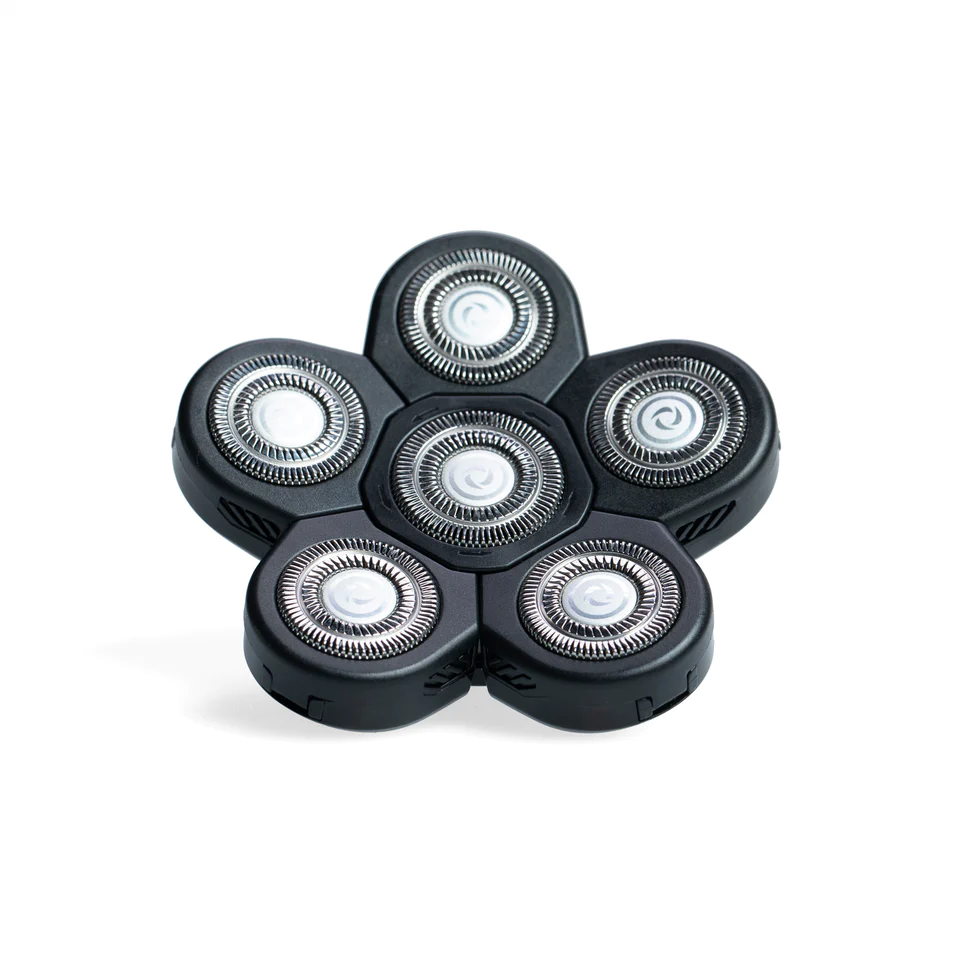 How Well Does It Work? Worth Getting?
The good news about the Bakscape is that it will rid your back of hair. The bad news it is not the most practical in a lot of ways. Let me explain.
It Takes More Time…
Bakscape doesn't recommend shaving longer back hair. They would prefer for you to use the supplied trimmer head first and then switch to the shaving head next. So, right there you are doubling the time it takes to remove your back hair as opposed to a regular back shaver. The shaving head will shave longer hair but it will take more time and probably clog the shaving head sooner.
Okay…but the trimming head is pretty darn small. It measures 1 3/16″ inches wide. This alone will take a lot of time to take care of the back. Plus you have to figure going over areas more than once, which is often the case to do a thorough job. This adds a lot of time to shave your back.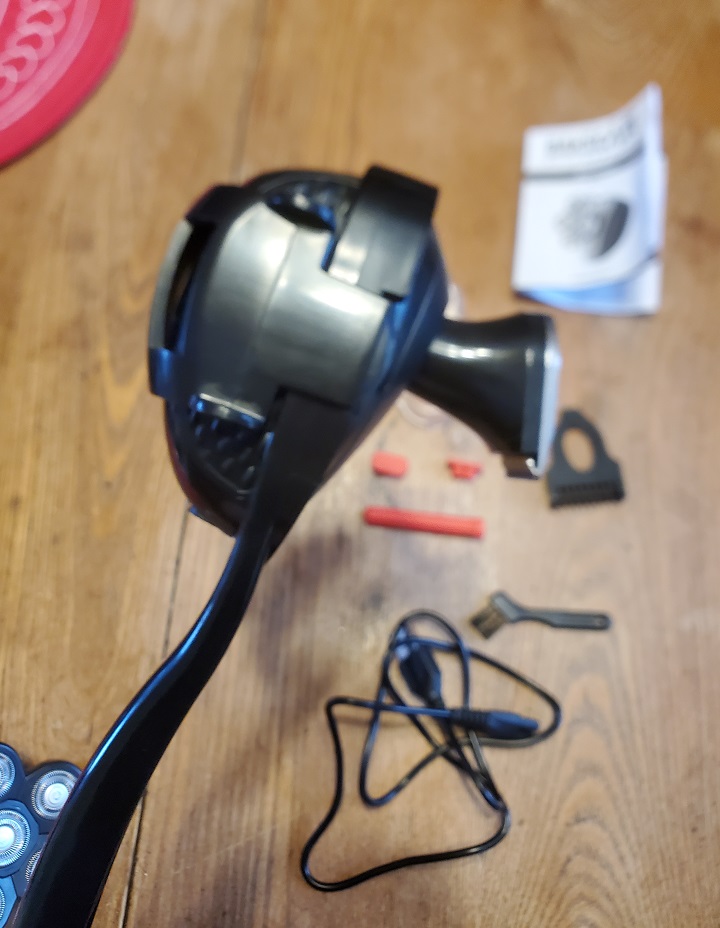 You might just initially use the trimming head to trim the longer back hair, then stay on top of a regular routine of shaving hair growth and just shaving with the shaver head, thereby reducing the amount of time that is needed. Essentially not letting the hair growth get long.
Positives
The good news is the shaving head works well. It is not perfect though as I had to go over an area sometimes multiple times to get every last hair. This is often the case with almost every back shaver though. In transition areas, is where the shaving head really shines. Areas like the top of the shoulders for example. It is so smooth going from the top of the back to the shoulders or around the neck area. You don't need to pick up the shaver but continue moving the shaver in a fluid motion. I found this really enjoyable and refreshing.
Another positive of this back shaver is I had zero nicks or cuts and zero skin irritation. It felt afterward like I had done nothing to my back, this is another unique experience as I usually have some type of small skin irritation. I initially thought this shaving head design was going to suck but it actually surprised me as it worked well.
Everything seems to be of decent quality and build design.
Would I Recommend It?
Although I appreciate some positives of this grooming device I would say overall that no I would not recommend it. It takes too long to shave your back. This coupled with its expensive price tag and the eventual need to replace the shaving head. Which is also pricey too. I prefer a more simplified method and keep in mind I have used almost every back shaver ever made.
If you want an electric back shaver this is pretty decent and will shave back hair but with the problem mentioned above. It is just a longer process and time is very valuable to me.
Pros & Cons
Pros
Very nicely packaged.
The trimming head works great just wish it was bigger.
The Shaving head works great around the curve of the top of the shoulders. Other manual back shavers sometimes struggle to shave this area as the Bakscape really handles this area fantastically. It just glides over rounded corners very nicely. This really shines in this department but keep in mind it is such a smaller area of concern.
Shaver works great. and better than I thought it would. I wasn't expecting much from this type of back shaver.
30-Day money-back guarantee.
Handle folds for easy storage and travel.
The water-resistant design allows you to use it in the shower or to rinse out.
90-minute run time on a full charge.
The outside five rotating shaving heads have good flexibility as they move nicely to adjust to the different contours of the body.
Had zero skin irritations after using this.
Had no cuts or nicks after using this.
Like that, they provide guards for both the shaving head and trimming head.
Charging indicator light.
Handle design allows me to access all areas of my back.
Pretty quiet overall although the shaver head is kind of a high-pitched whine.
Great for people with a lot of moles, scars, or skin tags on their backs.
You can shave in any direction thanks to the unique shaving head. This gives you a lot of versatility.
Cons
Takes more time than other systems of back shaving. This is a two-stage back shaver. It trims and then shaves as per the two attachment heads.
It will shave longer back hair but Bakscape doesn't recommend it. So you must first trim the long back hair with the trimmer head then attach the shaving head and then shave the back. All of this takes time and effort.
No clear precise instructions on how to attach the shaving head to the handle. It took me like 10 minutes trying to figure it out. I must be dumb…I guess. It would have been nice to see a diagram of how to put it together (quick start guide).
Have to go over an area more than once to get every last single hair.
Small trimming head (1 3/6″ inches wide) and not practical for doing such a large area as the back. This should be wider to accommodate the larger area of the back.
A pretty expensive back-shaving system.
The handle is slightly uncomfortable. As it has ridges on the underbelly.
The shaving head is top-heavy and not the most balanced.
No wall wart is provided not really a big deal as I have plenty of these but some may not.
You have to first charge the unit before using it.
Product longevity. I am more and more getting away from rechargeable devices. After owning these types of devices for years you start to see the battery life and small moving parts start to go bad. Something to keep in mind.
Tips & Questions
How Long Does The Shaving Head Last?
Bakscape recommends you replace the Shave Head every 3-6 months.
Once I Initially Trim My Back Hair How Often Do I Have To Shave It To Keep It At The Optimal Length For Shaving?
The Bakscape shaving head works best with hair less than 2mm. This means using the Shaving Head once or twice per week depending on your level of back hair growth.
How Does This Compare To My Favorite Back Shaver?
My favorite back shaver is the Bakblade 2.0 Elite Plus. It is the best-designed and well-built back shaver I have used plus it shaves back hair fantastically. It is far cheaper initially to purchase and cheaper over the long term. It takes far less time to shave your back with the Bakblade than it does with the Bakscape method.
There are no small moving parts or batteries that can die on you with a manual back shaver. You just need to replace the shaving cartridges. Such a more practical solution than the Bakscape in my opinion.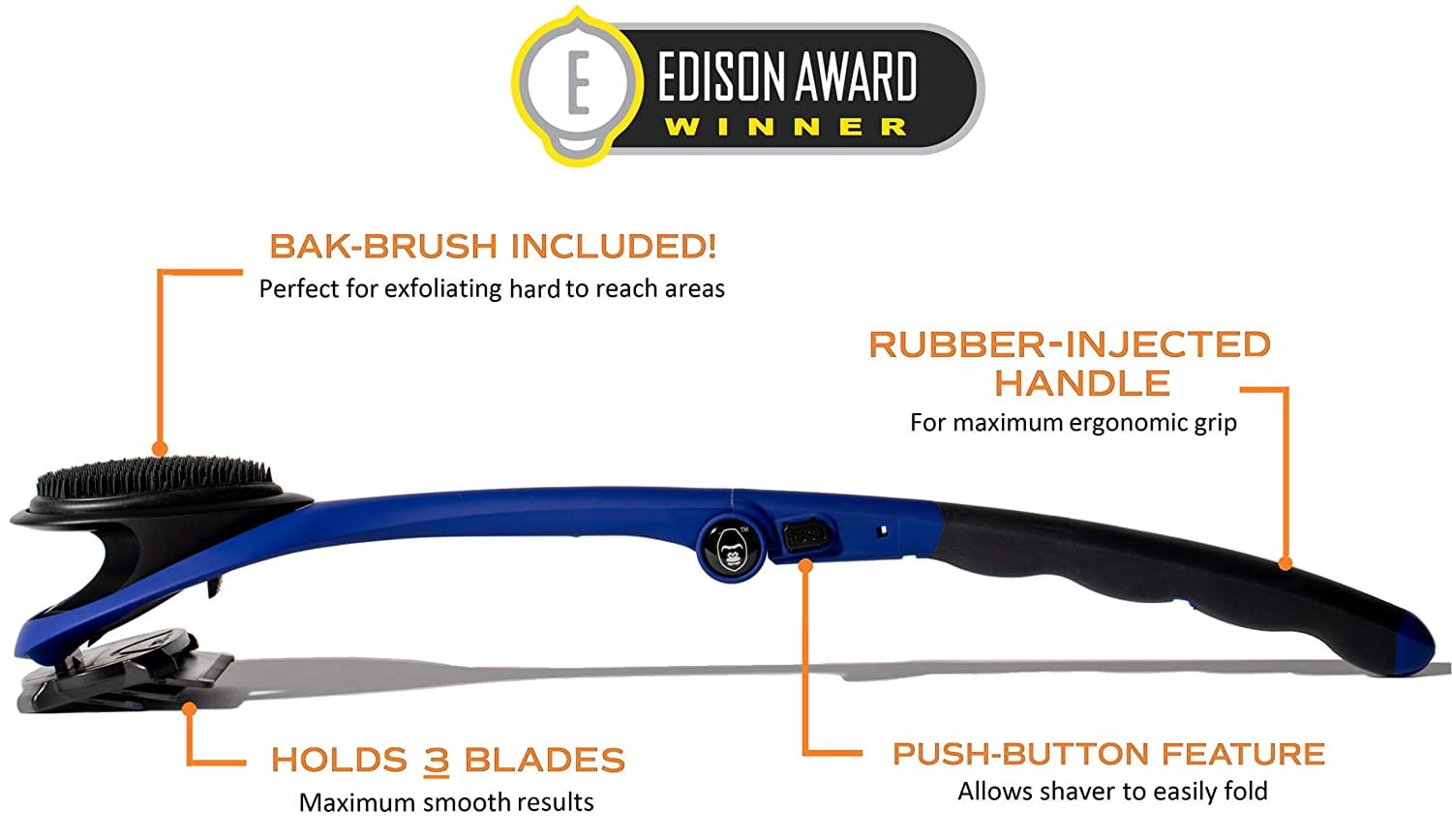 You can read why I believe the Bakblade is the best here, Bakblade 2.0 Elite Plus Back Shaver Review.
If you want to see all of the top-rated back shavers listed head on over to my page, 5 Best Back Shavers In 2023.
The Final Shave
Will I be switching to this electric shaver over my preferred method of using a manual back shaver?
NO!
It takes too long to use and it is too complicated with too many moving parts. I want something that simply works with minimal effort. This is not that!
Would some people enjoy using this?
Sure, there would be some people who would like to use this but not me. I have used almost every back shaver & back hair trimmer there is and I have a lot of discernment and experience (probably the most in the world for back shaving) but it is overall complicated and time-consuming. This would take at least double the time to trim and shave your back as a good solid manual back shaver would.
I prefer simplicity because, in the long run, it less hassles down the road. I have battery-operated devices that eventually the batteries die and I am left needing to replace them.
For these reasons, I do not recommend this product but if you are aware of the issues stated above it will remove back hair from your back just not in a timely fashion.