Two Great Ball Trimmers – I Will Explain The Differences – But Which One To Get?
Okay if you are a regular visitor to my website you would know I love the Meridian The Trimmer (the original) as it has been my go-to ball trimmer ever since I reviewed it back in May 2021. Because it is an amazing trimmer that is so well designed and never nicked my junk.
But recently I purchased Meridian's newest trimmer The Trimmer Plus and reviewed it here on my website needless to say it took the top spot from its older brother.
It is here I want to explain the differences and there are some, between these two very similar but different ball trimmers in order for my readers to make the most informed decision on which one to get.
Full Disclosure
I am an affiliate of Meridian. I purchased both of these trimmers (as shown below) with my own money to use personally and to review on my website. I will earn a small commission on clicked links on this page and my website. I pride myself on actually owning every product I review and being honest about its performance.
Meet The Brothers From The Same Mother
These are both models from Meridian and they are:
Meridian The Trimmer – This is the original trimmer and up until recently was the best pubic hair trimmer I have reviewed. I compared it to many groin trimmers and this stood upon them all. You can read more about it here, Meridian Trimmer Review – Best Male Pubic Trimmer?
Meridian The Trimmer Plus – Meet the new king of groin trimmers! This is Meridian's newest and best trimmer. I have recently reviewed this amazing grooming device and you can read about it here, Meridian Trimmer Plus Review – Worth Getting? Find Out.
Which One Is The Best? – Quick Answer
Meridian The Trimmer Plus
The newest model Meridian The Trimmer Plus is the best ball trimmer I have used to date.
I want to get straight to the point and tell you right away because I know when I Google a product that I want to purchase I have to scroll through a lot of fluff to find what I really want to know. Thereby saving you time. I understand wanting a quick answer and saving you time.
The newest model (Meridian The Trimmer Plus) is better than the original model (Meridian The Trimmer).
Not that big of a surprise but there are differences and if you want to know about these differences keep reading I will explain them all.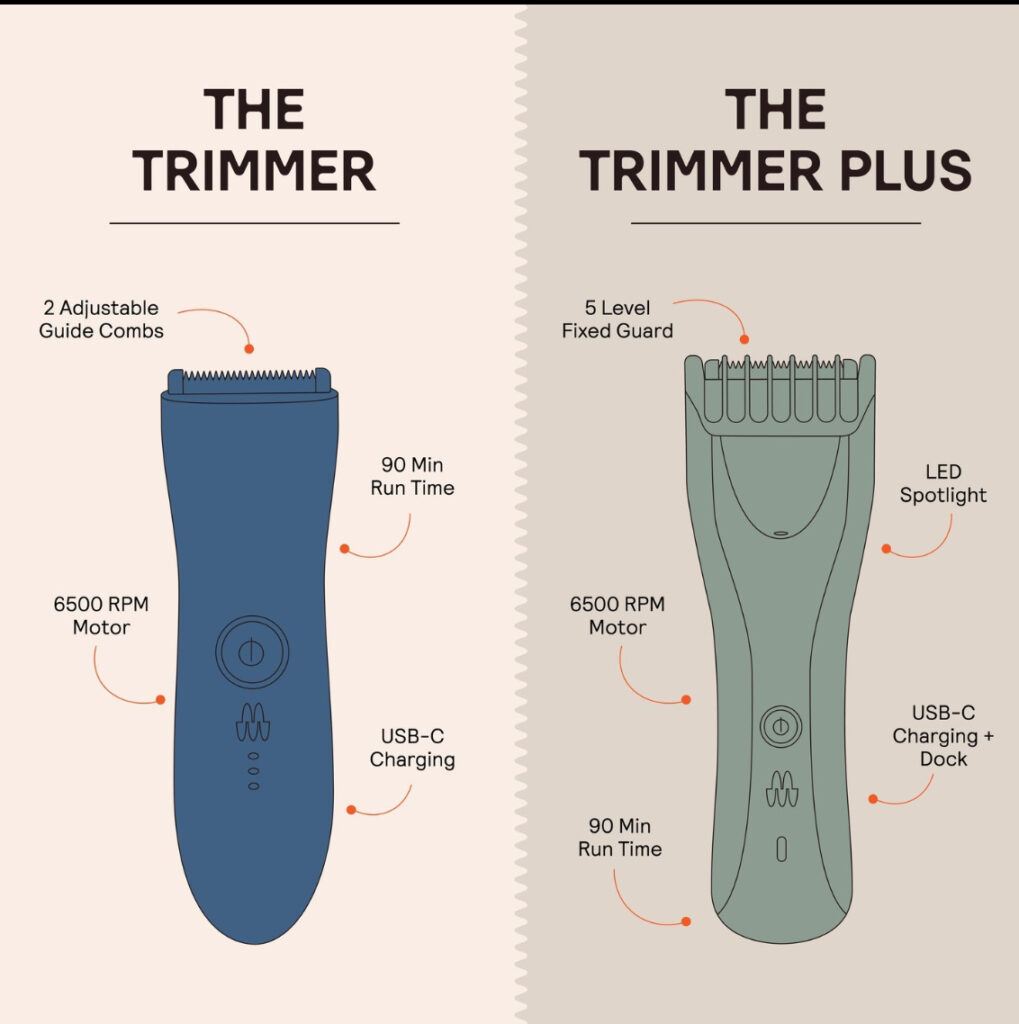 Promo Code
Use the code SUMMERFUN10 to get 10% Off site wide at Meridian. Offer good til September 30, 2023.

A Quick Breakdown Of Both Trimmers
| | | |
| --- | --- | --- |
| Feature | Meridian The Trimmer | Meridian The Trimmer Plus |
| RPM | 6,000 Strokes/Min | 6,000 Strokes/Min |
| Blade Width | 1 1/2″ inches wide | 1 1/2″ inches wide |
| Nicks | Never Experienced One Nick | Never Experienced One Nick |
| Guide Combs | 2 -Two-Sided Combs (3-6mm, 9-12mm) | 1 Adjustable 5 Settings (0mm, 2.5mm, 5m, 7.5mm, and 10mm) |
| Battery Life | 90-minute Run Time | 90-minute Run Time |
| LED Light | No | Yes |
| Charging Light Indicator | Yes | Yes |
| Available Colors | 2 Options (Onyx, & Sage) | 3 Options (Onyx, Sage, & Ocean) |
| Weight | 4.23 Ounces | IDK but it is about the same |
| Waterproof | Yes | Yes |
| Battery Type | Lithium-Ion Rechargeable | Lithium-Ion Rechargeable |
| Handle Comfort | Greater | Great |
| Charging Dock | No | Yes |
| Blade Type | Ceramic Blade | Ceramic Blade |
| Cleaning Brush | Yes | Yes |
| Noise Level | Quiet | Slightly Quieter |
| Price | Cheaper – Check Price At Meridian | Slightly More Expensive – Check Price At Meridian |
Performance & Feature Differences
Performance
The performance of these two trimmers is roughly the same. They both work great and I haven't experienced any performance issues ever from this company. Solid products all around. End of story.
Both trimmers get 90 minutes of runtime per full charge. They are both equal in this regard.
I have reviewed a lot of groin shavers with a lot of different results. I have experienced zero nicks reviewing these trimmers and also so many nicks that I had to stop using that particular trimmer and never pick it up again. But Meridian has always had my back or my nuts (however you want to look at it, I guess).
It's an old reliable trimmer in my eyes from the build quality to performance and not nicking me. It has it all and for this reason, I think it is the best ball trimmer I have used.
Trimmer Guards
The trimming guard between these two trimmers is a big factor to consider, maybe to some and maybe not to others. You decide.
The Plus has a much better newer design that is one piece while the older model has two guide combs. I like The Trimmer Plus single construction guide comb much better as it is more seamless and has less clutter to keep track of (less to lose and keep track of). The newer Plus comb has a zero setting so it's not like having a guide comb installed at all. Totally flexibility. Love it.
Think practicality. You don't have to switch between different guide combs to get that perfect length. You just push the button and adjust…super easy and convenient.
Do you need the guide combs? Me, personally yes I do. While I don't use the guide combs to trim my pubes I would potentially use them elsewhere for trimming various body hair (legs, chest, armpit, or arms).
Also, it is important to note the different heights the two trimmers provide. I appreciate the smaller slightly smaller guide comb heights as I personally don't need longer body hair. With both models, you can use them without any guide comb attached at all if you choose that.
Meridian The Trimmer Guide Comb Lengths – 3mm, 6mm, 9mm, & 12mm.
Meridian The Trimmer Plus Guide Comb Lengths – 0mm, 2.5mm, 5mm, 7.5mm, & 10mm.
Charging Dock & Charging Cable
I appreciate the newer charging docking station on The Plus model. It is easier for most people to have a clean, organized, and out of the way as much as possible charging area. This way your bathroom sink is less cluttered and can be tucked against the wall and out of the way.
The older model just presents a charging cord, which is okay. The Plus has a USB-C cable which is an upgrade for some.
Battery Life
They both have a 90-minute run time.
LED Light
A major upgrade to The Trimmer Plus was the inclusion of the LED Light. This can be really helpful in getting every last hair trimmed. As often hair can be missed if you don't have the proper lighting. The light is optional as it doesn't at first turn on you have to hit the power button twice to get it to turn on.
Handle Comfort
This is one area where I think the original got it right it just fits in the hand better as the design is just simply eloquent. The original The Trimmer is just a better handle as it is just perfection.
The Trimmer Plus handle doesn't fit in the hand quite as well as the original The Trimmer but it's not bad by any stretch of the imagination. The Trimmer Plus handle just isn't quite as simplistic in the handle as you have the guide comb to contend with and the slide button feels a tad off. But on the flip side of that, you have more stability as both sides of the handle have these ridges that secure your grip on which The Trimmer doesn't have any texture in the handle.
Price
The Meridian Trimmer is cheaper because it is an older model and the nod goes to it.
Questions & Answers
Does A Faster Motor Really Mean A Better Trimmer?
No. Just because a motor is slightly faster than a different model trimmer doesn't mean it will be a better trimmer. There are other things to consider to take into consideration like design construction, quality of build, and whether it is more likely to nick you.
Can Any Groin Trimmer Nick You?
Yes, any groin trimmer can potentially nick you. It is important to follow the manufacturer's directions. Improper technique can lead to nicks. But that doesn't mean all groin trimmers are equal in not cutting or nicking you. Some are better than others.
If I Already Have Meridian The Trimmer Do I Need To Get The Trimmer Plus?
No. The Meridian Trimmer is just as good with performance as The Trimmer Plus. There are features that make The Trimmer Plus much better but it is not necessary to upgrade to the newest model for these features.
Do You Have To Have The Trimmer Guard On The Trimmer Plus?
No. Using both methods with or without the trimming guide comb attached will work and provide the same benefit.
The Final Shave
I happily promote this product because it just simply works and is a great product. Whatever trimmer you buy out of these two will be a winner, as they both are great!
Highly recommend any Meridian Trimmer but if you want the best The Trimmer Plus is the best.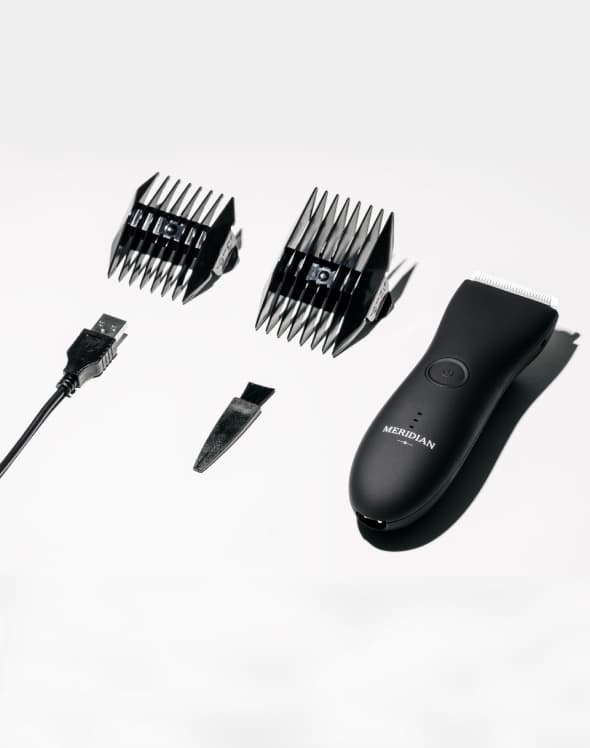 Any questions or comments would love to hear them below in the comment section.