Balls Meet The Balls Trimmer – No Snags On Your Bags…I Hope So
We are going to be looking at another ball trimmer today and going over both the positives as well as the negatives of using this device to help you determine if this is worth owning and if it makes a good groin hair trimmer. To be more specific we will be looking at the Balls Trimmer. Having a dedicated ball trimmer sure makes things less complicated and life much easier. In that, it keeps it neat and orderly down there and helps promote good hygiene.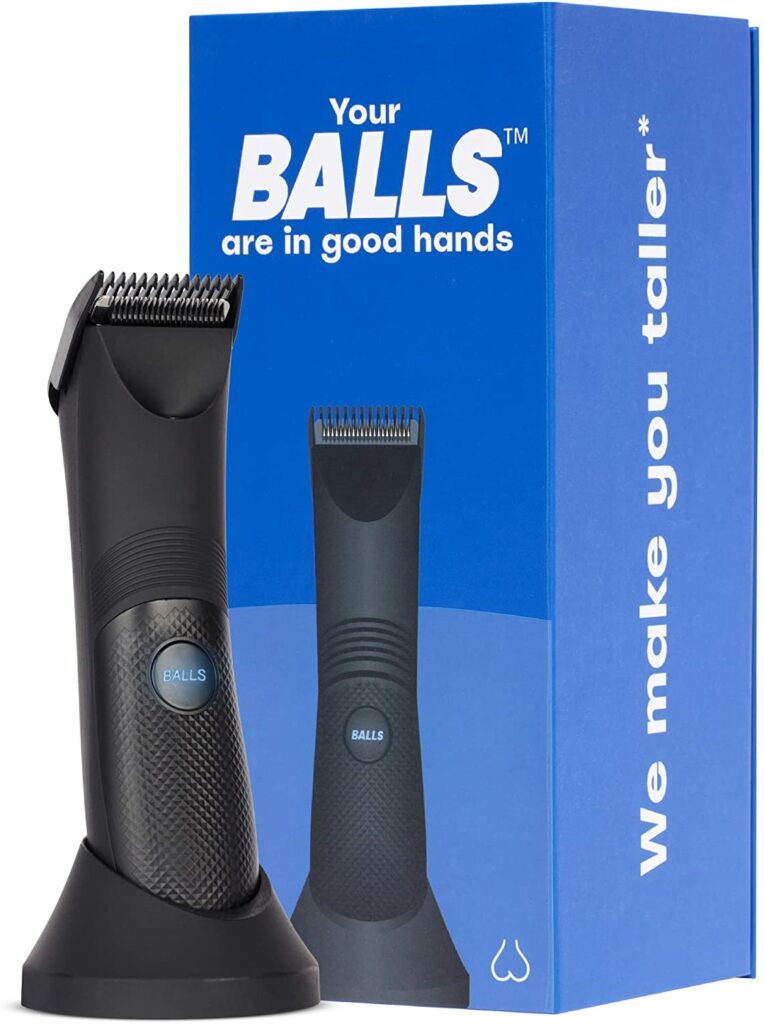 In Full Disclosure
Before we get started, I have recently joined Ball's affiliate program and I make a small commission on clicked purchase links provided in this review. I reached out to Balls and they sent over some products for me to use and review. I only write about products I have used and I only write honestly about those products.
What Is Balls Trimmer 2.0?
The Balls Trimmer is a dedicated waterproof rechargeable trimmer used to trim the hair down on your junk. Although it can be also used elsewhere on your body to trim hair too. I don't like setting limits on people or products, so it is open-ended. The box says Balls Trimmer 2.0 as this must be their second version of their trimmer.
I believe this is a U.K. company that just recently started marketing and selling their products in the U.S.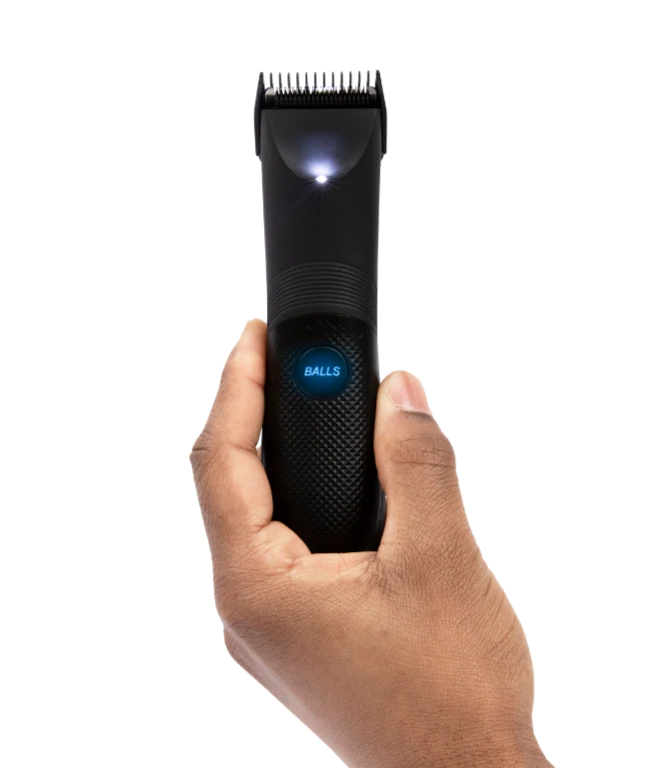 This trimmer has a ceramic blade for blade sharpness and longevity. A ceramic blade will retain its sharpness longer than a steel blade. The Balls trimmer also has a uniquely curved handle and angled trimmer blade to help avoid the possibilities of nicks and cuts. This unit comes with an adjustable guide comb and USB charging cable.
What All Comes With Purchase?
1 – Balls Trimmer
1 – USB Charging Cable
1 – Adjustable Guide Comb (3-6mm)
1 – Balls Cradle (Plastic Stand)
1 – Cleaning Brush
1 – Quick Start Instruction Pamphlet
Specs Of The Ball Trimmer 2.0
The length of the Balls Trimmer measures 5 5/8″ inches long. The blade measures 1 1/4″ inches wide and is made out of ceramic with a stainless steel rake. This trimmer is also waterproof and can be used in the shower if that's your thang.
The motor runs at 6,200 RPM with only a one-speed setting on and off. The Balls logo on the trimmer lights up red when charging is needed and blue when fully charged. The battery is a rechargeable Ni-MH 600mAh*2 and is charged by a USB cable that is provided. The battery has a run time of 1 hour on a full charge.
Comes with one guide comb that is adjustable from 3mm to 6mm that slide over the blade to help protect against nicks. There is also a single LED light that helps illuminate the area in front of the blade.
How Freaking Well Does It Work?
This is a serious tool as it has a strong motor, a sharp blade, and a quality build and design. I was very pleased sonically when I first hit the power button and the motor turned on. As you can tell a cheap device and a quality device by how it sounds when the motor is on. It just sounds good.
Amazing Design
I just love the tilted blade & angled handle design that lends to trimming your bag a lot easier. As you are going to be trimming your sack from looking down and this design helps with preventing nicks and is also very ergonomically correct for this position.
The handle is super comfortable, ergonomic, and fits great in the hand.
I first started off with the guide comb attached and on its lowest setting (3mm) and went to town with it. It had no problem trimming hair to a manageable height as the motor and blade quickly dispensed the offending pubes. With guide comb installed it will not nick you and is completely safe.
I then took off the guide comb and also tried with just the trimmer bareboned. I of course had to slow down and pay a lot more attention to technique as well as stretching the skin and taking small short strokes. But by paying close attention I also didn't experience any negative nicks or cuts. Don't get me wrong this will nick you if you are not careful.
This is a well-thought-out design and a quality build for sure. It works great and does make a great ball trimmer. Nice job BALLS!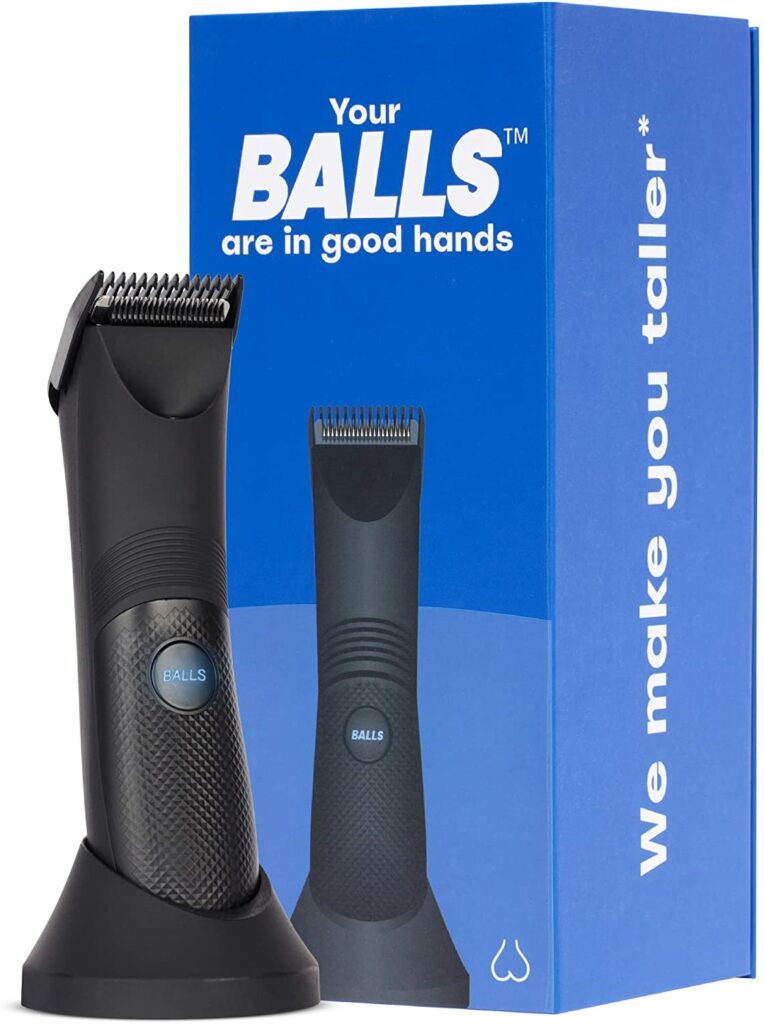 Pros & Cons
Pros
Amazing design!!! The handle and angle of the blade are well thought out and designed. Really impressed with this as it allows you to approach the weirdness of trimming your balls naturally at the correct angle and not straight down. The ergonimics is just fantastic.
Never nick, never cut, and never left me with bloody nuts!
Comes in a very nice box and is neatly packaged.
Instructions are printed on the inside of the box and make getting started super easy.
Waterproof design.
Cuts hair very well!
Ceramic blade. This is a standard with ball trimmers and is good to see Balls using it on this trimmer as well.
Doesn't tug or pull hair.
LED light is helpful for seeing and trimming every hair.
Very comfortable and secure grip handle design.
Motor runs at 6,200 RPM and is a nice speed to be trimming ball hair at.
Funny marketing material is enclosed when you get the Balls Trimmer. A good sense of humor is always appreciated.
Comes with a long charging cable and this is appreciated (around 6-foot length). I hate short cables.
Love how everything is simplified on this trimmer. For example, just one adjustable guide comb, and one power setting, just makes it easy to understand and use.
24/7 support if you need help. Fantastic!
Charging indicator lights lets you know when it needs charging.
Love that a stand was included as you can leave it on your bathroom countertop ready to go when needed.
The power button is properly placed as I never experienced any accidental shut-offs when using it
Shock-resistant design to help against damage when accidentally dropped.
Various textures on the handle and finish help keep a secure grip.
I year warranty
Cons
The battery could be better, for example, a lithium-ion battery for a longer run time between charging instead of the Ni-Mh battery that is used. Not that big of an issue and what I am more concerned about is its performance and not nicking myself with it.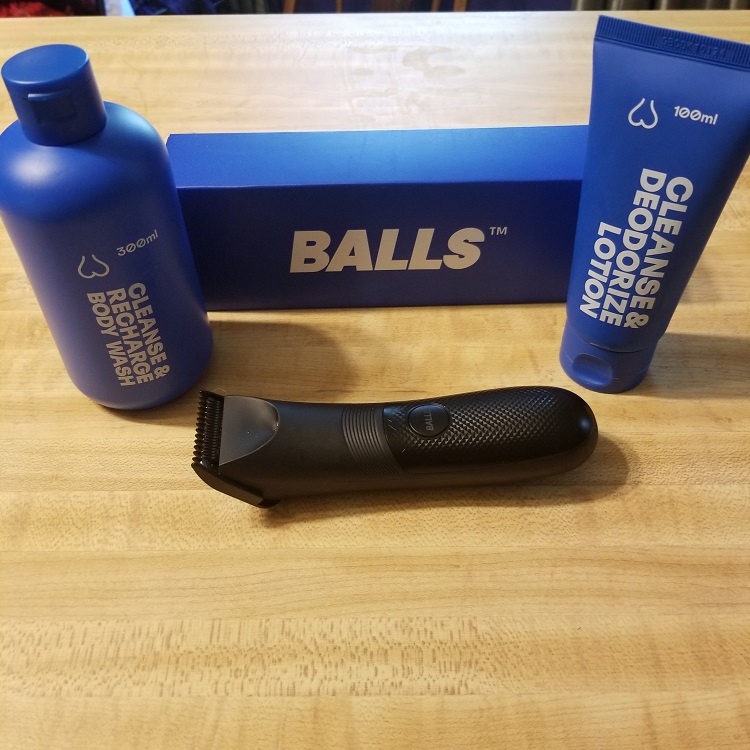 Tips & Questions?
How To Use: Slow Down & Take Your Time
Trimming your nuts is a delicate ordeal and the faster you go the more likely it is you are going to nick yourself and nobody wants that. This is not a race so just realize that and take your time and do a good thorough job.
Stretch the skin as often as possible and take short strokes. This allows for the maximum amount of control and precision. Also, be conscious of the angle of the blade as you do not want to trim hair at a 90-degree angle but more at a 45-degree angle. Thankfully this trimmer was designed with this feature in mind.
If you are new to trimming your bean bag I would highly suggest you start off using the guide comb to get the feel of how it works and develop a good technique. As any ball trimmer can potentially nick you downstairs if you are not careful. The guide comb offers a high level of protection from nicks. This is the safest way as I experienced zero nicks when using it with a guide comb. Using a guide comb will remove most of the hair but also leave a little bit of stubble. Most of the time the stubble is barely noticeable.
How Does This Compare To Other Groin Trimmers?
I would definitely buy this over other well-known ball trimmers (ie. Manscaped 4.0 Lawnmower). I am not a fan of Manscaped and their device is more expensive and less quality. The Balls Trimmer is towards the top of the list as far as ball trimmers go.
You can read my Manscaped review here, Manscaped The Lawn Mower 4.0 Review.
Can You Use The Balls Trimmer Elsewhere?
Yes, although I recommend having a separate dedicated ball trimmer solely for use in your private areas, the Balls trimmer can be used elsewhere on the body too. For example body hair or even on your beard.
Promo Code – Save Money!
Save 15% off any BALLS.co purchase with promo code "BACKSHAVER"
The Final Shave
Quality, price, performance, and not destroying your balls are what I want in a ball trimmer, and The Balls Trimmer 2.0 delivers in all of these categories. If you are looking for a great ball trimmer I highly recommend getting a Balls Trimmer.