In this Manscaped The Lawn Mower 4.0 Review we will put my most precious assets (my balls) to the test as this is a waterproof electric trimmer meant for trimming hair in your groin area. I hope to present an honest and detailed review of this product to better inform and educate before purchasing.
I am excited about reviewing and using this product as I have heard many advertisements for years about this product.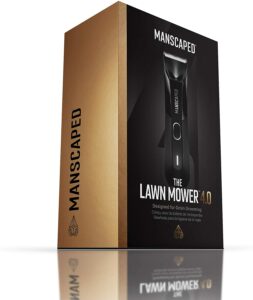 In full disclosure, I am not an affiliate of Manscaped. I purchased this product from Amazon in order to review it for my website. I place links on this page to Amazon in which I make a small commission on clicked purchased items. This is a small website and I would greatly appreciate any support if you find the information helpful. Thanks.
What Is Manscaped?
This company was founded in 2016 and centered around grooming hair below the waist. To put it bluntly, ball hair. They also offer a wide range of products from trimmers, nose hair trimmers, Single-blade razors, manicure sets, and skincare products.
What Is Included With Purchase?
1 – Manscaped The Lawn Mower 4.0 Trimmer
1 – Wireless Charging Dock
1 – Braided Charging Cable
2 – Adjustable Guide Sizes 1-4
1 – Cleaning Brush
1 – Instruction Manual
1 – Quick Start Guide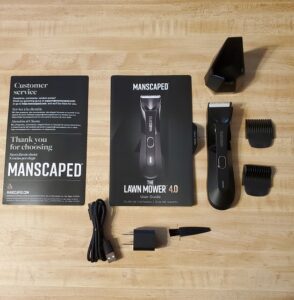 Specs On The Lawn Mower 4.0
The length of The Lawn Mower is 5 3/4″ inches long.
The trimming head is 1 1/4″ inches wide
How Well Does It Work? Worth It?
Very excited to review this trimmer at first. As I have heard the advertisements on The Joe Rogan Experience for many years now and often wondered what all the hype has been about. I had often thought I would like to try it.
On the exterior, everything looks fantastic! For example the faster motor (7,000 RPM), the LED Light, Guide Combs, and overall presentation and appearance but in fact, it really boils down to performance.
Doesn't it? This needs to trim hair and without cutting you up.
Yes, it cuts hair but…it also cuts the nut sack too. Ugh, and you can easily see it with the LED light installed.
As a nut shaver without any guide combs attached, I wouldn't recommend it. I nicked myself way too many times and I could use a regular clipper to get the same experience and results. I often felt sharp pinching of the skin on my scrotum when using and in a few seconds, blood would appear. I gave up halfway through the ordeal that is how much it let me down. I don't need a ton of cuts down there. Thanks, Manscape!
If you are using it for a ball shaver I would 100% use the guide combs. This will prevent the nicks and cuts when using just the trimmer to take care of the boys down there. You just will not get the hair down as close as you would without the guides.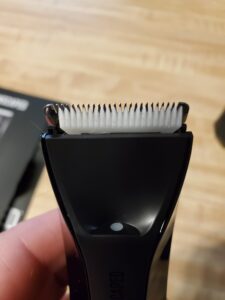 Maybe This Happened Because I'm Inexperienced. Nope! Here's Why…
Now, this isn't my first rodeo on using a dedicated ball shaver as I own and reviewed two other ball shavers and none of those two trimmers actually cut me when I used them. So I know there are ball shavers that will not cut you even without a guide comb attached. Sorry, Manscape.
See My Tips & FAQ section for the best ball shaver I own and would recommend.
I pride myself on having honest reviews on my site, and if it doesn't perform up to the task I will let you know. This is marketed as a ball shaver with SkinSafe Technology and that implies it won't cut you but it performs like its namesake (The Lawn Mower) leaving you bloody down there.
I wondered if this was only happening to me, nicking my ball sack that is. So, I went and looked at other reviews online, specifically Amazon. Click here, Manscaped Amazon Reviews to check out all the reviews on Amazon. What I found was I wasn't alone. Many other reviews state the same fact as what I experienced. This gets me thinking maybe it is a quality control issue at the plant as I see 72% of the people give it a 5-star rating and on the transverse, it has a 7% 1-star rating. All I can really impart is my experience and it cut me.
How Does It Perform Else Where?
This works pretty well on the hair located elsewhere on the body. I used it on my face and neck regions and it performed well. Much better. It handled my thick overgrowth of neck hair with no problem.
Pros & Cons
Pros
Fast removal of unwanted hair.
Indicator lights let you know how much charge you have. There are a total of three lights, I believe the first light is 33% (bottom) and the second (middle) is 66% and the third (top) is 100%.
Came with a 66% charge, so I had two bars on the charging indicating lights. This is great as I hate when it comes dead upon arrival.
Comes with a single LED light that lights up when you turn it on. A super great feature for helping you see in the netherregions.
Guide combs fully lock into place when put on.
Waterproof design, so it can be used dry or in the shower.
7,000 RPM motor! This is the fastest and most powerful motor I have seen for a ball trimmer/everything.
No cords to plug in the trimmer. This charges via electromagnetic induction from the docking station.
Very comfortable grip. It has a total of 8 sides that provide a secure and firm grip.
Comes very well presented and packaged.
Very quiet motor when running.
Good battery life as you will get up to 90 minutes on a fully charged unit.
The trimming head snaps off easily for cleaning and changing.
All replacement blades work all models of The Lawn Mower 2.0, 3.0 & 4.0 models.
The blades are ceramic which has more give and remains sharper for longer.
Cons
Unacceptable!!! I cut and nicked myself a lot and my nuts bleed. Yeah…blood all over my nut sack. Uhmm, very disappointing. Going to have to use the guide combs to keep from nicking myself.
Manscaped recommends charging before you first use it. Damn it, I hate waiting. lol
Quite a large gap under the plastic trimmer head, this gap will quickly fill with hair. This lets hair into the inside of the trimmer head and could potentially create problems. Cleaning up after using this will help prevent this from happening.
Putting the trimming head back into place after taking it off is often rather perplexing the first couple of times.
Expensive.
The trimming head is rather narrow and measures only 1 1/4 inches wide.

Tips & FAQ
The Ball Shaver That I Do Recommend.
I highly recommend the Meridian Trimmer.
10% off any purchase – use code SUMMERVIBES10 from July 31, 2023.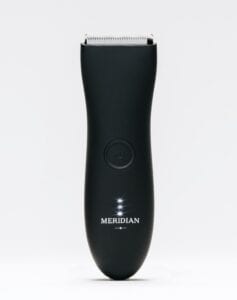 You can check out my full review here, Meridian Trimmer Review – Best Male Pubic Trimmer?
This has a wider trimming head and performs better. Also and more importantly it won't cut you. This also has a ceramic blade that will stay sharper for longer. Hands down a better product in my opinion.
Tips On Using The Lawn Mower 4.0
How To Avoid Cutting Yourself Down There?
You can simply just attach one of the guide combs provided. This will totally alleviate all cuts but also will, unfortunately, leave more hair down there as well.
Keep It Clean
Any tool that you use should be cleaned after each use. This will help prolong the life of this device and keep it working properly for longer. Follow the cleaning directions provided with the purchase to help this work the best for the longest.
Do You Have To Charge It When It Arrives?
Yes, when you first get The Lawn Mower 4.0 you should first fully charge before using it, as recommended by Manscape. This helps ensure battery life and usage.
How Long Does The Battery Last?
When fully charged The Lawn Mower 4.0 will last up to 90 minutes. This will quite a few trimming sessions as 4.0 makes short work of most jobs.
How Long Does It Take To Fully Charge?
It will take roughly 5 hours from a completely drained battery.
Is This Waterproof?
Yes, it is rated to be submerged underwater at a depth of one meter of freshwater for up to 30 minutes. So, you can easily use it in the shower.
How Long Should The Blade Last?
Is The Trimming Blade Replaceable?
Yes, you can purchase from Amazon here, Manscaped The Lawn Mower Replacement Blade.
The Final Shave
Don't believe the hype or marketing. This will cut you without using the guides attached. This let me down in this area. In other areas, it didn't. Along with that, it is also one of the most expensive ball shavers on the market.
This seems to me to be a better general overall hair trimmer than a dedicated ball hair trimmer. It has some pretty neat features I haven't seen in other products but I would recommend a pass if you are looking for a ball trimmer unless you are willing to use the guides provided. This will leave more hair exposed than without using the guides.
There are better ones available to purchase that don't cut you. I will put a link below if you are still interested in purchasing the Manscape The Lawn Mower 4.0.