Note: This review contains affiliate links. Back Shaver For Men earns a small commission for purchases made through these links, at no additional cost to you. If you find my review useful please help support my website.
What Is Solimo 5 Blade MotionShpere Razor?
This is essentially Amazon's equivalent to Harry's or Dollar Shave Club's more affordable razors that hit the market a few years ago and were all the rage. So Solimo is the ubiquitous Amazon's "Name Brand" and is entering itself into the shaving marketplace. So you know they are coming in at a very reasonable price range at roughly $1 a cartridge. A pretty good price range if you ask me.
But you're probably wondering how well do they work? Is it a good razor?
I hope to shed light on this and go over the features of this Amazon brand.
What Is Included With Purchase?
There are many different amounts of razors you can purchase with Solimo (love options) either 1 Count -1 handle with 2 cartridges or a 17-piece set that includes 1 handle and 16 cartridges. They also sell women's razors and cartridges too. I opted for the 17 pieces since it seemed rather affordable and you can never have enough razors lying around, am I right or what?
1 – Solimo 5 Blade MotionShere Razor For Men
16 – 5-Blade Cartridges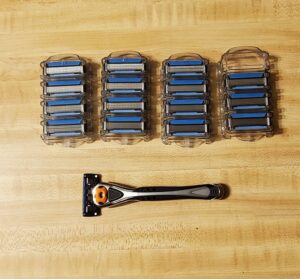 Solimo 5 Blade MotionShpere Razor Specs
With the cartridge attach I measure 5 1/2″ inches long and 1 11/16 inches wide for the cartridge. The cartridge width is 11/16″ of an inch.
The cartridge blade has 5 blades and two lubricating strips both on the top and the bottom.
My Experience With It & Is It Worth Buying
My overall experience with the Solimo was great.
I experienced little to no skin irritations and I am prone to this. This really surprised me for being a 5-bladed cartridge as often with 5-bladed cartridges I get razor bumps but I had very few if any.
The blades easily cut through my beard and I felt zero tugging. I got a pretty close shave in just one pass of the razor.
I also love the shape of the handle as it has a slight recurve to it, this really allows for a secure grip. The many different textures offer a great grip as well and is very appreciated.
I believe but to be completely honest, I don't really, know but the MotionShpere I think makes shaving a whole lot easier on those problematic transition areas. But I really didn't have to think about it, it just happened naturally and I know if I don't have to think about something it is a good thing.


How Does It Compare To Other Razors?
5 Blade Cartridges
I have a Gillette ProGlide and Harry's 5-bladed cartridges as well as Schick Hydro 5. It easily tranches Harry's razors, as I get two to three shaves with it and it becomes dull and unusable. I hate Harry's razor by the way if you can't tell. Also, Harry's doesn't shave as nicely as the Solimo does. The Gillette ProGlide shaves well but I get razor bumps after using it no matter how much I prep my skin and use different creams or soaps. The Schick Hydro 5 is slightly better in performance in my opinion.
For the price point of Solimo, I love how it shaves and think for the most part prefer shaving with it overall.

One Blade Razor
I have recently switched to using a one-blade razor, as I get zero skin irritations from using a one-blade razor. I fell in love with the OneBlade Hybrid Razor and I am not going back to other methods of shaving after using it. If you suffer from skin irritations after shaving you got to check it out! It's that damn good. You can check out my review of it here, OneBlade Hybrid Razor Review.
If you have never tried a one-blade razor I highly recommend checking it out at least. Their products also have a lifetimes guarantee, yes lifetimes. That is standing behind your product. They are also really well engineered and perform amazingly.
Pros & Cons
Pros
Very affordable!
Easy to clean.
Left a smooth face in no time.
I didn't really have any clogging issues using this as it has an anti-clog design to it for quick rinses with water. It is really open ported in the back of the razor to allow the maximum amount of water to adequately rinse hair out. Works great!
Has a nice recure to the handle, which I love.
Different textures (stainless steel and rubber), as well as small cutouts in the rubber to offer great contact and sturdiness.
Substantial weight to the handle is appreciated.
Comes with a cheap hard clear plastic razor cover that I think you should save and put on when not using. Keeps you from damaging and cutting yourself.
MotionShpere is a multi-axis pivot design to properly follow the many contours of your face. While most beard razors pivot up and down the MotionShpere pivots both up and down as well as side to side.
After shaving with it I experience very few razor bumps on my neck, as I am prone to this problem. Almost non-existent.
Shaving with it seemed effortless as the blades were sharp and I didn't have to adjust or overthink how to shave it just happened.
Replacement blades are available here, Solimo 5 Blade Razors Refills. (paid link)
Has dual lubricating strips on the top and bottom of the cartridge. Vitamin E is in the lubricating strips to help reduce irritation.
Blades are made in the USA.
Very minimalistic packaging. In the kit, I bought I didn't thankfully have to cut into another blister pack. Sometimes those blister packs are a bitch to open.
Amazon will refund for any reason within a year of purchase.
Lubricate strips last for more than a couple of shaves.
Cons
Handles are made in China. Of course right? With a great price, it is almost a prerequisite.
A very slight cheap look to it. I can't explain it but it does a little cheap but as long as it holds up and works who cares, really.
The cartridges will not fit other razors.
It's a little bit of a struggle to get under my nose but this is typical of a wider 5-blade cartridge.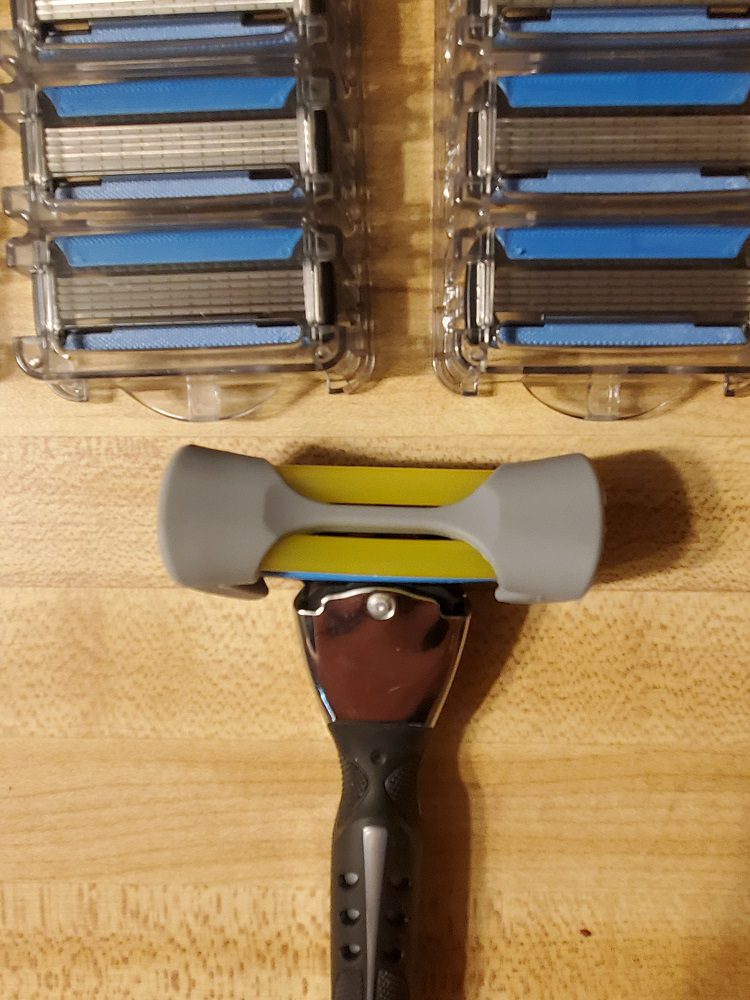 Tips For Shaving
To make your blades last even longer, I highly suggest the SteelBee Razor Saver. This snaps over your razor blades when storing them and the plastic emits an off-gas that is used in the oil and gas industries that prevent corrosion. Been shown to extend the life of your razors up to 3 times longer. Plus it makes a great razor blade cover to avoid cutting yourself or damaging the blades when storing or traveling. You can read my full review here, SteelBee Razor Saver Review – Will It Keep Your Razors Sharp?
Very affordable and will quickly pay for itself in no time plus having increased the shaving experience by having sharp blades for longer.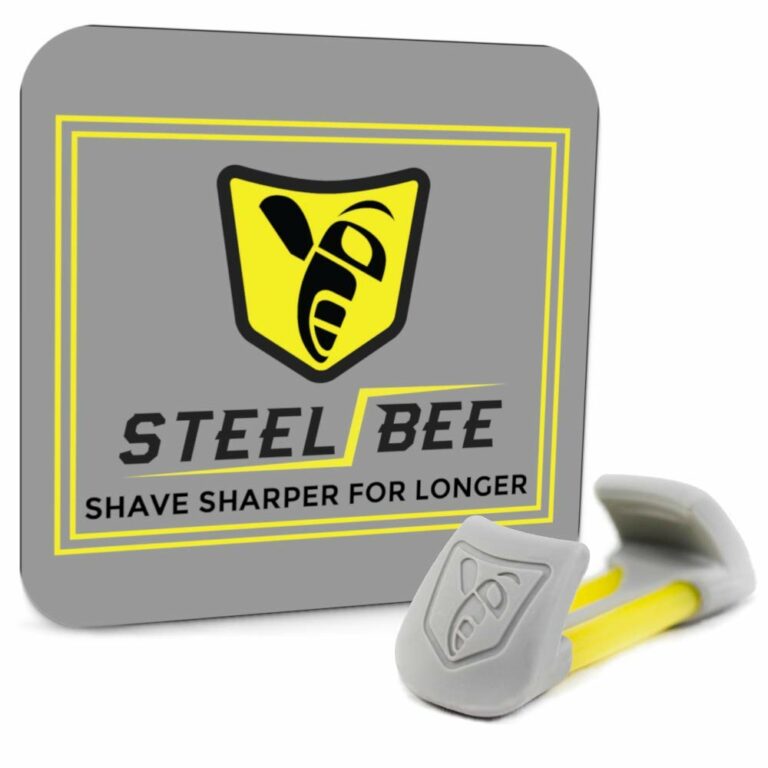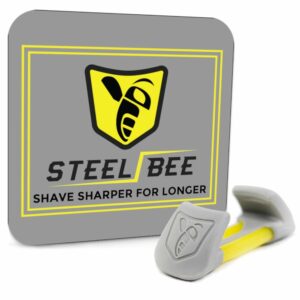 Will Solimo Blades Fit Into Other Handles?
No, they only fit into Solimo handles.
Does This Clog?
I haven't experienced it clogging yet as this is designed to have anti-clog features as well as have open access to the back of the razor for easy flushing with water. I never had to tap against the sink yet but I always rinse after every stroke.
How Long Do The Blades Last?
It varies so much between different men's beards as hair type and density it is hard to say. If you want them to last longer use the SteelBee Razor Saver, shown above, to give you the maximum amount of life of the blade.
The Final Shave
My first thoughts are this is a great product for the cost. If you are unsatisfied with your current razor you might be pleasantly surprised both in price as well as in the performance of the Solimo 5 Blade Razor.
Definitely worth an honest look at.