Who Doesn't Want Their Razozs To Last Longer?
We as men naturally want our razor blades to last forever, but unfortunately, that is not reality. This SteelBee Razor Saver claims it will increase the lifespan of your razors by 2 to 3 times. Okay, I think I want to look further into this and see if it will work. Enter my review, SteelBee Razor Saver Review – Will It Keep Your Razors Sharp?
Those razors blades can sure be expensive, especially those cartridge razors, am I right or what?
Even with companies like Dollar Shave Club and Harry's bringing in more affordability into the marketplace, it would still be nice to make them last even longer getting more bang for our bucks. Right?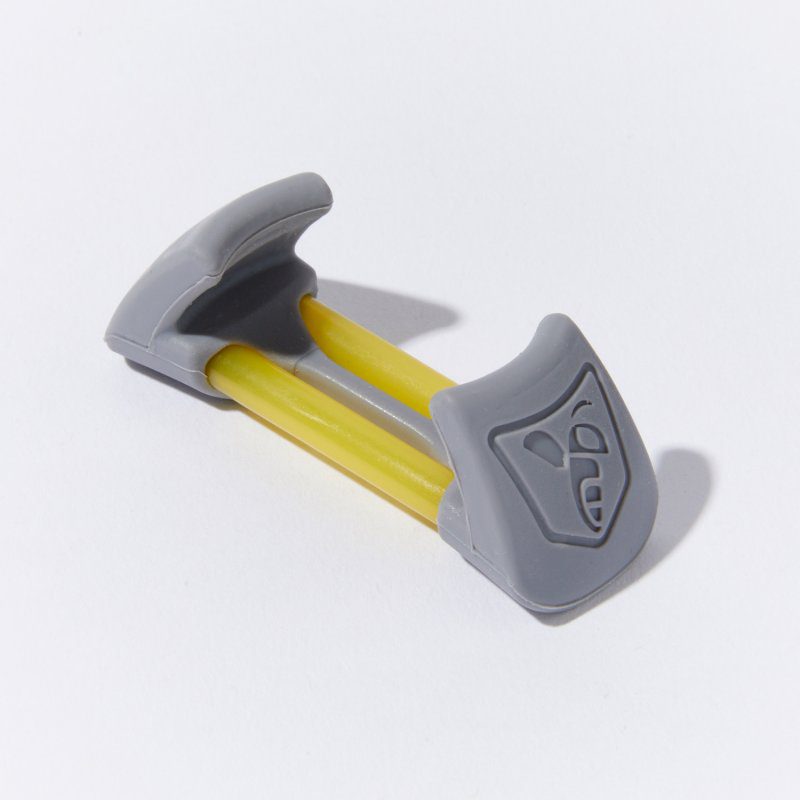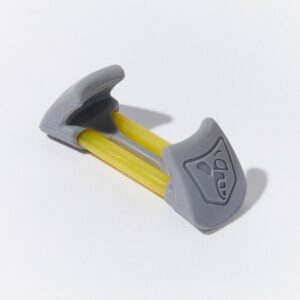 What is SteelBee Razor Saver?
The SteelBee Razor Saver is a razor cover made of two different materials that slide over and stretches to fit by compression on your razor blade. The grey rubber material that holds the razor in place and two yellow plastic cylinder pieces that emit or off-gas a product called Zerust. The Zerust puts out a protective vapor shield around the razor(s) blades when storing, which help protect from moisture and corrosion.
How It Works
SteelBee claims that micro rust corrosion on the blade is what makes the blade duller and it makes a lot of sense. As I have often wondered what causes blades to become dull, as I thought that just shaving hair made them dull. The blades are originally shipped with this anti-corrosion film on the blades but this quickly wears off after using the razor.
The Razor Saver is applied after shaving and when storing or traveling on the razor blade(s). It is during storage that SteelBee is working by emitting a vapor shield around your blade(s). This gas prevents rust and corrosion from happing thus extending the life of your blades. Thus giving your blades protection from rust and remaining sharp.
On SteelBee's website, they have some very interesting quotes and links regarding the science of why razors become dull. I will post a few of them because I think they really help you understand the science behind their claims.
Regarding corrosion prevention: "Razor blades.. would probably stay sharp for six months." –MIT Professor of Materials Eng.
"Razor blade dullness stems more from oxidation, microscopic rusting, than from contact with whiskers." –Chicago Tribune

What Is Included With Purchase?
1 – SteelBee Razor Saver
1 – Instruction on the back of the packaging.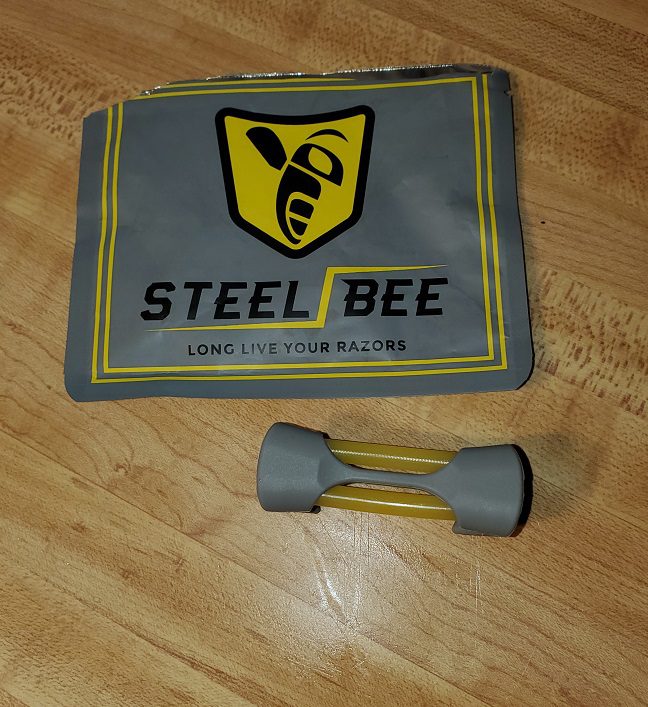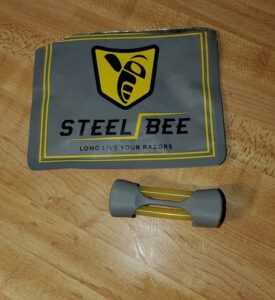 SteelBee Specs
The SB measures on the outside of the product 2 5/16 inches wide, the inside where the razor rest I measure 1 9/16 inches wide. The width measuring from the two yellow plastic pieces I measure 5/8 of an inch this is the part that lies against the razors.
Why You Should Believe This Works
First off at the time of writing this post this product has an Amazon rating of 4.3 with 1, 263 reviews you can read the Amazon Reviews here, SteelBee Amazon Reviews.
Second, Zerust is known in the oil and gas industry as VCI Vapor Corrosion Inhibitor to help stop corrosion. The company that makes it is Northern Technologies International Corp. It is safe for both people and the environment and has been in use for years helping metal components for rusting and corroding.
Third, if this product lasts for 2 years and helps make your razor blades last 2 to 3 times longer. The savings compared to the price of the SteelBee really start to add up over that 2-year span. Which is saving you money and increasing your comfort when shaving. A win-win situation, especially if you shave every day.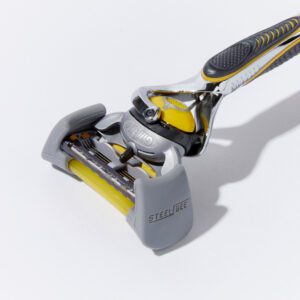 Pros & Cons
Pros
Who doesn't want their razor blades to last longer!
Extends the life of your razors blades (up to 3X).
Will fit all standard men's and women's razors.
Releases a Zerust Vapor that inhibits rust and degradation.
Also makes a nice blade protector when storing or traveling. Don't have to worry about cutting your hand reaching into your Dopp Kit.
Would make a great stocking stuffer.
Reduces waste both in your pocketbook and in the landfill.
Shaving with a sharp blade is always a good thing and a product that can make razors stay sharper is a real winner in my book.
With having a blade that stays sharper longer you experience less discomfort.
Made in the USA.
Works on both man and women razors.
Will help you save money in the long run.
Highly recommend it for both men or women that shave every day.
60-day money-back guarantee.
Designed more for the wider newer style of razors, like Hydro 5, Gillette ProGlide, Harry's. These fit very nicely and securely.
Cons
My older smaller 2 blades Gillette Excel razor does rest inside the SteelBee but it is not a tight fit by any means and doesn't really securely hold it in place. It does work if you just rest it in place and don't bump it when storing it.
I have read it doesn't hold safety razors and I am unsure if it does or not, as I don't own a safety razor (yet).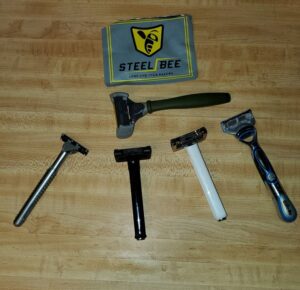 Tips On Using It
My number one tip is to get a black sharpie and write the month and year somewhere on the grey plastic, not the yellow plastic. This is so you can tell when to replace it, as it only works for up to 2 years. I would throw it away around the two-year mark or when you noticing it doesn't protect your razor blades anymore.
Always rinse your blades as best you can and dry your razor blade as well as you can before storing it, either by shaking it or dabbing it on a towel or using a hairdryer. A little extra prevention and the SteelBee will go a long way into protecting your razors.
Can You Leave It In The Shower?
You bet you can. It is recommended to just shake it dry and place it in a dry location. I personally like to put mine in a cabinet or drawer away from the moisture-laden environment of a shower though.
How Long Does It Last?
The SteelBee Razor Saver will last up to 2 years.
Does It Fit Philips OneBlade?
No, it is not wide enough.
Does It Fit On Women's Venus Razors?
Yes.
Does It Fit Over OneBlade Razors?
Yes, it fits but is a bit tight. I have both the OneBlade Core and the OneBlade Hybrid and they both fit. The fit is just a bit tighter than other models I have tried, as the OneBlade Razor heads are slightly wider (roughly a 1/8″ inch wider) but I can get it on the razor no problem. These are great razors and I am not going back to regular multi-bladed cartridge razors as I have zero skin irritation anymore since using their one razor blade design. Check them out here, OneBlade Amazing Razors.
You can also read my review on these razors.
OneBlade Core – My review is here, OneBlade Core Razor Review.
OneBlade Hybrid – This is my new favorite razor, so definitely check out my review here, OneBlade Hybrid Review.
Does It Fit On Harry's Razors?
They fit great!
Does It Work With Safety Razors?
No! Not totally sure about this as I currently don't own any safety razors to try out but from what I read it doesn't.
Promo Code
Use the Promo Code – BFSM at checkout to receive a 10% discount.
The Final Shave
I love products that work both on paper and in the real world. I've noticed a real increase in the life of my razors after using this product for a month now as it does what it says it does increase the lifespan of your razor blades. Most razor blades are expensive and we as consumers need a leg up on making them last longer and getting our money's worth out of them.
A simple procedure of just putting this device on your razor after shaving increases the lifespan and usage as well as making the shaving experience much more pleasurable with a sharp blade.
I highly recommend it.

Feel free to comment or ask me any questions and I would gladly answer and respond to them. Thanks!