In my daily life, I run across products that have improved my hygiene routine and greatly added benefits to my daily life, in this web post Lockhart's Matte Clay Review is one that checks both marks. I've been using this particular product for years and have amassed a rather large stockpile of Lockhart's product. This was a real game-changer for me as it performs fantastically.
I have purchased many of Lockhart's products over the years and they have performed their intended purpose. But this one is my favorite of their entire line of hair products. So,
About Lockhart's Authentic
Lockhart was started by Steve and Nicole Lockhart in their home and quickly grew thru word of mouth in a small Michigan town. Then they expanded to the internet and there it really took off and now their products have shipped worldwide. They have expanded their product line to include a plethora of various pomades, clays, hair creams, shampoos, conditioners, beard oils, and soaps.

What Are The Ingredients?
Beeswax (cera alba), Ceteareth-20, Kaolin, Petrolatum, Water (aqua), PEG-7 Glyceryl Cocoate, Propylene Glycol, PEG-40 Hydrogenated Castor Oil, Fragrance, Phenoxyethanol, Sweet Almond Oil, Polysorbate-60, Tea tree oil, Lavender oil.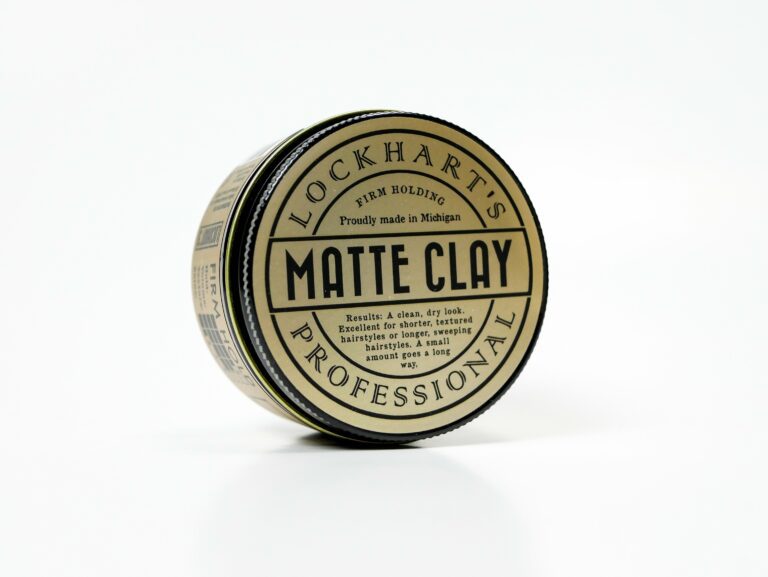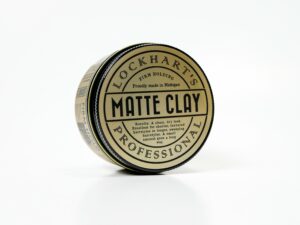 Performance
HOLD: Medium/Firm
SHINE: Matte
TEXTURE: Creamy/Thick
The Scent
This has a nice scent that goes well with most of my colognes. It is not overpowering. Lockhart's page describes it as subtle notes of lavender, earthy moss, and musk.
How Does It Perform
This is a medium hold clay and that's a good thing, as I want my hair to move a little along with being able to run my fingers through my hair, as well as to restyle. There is no crunchiness to your hair after applying this. I normally get about 5 to 6 hours before my hair droops a little or I need to fix it.
I've been complimented on my hair more times when I have used this Lockhart's Matte Clay in my hair than any other hair product by far. People will say, your hair looks good, this often floors me as I often have been known to wear baseball caps a lot because I have had a problem styling my hair for almost my entire life.
I've been plagued by dry flyaways and dry hair most of my life which makes it really hard to comb your hair and impossible to manage without some product in it. Been there tried that, as I have tried hundreds of products. It's not until the last 15 years the hair product has gotten so much better and this is one of them.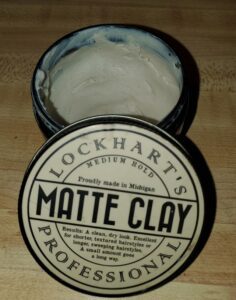 How To Apply
Take a dime-size amount and rub it in between your hands. This will emulsify the product and create a thin layer on your hands. It is also important to have dry hands when doing this, don't try with wet hands as it will not spread nicely. Make sure to evenly distribute the product both at the roots (this will give you the support) and the ends of the hair.
Style as needed, if you need more product simply get another dime-sized amount and repeat the process. The more hair you have the more product you will need.
Pros & Cons
Pros
Important note: sometimes Lockhart has special sales where you can get Matte Clay in a different variety of scents. Keep an eye out.
Great scent that easily blends with other colognes.
Not greasy.
I just love the texture this provides.
Very natural look.
Easy application.
Has a smooth consistency.
Can restyle your hair throughout the day.
My hair feels healthier during and after washing it out.
Add a slightly more gritty texture to hair.
This contains my flyaways and makes hair more manageable.
Easy to scoop and has a smoother feel to it.
Emulsifies in your hand nicely.
A little goes a long way. A dime-size is enough to get the hold you need.
Comes in two sizes a 1.25 oz. and 3.7 oz. The smaller size is a great travel size container and is cheaper and a great way to try it out for less.
Great customer service. Never had a problem with them.
Easy to run a comb through your hair after you have applied the clay.
Cons
The scent doesn't last long.
If you apply too much it looks greasy.
Other Worthy Clays To Check Out
Finding a clay that works for you can be a rather long and expensive trip. I would like to suggest some of the ones I have found that I have liked and personally use. Believe me, there are products out there called "clay products" that are not clay products at all and simply don't perform. A complete waste of money!
Slicked Back Wrap Up
I understand there are a ton of clay products on the market and each has different characteristics and features. But you can get a general idea in a review. I think Lockhart's Matte Clay is a high-quality clay product that has a solid reputation and most importantly it performs.
If you are headed down the hair pomade/clay holy grail trail (believe me there are a ton of options) looking for that perfect product you need to at least see if Lockhart's Matte Clay is right for you, but it is a great product that has remained in my rotation for many years.
A great way to try it at a cheaper price is to purchase the travel size Matte Clay which is 1.25 oz and is a lot cheaper than the 3.7 oz. I would highly recommend getting the 1.25 oz just to be on the safer side of things but I love this product and I think you will too.




Have any suggestions for clay products I should check out? Comments or questions? Leave below.