Today in The Cut Buddy Review we are looking at a tool to get crisp smooth lines in hair for beard, mustache, goatee, hairlines, and necklines. I remember when I was younger struggling to understand and how to properly achieve a certain look in trimming and shaving my beard or goatee.
Dang, yeah I remember often messing it up quite a few times and wishing I had a tool or someone to ask, but I just struggled and learned the hard way (by doing it wrong and then suffering with the results). So we will be reviewing this tool and see if it makes handling the facial, neck, and hair game easier and able to produce the desired results.
What Is The Cut Buddy?
This simple and practical tool was invented and developed by a man named Joshua Esnard after years of testing and retesting template designs. He was featured on the TV show Shark Tank and was also offered a deal on the show. Obviously, he had a great product that people believed in and wanted.
This is a multiple angled clear hair template that you hold up to the face and either trace with the supplied stenciling pencil or just hold the device against your skin and trim with either a clipper or razor. This gives you options for how you want to trim.
There are multiple different angles to provide just the right curve to your hair as well as multiple straight edges. There are even lines printed on the complete outside edges to properly measure and get consistent results.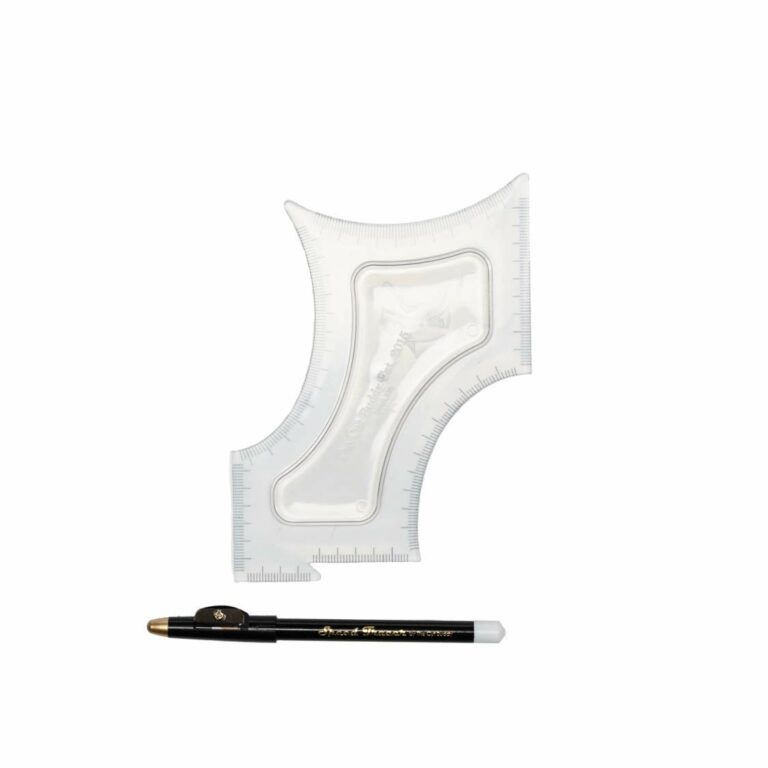 Who Is For?
Let's be honest, it is not for everyone. Some people go to the barbershop quite regularly or some people are just very experienced and can create great lines without guides. But for all the other men that struggle or are new to shaving, it should almost be a must to own. This will help eliminate pushing your hairline too far back and getting crisp well-defined eye-pleasing sharp lines.
Does It Work Well?
Makes getting nice clean lines easy and it performs its job, I can see why it was picked up on Shark Tank and why it has sold over a million units. Honestly, it's pretty hard to mess up as the clear plastic allows you to see through the Cut Buddy to the existing hairline and get the correct angle.
Such a simple but highly effective device, you can tell someone spent a lot of time designing this.
Just wished I had this when I was younger and avoided the blunders I made.
Was a bit skeptical on the whole stenciling pencil (drawing lines on your face) but it quickly won me over on how practical it is.
I wished I had more to say but it just works and makes screwing it up almost impossible.
What Is Included With Purchase?
1 – The Cut Buddy Hairline And Beard Shaping Guide Tool
1 – Pencil (white) with sharpener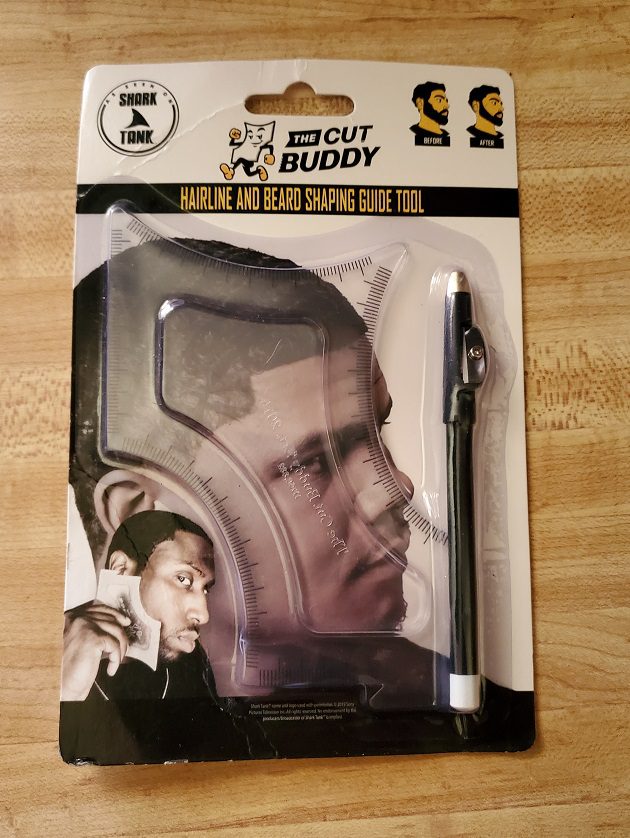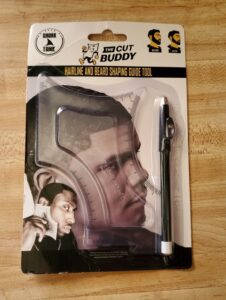 Pros & Cons
Pros
Can be used with both a razor or clippers.
Does a great job cleaning hairlines and making one feel fresh and presentable.
Makes getting the proper lines easy.
Stop the common problem of pushing the hairline back unnecessarily (which doesn't look good).
Pencil works great for drawing lines on your skin and making it a lot easier to shave or trim hair with both hands.
A great option for do-it-yourself men that cut and trim their own hair.
Great for younger, less experienced groomers. It will greatly help to avoid making disastrous mistakes.
Great for in-between barbershop visits, when you need to look fresh and popping.
The plastic is flexible at the ends and sturdier in the middle for support. Great design.
Confidence booster for sure.
The clear plastic allows you to see your hairline through the plastic allowing you to properly place The Cut Buddy to achieve the desired result.
Love that they support the military and first responders by offering a coupon code for an additional 25% off – VET25
Cons
Could have better more detailed instructions on proper usage and describing how to use. Very vague instructions on the back of the blister pack. Check out their website for further instructions and videos here, The Cut Buddy How To Use Our Products.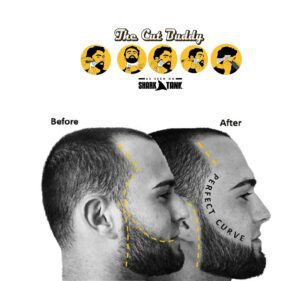 Tips On Using It
I really like first using the clippers first to establish a clear proper line, then addressing it further with a razor.
I also really liked using the pencil on my cheeks and neckline to draw the proper lines then to just freehand with a clipper.
Other Similiar Products You Might Be Interested In
If your a do-it-yourselfer and take of your own hair cutting you might also be interested in these great products I have also reviewed.
The Lipfi's Barbershop 360 3 Way Mirror – You can read my full-length article here, The Lifpfi's Barbershop 360 3 Way Mirror Selfcut Review.
Beard King Beard Bib – This allows you to avoid cleaning up the sink after a shaving session. Catches all them small hairs. Works great! Read my full review here, Beard King Beard Bib Review.
LVL Neck Shaver – This is my go-to neck shaver and I am always reaching for this every week. Love, love, love this product! Read why I love it here, LVL Neck Shaver Starter Set Review.
Quality Time Neck Hair Guide Supremium – This is another device to trim the back of your head with. For more information read my review, Quality Time Neck Hair Guide Supremium Review.
The Final Shave
It is quite obvious this device is a real winner for men looking to up their own hair game themselves. I was slightly skeptical about certain aspects of The Cut Buddy but it really does a good job handling many hair grooming issues. It won me over and can happily recommend it to any man that cuts or trims his own hair.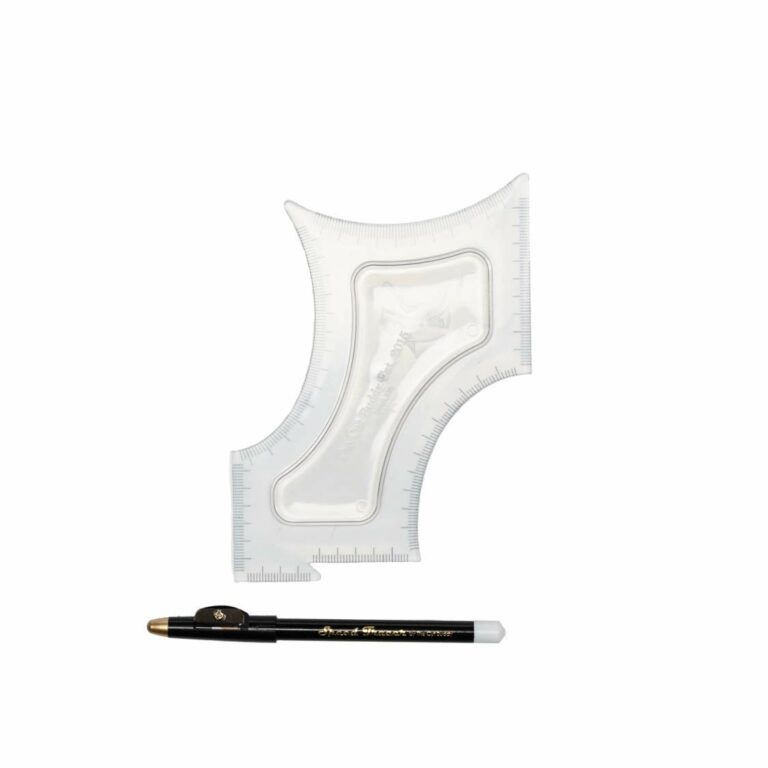 Any comments or questions about the Cut Buddy are always welcomed.