Today in this post, Happy Nuts comfort Cream Review we will be taking a look at ball cream. This is a new product for me, as I have never used or reviewed ball cream before but I have reviewed quite a few ball trimmers in the past.
So, let's see how this stuff works.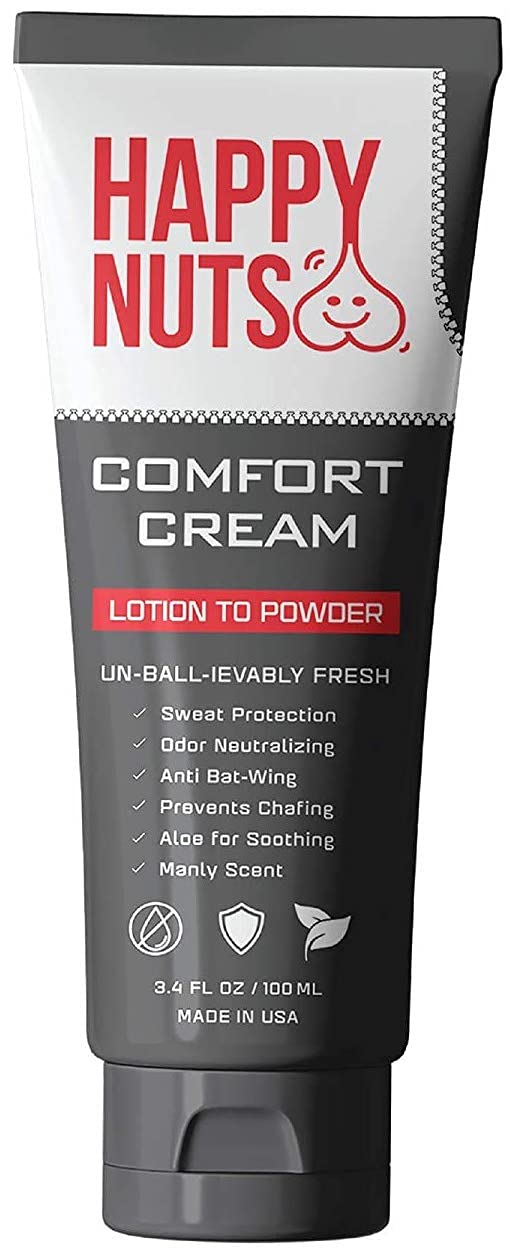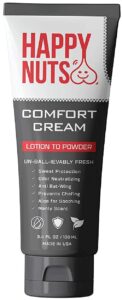 What Is Happy Nuts Comfort Cream?
Happy Nuts Comfort Cream is a multifunctional cream designed to prevent chafing, as an odor neutralizer, and sweat protection for your balls. This cream or lotion dries fast into a thin powder that helps prevent discomfort from sweating, bad odors, or chafing in the groin area.
Directions
Make sure the area is dry first.
Apply a small amount of cream to nuts, thighs, or any other areas where you are experiencing wetness or chaffing.
Allow the lotion to dry for a minute or two.
Wash your hands.
Now you have Happy Nuts!
Who Would Need This?
Any man could potentially need this depending on his genetics, what he is doing, his job, or location. Many factors can make it a hot sticky jungle down below. I knew I guy I used to work with at a door manufacturing plant that scratched his ass and balls all day long. The worst part was he would go inside of his pants to do it too. Oh wait, the worst part was he come over and talk to you and touch all of your tools too. Oh wait, the really worst part was he would smell his fingers after scratching himself. He got the nickname in the plant as Scratch and Sniff.  Really gross I know but true. He claimed his father was the same way as they just constantly sweated down there and it would lead to irritation and obvious bad smells. If I still worked with him I give him a case of this stuff as it is probably a genetic thing.
Things can definitely get uncomfortable down there from time to time, either seasonally or just playing a pickup game at the local courts. Maybe you have just been suffering without even knowing there was a workable solution. I have found personally that I didn't think I would like this product but things just feel better throughout the day down there. Granted it was just minor discomfort alleviated but I actually also felt better about myself as well.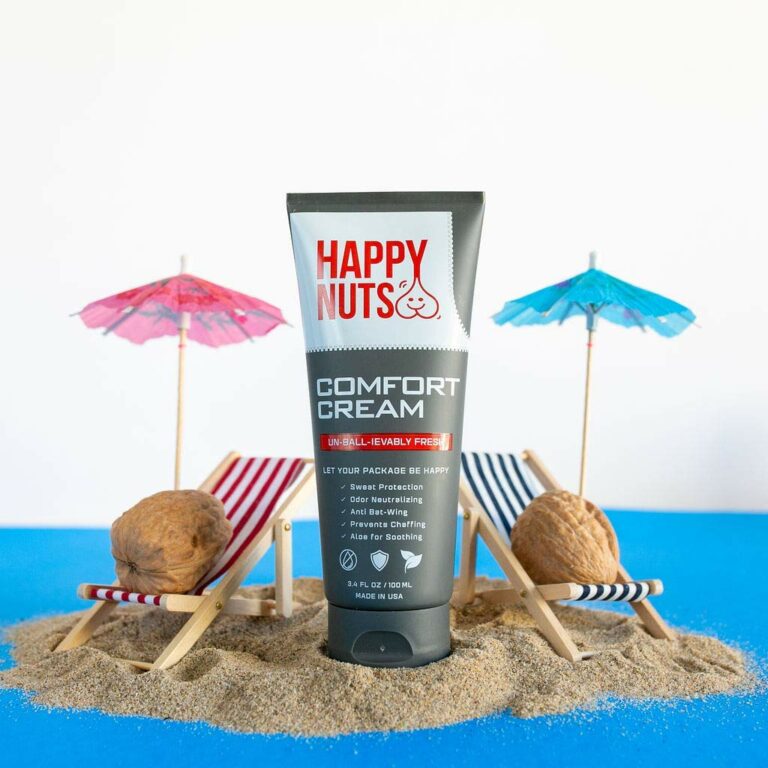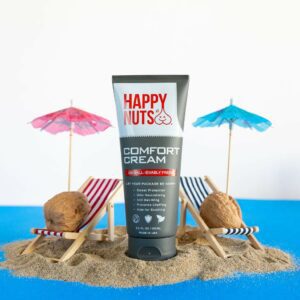 Ingredients
I like to post ingredients to help people avoid any products or chemicals that don't agree with them. It is always important to read the ingredient label on anything you put in your body or on your body. Right?
Aloe Barbadensis Leaf Juice (Organic)
Tapioca Starch
Water (Aqua)
Propanediol
Cocos Nucifera (Coconut) Fruit Juice
Caprylic/Capric Triglyceride
Allantoin
Cocos Nucifera (Coconut) Liquid Endosperm
Beta Glucan
Xanthan Gum
Glycerin
Carbomer
Fragrance (Parfum)
Phenoxyethanol
Caprylyl Glycol
Ethylhexylglycerin
Hexylene Glycol
Sodium Hydroxide
How Does It Smell?
This is the area where I don't really like or enjoy one of the product's features, its smell. To be more precise, it smells like 90's cologne to me and I don't like that scent profile. I do like and use quality cologne but it has to have a more natural smell to it for me to enjoy it. It has a smell that is very chemically based and made with synthetic ingredients and no natural essential oils.
The scent from the Comfort Cream luckily doesn't project that much to offend people standing across the room. It stays about 5 to 6 inches from the skin at least for me it does. This isn't a deal-breaker for me, it's not that bad, but I just don't like it. Maybe you will like it but I don't.
Would like to see them go a more natural scent profile and a less clubbing scent. Ummm…. hello, like the soaps they sell. Someone missed the mark on this one on using such a cheap smelling scent especially if they are targeting middle-aged men.
If you are looking for a great natural cologne that doesn't smell like Axe body spray take a look at my page here, Natural Smelling Colognes – That Smell Good and Like A Man!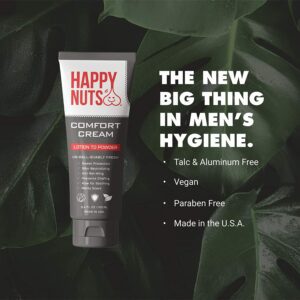 What The Hell Is Bat Wing?
I ask this because on the front label it says "Anti Bat-Wing". So, naturally, I got to look this shit up it is probably a good chuckle, right?
The answer is: When your nuts stick to your leg. lol. I have never heard this one before but yeah I can see it now.
I appreciate a company with a sense of humor
Pros & Cons
Pros
The lotion dries to a slippery powder, great anti-chaffing.
Dries pretty quickly.
Happy Nuts donated a portion of proceeds to prostate cancer prevention and research. That is pretty cool.
Not tested on animals.
I have found things just sit better down there throughout the day, after using the product.
Boosted self-confidence.
What a great name for a company that deals with balls.
Cons
Not a real fan of the smell to be completely honest. Not that unpleasant but a '90s cologne is what comes to my mind when I smell it. Would prefer a more modern organic smell that is not cologne smelling.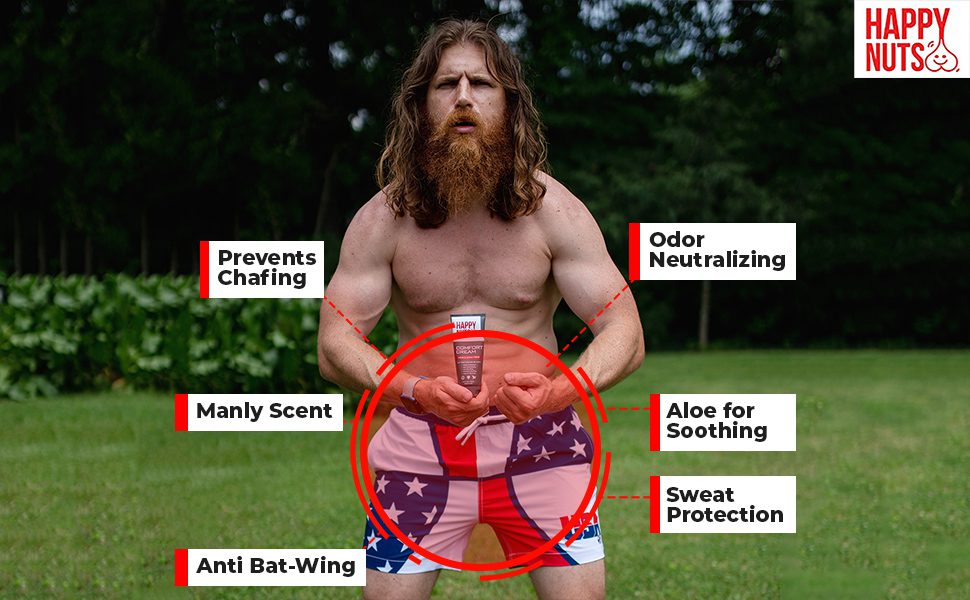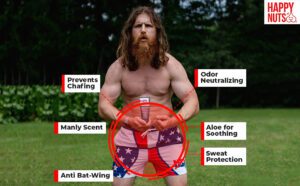 Need A Ball Shaver?
Happy Nuts makes a fantastic rechargeable ball trimmer called The Ballber that doesn't nick or cut you. It has a powerful motor that runs quietly and is worthy of checking out. Plus trimming your pubes keep it cleaner and better smelling, as hair collects sweat and can produce an odor.
You can read my full in-depth review here, Happy Nuts The Ballber Electric Hair Trimmer Review.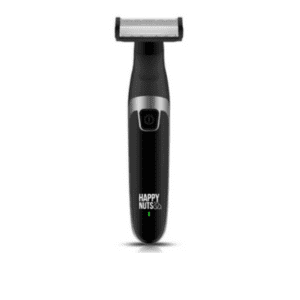 Promo Code
Use the Promo Code BACK10 to save 10% at checkout.
The Final Shave
I normally don't have a problem down there with the sweat or chaffing but could definitely see a need for it for some men. I just wished this smelled better. I have been using it for a few days and it feels like things just sit better down there with less bindage. So, if you have chaffing or sweat problems down there give Happy Nuts a try.