Is This Towel The Next Best Thing? Find Out In This Sand Cloud Beach Towel Review
So, in this Sand Cloud Beach Towel Review, I went out and purchased two towels to give them a try. If you are like me (a bit skeptical) you might have seen this towel advertised on one of the Social Media platforms and thought to yourself I wonder if this towel is any good? People on there are claiming it is so much better than standard bathroom towels or beach towels.
Let's see how they do…

Full Disclosure
I am not affiliated with Sand Cloud, but I am affiliated with Amazon and I will post Amazon links which I will make a small commission on in this post. I purchased the two towels pictured below with my own money to properly review these towels.
So…What The Freak Is Sand Cloud Beach Towel?
Sand Cloud has been featured on the Shark Tank TV show and was founded in San Diego. Sand Cloud makes beach towels, bath towels, sunscreen, and accessories. Towels can be ordered singly or bought in bundles.
Their towels sport stylish designs with colors and patterns. These towels claim to be sand-resistant fast drying and are larger than a standard bathroom towel. These towels take up less space and are easy to store and travel as they are considerably thinner.
Turkish cotton is used to make Sand Cloud towels. Turkish cotton is woven with longer fibers which translate to stronger, more absorbency, and softer material. This cotton becomes softer and more absorbent with each wash.
What Are The Sizes Available?
So, there are three different beach towel sizes to choose from at Sand Cloud for their beach towels.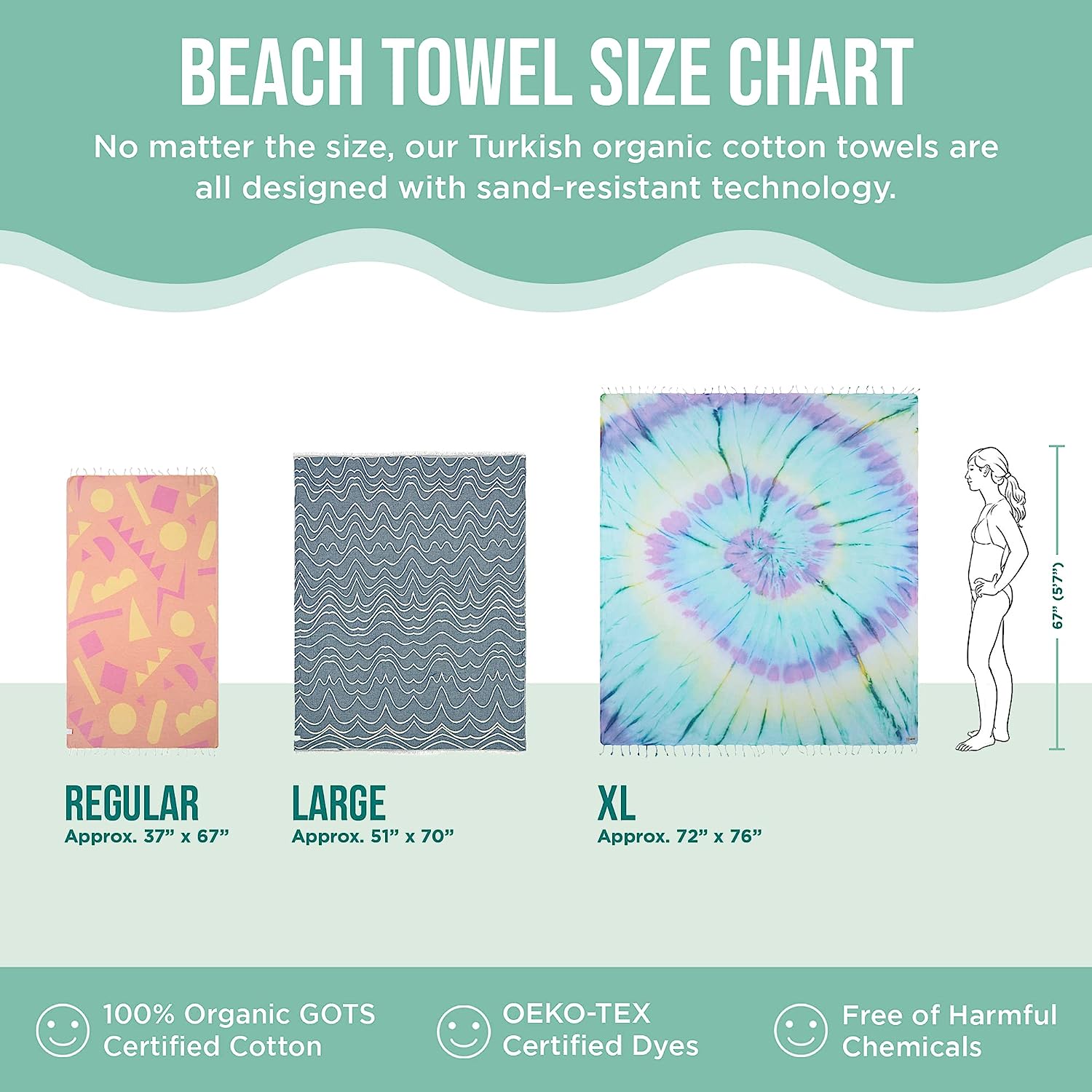 My Experience
I purchased two of the Sand Cloud towels (Swirl Turtle Teal Blue & Frydek). I have been using these two towels as shower towels. Although I have recently just taken these to the beach and will share my overall experience with that too.
Right out of the box, I was initially off-put by how thin the material is. These are thin towels as I am used to thick fluffy towels. This is just a heads up as it is quite different in this respect than the norm. Washing your Sand Cloud towels does make a difference as the material becomes softer and more able to absorb water. I did see improvements after washing the towels.
When drying off after a shower the thinness is quite noticeable as well. Quite different than the standard fluffy towels but the Sand Cloud Beach Towels still does dry you off.
I really like the length of the towels as some of our bathroom towels are smaller and I have a hard time wrapping the towel around me when out of a shower.
An Amazing Beach Towel
This is a great beach towel! This is a beach towel and as a beach towel, I think it is far superior to other beach towels I own. I went to a local beach the Kohler-Andrae State Park near Sheboygan, Wisconsin. Great beach and park by the way and the towel performed amazingly.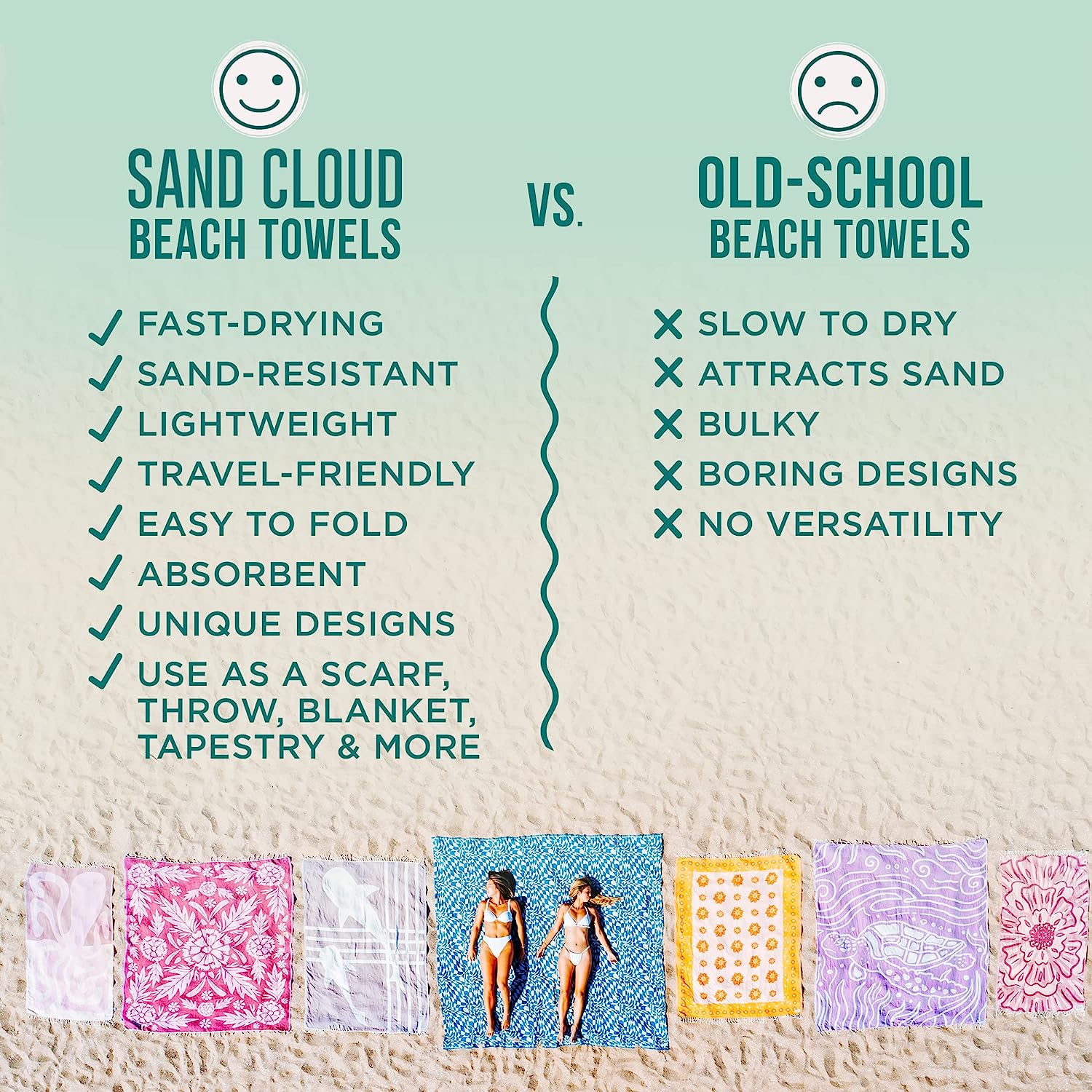 Sand isn't an issue at all when using a Sand Cloud beach towel. The sand easily shakes out. They very much live up to their claims of sand resistance. All I did was shake out the towel when we left and the towel looked and felt sand free.
The towels take up less space than a traditional shower towel and are even smaller than a standard beach towel. I easily fit these two towels into my backpack with plenty of room to spare. This makes for a much more hassle-free experience. These towels are very travel friendly!!!
I really appreciated how light and easy to pack these towels were.
These towels do not take long to fully dry out either. The thinness of the material allows air to easily pass through allowing the towel to fully dry.
Final Thoughts
If you are looking for a new beach towel…Sand Cloud should be your first choice. With colorful and cool designs this towel does perform all of its claims. It is a great towel that doesn't take up a lot of room and it dries super fast, all the while keeping sand at the beach instead of taking it home with you.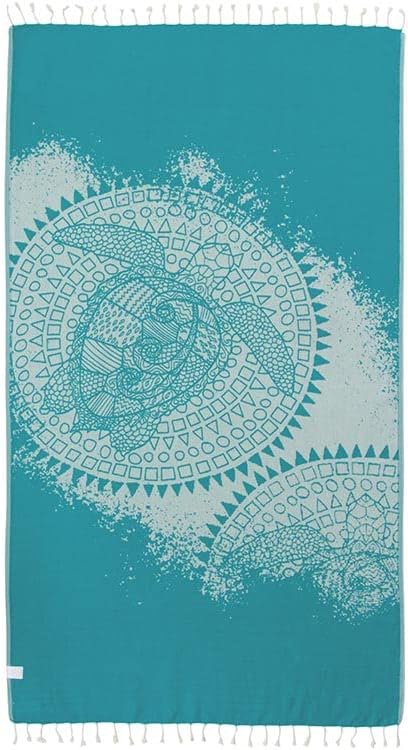 Pros & Cons
Pros
Very cool and interesting designs and patterns. Something is bound to catch your eye and resonate with you as far as graphic designs are concerned.
10% of Sand Cloud profits go to marine conservation, which is cool.
Good quality fabric.
You can often find deals.
Very lightweight towels. These beach towels weigh just 12.8 ounces.
The towel lengths are great. Even with my expanding waistline it easily wraps around me.
Towels are easy to roll up or fold and take up less space than traditional towels or beach towels. Makes it so much easier to transport to the beach than a much bulkier towel.
Really does work to keep your towel sand free. Sand does not stay embedded in the Sand Cloud towel as it does with other towels. Sand just rolls right off.
Quick drying towels. Sand Cloud states 3x faster than old-school beach towels. I would tend to believe them as I have experienced a fast-drying towel.
Easy to pack in a bag, backpack, or slung over your shoulder. Making them very travel friendly.
Multifunctional. Can be used as a beach towel, bathroom towel, sarong, blanket, tapestry, picnic blanket, scarf, or more.
OEKO-TEX Certified dyes.
Free of harmful chemicals.
100% Organic GOTS Certified Cotton.
Sand Cloud has an exclusive line only found on Amazon here, Amazon Exclusives. These patterns are mostly just stips and solid colors. Worth a look for sure!
They also do collaborations with big names like Disney and Star Wars for unique designs.
Was featured on Shark Tank.
Many positive reviews about their products.
Made in Turkey.
Apparently, the more you wash your Turkish cotton towel the more absorbent it becomes. So essentially the towel performs better the more you wash it.
Very large selection of patterns and prints to choose from.
Free shipping on orders $150+.
Offers international shipping.
30-day return policy.
Cons
These are thin towels. This was a shocker to me at first as I am used to thick and bulky towels, and at first, I didn't really like it but after using it for a while I really enjoy it. It just took a bit for me to warm up to how thin these are. The thinness also allows for quick drying too.
Towels can be a bit pricey.
Highly recommended to wash your Sand Cloud first before using it.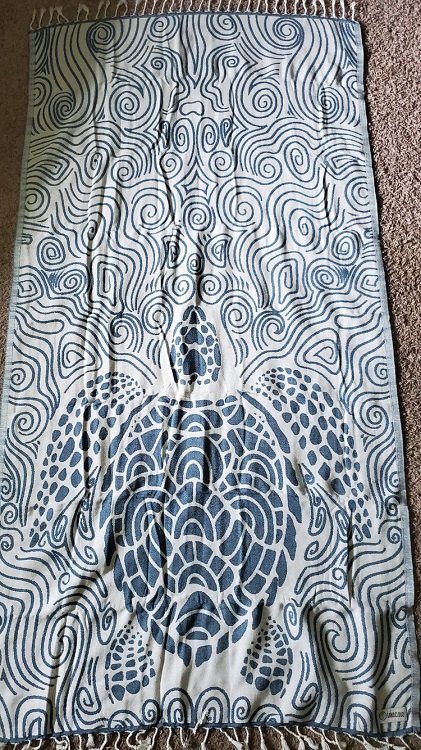 Where To Buy Sand Cloud Towels?
Sand Cloud Beach Towels can be purchased from Sand Cloud's Website and Amazon.
How To Care For Sand Cloud Towels
CARE INSTRUCTIONS: We highly recommend washing your Sand Cloud towel before use:
MACHINE WASH COLD
DELICATE CYCLE
DO NOT BLEACH
DO NOT WASH WITH JEANS OR HEAVY-WEIGHT GARMENTS.
HANG AIR DRY FOR BEST RESULTS IN SHADE
TUMBLE DRY IF NEEDED
DO NOT IRON
DO NOT DRY CLEAN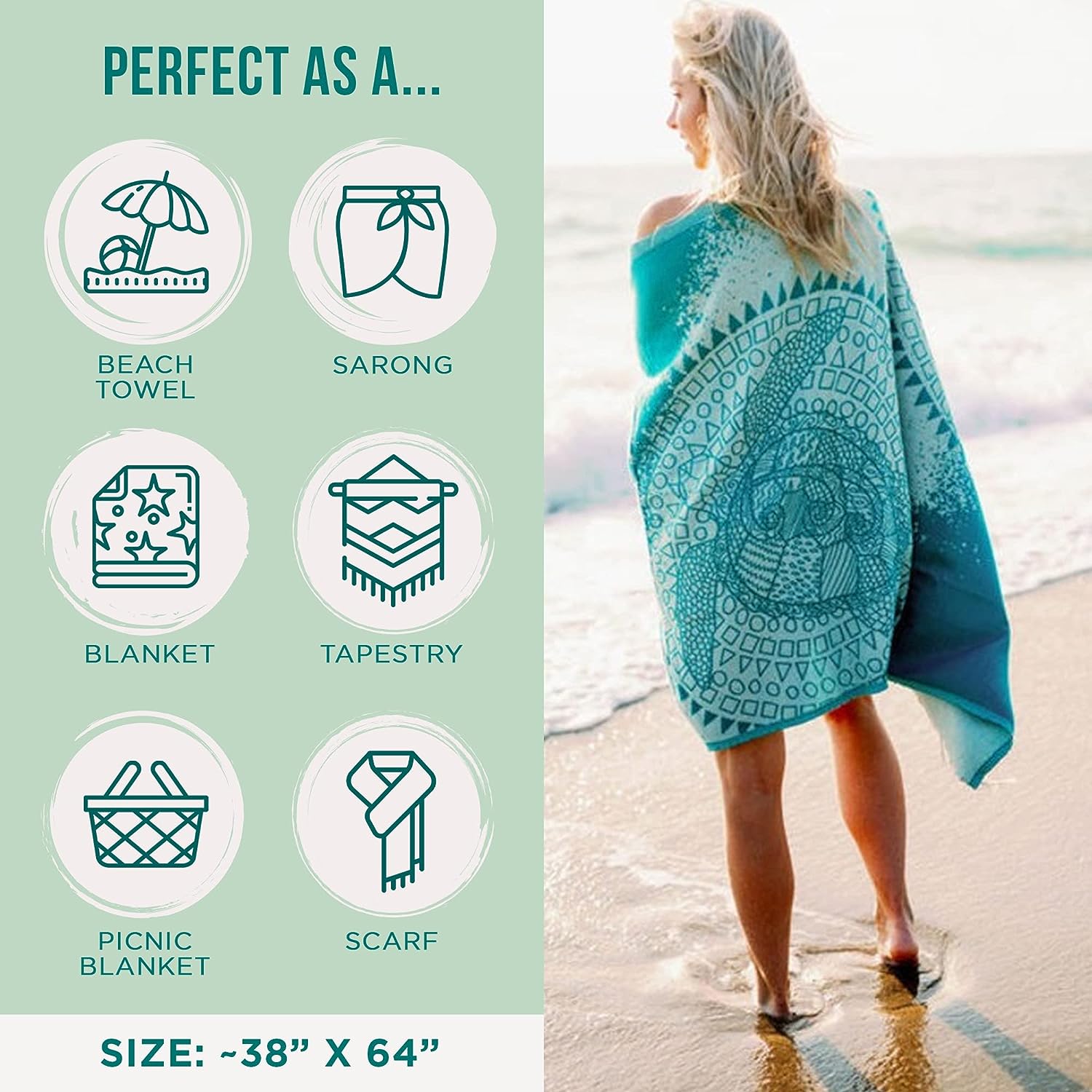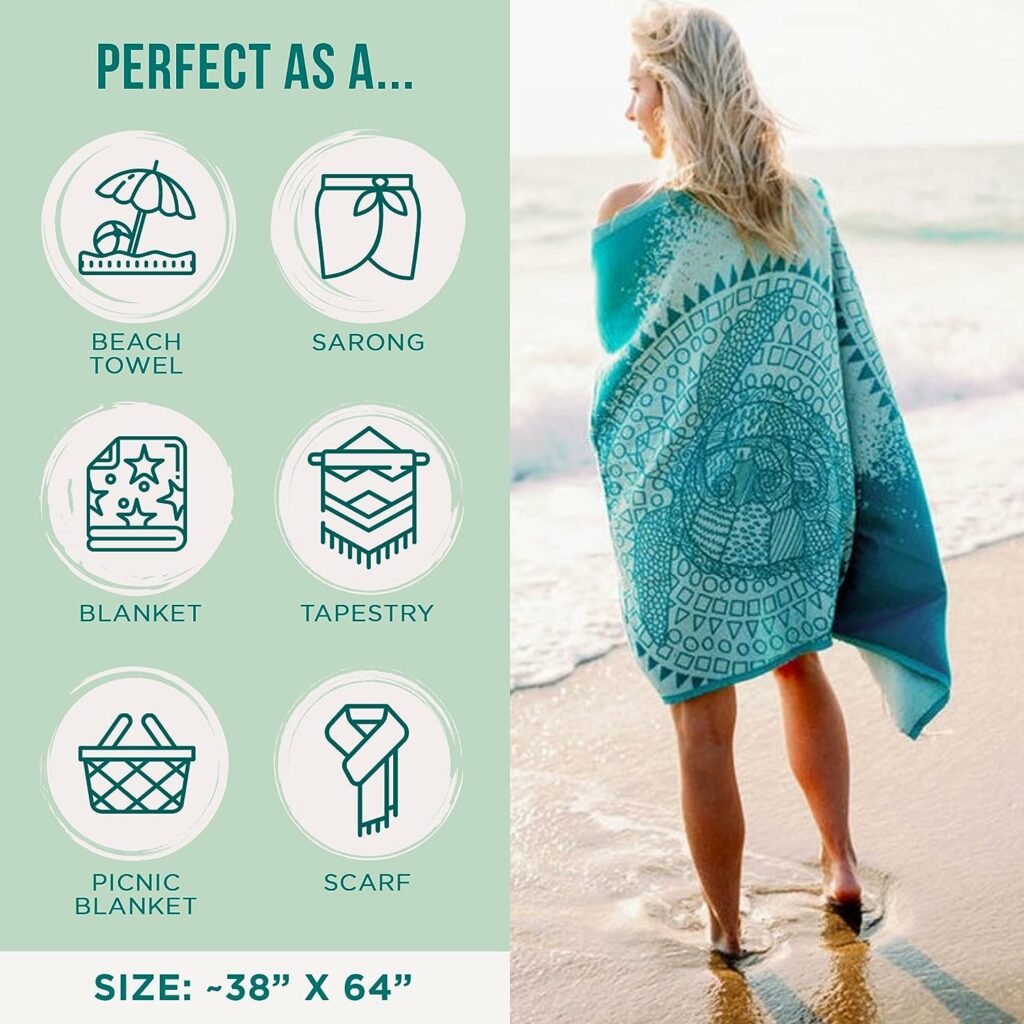 Looking For A Better Washcloth?
Trying to find a related topic that you might also be interested in (as it is a good way to promote similar products) I would highly suggest you take a look at this article, What Is The Best Washcloth For The Body? I highly recommend the best washcloth I have found in my many product reviews. It's cheap, last a long time, also dries super fast, and provides excellent exfoliant. You need to get one of these!!!
The Final Wrap
While initially, I thought the cloth of the Sand Cloud Beach Towel was too thin, I later came to prefer the lighter material for its many benefits, especially on the beach. Sand Cloud lives up to its claims and is a highly versatile towel that can be used for a variety of different methods. I much rather pay up for any item (as long as it performs) than settle for a subpar product.
Quality products and highly recommend checking them out.