Move Over Wet Toliet Paper There's A Better Tool Now
Any man knows whether shaving, cutting your own hair, or just trimming your beard that cleaning up the countertop and sink can be a real choir. Hair can go everywhere and the pieces can be quite small and hard to pick up. That is where the Beard Bar comes in as this device claims to help clean that hard-to-clean-up hair after trimming your beard.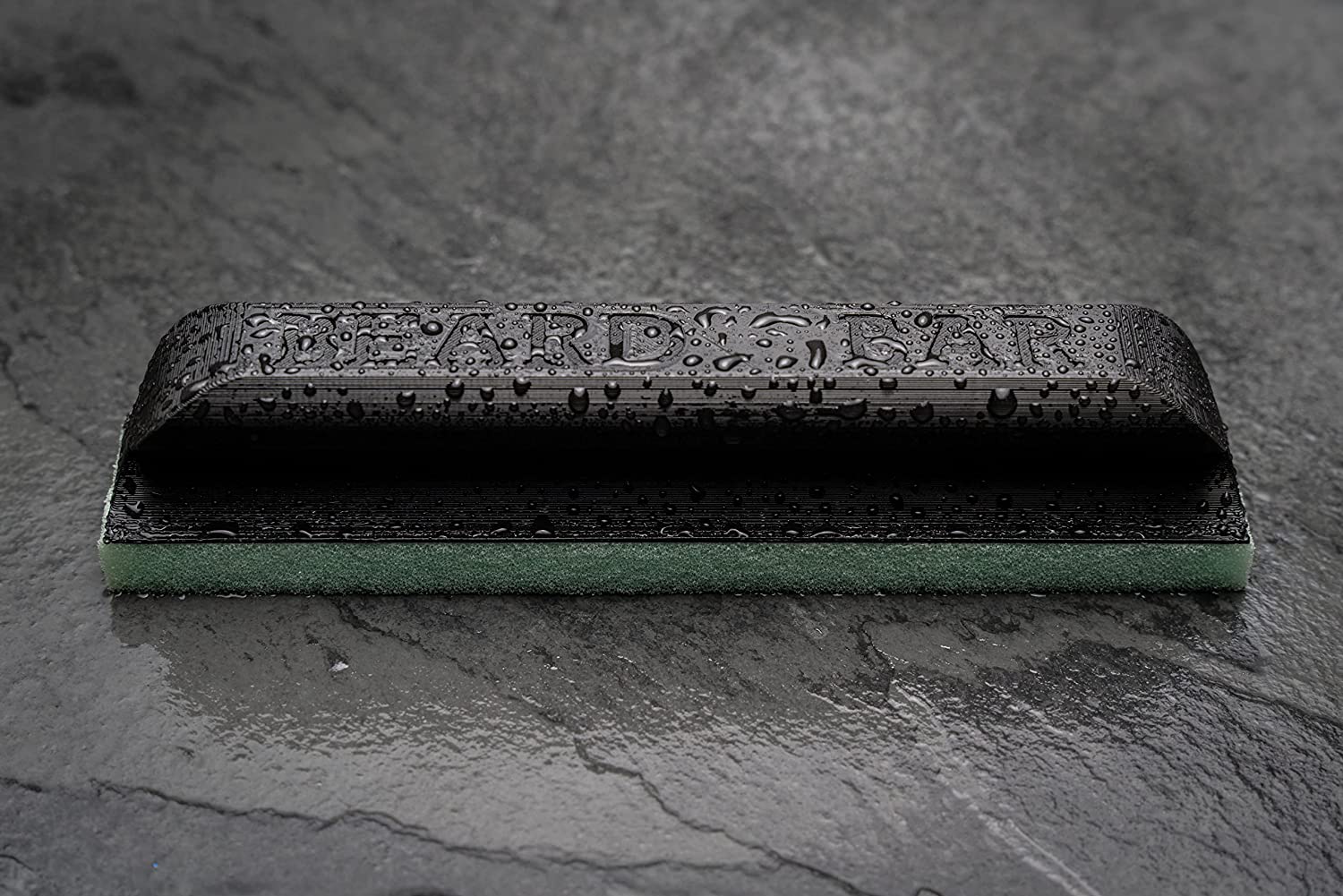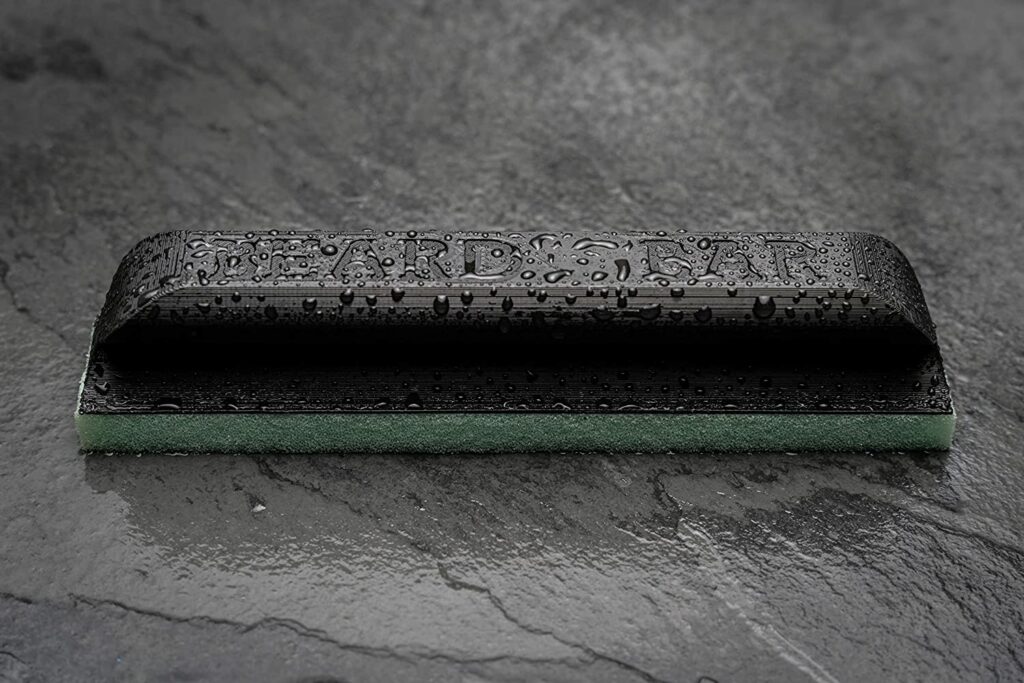 Let's see how effective it works…
What Is The Beard Bar?
This is a device that helps pick up hair as it has an antimicrobial sponge that is attached to a hard plastic handle. You simply dampen the sponge and swipe on the countertop or sink and the hair attaches to the sponge and you then simply rinse off when done.
This should be called "Make Wife Happy Bar".
People That Might Need This Tool?
Men that shave, trim their beards, cut their own hair.
Wifes of men that shave or trim their beards and have to clean up after them.
Maids
What Is Included?
1 – Mat's Beard Bar
1 – Set of Instructions
Specs Of The Beard Bar
The length of this Beard Bar is 4 3/4″ inches long and 3/4″ inches wide and 1 1/4″ inch tall. I don't know the weight of this thing but it is very lightweight.
How To Use It
The direction is super easy.
Wet the sponge under the sink.
Rinse out excess water by pressing the center of the sponge against a sink edge and pulling back
Sweep the damp sponge along surfaces around the sink and counter.
Rinse out beard trimmings in the sink bowl.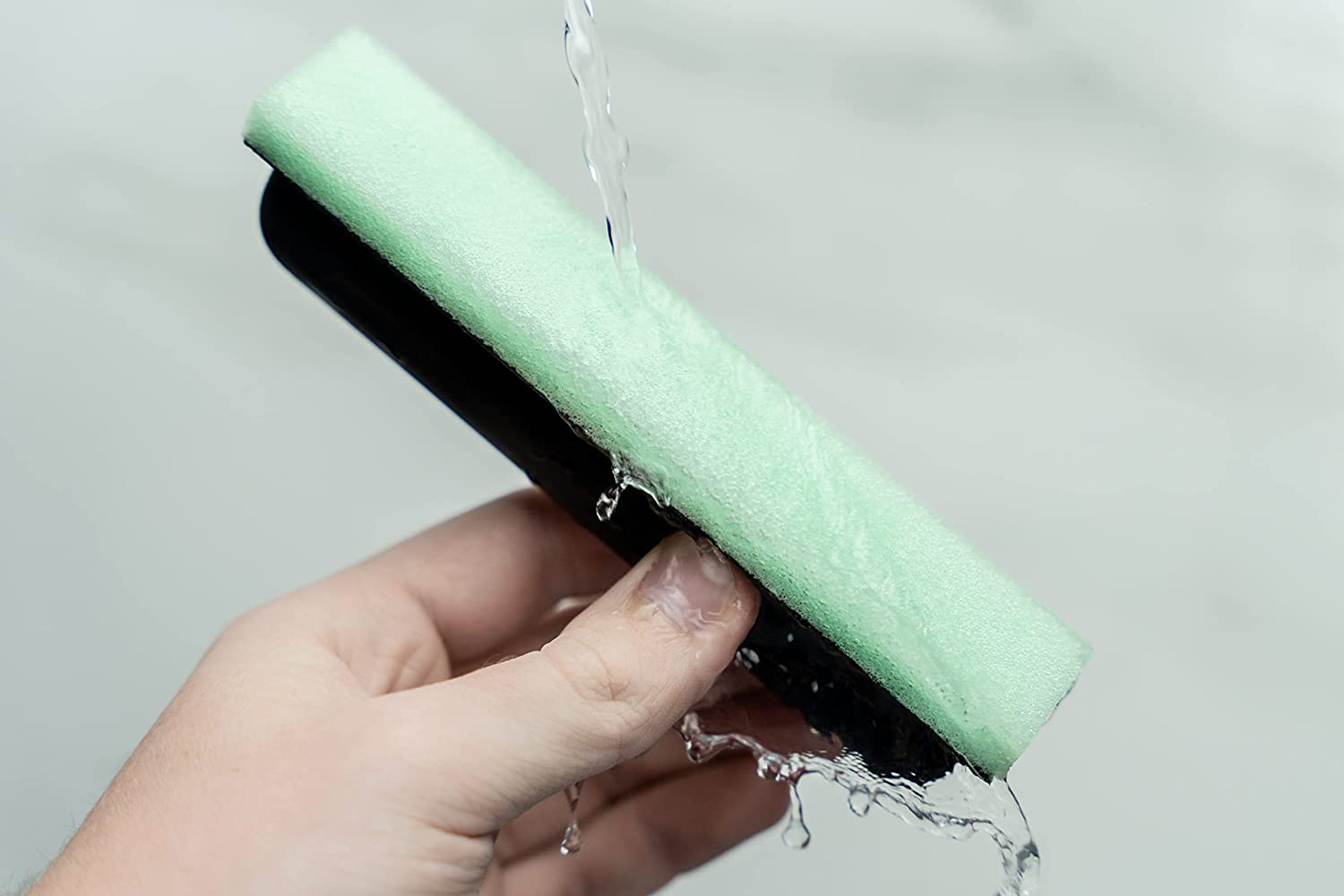 How Well Does It Really Work? Worth It?
I was kind of skeptical when I first saw this but was hopefully enough to purchase it in the hopes that it might help keep my bathroom counter and sink spotless. Hair on the counter and in the sink is never a pleasing sight to behold. I always seem to miss some hair.
But this really does work…and work well it does. I did my normal creating a mess also called trimming my beard. As hair goes all over the place around the faucet, in the sink, and on the countertop. So I took out the old Mat's Beard Bar wetted it and started going to town with this thing. And right away it picked the smallest of hair right up along with longer hairs as well. The hair attaches to the sponge so you can hold it under the spigot and simply rinse it down the drain. Super easy even a monkey can do it.
In the past, I would just wet a piece of kleenex or toilet paper and try to wipe up the hair but I often use quite a bit of that stuff to adequately clean everything up and it would do that great of a job either. The Beard Bar even picks up the hair that is right up against objects like a faucet or even on the faucet itself in the little crevices fantastically. I can easily fit it between the water handles and the spigot.
I am very happy with this product it picks hairs up no matter how small. To me, it is totally worth it!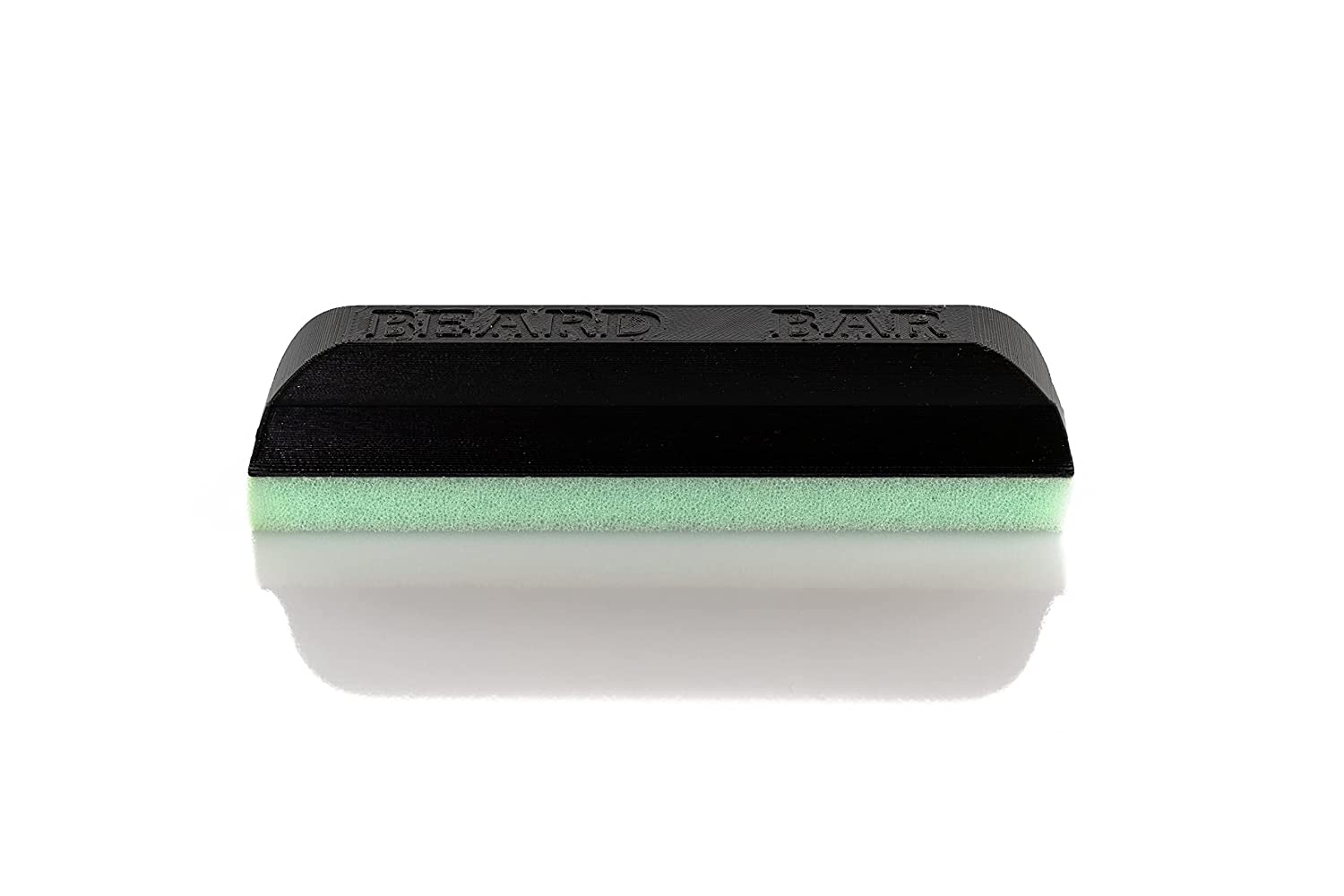 Pros & Cons
Pros
Very lightweight.
Gets around corners and right next to odd shape corners like the faucet. This very pleasantly surprised me.
Fits into tight spaces.
It does pick up dirt too which leaves a cleaner bathroom.
Makes clean-up easy and simple.
Picks up small hair and larger hair with no problem.
Antimicrobial sponge.
Clean-up time is really fast.
Grabs hair most of the time on the first pass.
Makes a great gift or stocking stuffer.
Makes your spouse happy not to see hair everywhere after you are done trimming your hair.
Makes it less of a choir than other methods for sure!
Cons
Might be slightly overpriced for a sponge with a handle but boy does it make cleaning a snap.
Mat's Beard Bar recommends replacing it every 3-12 months dependent on how often you use it. I don't know about that, but I am going to make this much longer than that.
Other Product Worth Considering?
Another similar product in dealing with hair clipping and clean-up is a beard bid. This is a bib that attaches to a mirror and goes around your neck and there is a trough that the hair can fall into instead of falling onto the sink and countertop. I have reviewed the Beard King Beard Bib and it was a decent device that catches all the hair. You can read more about it here, Beard King Beard Bib Review.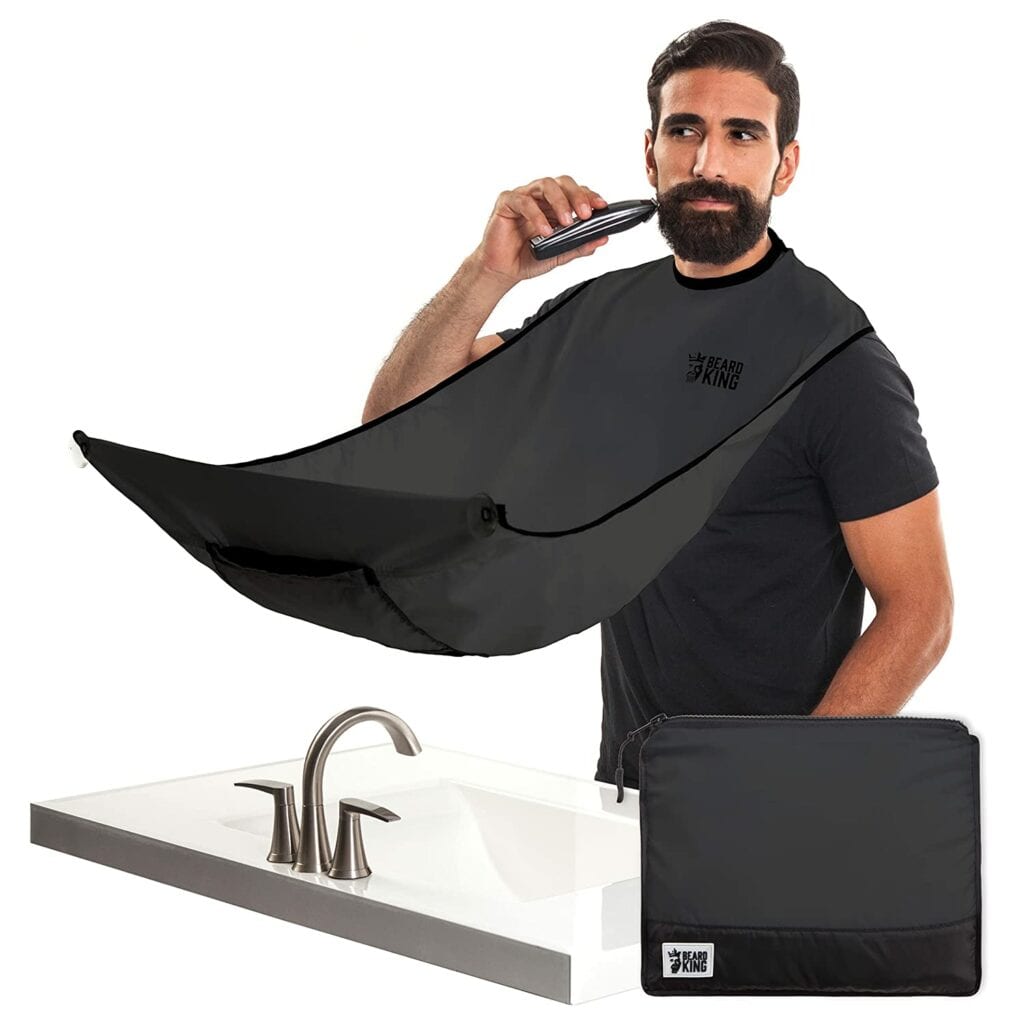 Are You Happy With Your Beard Trimmer? Well, Try This. It's Amazing!!!
I get to try and review a lot of products and one of my favorite beard trimmers is the Philips Norelco Oneblade Face + Body. This trims so close to the skin it is almost a shave, it's that damn close! It uses a microblade that sits flat against your skin but doesn't cut you. I've reviewed other similar devices and none of them work as well as this does.
This comes with two blades one for trimming your beard and one for body hair. It also comes with different guide combs that work great.
You can read more about why this is such an amazing grooming tool here, Philips Norelco Oneblade Face + Body Review.
The Final Shave
For such a simple device it sure simplifies the process of cleaning up stubble. I am not going to say it is fun using it but it is better and less of a choir than other methods I have used. The stiffness of the damp sponge and clean straight lines do wonders for picking up stubble. It is strangely satisfying using it.
I highly recommend considering purchasing this grooming tool if you want a cleaner bathroom and a happier spouse.
Just a great tool for any man! So pick on up and make you and your wife happy!