When A Beard Trimmer Meets A Mini Vacuum
What happens when these two unlikely devices meet and team up in a grooming tool? This could either be wonderful or ho-hum. This is why I recently purchased for this review the Remington Vacuum Beard Trimmer MB6850. As I have recently written a post on how to maintain a cleaner countertop and sink after trimming your beard I stumbled upon this trimmer.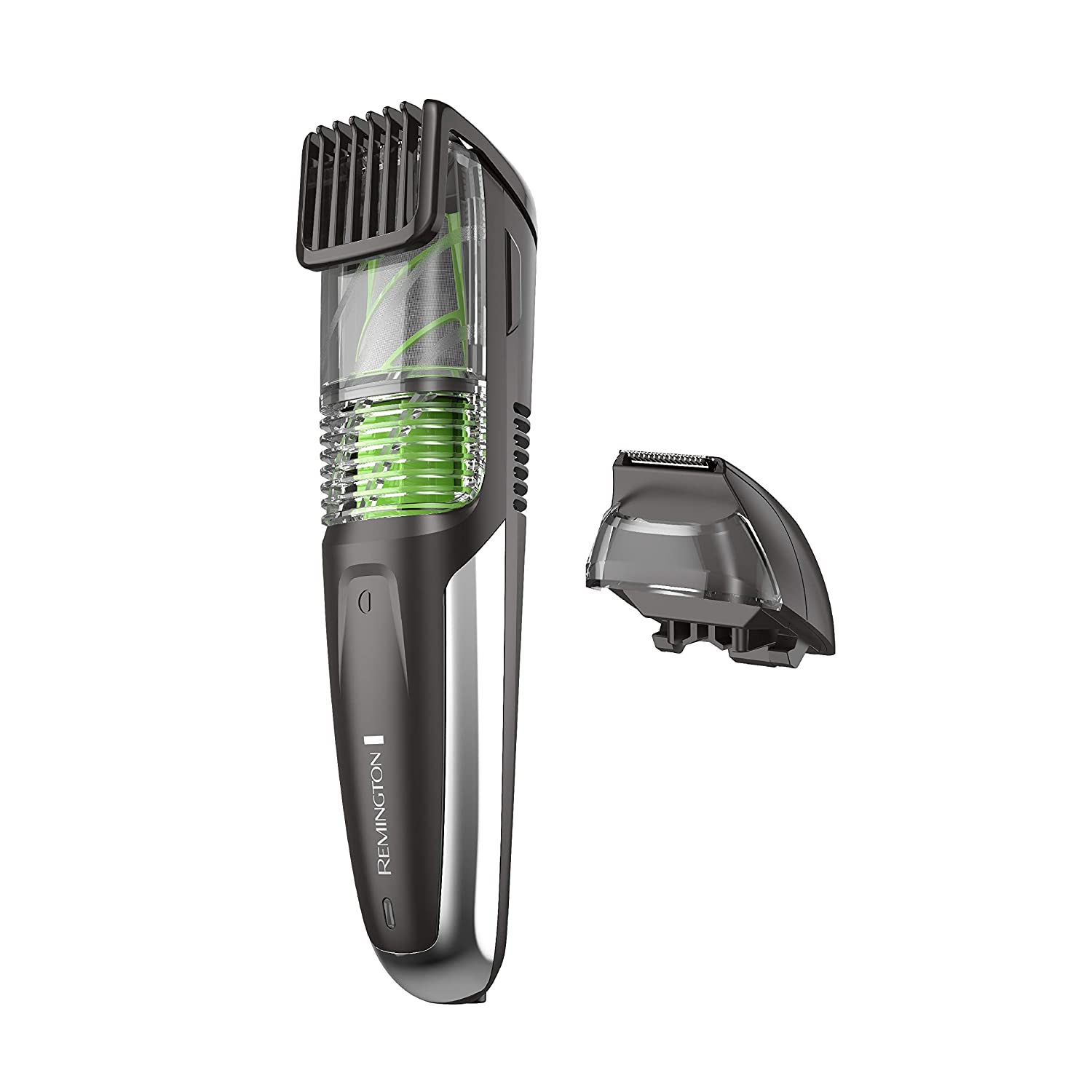 Well, let's get into the weeds on this and find out.
What Is The Remington Vacuum Beard Trimmer
The Remington Vacuum MB6850 Beard Trimmer is a rechargeable trimmer that has a mini vacuum designed and built into it. This is designed to suck away most of the trimmed hair instead of it spreading around your general area in the bathroom. We all know trimmed beard hair goes everywhere and is a real pain to clean up.
The MB6850 has a lithium battery that charges in about 2 hours to a full charge. It also has an 11-in-1 guide comb that is adjustable. This also comes with two different blades the main blade and also a smaller detailing blade.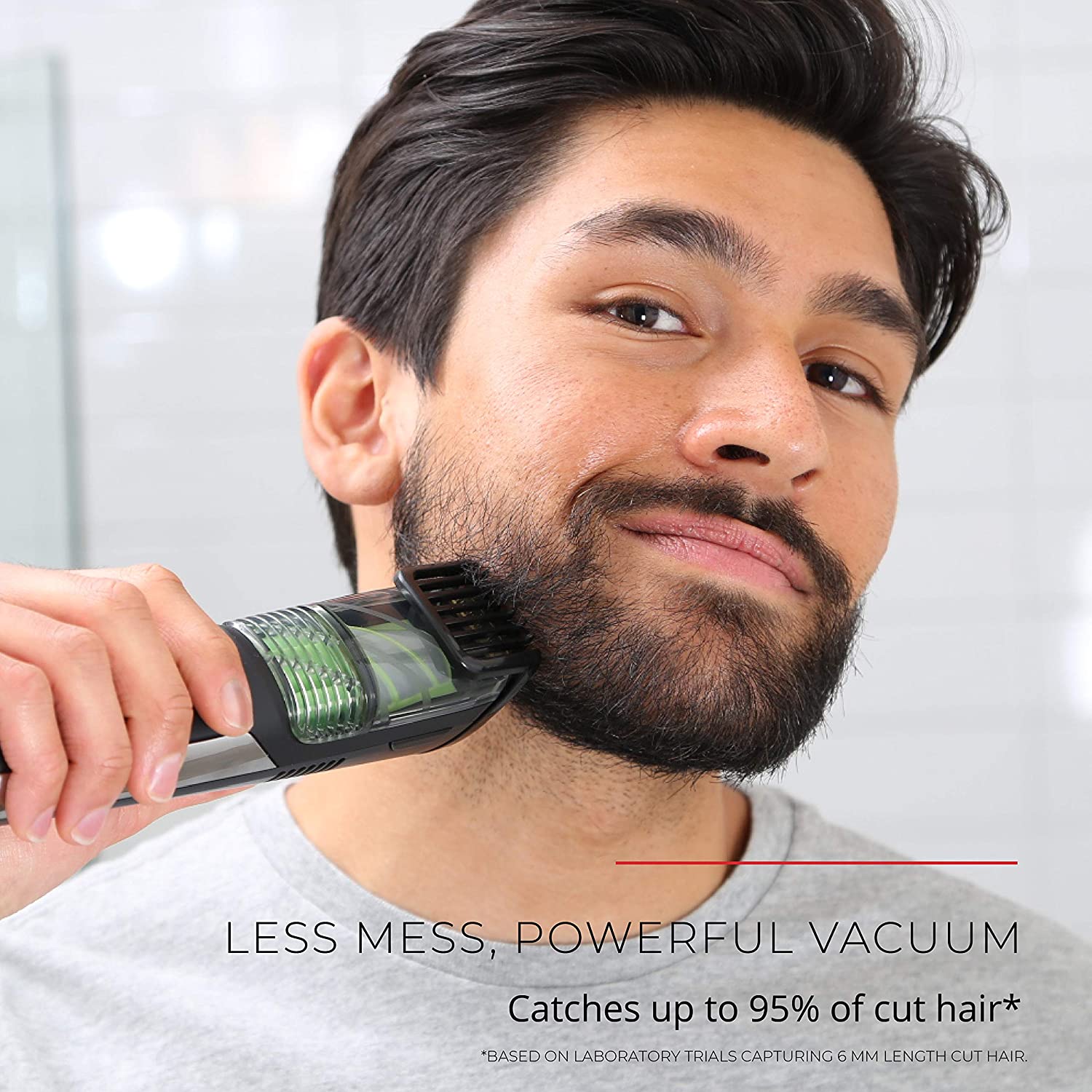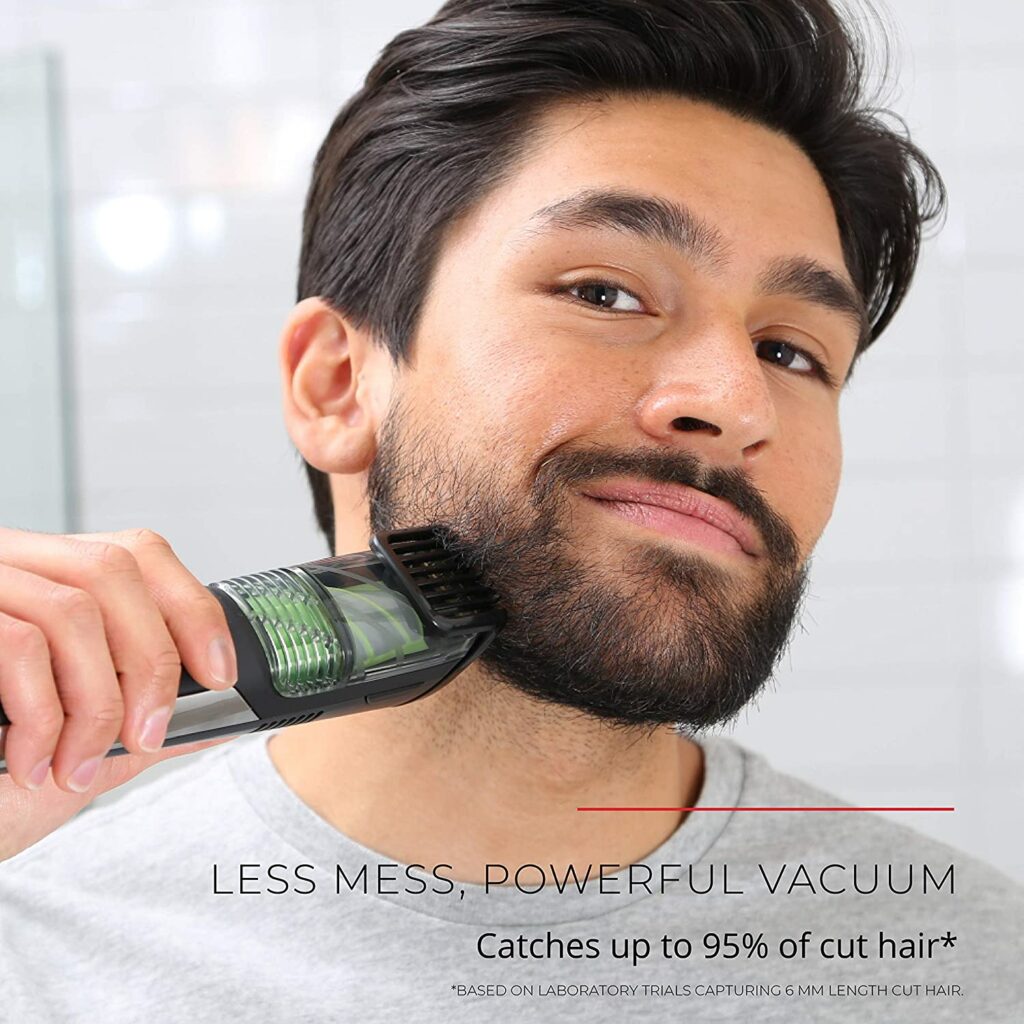 What Is Everything That Is Included?
1 – Remington Vacuum Beard Trimmer MB6850
1 – Adjustable Beard Comb (2-18mm)
1 – Main Trimming Blade (comes attached)
1 – Detail Trimming Blade
1 – Charging Adapter
1 – Cleaning Brush
1 – Set of Instructions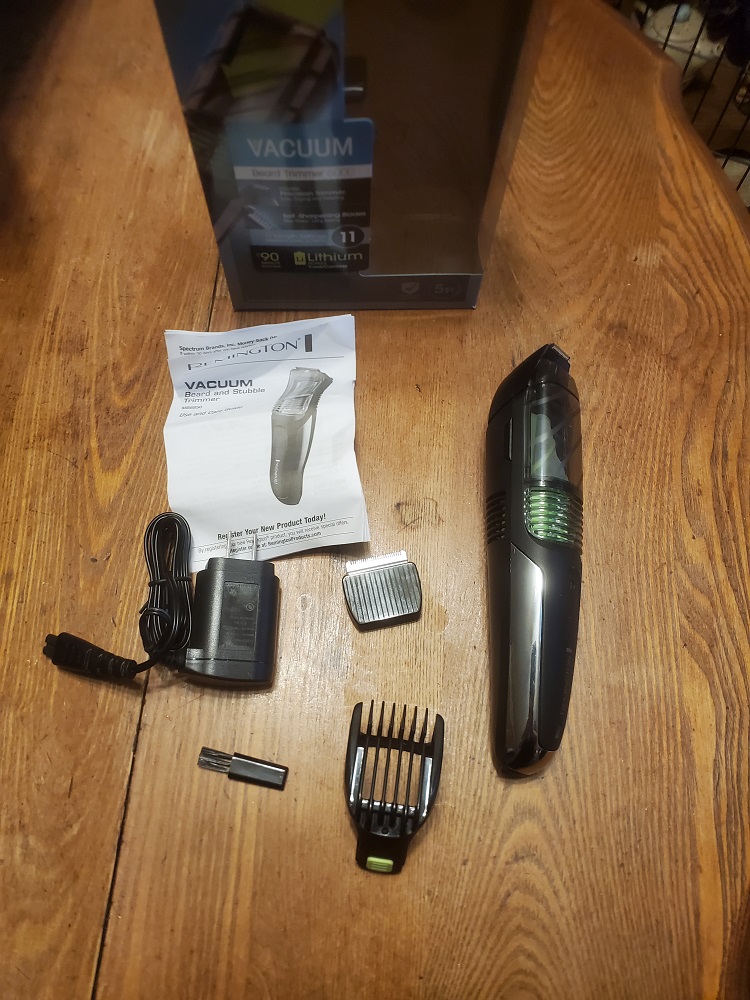 Specs On Remington MB6850
This measures 7 5/16″ inches long with the main trimming blade installed with the Detail Trimming Blade installed it increases it to 8 3/16″ inches long.
Main Trimming Blade Measures 1 1/4″ wide
Detail Trimming Blade Measures 3/4″ wide.
The battery is a Lithium battery and with a full charge should have a 60-minute run time. The recharge on the battery, when plugged into the wall, should be around 2 hours.
Where You Can Potentially Use This On Your Body
Although this is labeled and marketed as a beard trimmer, it can also be used elsewhere on the body as well. It just isn't specifically designed for other areas but is more than adequate for taking care of other areas too.
Beard
Mustache
Sideburns
Neck
Leg or Arm Hair Trimming
Chest
Is This A Good Beard Trimmer & Will This Keep Sink & Countertop Free Of Trimmings?
Trimmer Performance
Is this the best beard trimmer on the market? I would say no it is not the best…but it does trim your beard very adequately aside from dealing with trying to trim any hair directly under your nose (the mustache area). Using the supplied guide comb is hard to trim the hair around this area as the guide comb is big and clunky. Also, the 11-in-1 guide comb is weird for me and seems gimmicky but it does perform okay once you get acclimated to it.
It just fails in one of the major areas the mustache area. Other than that is a pretty decent trimmer. It will trim hair with enough power and never bogs down. The detail trimmer blade extends the overall length of this unit considerably. This too works very decently.
Vacuum Performance
Captures Up To 95% Of Cut Hair
It does not get every hair, as Remington clearly states on their package. Some beard hair just zips off to the side regardless of the vacuum attachment and this is to be expected. I would not argue Remington's claims at all, as a great amount of hair is captured inside the vacuum portion of the trimmer.
This works great at catching most of the hairs. I was pretty surprised at the results. A great idea and also a great design that does its job!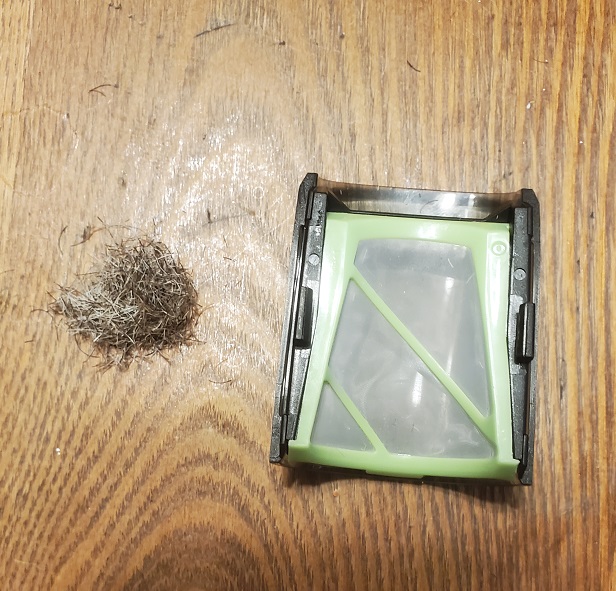 More Ways Of Keeping Countertops & Sinks Hair-Free
If you are interested in finding ways to help clean and maintain a hair-free sink and countertop I have written a post here on Tips & Tools For Cleaning Hair Off The Countertop
Worth Getting????
If you are more concerned with cleaning up after trimming your facial hair than having the best beard trimmer this would be definitely worth getting. Especially if you have two beard trimmers one for your main beard and easy clean-up and a second one to deal with hair under your nose. I really like that it does vacuum most of the hairs and sure makes cleaning up a whole hell of a lot easier.
If your wife or partner is always getting on you about the mess…GET IT! If you are a barbarian and never clean up after yourself but live with someone else…GET IT!
If you want the best beard trimmer on the market and don't find cleaning up after yourself…I would skip this altogether and get a better beard trimmer. See below (in how this compares) for the best beard trimmer I have reviewed bar none.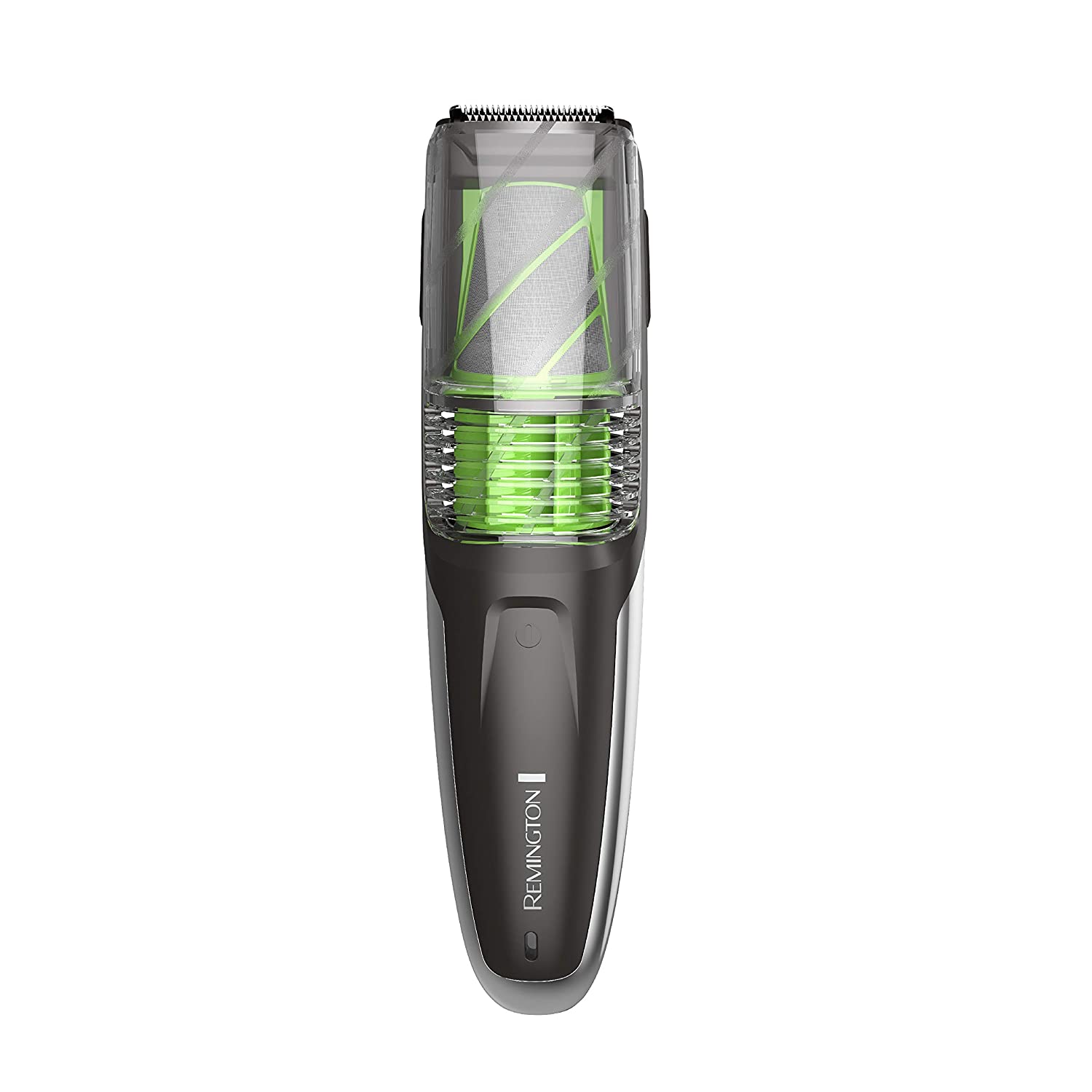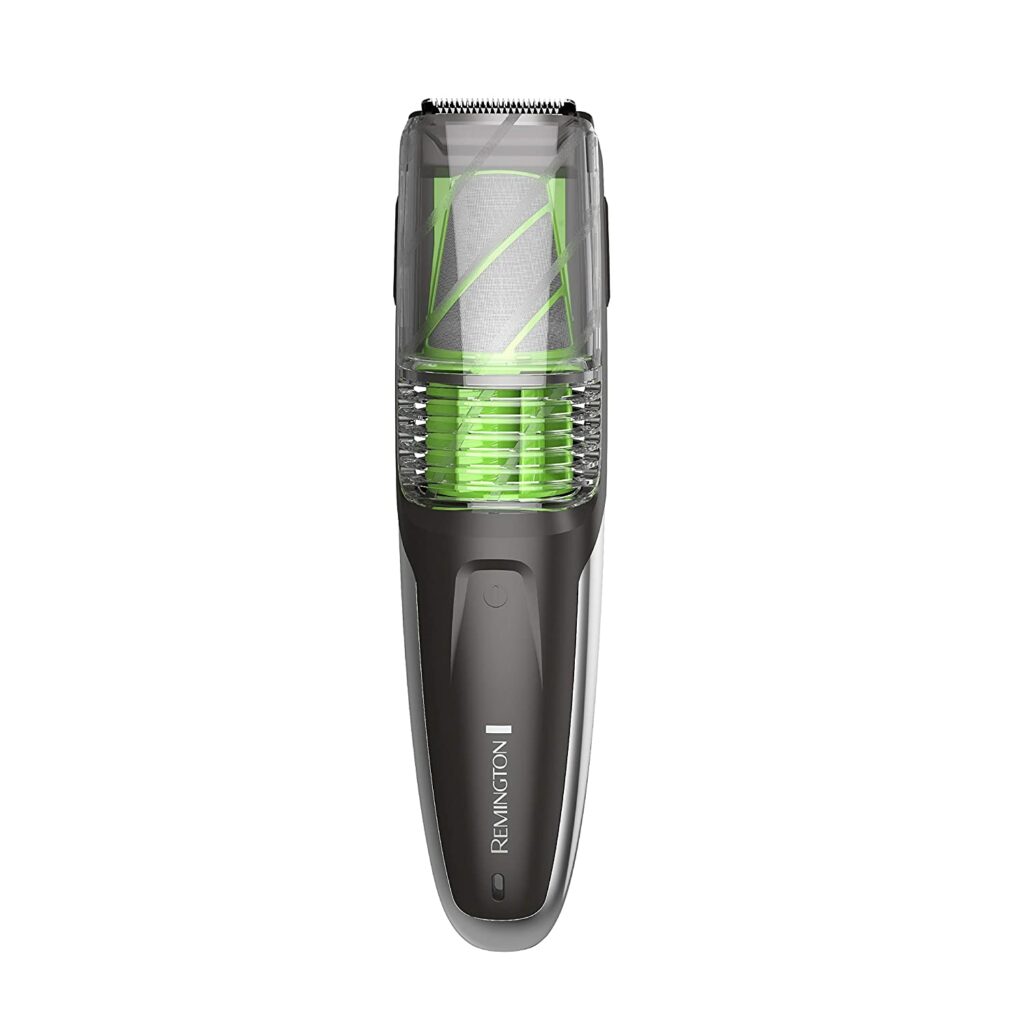 Pros & Cons
Pros
Not a bad price point.
Vacuum works!!! Catches most trimmed hair. This surprised me with how well it worked.
No more dread cleaning up beard trimmings.
Good placement and recessed on/off switch. I never accidentally turned it on or off.
The vacuum chamber is also easy to take on or off for disposing of hair.
Long battery life which is up to 90 minutes on a full charge.
Great battery Lithium.
Plenty of trimming lengths for the adjustable comb (11 total).
A smaller detail trimming blade for those tight spots.
Easy to switch between the two different trimming heads.
Very lightweight.
Blades are easy to clean as you can just rinse them out under the sink.
Power blades cut hair effortlessly.
Quick recharge time. It takes about 2 hours to get a full charge.
The charging light will start to blink indicating you need to charge this unit.
Long charging cable.
Cons
The larger guide comb makes it harder to trim the hair around the nose as the guide comb attachment is just large in general and doesn't allow you to trim hair under the nose as some other beard trimmers with smaller guide combs.
Not a big fan of the guide comb attachment. It works don't get me wrong but I just don't have enough experience and familiarity with it as I am just used to standard guide comb attachments.
Bit of a larger beard trimmer. Especially with the detail blade installed.
Can be a bit louder than other trimmers. Just slightly louder than some.
Has millimeters and not inches labeled on the back for settings. This might be a guessing game if you want to get the right size for some. But it is always better to start on the higher setting first and then slowly work down to the lower settings.
The Detail Trimmer Blade does not allow you to use the 11-in-1 guide comb. Bummer I know.
Tips On Using This
Since the guide comb trim lengths are in mm instead of fractions of an inch or numbers I would highly recommend going to a much higher setting and working slowly downward to find the right length you want. You can always trim off more later.
How Does This Compare To Other Beard Trimmers?
I really love two beard trimmers and I often use both of them separately or together. It really depends on my mood or the look I am going for.
Well, what are they???
The Final Shave
If you are tired of fighting the constant battle of the remnants of trimming your beard (hair everywhere…like on the sink and countertop) with a standard trimmer this might be exactly what you are looking for. As a trimmer, it is a decent beard trimmer with enough trimmer settings and attachments to keep most men satisfied. The big deal here I think is the easy trimmer aftermath cleanup. I don't really like most Remington products but this I was impressed with and eager to try out and review. I also didn't like the way it was hard to trim hair directly under my nose.
But a solid and surprisingly effective device.