A Tweezer That Cuts Hair? Yep! Think Of A Paperpunch But For Hair
I've seen this product on social media and while careening through Amazon and maybe you have too. Wondering if this is a good product or not. I am always looking for innovative grooming products that hopefully make grooming a more pleasurable experience and work amazingly. The only way for me to find out is to purchase it and review it.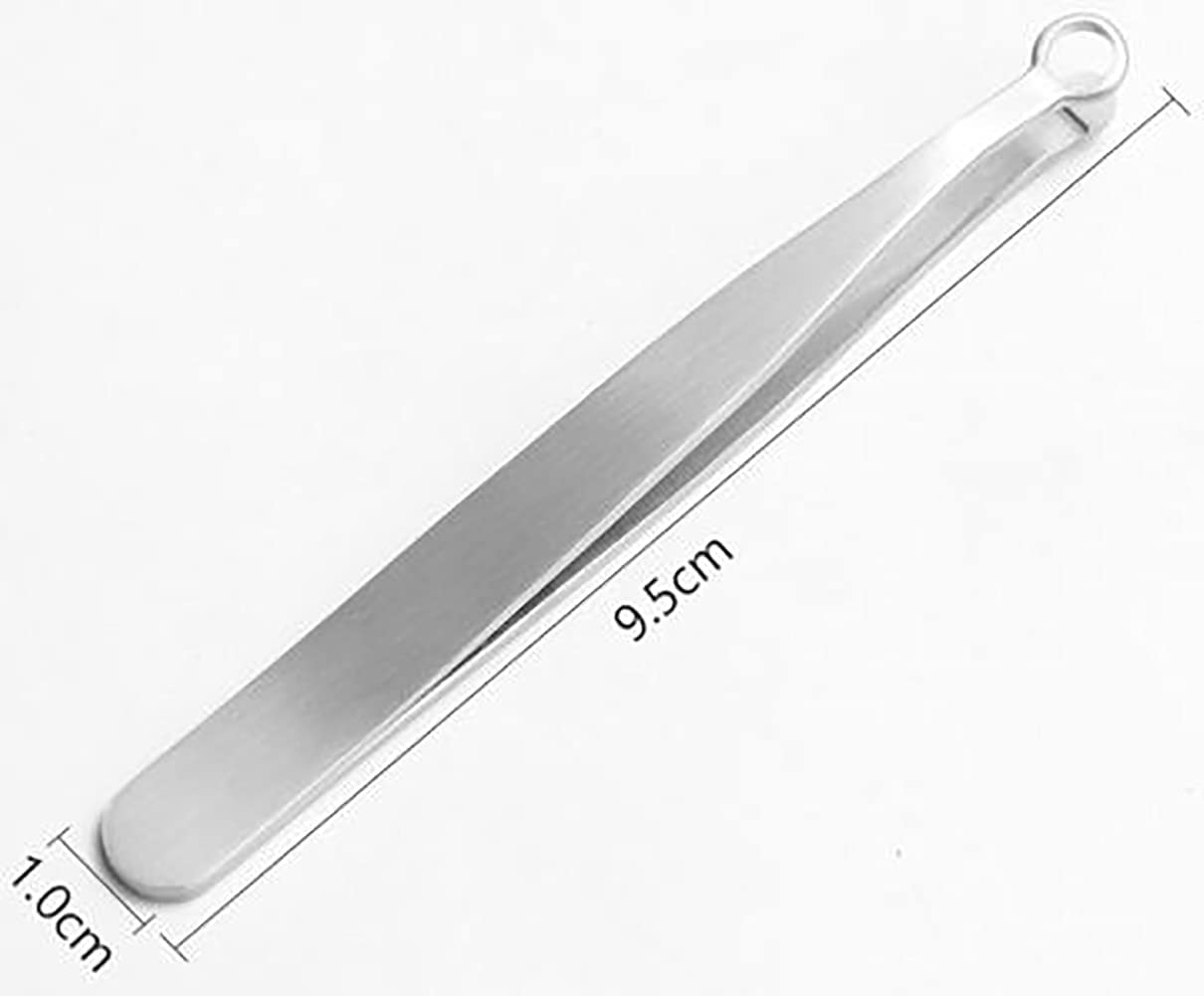 Today we will be looking at the Anvirture Universal Nose Hair Trimming Tweezer and finding out if it performs well and if it is worthy of purchase for you.
What Is A Nose Hair Trimming Tweezer?
Basically, it is a tweezer with a closed round end that cuts hair. By squeezing the handle with your fingers the ends of the tweezer come together and cut hair. There are no sharp corners and provide a level of protection from injuring yourself for example trimming nose hair with a small pair of scissors.
Where Can You Potentially Use It?
Nose
Ears
Eyebrows
Mustache
Beard
Sideburns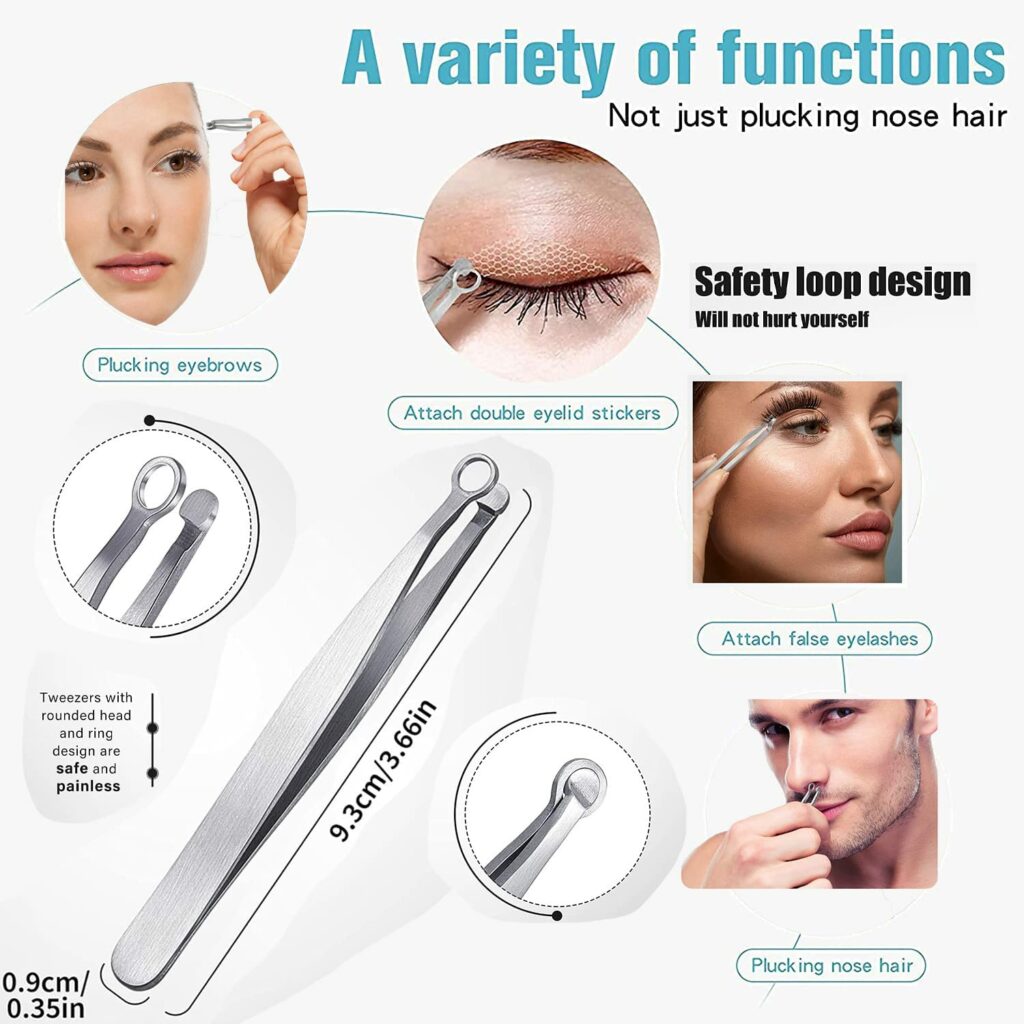 What Is Included With Purchase?
1 – Anvirtue Universal Nose Hair Trimming Tweezer
Specs
This is made out of stainless steel and measures in length 3.66 inches (9.3cm) and has a width of 0.35 inches (0.9cm). The weight is 0.317 ounces.
Does It Work? Is It Practical? Worth Getting?
First Off Does It Cut?
I can't speak for every trimming tweezers out on the market just the Anvirtue tweezers as results will vary I am sure.
But yes, it cuts every time I put it to hair or even paper. It has never failed to cut for me this means the quality control and design is spot on, at least this is my experience. This assurance of cutting beneficially resulted in zero pulling of hairs and any discomfort. Just quick concise cuts!
I easily trimmed legs, arms, nose, ear, eyebrow, and beard hair with zero problems. Some of these hairs can be thicker and larger than nose or ear hair.
Will It Cut You?
No.
Now…My Personal Preference
Don't get me wrong this will trim any nose or ear hair with no problem. But I prefer plucking as this trimming tweezer is going to a small amount of hair in its wake. This means to me sooner grooming sessions as the hair will grow back faster than plucking the hair.
Now plucking does have its drawbacks too for example pain and possible infection. But this is preference and you make a determination on what is right for you.
Is This A Good Nose & Ear Hair Trimmer?
Sure it would. It never pulled any hair. It never cut me. It cut every hair I set my beady little eyes on. It just leaves a little stubble.
Where Do I Find This Most Practical For Use?
This is a great device if it fits into your preferences. I think this shines with trimming stray hairs that are longer than surrounding hairs with precision. For example, eyebrow trimming or shaping eyebrows. Or trimming a stray long beard or mustache hairs.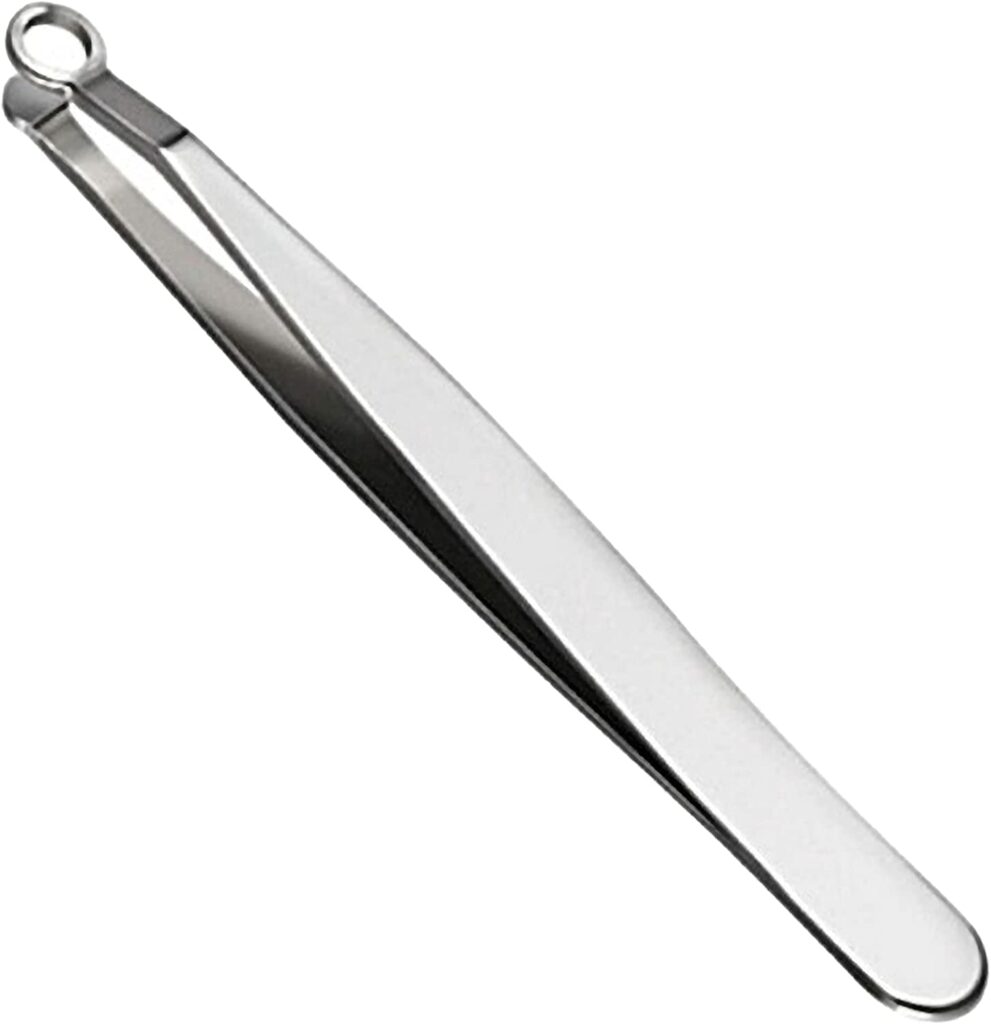 Pros & Cons
Pros
This does work quite well at sniping hairs and will snip hairs easily.
Safety orientated. With no sharp points and won't cut you if properly used.
Works well at trimming single stray long hairs on either beard, mustache, or eyebrows. As you can really use this to pinpoint hairs specifically.
Great product if you don't personally like plucking hairs. As there is zero pain when using this tweezer.
You can tell when you have trimmed hair by the sound it makes. Gives a confirmation sound that is different from when you use it and it doesn't trim any hair. Great if you don't have a mirror handy.
Decent price point.
Great for trimming those long stray eyebrow hairs that stand proud.
Make a great option for someone elderly or people with shaky hands as there are no sharp points.
Made with stainless steel.
No pain involved, ie plucking.
Small physical footprint. Can be easily carried on your person, Dopp kit, or tucked in a drawer.
Can be used in a variety of areas on the body that has hair growth.
Cons
Doesn't trim hair close to the skin as other products like a trimmer does. The hair left is slightly longer than when using an ear & nose hair trimmer.
Hairs will grow back a lot sooner because you're not pulling the hairs out and the hair isn't that closely trimmed to the surface of the skin.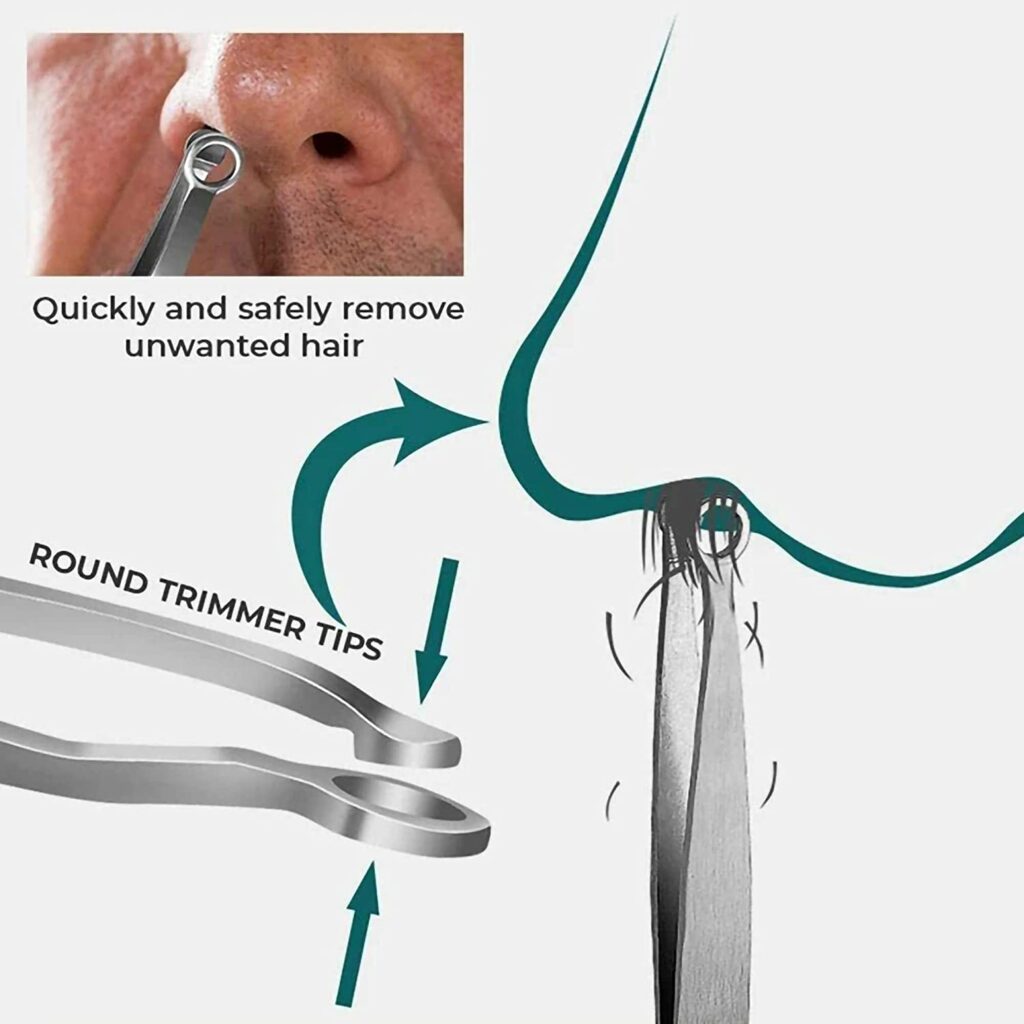 Other Products That I Think Work Better Than This – My Opinion
If Don't Mind Plucking These Are My Go-To's
These grab every freaking hair it comes close to and doesn't let go. Making each pass a hair-pulling experience. I bought these over 9 months ago and they are still going strong, sharp, and precise. One of the best tweezers I have ever owned. Can't highly recommend this enough. Get it!
You can read my full in-depth review here, Tweezerman Slant Tweezer Review.

Tweezy Nose & Ear Hair Remover
This is another great plucker that can be used on both nose and ears. This uses a spring that when it is depressed grabs every hair in the vicinity and you simply pull to pluck those little bastards out. This grabs hair you didn't even know that they were there. Simple to use and has a stainless steel design with a lifetime service too.
Check out my full review to see why this thing rocks here, Tweezy Nose & Ear Hair Remover Review.
Electric Trimmer For Nose & Ear Hair
For a simple bare bones but solid well constructed nose & ear hair trimmer the Brio Nose & Ear Trimmer is my answer. This isn't the cheaply constructed trimmer found almost anywhere, as this is made from a solid metal outer casing. It has a rotary blade design that protects your skin from getting cut.
Find out more in my review found here, Brio Nose & Ear Trimmer Review.
Pete & Pedro Nose Hair Trimmer
A more versatile nose & ear hair trimmer is the Pete & Pedro Nose & Ear Hair Trimmer. This has a total of three different attachments that all work exceptionally well. Well-built and performance orientated. I originally thought the attachments were going to be junk but I was completely wrong they work very well. The attachments are Nose & Ear, Eyebrow/Mustache, and Facial/Beard Hair Carve Shaper.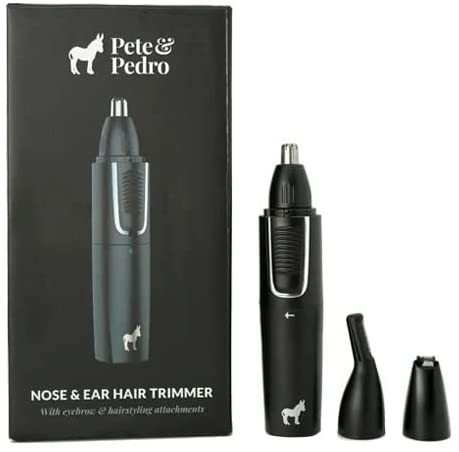 Go here to read more about this exceptional working trimmer, Pete & Pedro Nose Hair Trimmer.
The Final Shave
Yes, this works but…it fails in two categories at least for me. Failure number one is it doesn't trim hair close enough to the skin for my personal taste. This means I have to address the hair problem sooner rather than later. Meaning more time spent grooming. I am a very busy guy and need every minute I can get. Basically, I would rather pluck than trim when it comes to nose and ear hair. Your opinions may differ.
Failure number two is I think it takes a lot of goes to get every hair and I often resort to having to look in the mirror. I like to multitask if possible when grooming and just sitting in front of a mirror confirming every cut is taxing for me.
These problems speak a lot to my personal preference but I could see some people really liking this for their problematic hair grooming. The product I received worked and always cut whatever hair I aimed for but it is just something that I think will sit in my bathroom drawer collecting dust as I have tried a lot of different methods and have determined what I like the best. Time will tell I guess…