Today in this post, Tweezerman Slant Tweezer Review we will highlight the features and overall performance of this well-known tweezer company and see if it lives up to its reputation.
If your household is anything like mine, you have a bunch of tweezers in a drawer. Some work and some are a completely frustrating waste of time trying to use. Both me and my wife use tweezer a lot and we have quite a collection. You never know how good they are going to work until you bring them home and use them. You thought at the store they looked like they should work only to be disappointed when you got them home.

What You Get
1 – Tweezerman Slant Tweezer
1 – Clear Plastic Tip Protector
Specs On The Tweezerman Slant
The dimensions of this hair puller are 3/8 inches wide at the widest x 3 3/4 inches long.
The slant tip I measured is 3/16″ inches wide.
Solid Reputation?
Having been around for over 40 years and many positive reviews Tweezerman (4.7 out of 5) has built a good standing reputation in the beauty industry.
How Well Does It Really Work?
I went to my problem area first…
This is able to grab hairs my other go-to tweezers couldn't grab or struggled to pull out. I have some very fine uni-brow hairs on my nose that most tweezers struggle to get. The Tweezerman grab'em no problem.
Okay…I was sold on them and very happy with my purchase.
Then I tackled my other area of concern…ear hair. Yuck, I know. As I am at the tail end of my 40's and hair just grows in places it never grew before. This includes ear hair and I prefer to pluck it out when I have the time because it has a longer grow-back time as compared to trimming ear hair. This worked flawlessly too, grabbing every hair I set my sights on.
Very pleased with its performance!


Slant Tipped…Why?
The slant tip is generally good at all positions tweezer. You can use the pointed tip for very precise plucking of individual hairs, like around the eyebrows. Then by aligning the slant tip flush with the skin, you are also able to grab multiple hairs. Best of both worlds.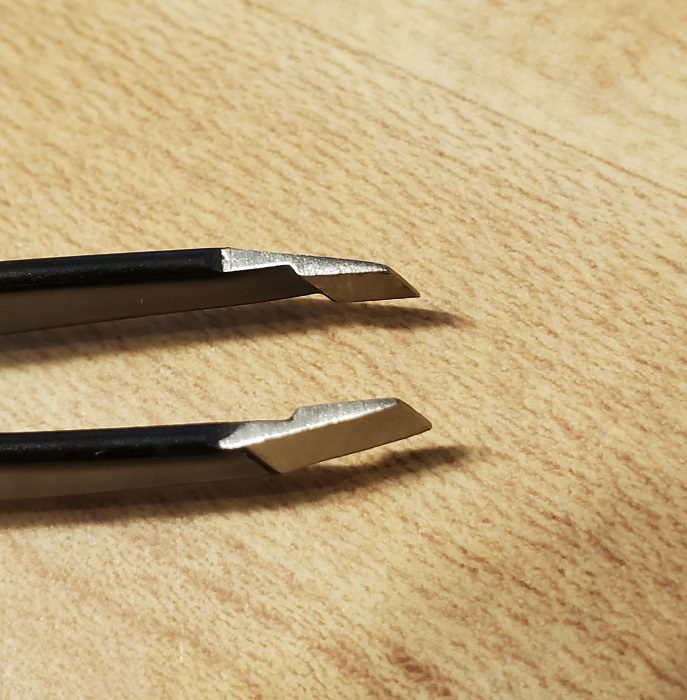 Pros & Cons
Pros
Grabbed every hair I set my sights on the first time and hung on till it was pulled out.
Good length on the tweezer. I have rather large hands and have no problem holding and using this tweezer.
I love that this comes with a plastic tip protector that fits on the end of the tweezer and protects against drops or dings that might happen.
Pretty rock solid reputation, having been around for over 40 years says a lot.
Tweezerman offers free sharpening and repair on their Tweezerman website.
A decent price (under $20) for a quality working product.
Comfortable finger grip, as they provide enough width to control and maintain a good grip on the tweezer.
Very high ratings on other websites.
Cons
Didn't like that they didn't mention anywhere on the package that they have free sharpening and repair for their products under normal usage available on their website.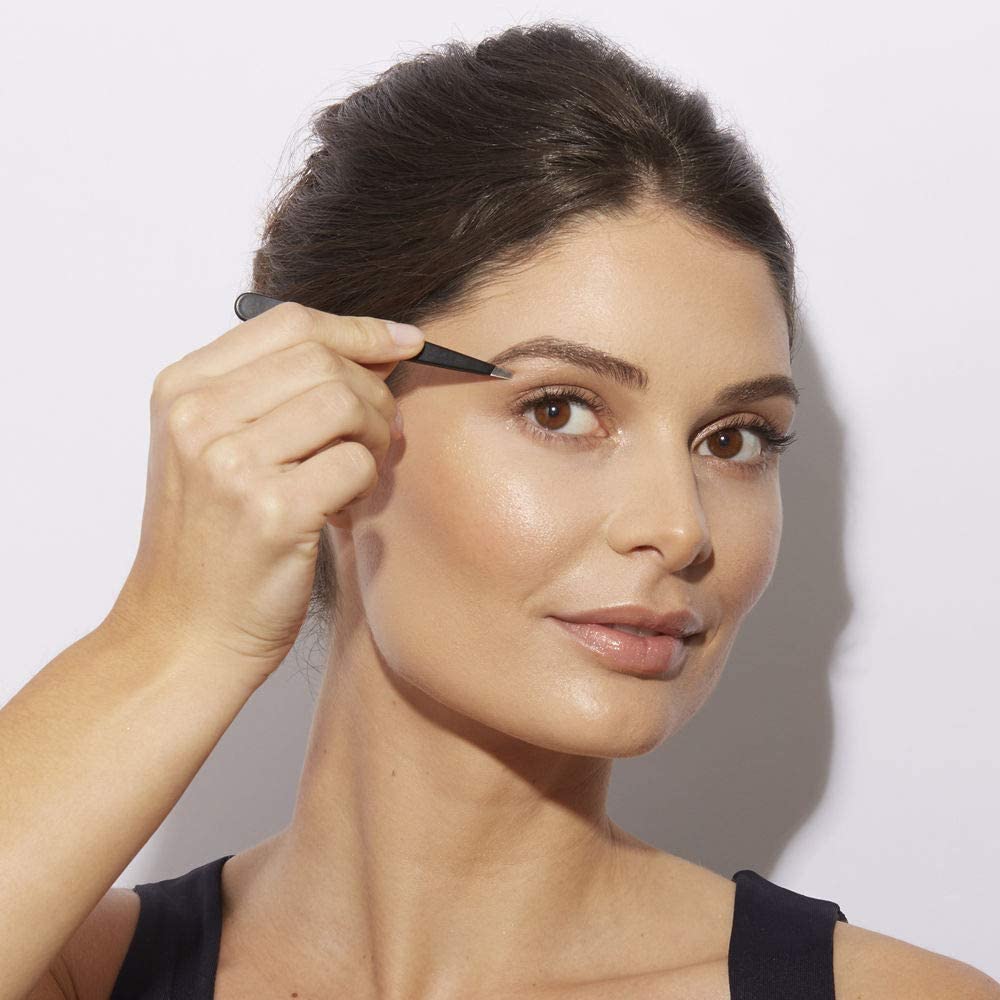 Tips On Tweezing
Prepping Area
When tweezing the eyebrow to help facilitate easy removal and reducing pain it is best to prep the eyebrows first. If you have a lot of pain with eyebrow hair pulling try this below.
Start with a warm washcloth and apply it to your eyebrows. Let it sit there for a few minutes then tweeze the hairs.
Cleaning
Cleaning your tweezer is a very important step both for hygiene's sake and for ease of use. Having the tips of the tweezer clean will also make grabbing hairs much easier and more efficient. Gunk can quickly build upon the tip and the inside of the tweezer bevel and hinder grabbing smaller finer hairs. If you are struggling to grab thin hair try cleaning the tweezer with a cotton ball with rubbing alcohol or peroxide applied to it or alcohol wipes. You might be surprised to find it able to grab those very fine hairs again.
Tip Protector
Save and use the plastic tip protector that came with the tweezers. This will ensure your product will last a lot longer and continue to grab the hairs you need to pull out.
Ear Hair
If you have ear hair or know somebody close to you who needs to take care of their ear hair problem, check out my post on The Best Way To Trim Ear Hair. I review the best methods I have used to easily take care of this problem.
The Final Shave
I am pretty pleased with the Tweezerman Slant Tweezers, they handled everything I could throw at them and performed excellently. For the money, being very affordable, they work great for their price point, and can easily recommend them if you are looking for a solid workhorse tweezer.