Are you having a hard time reaching your legs for shaving them with a standard razor? Many people struggle with mobility issues due to age, injury, or pregnancy, and need some type of device to maintain hygiene. Thankfully, there are many devices that address this area or concern. This post of Long Handled Razor Extension for Disabled or People with Limited Mobility, is for those people looking for a device to help shave hard to reach areas on their bodies.
Who Might Need A Long Handled Razor Extension?
A lot of people would find using a long handled razor extension helpful, not only the disabled or people with limited mobility. As I often hand off this devices to my wife after testing them and writing about them. She has used them them to shave her legs with them and stated she likes using them, as it easier for reach areas without a lot of stretching.
People recovering from physical injuries.
People recovering from surgeries.
Disabled people.
Pregnant women.
Older people with limited mobility.
Arthritis.
Small shower.
Back pain.
Size mobility
Anybody…as it makes reaching areas a lot easier.
Best Long Handled Razor Extension
As I focus mainly on back shavers on this website but I just need to state that I have used each product on this list and although I do not have any immediate physical mobility issue I can determine the best razor extension because I have a thorough knowledge of testing shavers after years of reviews.
I hope to lay out the current best razor extension in order, starting with the best and allowing you to make the best possible decisions for yourself.
This is my highest-ranked extension handle. For a more full in-depth review of this product go to my page, Smooth Reach Long Razor Extension Handle Review.
Absolutely no extra movement when properly secured to the handle. The attached razor will not move on you.
The handle extends to a long 20.8 inches, more than enough length to shave any body part.
Very lightweight and easy to maneuver.
Foam padded handle for a comfortable grip.
An attached lanyard to slip over your wrist. Great for not dropping and not having to pick it up.
Highly adjustable in length and curve of the handle. Can be bent to help aid in shaving.
Will fit any disposable razor blade sold on the market.
This is my second choice on an extension handle for the disabled or mobility impaired. Made from stainless steel with a plastic coating, so it should never rust on you. This extension handle uses a Velcro strap to secure a disposable razor to the handle. You can read more about the UltraFlexx handle here, UltraFlexx Contour Body Shaving Handle Review.
Made in the USA.
This has a lifetime guarantee.
Very lightweight and pliable. Can be bent to the shape and angle you want and hold the angle when pressure is applied when shaving.
No movement when a disposable razor is attached.
Has a looped end for hanging in the shower.
This product is more designed for the ladies, as you can tell by the color, and is targeted specifically for shaving your legs. This has two shaving head attachments to fit any disposable razor on the market, as some lady disposable razors have a wider handle than most disposable razors. Read the full in-depth review here, Giraffe Razor Extender Handle Review.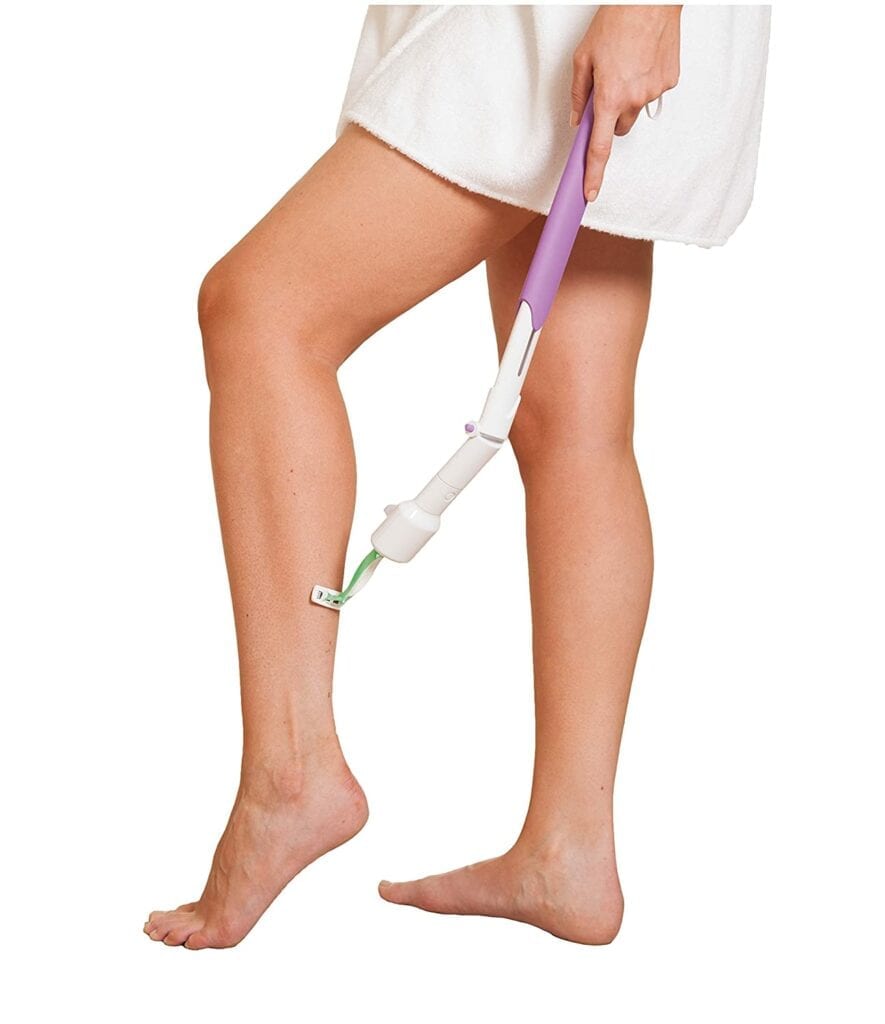 A very long handle, which is 20 3/16″ inches long.
Two shaving head attachments. Will fit the wider handles of specific lady leg shaver disposable razors.
Makes shaving your legs easy.
Pivoting head allows for different angles thus getting to all areas.
Lightweight and extendable.
A lanyard is supplied for avoiding dropping it when using it.
Adjustable handle from 15 3/16″ to fully extended 20 3/16″ inches.
This is a straight handle extension razor that has its own specific razor blades that are used with this handle. It comes with 4 replaceable razor cartridges when purchased. The razor cartridges have 3 razors per cartridge for a quick clean shave. Read more about the Evolve here, Evolve Body Razor Review.
Blades are made in the USA.
Replacement blades are affordable.
Foldable handle for easy storage.
The handle when fully extended is 16 inches long.
Razors cartridges have three blades for a close shave.
The handle is ribbed for a secure grip.
This is another razor extender and can be used with standard razors. It will not work with a disposable razor with a larger handle. Not my favorite, but is a razor extender so I thought I would add it anyways.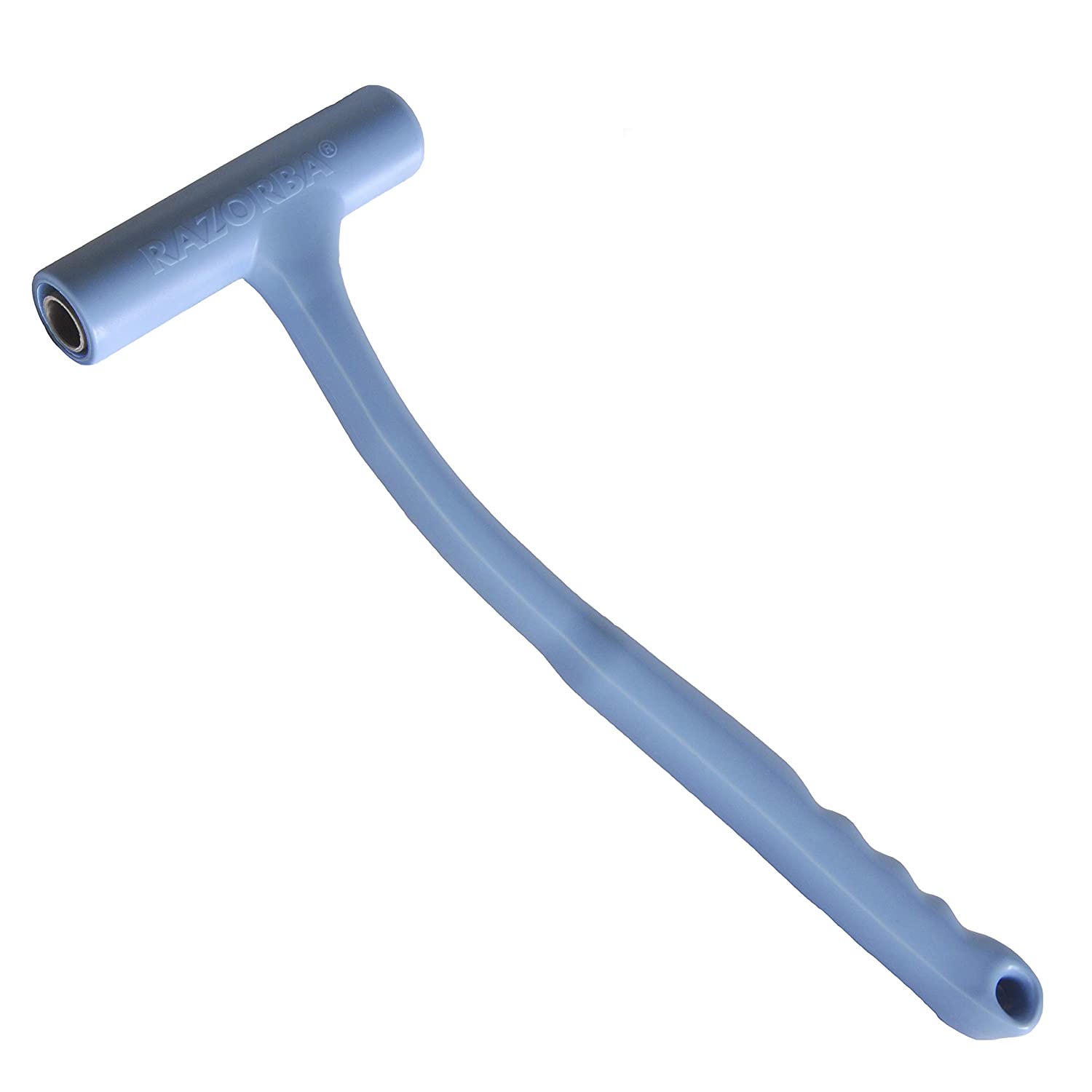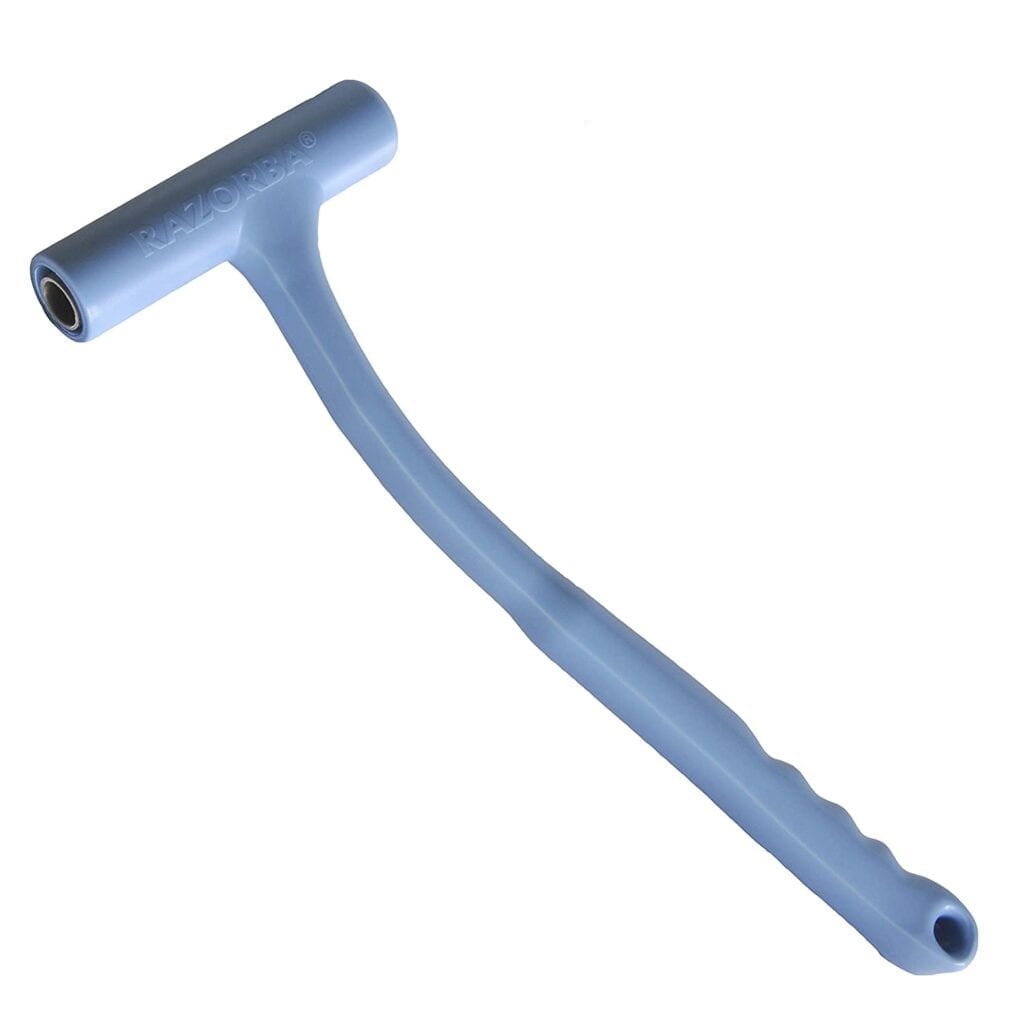 Has a lanyard attached for avoiding dropping it.
Has a weighted end and can be awkward in handling.
Harder to index, this means the proper angle to shave was hard and a lot of adjusting was needed to get the proper shave.
Razor moved when shaving.
Other Product Which You Might Consider
Another product that goes right along with the razor extenders seamlessly is a long-handled lotion applicator. You can put shaving cream on it and apply it to your legs or other areas of your body. This works great and is essential! You can read my full write-up here Aquasentials Easy Lotion Applicator Review.
A big pad in which to apply lotions or creams upon.
Long handle 16 1/2 inches long.
A mandatory lanyard to keep from having to pick it up after dropping it.
Lotion and cream adheres to the foam pad easily.
Any questions or comments regarding these products I would love the opportunity of answering below.