Today I will be evaluating a highly affordable trimmer device that I recently purchased in order to put it through the paces. So in this MicroTouch Titanium Max Lighted Personal Trimmer review, I will be highlighting the positives and negatives of this trimmer in order to see if it is worth purchasing. Recently there has been quite an influx of these kinds of grooming devices on the market as of lately. Grooming tools with micro teeth that is.
Let us see if this relatively cheap grooming tool will impress me…I have my doubts.
What Is The MicroTouch Titanium Max?
This is a multi-purpose grooming tool that uses a single AA battery to run. The trimming blade on this has micro-teeth that trim hair. This micro-teeth blade is much smaller in size than traditional trimmers. The trimming head is very slim allowing it to access areas other larger trimmers can not.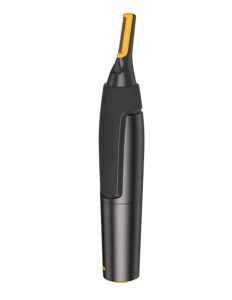 Where MicroTouch Says You Can Use This To Trim Hair
MicroTouch states this can clean up necklines, sideburns, eyebrows, nose and ear hairs, and more.
What Is Included With Purchase?
1 – MicroTouch Titanium Max Lighted Personal Trimmer
1 – Blade Guard
1 – Cleaning Brush
2 – Guide Combs (2 sided 2mm & 4mm & Angled 2mm & 4mm)
1 – AA Battery
1 – Instruction Booklet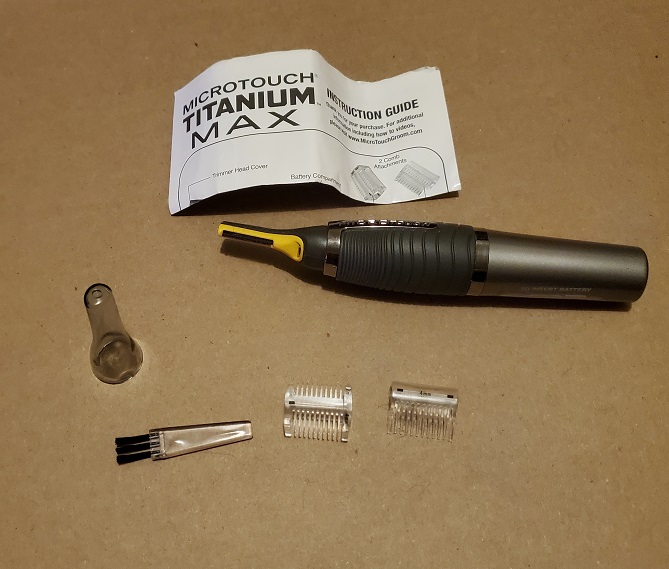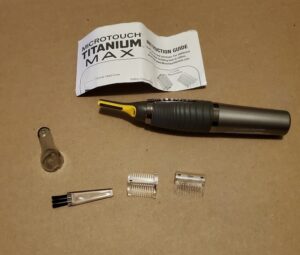 Specs Of The Titanium Max
The Titanium Max measures 5 7/8″ inches long with a blade length of 11/16″ inches.
The motor is powered by a single AA battery (supplied). The power button is located on the back of the device where your thumb rest.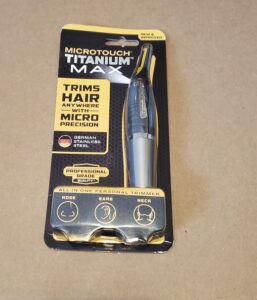 How Well Does It Work? Worth Getting?
I am just going to come out and say it right off the bat, anything from MicroTouch is generally generic in quality. I've never been impressed with any of their devices and this Titanium Max is no different. In both feel and performance, it fails to impress. You get what you pay for and it performs the way you would expect for what I paid for it.
It is great for edging on your beard and face. Places like the eyebrows, around the mouth, and under the nose. It works best in my opinion when no guide combs are attached.
My experience with trimming arm hair with the guide combs attached was pretty disappointing. As I normally try it on my arms because it is the easiest when I just sitting around and testing it. The guide combs would routinely miss longer hair requiring me to go over the areas many many times.
While it does trim certain hairs like the eyebrows and facial hair and work great for this type of hair trimming I just don't see this thing working past one year of owning it. This is what you get for the low price tag. It sounds like a cheap child's toy when you turn it on. Now I haven't owned it for a year but it doesn't feel or sound like it will hold up over time. I've purchased a similar-looking device years ago and the thing broke in under a year.
Despite having a celebrity sports star (Brett Favre) endorse this thing I would do a hard pass unless you want something to trim your eyebrows with.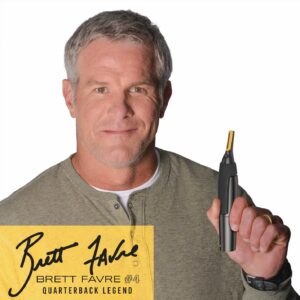 What Tool Do I Recommend Over This?
I love love love the Philips Norelco OneBlade Trimmer. This thing is powerful and the best micro trimmer I have reviewed and can be used just about anywhere on the body. Did I mention it is powerful too? Well, it is and can handle any hair you throw at it. This will trim your beard so close it almost can be considered shaving. Truly impressive and a great grooming tool.
The OneBlade totally blows away the MicroTouch!!!
You can read more about the Philips OneBlade here, Philips Norelco OneBlade Face & Body Review.
Pros & Cons
Pros
Cheap price. Hard to beat price whys.
The LED light is very helpful.
Fits nicely in the hand.
A nice rubberized texture on the handle that gives solid support.
Great button location! I never once accidentally hit the power button mistakenly.
Comes with a blade guard when storing or transporting to help protect the micro blades.
Comes with 1 AA battery.
Easy to fit into a Dopp kit.
Just the right size for trimming eyebrow hairs and around the nose and mouth.
After trimming I experienced no skin discomfort at all.
Cons
Overall doesn't have a quality build to it, it feels cheap. You get what you pay for.
Micro blades are easily damaged from drops or tapping. Avoid doing this at all costs.
Motor sound cheap as well.
This has a cheap plastic outer casing.
Highly susceptible to being damaged from drops.
As far as trimming arm hair and leg hair I found I had to go over an area many times to get stray hairs previously missed while using the guide combs.
The angled guide comb doesn't lock into place and would occasionally fall off the trimmer.
This device is not waterproof. Do not clean the blade with water!
Blades are not replaceable. If the blades are damaged discontinue use and consider if purchasing another one of these devices is worth it.
Don't see this working great on the hair in the ear as the ear has many varying surface features that would be hard to adequately trim.
Tips On Using This
I have found when using the guide combs to attack the hair from as many different angles as possible. Sometimes going with the flow of hair as well as against the hair, and diagonally to the growth of hair help get problem areas better. Just experiment and be willing to change your angle of attack.
The micro teeth blade on this trimmer is very small and is susceptible to easily get clogged with hair and gunk. It would be a good practice to routinely clean the blade with the supplied small cleaning brush provided. Do not try to clean the blade with water this will damage the device as per the instruction pamphlet.
The Final Shave
Reviewing various grooming products has its perks as well as its downfalls. To me, the MicroTouch Titanium Max is one of the downfalls. While it works great in some tasks it doesn't perform well in every task. Add to this that it feels and sounds poorly constructed. I have reviewed other MicroTouch devices and have never been impressed with them. Poor quality and lackluster performance are the standards despite Brett Farve's support.
Don't see this lasting a year.
Avoiding this and getting a real grooming tool is the best piece of advice I got.