I am always on top of a mesa looking and searching out towards the boundless desolate horizon looking for quality grooming products to share and review here on my website. What I have found and decided to bring back from my excursion is the Outlaw Soaps review. I have always enjoyed using and finding quality soap.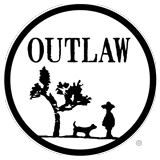 Having a really good bar of soap can really help you wake up and build your confidence before starting your day. Hopefully, Outlaw Soaps will be added to my daily routine.
Keep reading to find out…
Full Disclosure
A quick word.
In full disclosure, I have recently joined Outlaw's affiliate program and will make a small commission on purchased clicked links from this page. This helps supports my website and brings new products in which to review here. I purchased with my own money their soap sampler and a couple of full-sized bars of soap as well as their cologne sampler in order to bring you this review and future content to my website. This will not affect my review in any way and you will get my honest assessment of their product. I will show warts and all.
That being said let's get to it…giddy up!
What Is Outlaw?
Outlaw was started in 2013 by Danielle And Russ Vincent and they are based out of Sparks, Nevada. Not only do they make soaps but a whole plethora of various grooming products like deodorant, lotions, body wash, shower gels, beard oil, colognes, and air fresheners.
They use mostly natural ingredients in their products and add have specially trailblazed a unique scent profile for their products based around a rustic out-west desert cowboy outlaw theme. At least that is how I would put it. It is a very unique approach and an interesting concept which they have etched out a unique niche for themselves.
Available Outlaw Soaps Scents
Outlaw has a total of 11 different scents from which to choose from their unique lineup at the time of reviewing them. I will post their scent breakdowns below as well. The soaps sizes come in both 4 ounces bars or with the Outlaw Handmade Soap Sampler as 1-ounce bars. Their scent profiles are geared towards being unisex, so both men and women can enjoy them.
Their soaps are handmade and also milled. You have the option to buy which one you want on their website.
Blazing Saddles – Leather, gunpowder, sandalwood, and sagebrush.
The Badlands – Campfire and cedar. This scent is exclusive to only monthly subscribers unless…you want to pay $50,000.00 to buy one bar of it. LOL. You would be better off just subscribing to their monthly subscription if you want to try this scent.
Life On The Mountain –  Seasonal changes of the forest. This is also available for sale for $50,000 or by subscription only.
Calamity Jane – Clove, orange, cinnamon, and a kick of whiskey.
The Cursed Cowboy – Clove & campfire.
Fire In The Hole – Campfire, gunpowder, whiskey, sagebrush, excitement (whatever this is? lol).
The Gambler – Bourbon, tobacco, and leather.
Home On The Range – Laundry, blackberries, fresh-cut grass.
Lust In The Dust – Sagebrush, sandalwood, and campfire.
Mountain Hideout – Pine trees, damp earth, and campfire.
The Outlaw's Garage – Gasoline, oil, and a little exhaust.
Hair Of The Dog – Whiskey, tobacco, and coffee.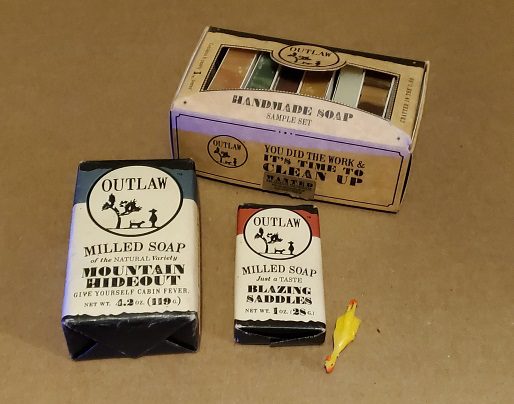 What Are The Ingredients?
Each of the various soaps have slightly different ingredients used it is best to check their website to find exactly what is used in each of the different soaps to find out the ingredients.  They do have a standard base which I will list below.
Coconut Oil
Avocado Oil
Castor Oil
Olive Oil
Water
Lye
Fragrance Oils
Coloring
My Opinion On Their Soaps
After using the soap for roughly a week I will highlight some of the positives and negatives here.
The soap is a hard bar of soap and is what I prefer as I want the soap to last as long as possible. To get my money's worth I guess. I just hate it when the soap disappears after just a few showerings. Outlaw's soap really leaves my skin softer and I think this is because of the great ingredients they use. One of the best soaps I have used that makes my skin soft. So essentially a great moisturizer.
The soap lathers easily and is very fulfilling in this department. It cleans well too as it never failed to get the day's dirt off of me.
The scent fills the room. I left one small 1 oz bar in the shower and when I immediately walk into the bathroom I smell the soap and I am pleased.
On the negative side of things, the first thing that comes to my mind is that some of the scents are not pleasing to my nose. My personal opinion. See below for Scents I Don't Like. This might be just me but I am writing about my experience so it has to stay in. I know what scents I like and which I prefer as I have spent a lot of money in years past finding the perfect cologne for myself. This even went so far as buying ingredients to make cologne and thinking of starting my own fragrance line. I went deep. Plus I went down the rabbit hole on hair pomades and clays which are also scented as well.
I understand that this is a unique outlaw cowboy theme scent profile which some of the scents I like and love but others I would do a hard pass on. This is a niche scent market and can turn off some people to their scent line. At least it did for me but everyone is different.
I wish they would incorporate essential oils into the mix instead of relying on just artificial fragrance oils. Maybe blending some essential oils along with the artificial fragrance oils.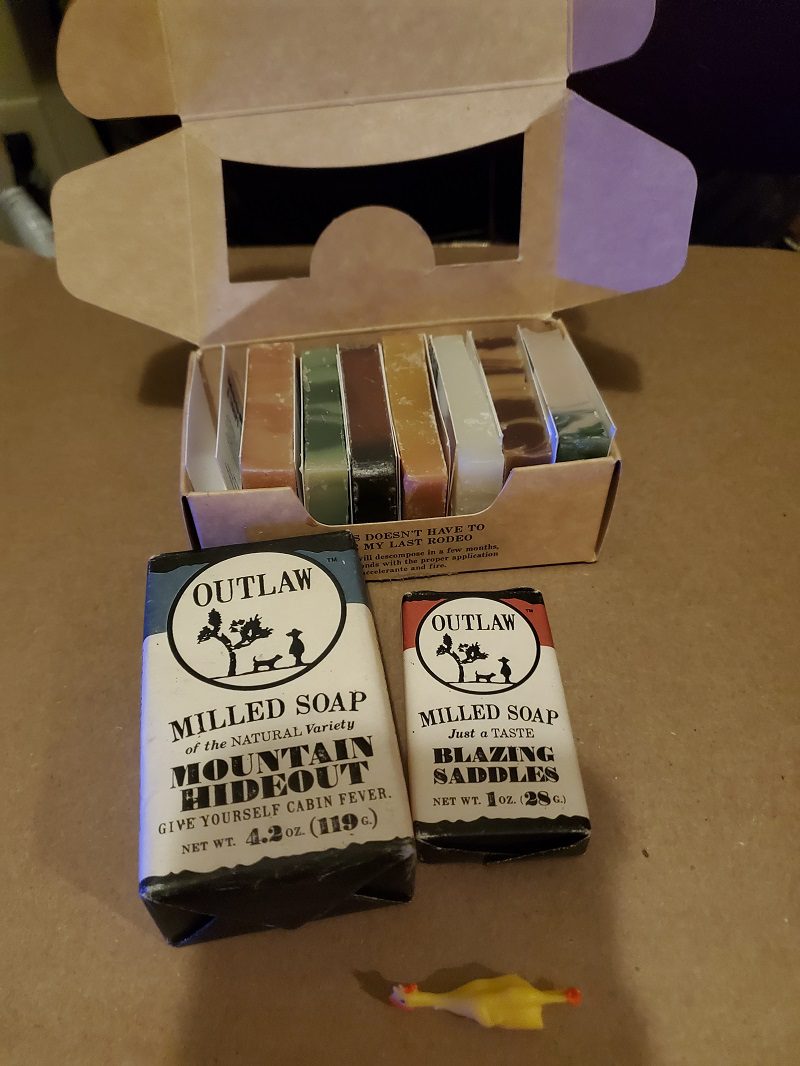 Do I Recommend Checking Them Out?
Yes, I would. I would also highly recommend you first try their soap sampler and go from there. Everybody has different likes and dislikes and you won't really know until you put your own nose to their products. Finding scents that appeal to you can really lift your mood and invigorate you are all things we want.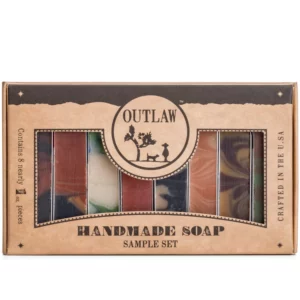 My Favorite – Must Try Soap!
In this order.
Home On The Range
Mountain Hideout
Blazing Saddles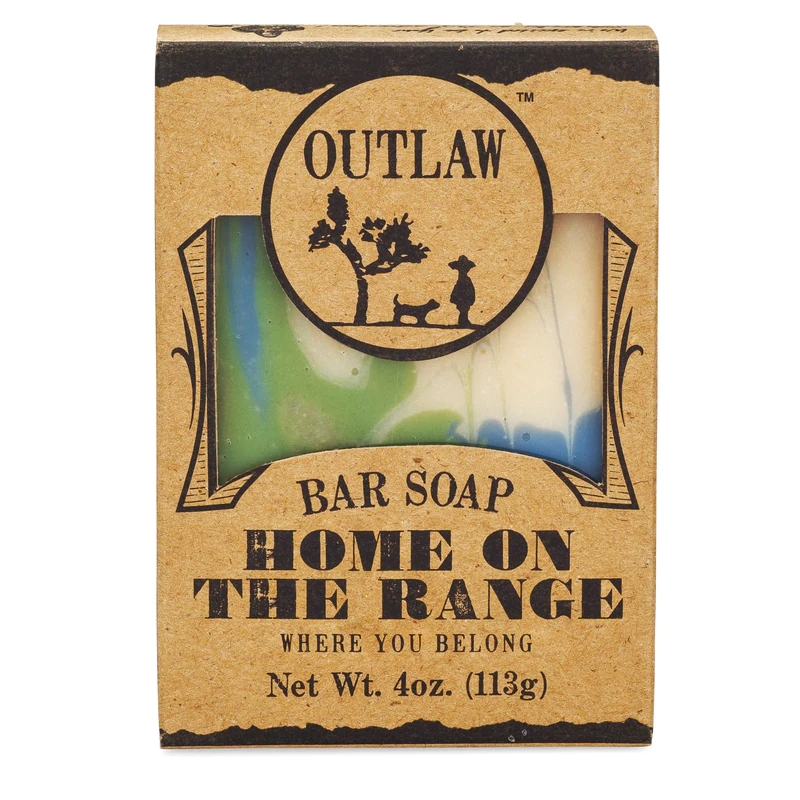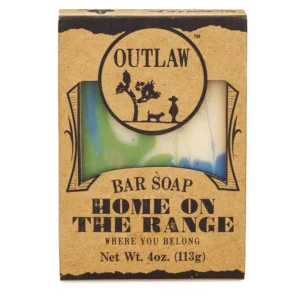 By far and away my favorite of theirs is the Home On The Range Soap. Probably the laundry and blueberries combination is really pleasing and different to my nose. Smells very clean. This is a must-try and have.
If you are feeling adventurous I would also recommend checking out the Outlaw's Garage. I like this scent even though it smells like gasoline, oil, and exhaust. This gives a very clean feeling smelling it and truly delighted me and surprised me. What a truly unique smell!
Scents I Don't Like
Most people are not going to like each and every scent provided by whatever brand or company product lineup. This is no different with Outlaw Soaps. As I surely do not enjoy every scent they have available for sale. This is not a big deal but in full disclosure, it needs to be addressed. Overall the scent profile of their complete line of soaps is unappealing to me and I would say is their weakest link. As reviewing and using this soap it has caused me to really despise some of the scents and give me a slight nausua.
Calamity Jane & Cursed Cowboy…No!
I don't like Calamity Jane or Cursed Cowboy!
Why is that?
Well, they both have clove as their first ingredient and it is the first scent I recognize when smelling it.
I hate the smell of cloves due to having my wisdom teeth taken out and having dry sockets afterward. Highly painful btw. Having dry sockets means they stuff cloth mesh that is soaked in cloves into the openings where your wisdom teeth are pulled and you leave them in there for two weeks. After two weeks of having the constant taste and smell of cloves, I was officially done with cloves for the rest of my life. If you are not opposed to cloves then go for it but for me, I am not a fan.
Pros & Cons
Pros
Made in the good ol' USA!
Really leaves the skin soft, it must be the natural ingredients used.
The various scents offered at Outlaw smell natural and nothing like Axe body spray or other similar synthetic or artificial products even though they use artificial fragrance oils.
Unique and original scents. Outlaw's Garage is truly its own very unique scent. Got to love how original this is and it is not bad.
They have a soap sampler which is a great way to explore their soap and fragrances at a reduced price without totally committing to a full bar of soap price. This is what I bought along with one full bar of soap and 1 oz bar of soap. Highly recommend getting the sampler.
They also sell a pumice soap for when you need the extra grit to get the job done.
No plastics in their packaging! Great to see as their packaging will decompose in a few months.
A hard bar of soap which I prefer as they last longer than soft bars of soap.
No testing on animals.
Simple and safe ingredients.
Soap lathers easily.
Discounts for Military, First Responders, Teachers, and Commercial Drivers.
Unisex scents for all their products.
They have both milled soap and handmade soap. Milled soap is cheaper and can be mass-produced as opposed to handsoap which is more pricer and handmade. This gives you options.
Don't like the product? They offer refunds or exchanges in their Return Center.
Great website and is full of all kinds of information.
Natural ingredients are approved by Whole Foods.
Cons
Cheap fragrance oils used at least is what my nose tells me.
Need to upgrade oils and improve the scent profile and have a better blend of scents.
Would like to see and smell some essential oils mixed into their ingredients. As I highly prefer essential oils mainly for the scent aroma.
Artificial fragrances oils are used and not essential oils. This is mostly the standard operating procedure with most soap companies but needs to be noted and some people will not like that.
How Does This Compare To Other Soap Companies?
This is probably the best moisturizer soap I've used to date. My skin personally thanks me after using it. Your welcome skin. So this ranks high in this concern.
The scents are probably at the bottom of the pack with other similar soap companies. Overall I just don't like the quality of scent coming from most of the soaps.
I've written other soap reviews and are worth checking out as well. These soap companies have way better scent profiles for their soaps.
The Final Shave
Outlaw provides a great soap, too bad most of it doesn't meet the requirements of my nose. It really leaves my skin feeling great. The scents are hit or miss for me and I would still highly recommend checking them out and at least trying their Outlaw"s Handmade Soap Sampler to explore further. But for me, I will not be buying in the future.