Move Over Honey Badger We Got A New Badger In Town…
Today we will be looking at Swanky Badger Natural Soap and reviewing it to basically find out if it is worthy of purchasing and using. On the surface, it sure looks like very high-end and very appealing scents that I wouldn't mind trying and using. But we don't know until we try it.
In full disclosure, I ordered all of Swanky Badger's soaps and paid for them with my own money. I am a new affiliate of Swanky Badger and I will make a small commission off of purchased clicked links provided in this post. This does not affect my review, I provide only honest reviews of products and will let you know what I really think despite being an affiliate of theirs.
What Is Swanky Badger?
Maybe you have heard of this company and maybe not as I only just recently found out about them looking for unique grooming products to try out and review. It's part of my job at my website to explore new grooming tools and methodologies to share with people here on my website.
Mark Hanratty is the founder and owner of Swanky Badger. He decided to create his own company after getting recently married and buying gifts for his groomsman. He saw a need to provide quality products and gifts that we're able to be personalized. Items like wallets, decanter sets, flask, Dopp kits for example.
Along with the various gifts and gifts set available, they also have a line of soaps for sale either sold individually or in a set combined with other grooming essentials.
What Scents Do They Have?
They have a total of six different scents to choose from. The bars of soap measure 3″ X 2 1/2″ inches and are 5-ounce bars.
Citrus IPA
Lumber Scrub
Northern Pine
Coral Reef
Morning Brew
Fresh Eucalyptus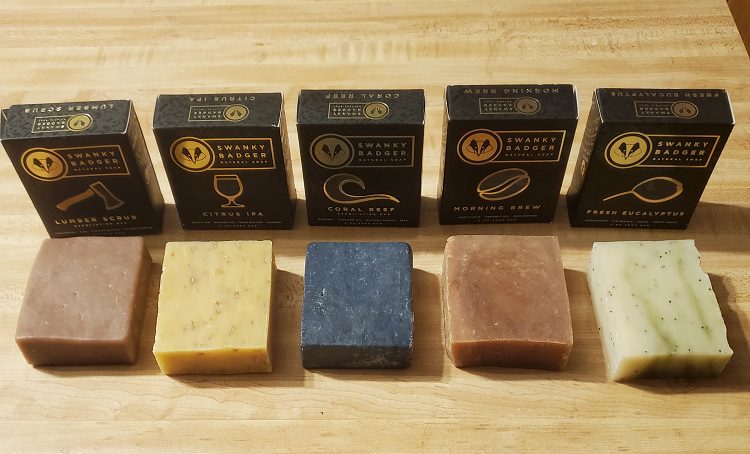 Ingredients Of Swanky Badger Soap
First off, all of the soaps are handmade.
To better understand Swanky Badger's soaps we have to first look at what type of ingredients are used in making these soaps. It is also important to know what they don't use as well as they don't use any GMO oils or harsh chemicals like parabens, sodium lauryl sulfate, unnatural preservatives, or use any petroleum products in their soaps as well. They use only organic palm oil that is sustainable and renewable which doesn't result in deforestation.
Citrus IPA – Vegetable Oil Blend (Olive Oil, Organic Sustainable Palm Oil, Coconut Oil, Shea Butter), Water, Sodium Hydroxide, Beer, Orange Essential Oil, Oatmeal.
Coral Reef – Vegetable Oil Blend (Olive Oil, Organic Sustainable Palm Oil, Coconut Oil, Shea Butter, Avocado Oil), Water, Sodium Hydroxide, Pumice, Fragrance Oil Blend (Fragrance, Peppermint Essential Oil), Bentonite Clay, Salt, Menthol, Ultramarines, Iron Oxide.
Fresh Eucalyptus – Vegetable Oil Blend (Organic Sustainable Palm Oil, Organic Coconut Oil, Organic Sunflower Oil, Organic Extra Virgin Olive Oil), Water, Sodium Hydroxide, Essential Oil Blend(Lavender Essential Oil, Eucalyptus Globulus Essential Oil, Fir Needle Essential Oil, Clove Essential, Cinnamon Essential Oil), Poppy Seeds, Spirulina Powder.
Lumber Scrub – Vegetable Oil Blend (Olive Oil, Organic Sustainable Palm Oil, Coconut Oil, Shea Butter), Water, Sodium Hydroxide, Pumice, Natural Fragrance Oil Blend (Cedarwood Essential Oil, Limonene, Copaiba Balsam Essential Oil, Pine Essential Oil, Amyris Essential Oil, Cade Essential Oil), Iron Oxide.
Morning Brew – Vegetable Oil Blend (Olive Oil, Organic Sustainable Palm Oil, Coconut Oil, Shea Butter), Water, Sodium Hydroxide, Goat Milk, Fragrance.
Northern Pine – Vegetable Oil Blend (Olive Oil, Organic Sustainable Palm Oil, Coconut Oil, Shea Butter, Castor Oil), Water, Sodium Hydroxide, Pine Fragrance, Bentonite Clay, Montmorillonite Clay, Spirulina Powder, Black Walnut Hull, Aspen Bark Extract, Chromium Oxide.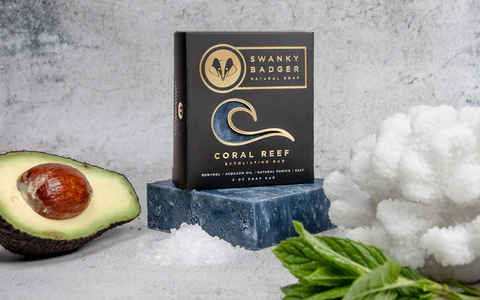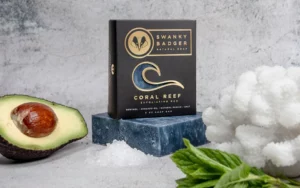 Why Is This Soap Good?
The natural ingredients used and the fragrance of soaps are what I initially look for in a quality soap for men. It needs to smell like a man and natural smelling. Those are my prerequisite initially and if you make soap that hits these marks I would deem that a good soap. Great ingredients and smells good.
Swanky Badger fills these self-imposed requirements.
You can smell the natural essential oils used in the soap and there is no mistaking that clean natural smell. No synthetic fragrance can accurately reproduce what essential oils smell like.
Is This A Good Man Soap?
Yes, this makes a great man soap for two reasons. First, the scents are very manly, no fu-fu scents here. Just appealing scents most men would enjoy.
Second, some of the soaps have pumice added to add grit which really helps to clean and scour hard to clean grease or dirt. If you work at a job where your hands get dirty from grease or oil you will know that to get your hands clean you are going to have some type of abrasive in your soap.
How Do They Smell? Which Scents Are My Favorites & Which Ones I Don't Like
When I first received the box and as soon as I opened it the natural scents and fragrances really hit me. The use of natural scents is very pleasing to the nose and I could tell as soon as I opened it. You are off to a good start Swanky Badger!
Chemical fragrances do not elicit such a reaction for me, they just don't. But Swanky Badger smells very natural and refreshing and you know it is because you can check the listed ingredients.
My two favorite scents are Coral Reef and Northern Pine. These two soaps smell how you think they would smell and I would recommend for sure checking at least both of these scents out.
Lumber Scrub has really grown on me after using it for a week and I have grown to love it. Initially, I thought it was okay but have really enjoyed it after a while. I would add this to my 3 favorite scents from S.B.
As for my least favorite, I would have to say that I don't really dislike any of them. While they do smell decently some of them just don't "Wow" me. For example, the Morning Brew and Citrus IPA which smells very good and delicious I am just not used to using soap that smells like coffee and beer. This might change with time as I grow accustomed to using these different scents over time. Who knows?
All of our sense of smell is different from each other plus we all have different preferences for our favorite scents. So you don't really know if you like a scent until you put your own nose to it. In this vein, I would suggest you try them all to adequately find out what you like the best.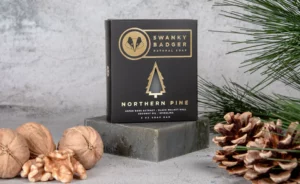 Pros & Cons
Pros
Comes nicely packaged and presented in black boxes with gold lettering that comes off "very swanky" and high-end indeed.
They have a subscription service for their line of soaps that they provide with a pretty big discount of 25% and it is customizable in how many bars you can order per month.
Free shipping on all orders over $149.00 or more.
All the soaps are handmade.
All-natural ingredients.
GMO-free.
Vegan.
No harsh chemicals are used.
Some of the soaps have abrasive ingredients included which provide a better scrubbing action when using. Pumice is added to get this effect. These work great at getting hard to get off dirt or grease. (Lumber Scrub & Coral Reef)
All the scents any man could use and feel comfortable using. There are no girly scents just guy scents.
Makes a great gift either individually or as a set or even combined with other items found at Swanky Badger.
Cool company name.
Having fresh and vibrant scents in the morning to shower with really does something to help wake you up and look forward to showering.
Naturally smelling.
A good-sized bar that fits easily into your hand.
No parabens, sodium lauryl sulfate, unnatural preservatives, or use any petroleum-based products.
Cons
Some of their scents are unfamiliar to me in use with soap. Like coffee and beer for example and maybe I will feel different after using this for a while.
Most of the scents provide use natural essential oils but there are a few of the scents (2 Coral Reef & Morning Brew) that use "fragrance", which means that these are chemically made synthetic fragrances. Not that big of a deal but worthy of note.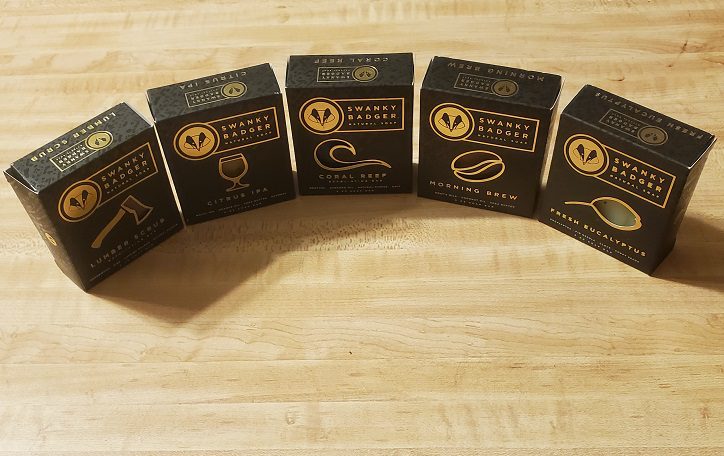 Other Soaps To Check Out?
When I think of soap I always come back to Dr. Squatch Pine Tar soap as my favorite all-time soap. This smells so good and works very well and in my opinion, and is the best man soap in the world. I always
Check out my review of Dr. Squatch Pine Tar Soap here to find out why I love it so much, Dr. Squatch Pine Tar Soap Review.
Promo Code
For readers of my website, I have a promo code for 10% off all purchases. Who doesn't like saving money?
Just use the promo code – TAKE10
To shave 10% on all purchases. 
The Final Shave
I really enjoy using any of the soaps but as far as what are my favorites and which one I will be purchasing in the future, I will definitely be buying the Coral Reef and the Northern Pine soaps. I just have a picky taste when it comes to any scents or colognes. This is only my opinion as you might suspect and I would encourage you to try them all to get a full grasp and develop an opinion on your own.
Soap scents don't really last long on your skin anyways. None of these scents did I hate, I just wasn't head over heels about every scent.
But they use mostly natural ingredients and provide a very good quality list of ingredients in their soaps.
So, if your looking for a great gift to give to a man or looking for a quality soap Swanky Badger fits the bill.