I get that exploring a new scent for a deodorant online can be difficult.
As you have no real idea of whether you will like it or not until you actually put your nose to it and smell it and maybe even wear it for a couple of days. That is what this post is about helping you decide what is the best-smelling Dr. Squatch deodorant before you buy it because who wants to waste money on a product they will never use especially if they don't like the smell of it.
There is a lot of hype surrounding Dr. Squatch's product and for good reason because their product just simply ROCK!
I've tried and reviewed many of their products and I have never been let down by any of them. So much so that I have reached out to them and joined their affiliate program. This is where I make a small commission from clicked purchased links. BackShaverForMen.com is a small website that brings honest reviews of grooming products from actually using the product.
So, let's get to smelling great!
Which Smells The Best?
I just going to come right and tell you what I think is the best smelling Dr. Squatch deodorant is, it is the Dr. Squatch Pine Tar Deodorant.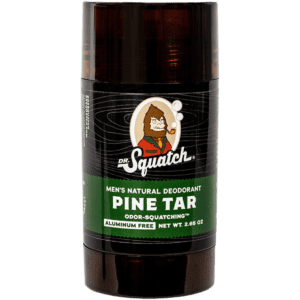 Pine Tar Is The Best!!!
The clear winner in my book! Do not be put off-put by the name as your initial first impression of seeing a name like "pine tar" might give you the wrong impression. This is really a nice manly natural scent that lasts the whole day.
This is the most popular scent in any of the products they sell from soaps, deodorants, and hair care products. It comes as no surprise as they built their company around this very popular scent but also have expanded their scent lines as well. If you are going to try just one scent from them then I would suggest and insist upon trying the Pine Tar.
Just remember to try the Pine Tar a truly unique scent that is worth trying!
What Does The Pine Tar Smell Like?
First off, I must tell you I can't stand synthetic fragrances, stuff like clubbing scents, or anything like or akin to Axe Body Sprays. All of Dr. Squatch's scents all smell natural and light and last throughout the day.
Dr. Squatch describes the smell as "rugged, woodsy, and strong just like a Squatch man should be", and also like "Old Growth Forest".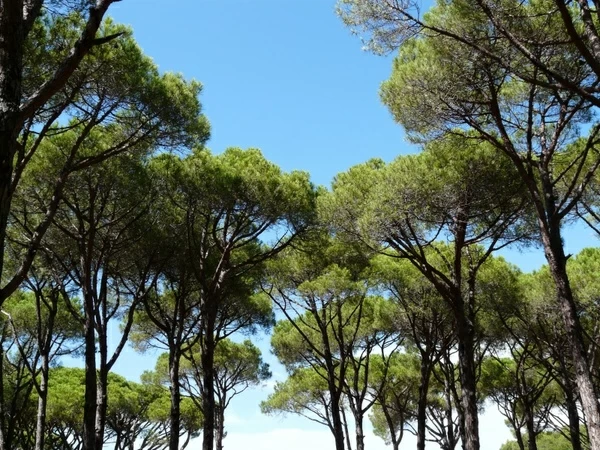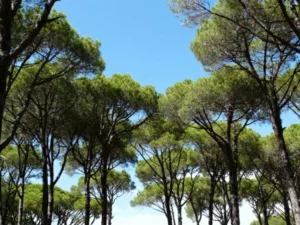 It smells mostly of pine but not too piney if you know what I mean. If you have used pine tar soap from the health food store before Dr. Squatch smells a million times better than that. It is blended well and has a nice clean scent profile added to it that softens the pine and makes for a very refreshing manly scent. This smells very natural and doesn't offend you as the day goes on. Some scents can wear you out after wearing them for a day or two, not the case here. It is pleasant and pleasing throughout the day.
What Other Scents Do They Have & Which Of Them Smell Good?
Dr. Squatch has a total of seven different scents to choose from in their deodorant line. Granted everyone smells things differently as well as having their own scent preferences.
Pine Tar – My #1 Favorite scent.
Cedar Citrus – A refreshing blend of rustic cedar and zesty orange. A nice scent.
Birchwood Breeze – Fresh and woody with a crisp finish. This is my second favorite scent for their deodorants.
Alpine Sage – A breezy and warm mix of cypress, patchouli, and sage. This is my least favorite and I tend to get burnt out on this scent throughout the day, I believe it is the sage that off puts me as it smells a little like medicine.
Fresh Falls – Refreshing & clean with a hint of citrus. Another favorite of mine.
Wood Barrel Bourbon – A rugged and refined blend of spice, bourbon, and oak. This is okay I'm just not into smelling like booze.
Bay Rum – An intoxicatingly delightful cocktail of clove, cinnamon, pine, and citrus. This is a pleasant throwback scent.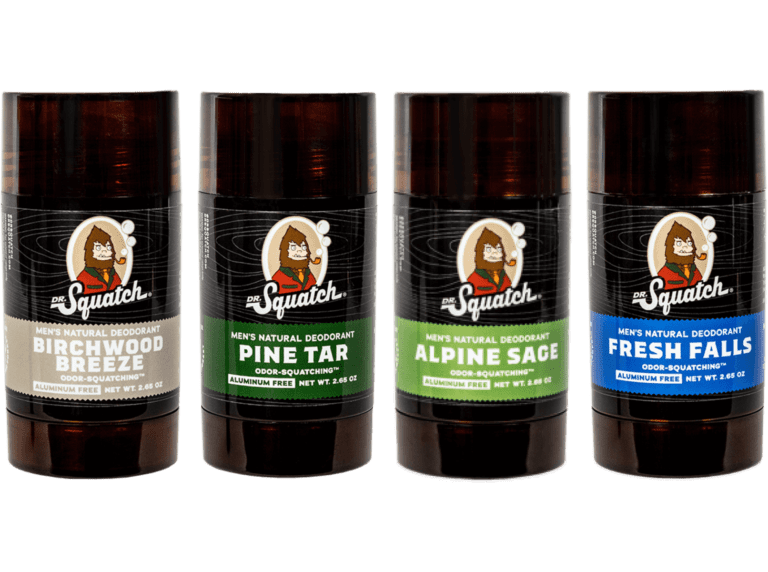 How Well Does It Perform?
Sure we can talk about what deodorant smells the best but we also need to know if this can stave off body odor throughout the day and keep us fresh smelling. At least I would need that reassurance before purchasing any deodorant online.
Yes, it performs. I can come home after an 11-hour shift at work doing physical labor and I can still smell the deodorant when I sniff my pits. This tells me it is doing its job. It is slightly less there than when first applied but it is there doing its job…keeping people from thinking…that I smell.
They use a combination of ingredients to prevent bad odor-producing bacteria from making a home in your pits. Things like charcoal, arrowroot, and probiotics.
I have written a whole review of the Dr. Squatch Deodorant found here if you want a deeper dive into it, Dr. Squatch Deodorant Review – Smell Like A Man.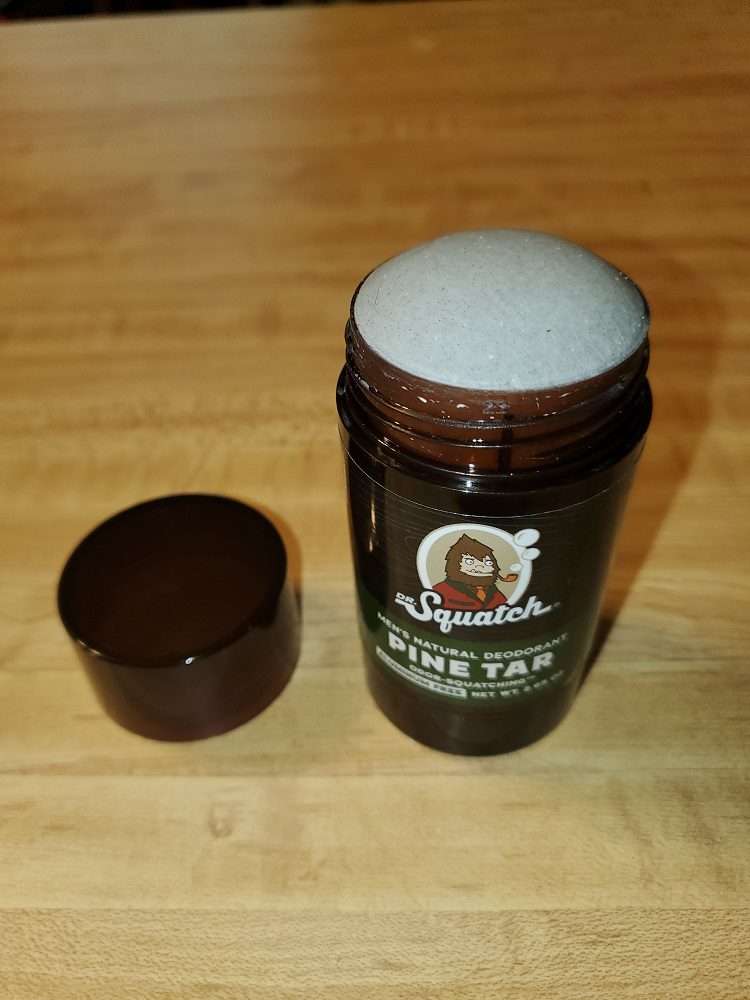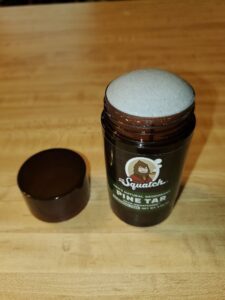 Tips & Such
I have found that you can apply more deodorant than needed if you have a heavy hand when applying the deodorant. So just lighten up on the swipes and get good coverage and the product will last longer and not stick to the inside of your shirt. The deodorant is softer than most harder deodorants and you can put too much on or overload your pits.
Promo Code & Saving Money
Dr. Squatch has a subscription service that will ship any of their product to you on a monthly basis. Not only is this convenient it is a great way to save money as well, as they provide a discount ($1.00 a stick) plus if you use the Promo Code you can save an additional 30% on your first subscription.
The Final Shave
I always have Dr. Squatch Pine Tar deodorant on hand and their soap as well. If you are going to be buying the deodorant I would highly recommend you take a gander at their line of soaps too. I really enjoy their products and I always buy more when I am out. I just love their scents. Once you smell it too you will become a fanboy too! Trust me.