No Name (Brandless) But Does It Deliver? It Might Surprise You
Today, we will be looking at Brandless Deodorant. A highly affordable deodorant that I just recently found, and so I purchased some deodorant from them. As I hadn't heard of this brand before, the price was very appealing, too appealing not to look into it. As it might offer a high value to my readers. It's worth looking into, for sure.
Affiliate Disclosure
I am an affiliate of Brandless, and I make money when readers purchase items through my links. I purchased the deodorant shown in this review with my own money. My reviews are honest, and if a product sucks, I will let you know.
Table of Contents
What Is Brandless Deodorant?
Brandless sells a whole variety of products from personal health and beauty products to homewares. They seem to focus less on packaging and more on ethically sourced materials and health-conscious ingredients. They say it better here, "Here at Brandless, we put people first, which means value and values stick together. Better stuff, fewer dollars, no nonsense.

These deodorants come in a 1.7-ounce stick.
Available scents
Currently, you have limited available scents at Brandless, as there are only two. These both smell great, by the way.
Citrus Neroli – It smells like a really good orange scent.
Lavandin – Smells like a sweet lavender smell.
Ingredients
Brandless Citrus Neroli Deodorant
Zea Mays (Corn Starch)*, Cocos Nucifera (Coconut) Oil*, Caprylic/Capric Triglyceride, Sodium Bicarbonate, Euphorbia Cerifera (Candelilla Wax), Cera Alba (Beeswax)*, Natural Fragrance, Butyrospermum Parkii (Shea) Butter*, Tocopherol.
*Certified Organic Ingredient(S)
Brandless Lavandin Deodorant
Zea Mays (Corn Starch)*, Cocos Nucifera (Coconut) Oil*, Caprylic/Capric Triglyceride, Sodium Bicarbonate, Euphorbia Cerifera V001 (Candelilla Wax), Cera Alba (Beeswax)*, Butyrospermum Parkii (Shea) Butter*, Tocopherol, Lavendula Hybrida (Lavandin) Oil*.
*Certified Organic Ingredient (s)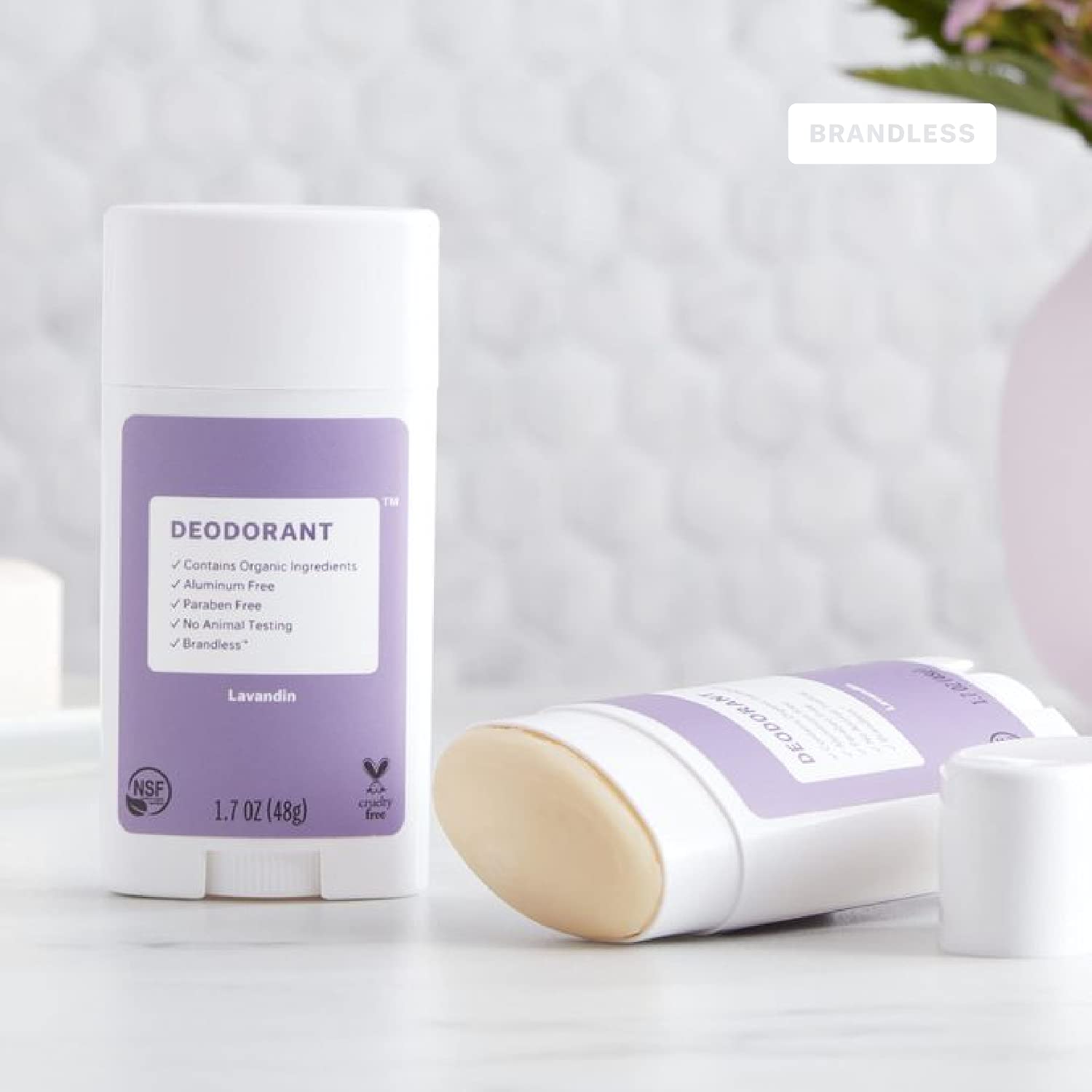 Okay, Is It Worth Getting? My Experience Using The Product
This deodorant surprised me.
Why?
Well, because I thought it was going to suck, and it doesn't suck at all. This is a good deodorant that is super affordable with great ingredients, and they both smell great. Mainly because it is cheap, and cheaper usually means lower quality is why I erroneously thought this was going to suck. But I don't mind admitting when I am wrong, and I was initially wrong about Brandless.
The deodorant is smaller than most typical deodorant sticks, coming in at 1.7 ounces, while most deodorant sticks come in at 2.5 to 3 ounces. It's not a super huge deal, but it's worthy of note. The deodorant is in between a soft and medium-density deodorant, which means it won't last as long as a harder-density deodorant.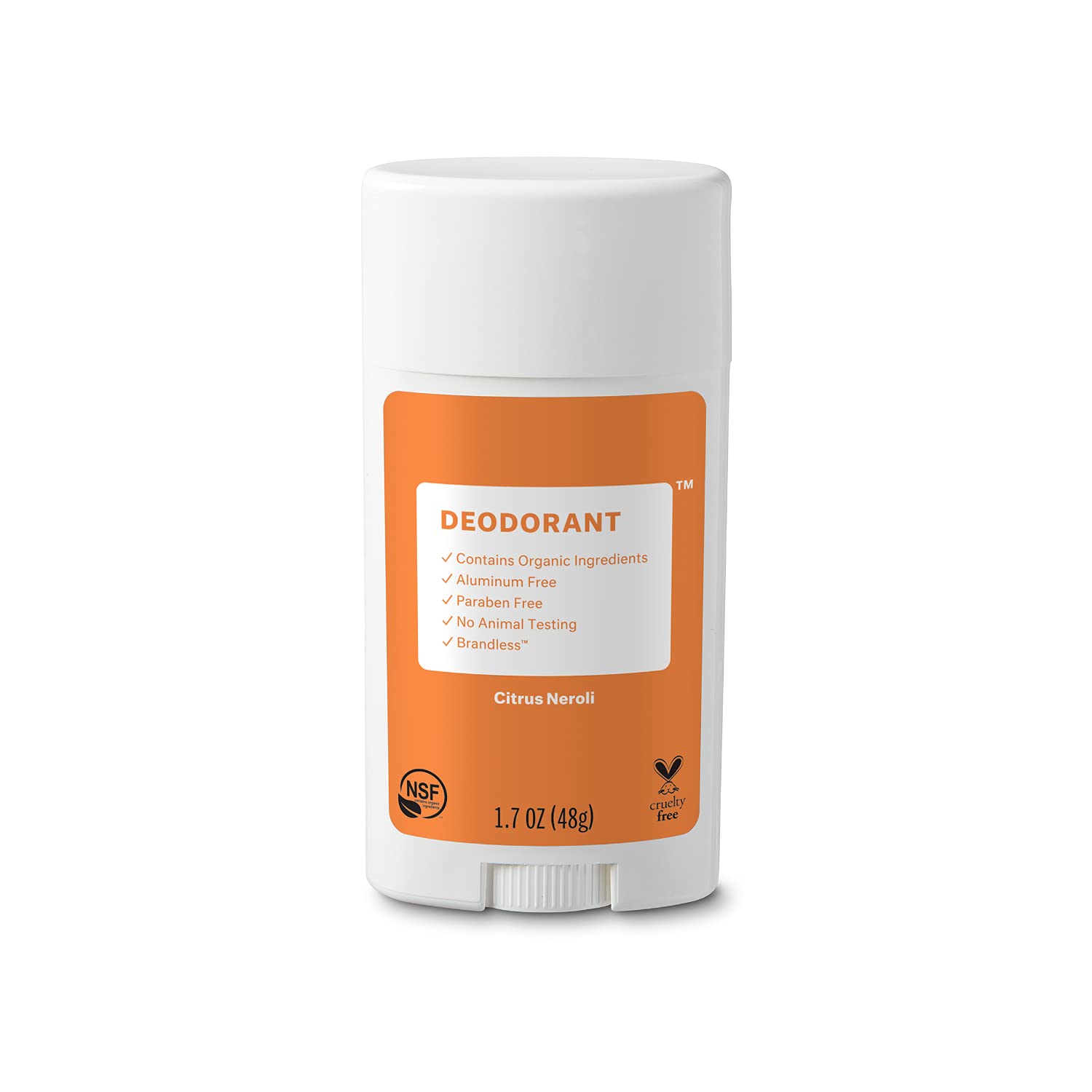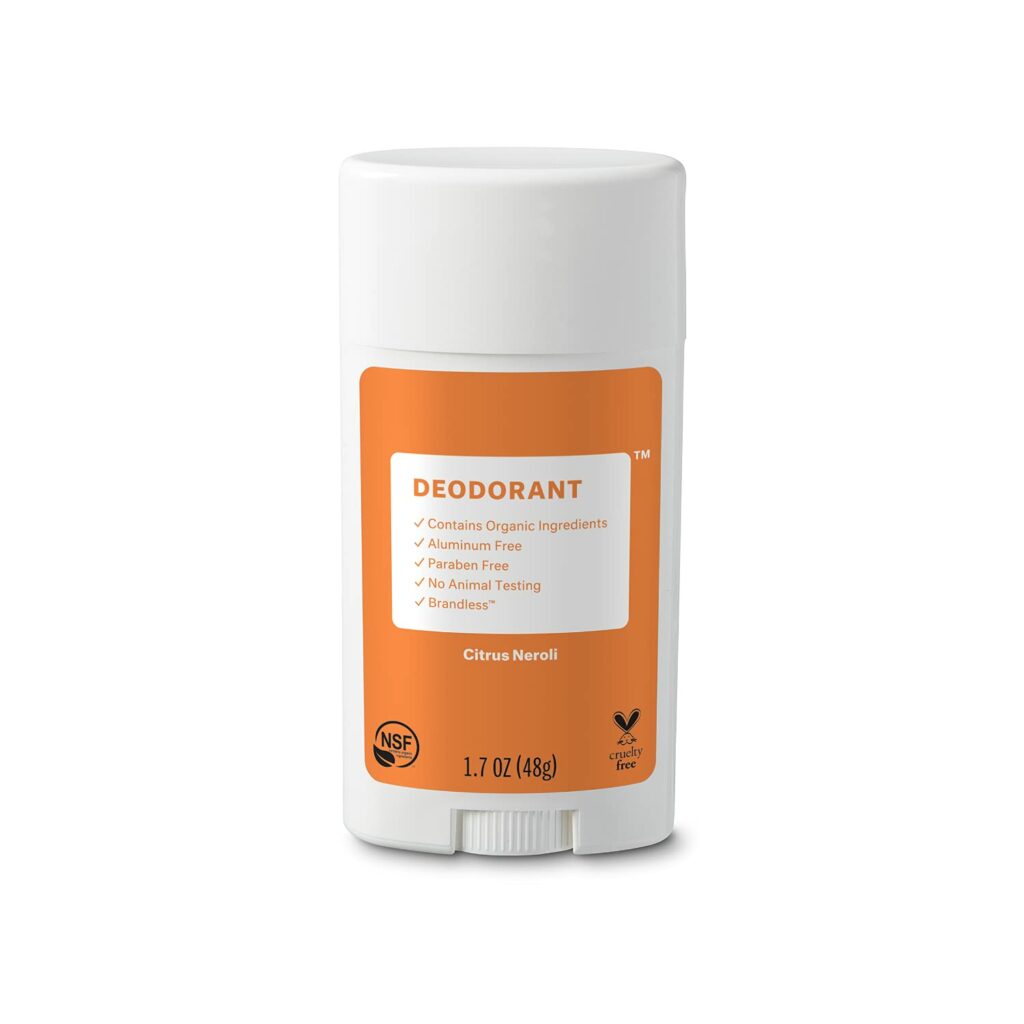 This deodorant swipes on clear and doesn't stain clothes.
The scents are delightful. These are uni-sex scents, as both sexes can wear these deodorants. I thought the lavender would be too girly for me, but I love it. The scents also don't project into the room as some deodorants do. This is what I prefer. The scents stay in your armpits, and it doesn't explore the room you are in.
I get a good day of protection wearing this. Well, it is the longest I have reviewed. It is a solid performer at staving off the stink.
This is an affordable deodorant that smells good. It will protect you from having B.O. The scents are very enjoyable and have a natural smell. There are only two scents to choose from: the biggest drawback and the negative, which isn't much. The list of ingredients used in making this is pretty good, too.
I highly recommend checking them out and giving Brandless Deodorant a try!

Pros & Cons
Pros
Cheap price!!! Highly affordable.
Great scents!!! Even if they only have two currently, they smell great and natural.
Both deodorants smell fantastic. Very natural and very pleasing. One of the best citrus-smelling deodorants I have smelled.
It contains organic ingredients, not all the ingredients, but some of the ones listed.
Gluten-free.
Cruelty-free.
Paraben-free.
100-Day Promise. If dissatisfied within 100 days of purchase, you can return the product for a refund minus shipping cost.
Uni-sex scents. I honestly believe that both men and women can wear this deodorant.
Deodorant goes on clear and doesn't stain clothes.
Brandless has banned over 400 questionable ingredients from its beauty and personal care products.
Made in the USA.
You can save more money by being in more as they offer a 3-pack where you can save an additional 25%.
Cons
A limited number of available scents (only 2). I would love to see more fragrances added to their lineup of deodorants.
Use a smaller-sized deodorant, as you are only getting 1.7 ounces.
Soft to medium density deodorant, which you can go through quickly if you are heavy-handed applying this.
How Does This Compare To Other Deodorants?
It is not the best lineup of a deodorant company I have used or reviewed, as it only has two in its product line. There are a few drawbacks, so I would rate this in the middle of the deodorants I have reviewed.
I have some definite favorites of mine when it comes to pitsticks. So, I will list some of my favorites below if you want more high-quality deodorants.
Harry's Redwood Deodorant – This is a hard deodorant that smells fantastic. I recently just discovered this and love it. You can read more about it here: Harry's Deodorant Review – Worth Getting.
Native Deodorant – This has a massive lineup of great scents. My favorite is the Coconut Vanilla; it is just a fantastic scent with plenty of scents. Read more about it here: Native Deodorant Review – Does It Work?
Dr. Squatch Pine Tar Deodorant – I love the scent of this unique-smelling deodorant. Smells like a man, for sure. You'll love it. I highly recommend checking it out. Also, they have other great products as well. For more information, see my in-depth review here: Dr. Squatch Deodorant Review – Smell Like A Man.
Where To Purchase Brandless Deodorant?
As far as I know, Brandless can be purchased online at two places, either at the Brandless website or Amazon. The prices you think would be the same, but there are differences, and shipping should be considered in getting the cheapest price.
The Final Thoughts On Brandless Deodorant
Brandless has made working, cheap, and great-smelling deodorants. If you are looking for quality ingredients in a deodorant, this is pretty, pretty, pretty good. It is nice to see a company focused on providing quality products with less marketing and more focus on consumers.
The three-pack of deodorant is very cheap and can cost what a typical stick of deodorant costs nowadays.
I highly recommend checking them out. They also sell plenty of other stuff; it's worth a look.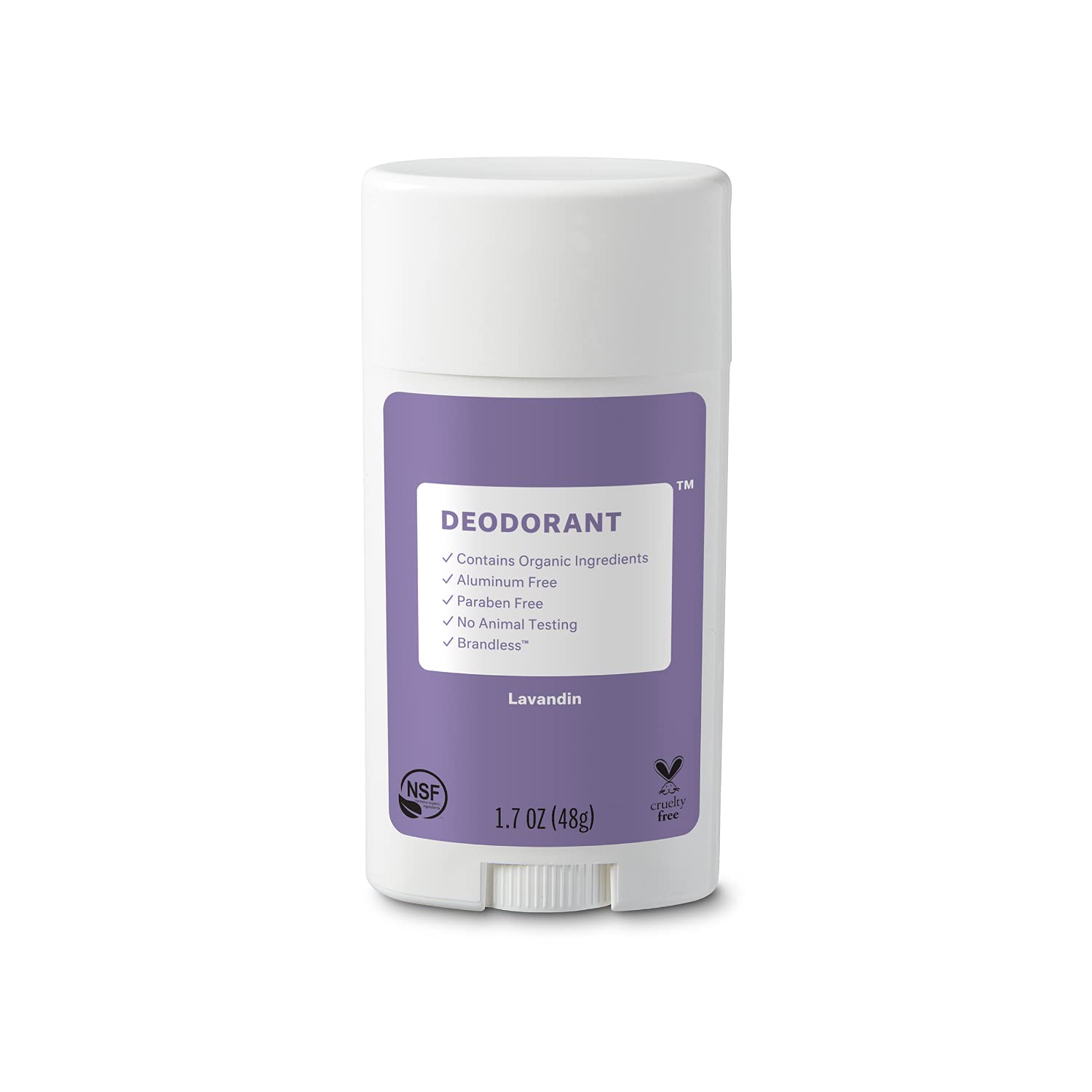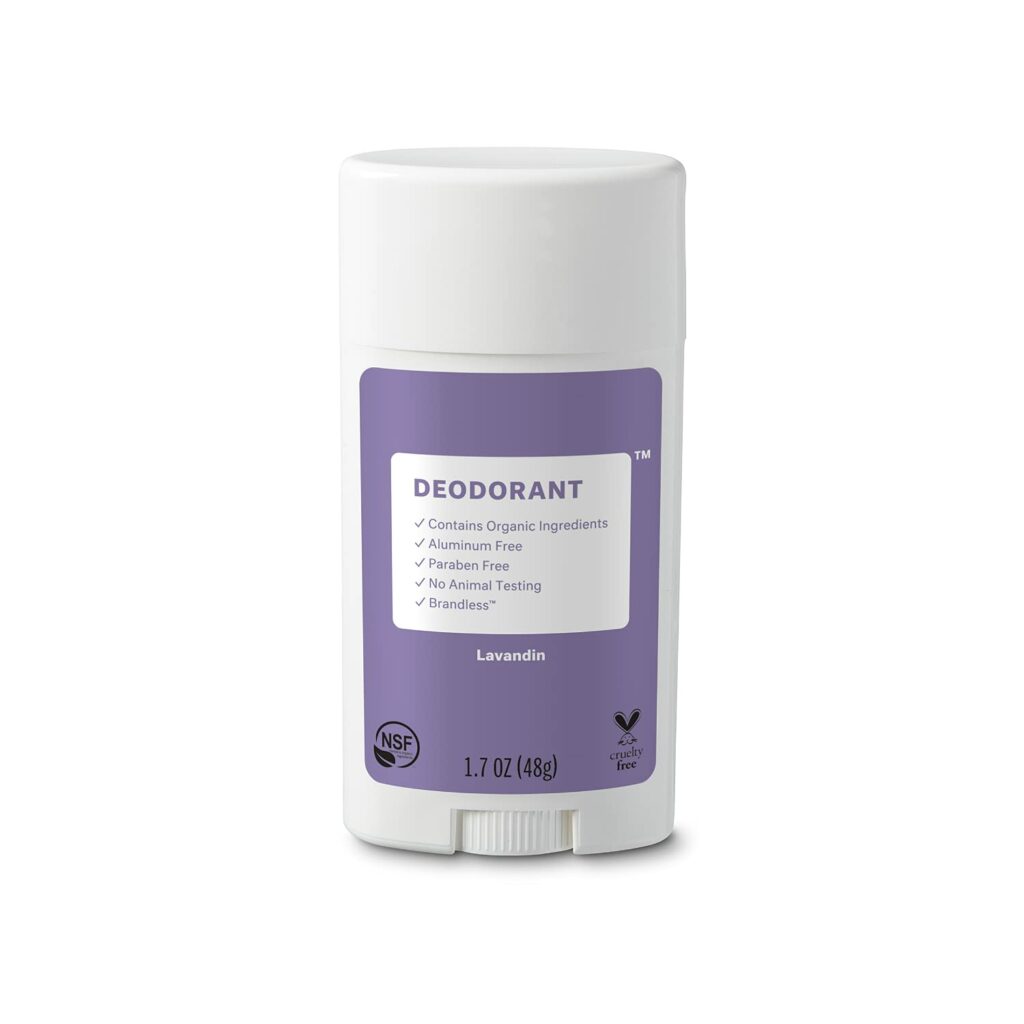 Any questions or comments? Please post them below in the comment section.