Pit Stick On The Cheap – Is It A Calming, Hardworking, Deodorant?
Harry's is best known for having affordable razors but how are their deodorants? Are they affordable too? Do their deodorants work? This and more I will be highlighting in my Harry's Deodorant Review.
So, stick around for this pit stick and see…
Full Disclosure
I have recently joined Harry's Affiliate program and will make a small income from links on this page and/or website. It helps to support my website and to bring honest actual reviews of grooming products. If you enjoy or find my review helpful please consider helping me out. As I often times actually purchase the products I review as I purchased with my own money all the deodorant in this review.
What Is Harry's Deodorant Anyhoo?
Harry's is a newly well-known company that sent the world of overpriced razors on its head. As they at first provided highly discounted razors far cheaper than the major stalwart of the razor industry. Companies like Gilette, Panasonic, Phillips, and Bic.


So we now know how Harry's started from we can now look at the expansion of their business into other realms of grooming products…like deodorants for example. They offer three different kinds of products in their deodorant line, a regular Deodorant, an Antiperspirant, and an Extra-Strength Antiperspirant. I do not use any antiperspirant because mainly I am concerned about adding metals to my body and the staining of shirts.
The deodorants come in four scents Redwood, Shiso, Stone, and Fig. They all weigh 2.5 ounces and come in baby blue containers.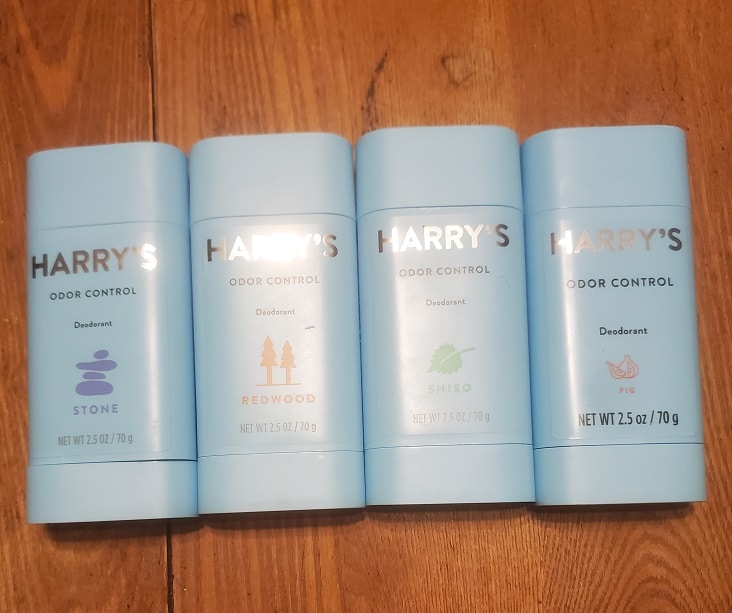 Ingredients
These are the general deodorant ingredients but keep in mind to look at the individual deodorant for the exact list of ingredients as they are all different scented.
Propylene Glycol, Water/Aqua/Eau, Sodium Stearate, Steareth-100, Fragrance/Parfum, Citrus Grandis (Grapefruit ) Seed Extract, Bisabolol, Zingiber Officinale (Ginger) Root Extract, Tocopherol, Glycerin, Oleth-2, Ethylhexylglycerin, Citronellyl Methylcrotonate, Tetrasodium EDTA, Sodium Hydroxide, Sodium Glycolate, Limonene, Benzyl Salicylate, Hexyl Cinnamal, Linalool, Citral, Benzyl Alcohol
What Do They Scents Smell Like?
Harry's has four scents available for all of their deodorants and antiperspirants. I only enjoy naturally scented deodorants that are not cologne-smelling.
Fig Scent – Rich, Warm, and Juicy. This has fig, cardamon, and blood orange. A uniquely pleasing scent. This scent doesn't smell as good until you apply it to your skin and when you do it really becomes quite nice. So don't judge this scent until you apply it to your skin first. I didn't like this scent initially but once I wore it I like it.
Shiso Scent – Bright, Herbal, and Earthy. This has crushed shiso (Japanese mint), oakmoss, and lemon zest. The lemon zest and shiso really stand out on this and is a very light and natural smelling.
Stone Scent – Cool, Fresh, and Citrusy. This has Japanese Yuzu, charcoal, and bergamot.
Redwood – Brisk, Sharp, and Woodsy. This is my favorite of their scents. I love most scents that contain Sandalwood. This smells fresh and very natural as the evergreen, sea salt, and sandalwood add for a great scent.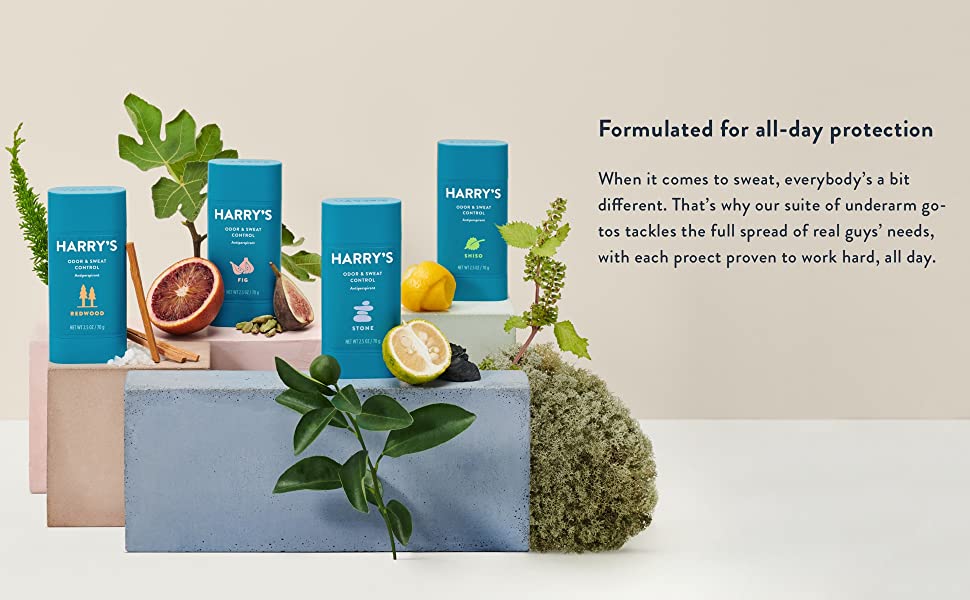 How Well Does It Work? Worth Getting?
First off I really enjoy all of the scents. This is always my starting point. Nobody wants to wear a scent that doesn't smell good to them. The scents are light and pleasant that smell for the most part natural.
As far as protection goes, this is easily a 24-hour deodorant. It lasted for my job where I do manual labor for 10 hours and was even present when I woke up in the morning the next day. Harry's claims 48 hours of odor protection. I don't know if this is true and haven't tested it because I take a shower every day and apply deodorant daily. But it is nice to know just in case you miss a shower.
Hard deodorants can last a long time compared to softer or medium-dense deodorants. This is great for consumers as you don't have to spend more money as often. Not only that but Harry's Deodorant is not the cheapest I've seen it is pretty good, even with the amount of inflation going on currently. So, this alone makes it a good choice for those frugally minded.
Overall
I enjoyed wearing Harry's deodorant. Their scents are natural and fresh smelling. It protected me from underarm stink for my long days at my full-time job. I have a hard time coming up with any real negatives to say about this product. So, somebody at Harry's has been working hard because they nailed their deodorant line.
Then you factor in the great price and that the deodorant will last a long time being it is a harder-density deodorant and you have got yourself a real winner here.
I highly recommend Harry's Deodorant!!!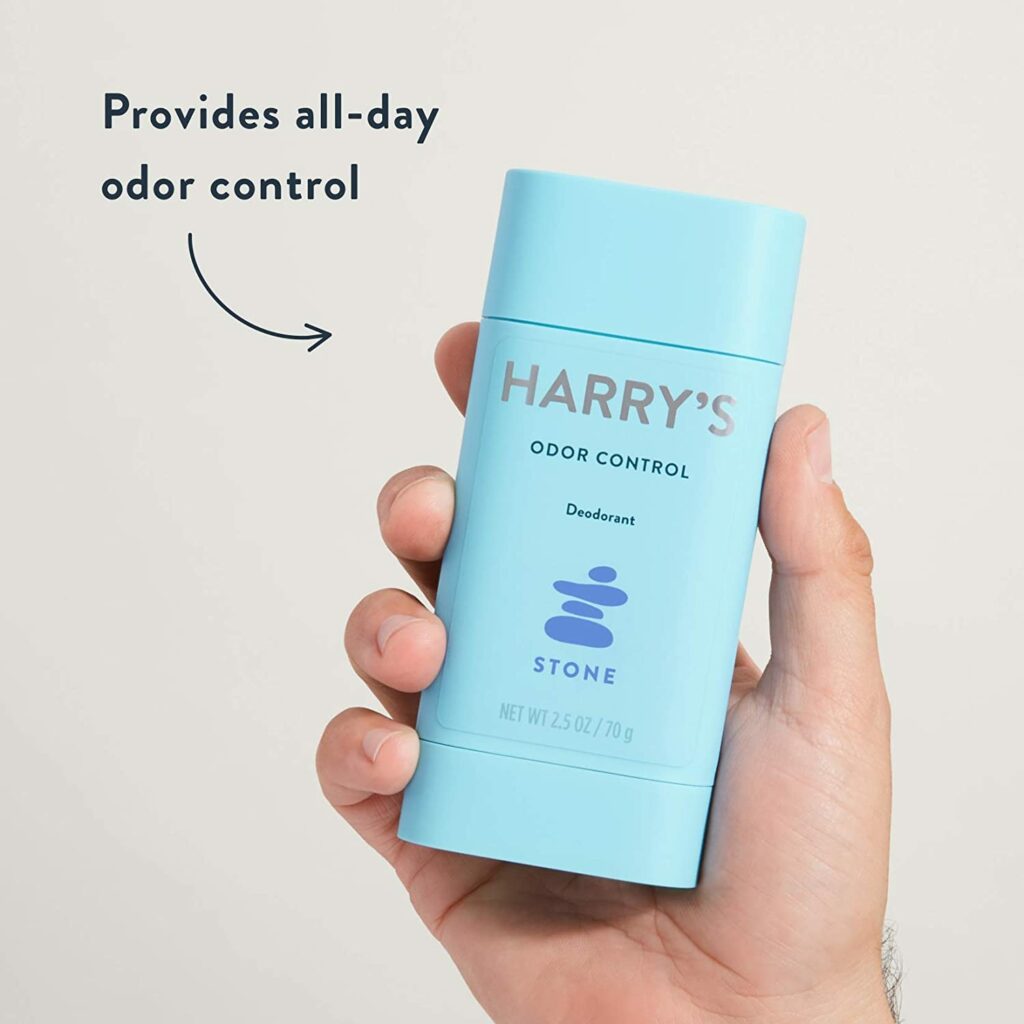 Pros & Cons
Pros
A very decent affordable price.
I love all their scents. As they are all-natural smelling, something that I very much appreciate.
Long Life. This is a solid deodorant that will last a long time as compared to softer pit sticks.
Solid protection! 24-hour protection. I get at least 24-hour protection from using Harry's. Harry's states that the deodorant will last 48 hours.
Easy to spread around under your armpit. Not sticky.
Paraben-free.
Aluminum-free.
No D5 or BHT.
Spend enough at Harry's and they give you a free gift.
The scent doesn't project out into the environment.
No staining or residue on your shirt afterward.
Made in the USA.
Cons
I don't use or recommend using antiperspirants. So that is why I choose to only review their deodorants.
Not the most environmentally friendly packaging.
How Does This Stack Up To Other Deodorants I Have Used?
It definitely ranks toward the top. I will recommend some other favorites of mine if you are open to them.
Huron Citrus + Eucalyptus – Read my full review here, Huron Deodorant Review.
Dr. Squatch Pine Tar Deodorant – Read my full review here,
Native Deodorant – Great deodorants and scents. The biggest scents to choose from. My favorites are Coconut & Vanilla and Sea Salt & Cedar. Native Deodorant Review – Does It Work?
Tips & Questions
Is Harry's Deodorant Safe?
If you are allergic you should always check the list of ingredients before using but overall Harry's Deodorant is pretty safe. While it is not the most natural ingredient it does have a lot of natural ingredients listed.
Does Harry's Deodorant Have Aluminium In The List Of Ingredients?
All deodorants don't have Aluminium in them. Antiperspirants have Aluminium in the listed ingredients which makes them an antiperspirant. This is the difference between deodorants and antiperspirants. So Aluminium stops sweating, deodorants don't stop sweating they prevent and control odors. This is the difference.
Harry's does sell both deodorants and antiperspirants, so just be aware when purchasing. I personally never buy antiperspirants for two reasons, it stains clothes often leave yellow stains on clothes, especially white shirts. Secondly, I don't like using Aluminium because it might be unhealthy for the body.
Does This Stain Clothes?
No, I had no staining of clothes when wearing this. It also didn't leave residue caked in the armpits of my shirts.
Does Harry's Deodorant Have Parabens?
No, there are no parabens in their product.
The Final Shave
If you are looking for a cheap deodorant with a decent list of ingredients that will last a long time Harry's makes some good deodorant. They claim 48-hour protection for odors which is also pretty darn good too. With not a lot of downsides this is a good-smelling deodorant.
So, if you are shopping for a new deodorant Harry's might be exactly what you are looking for. Give them a try.