A Deodorant For Men
Deodorant is essential for hygiene and grooming for most of us men. Finding that perfect deodorant that has all the quality we want can be hard. Often times we just settle for what we can find conveniently at our local grocery or big box store. But often times a better product is just a mouse click away.
In today's post, we will be looking at a potentially better deodorant…Huron Deodorant. I will be going over the negatives and positives of this deodorant to help you decide if this is the right product for you.
Affiliate Disclosure
I am an affiliate of Huron and will post affiliate links on this page and on my website. To be transparent and honest is what my website is all about. I will make a small commission on clicked links with any purchases. I purchased with my own money the two deodorants pictured in this review.
If you find my page helpful please help support it. Thanks!
What Is Huron Deodorant?
Huron makes specifically grooming products for men, so naturally, this is a men's deodorant. With scent and performance features geared towards a man's sensibility and needs. We need our scent protection…don't we men. At least I do.

Their deodorants are all aluminum-free as most deodorants are. When you start buying antiperspirants that aluminum is found. Huron deodorants are made in the USA and are also considered vegan and certified cruelty-free. You won't find the usual nasty chemicals that are commonly found in other everyday deodorants in Huron either. Chemicals like:
Parabens
Silicones
Phthalates
Sulfates
These two deodorants I would call medium hard deodorants as they are not a soft deodorants or a hard deodorants but right in the middle of the two. It is slightly on the creamy side.
What Scents Are Available At Huron
There are currently only two available options for different deodorants at Huron. and they are:
Original Citrus + Eucalyptus – Huron describes this scent as a crisp and invigorating scent of citrus, juniper, eucalyptus, mint, and aromatic greens.
Sandalwood + Black Pepper – This is described as a clean and woody scent of sandalwood, energetic black pepper, cedarwood, and creamy amber.
What Are The Ingredients In Huron Deodorant?
From what I can tell both deodorants have the same base formulation of ingredients aside from the fragrance offered.
Caprylic/Capric Triglyceride, Tapioca Starch, Cocos Nucifera (Coconut) Oil, Helianthus Annuus (Sunflower) Seed Oil, Sodium Bicarbonate, Helianthus Annuus (Sunflower) Seed Wax, Butyrospermum Parkii (Shea) Butter, Jojoba Esters, Fragrance, Simmondsia Chinensis (Jojoba) Seed Oil, Triethyl Citrate, 2-Methyl 5- Cyclohexylpentanol, Tocopherol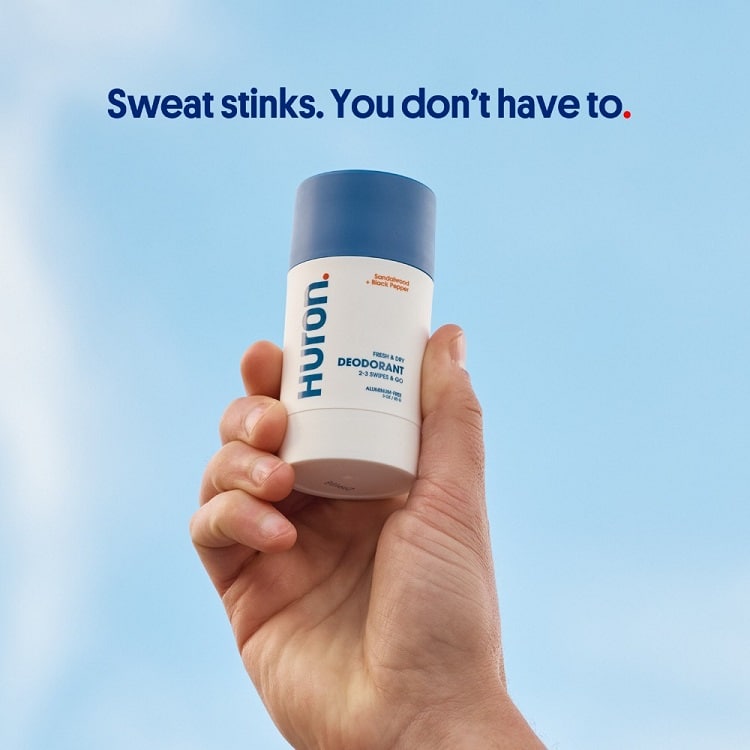 My Experience & Opinion On Huron Deodorant – Worth Getting??
The strength of Huron Deodorant is its level of odor protection. I easily get 24-hour protection as I can still smell both deodorants easily the next day. This will protect you from odor easily.
Do I Like Their Scents?
Sandalwood + Black Pepper
I love sandalwood scents and initially, I loved the Huron Sandalwood Deodorant. But after only wearing this scent for a couple of hours I was quickly over the scent. The reason why is the scent projected and I was constantly smelling it throughout the day. When I say "projected" I mean the scent is very present to you and the people around you, it fills the environment you are in. I feel like a deodorant shouldn't be this strong in its scent profile.
Maybe it was the combination of the black pepper but damn I don't think I will be ever wearing this deodorant again, I am that burnt out on it from just one day. I have reviewed Huron Soap and they have the same scents as the deodorants but only using it in the shower (Sandalwood + Black Pepper Soap) and not wearing it all day wasn't as tasking as the deodorant was. I liked the soap more than the deodorant.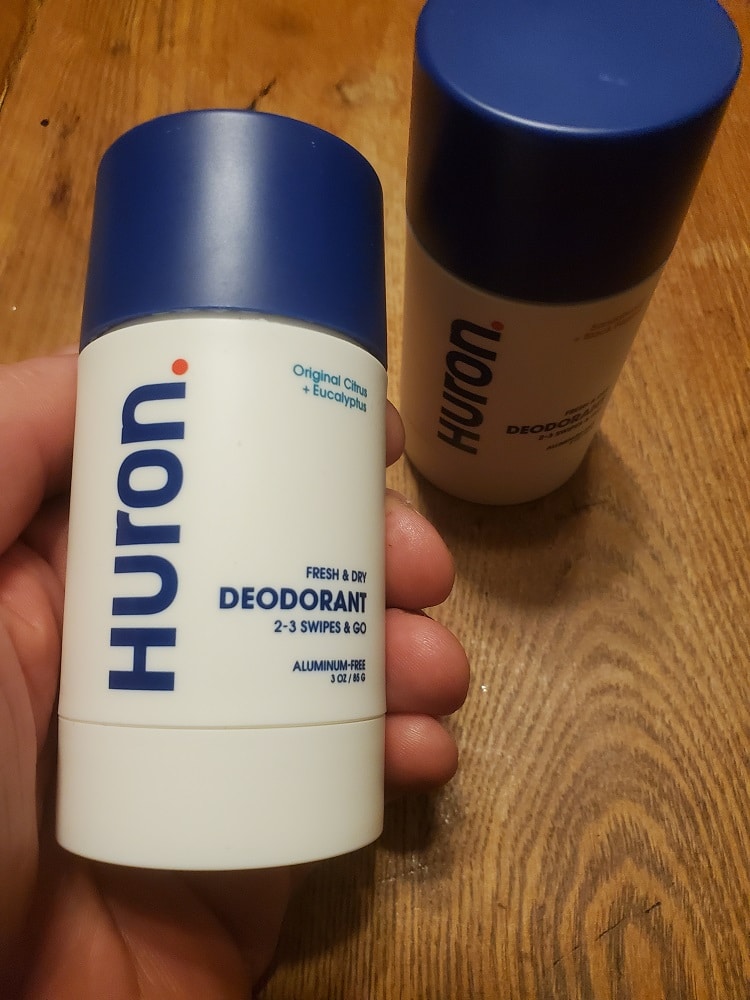 No, I do not like Sandalwood + Black Pepper! Even though I am a big fan of quality sandalwood scents. This shocked and surprised me but it is the truth. Take this with a pinch of salt as everyone has different preferences they prefer to smell. Everyone is different, just keep that in mind.
Citrus + Eucalyptus
Thankfully Huron redeemed itself with a scent I could wear the whole day without burning out my nose, the Citrus + Eucalyptus. This is a very clean and pleasant smell. I can easily wear this with no problem. The scent didn't project out into the room either.
I really appreciate this scent and can easily add it to my daily rotation of deodorant quite easily. It is a quality deodorant
Overall
Personally, I would definitely recommend the Huron Citrus + Eucalyptus Deodorant. Great protection, great scent, and great ingredients. A real winner!
I can not recommend the Sandalwood deodorant as I found it gave me olfactory fatigue after only a couple of hours. I think it was the black pepper fragrance of that deodorant that made me not like it. If Huron dialed back the black pepper I would probably recommend it and wear it.
They are easy to apply with just a couple of swipes and leave no staining on the underarm.

Pros & Cons
Pros
Great protection! Easy 24-plus hour odor protection. I could smell this under my arm the next day, it is that strong.
Have options for saving money just by signing up for Huron Auto-Deliver. How much? A substantial 25%!!!
No staining on the underarm of any shirt I wore.
Citrus deodorant smells great!
I experienced zero skin irritations while using this deodorant.
Glides on easily and clear.
Aluminum-Free.
No parabens, phthalates, sulfates, or silicon are used.
Clinically-Tested.
Allergy-Tested.
Non-Irritating formula.
Made in the USA.
Huron uses 100% recyclable packaging.
Vegan.
Certified cruelty-free.
Cons
The Sandalwood deodorant gave me olfactory fatigue after wearing it for only a couple of hours. Your results may vary but this is my experience with it.
Sandalwood projects too much and can overpower even a cologne.
Only two scents are available currently at the time of writing this review. Would like to see a bigger selection of scents to choose from.
Not the best list of ingredients I've seen but not bad either. I am not a chemist so I don't know what are the scientific names actually mean but it seems to have a good balance of natural and synthetics…I think.
Slightly overpriced.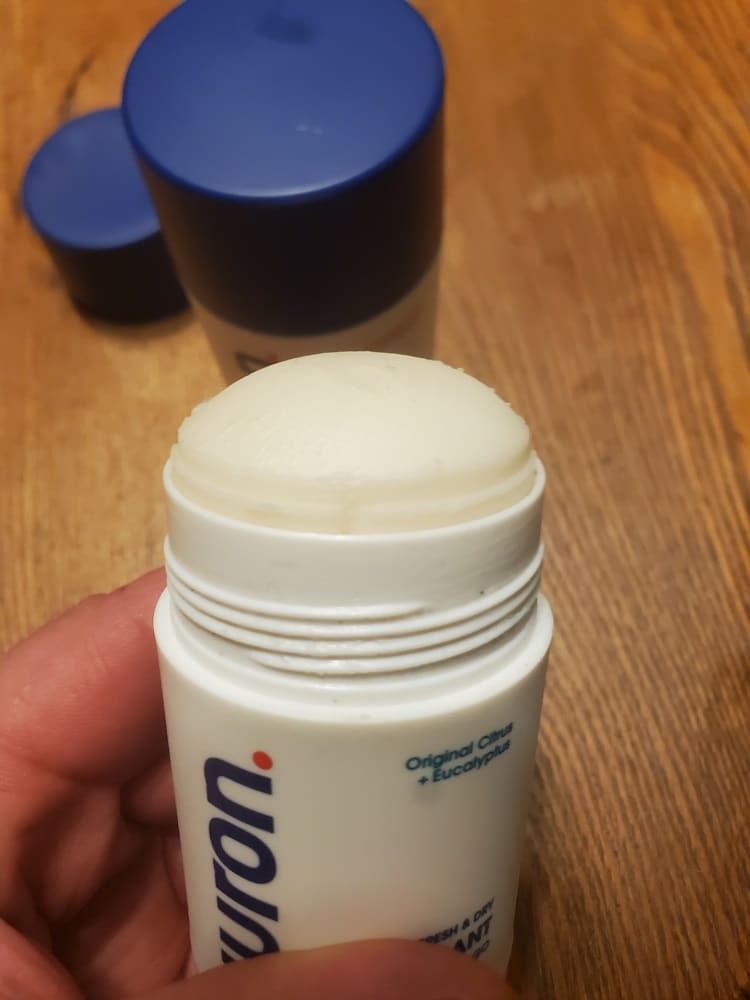 Tips & Questions
How Does Huron Deodorant Apply?
It applies in a couple of swipes. It is a medium-density deodorant so it should last for a while. It is sort of creamy but doesn't get sticky if you know what I mean.
What Is The Best Scent To Buy?
The more pleasing and better smelling of the two scents available is the Citrus + Eucalyptus Deodorant. This is my opinion yours may vary.
How Does This Compare To Other Deodorants?
Overall I would rank just the Huron Deodorant towards the middle to the top of quality deodorants I have used and reviewed. But as far as protection this ranks right at the top with solid 24 hours plus protection. As far as the scent I would rank this in the medium-high range, only the Citrus deodorant though not the Sandalwood. As I stated above I didn't like the Sandalwood deodorant scent. That scent needs work done on it and also needs to be blended better.
Other Deodorants Worth Checking Out
I will list some other fabulous deodorants that I really enjoy using and reviewing below if you are interested.
Dr. Squatch Pine Tar Deodorant
This is a soft deodorant that is creamy in texture. But the best part of this deodorant is the scent and is my favorite deodorant scent. Also, it has great performance too. This is a very popular deodorant that you should check out if you haven't already.
For more information head on over to my page, Dr. Squatch Deodorant Review – Smell Like A Man.
Native offers great natural deodorants with a huge selection of scents as well as other options too. They make uni-sex deodorants for both men and women. I absolutely love their Coconut + Vanilla deodorant one of my all-time favorite deodorant scents.
Check out my review here for more details, Native Deodorant Review – Does It Work?
This is the best hard deodorant I have used and reviewed. This deodorant will last a very long time and the scents. The scents are all pleasing and natural smelling and don't project into your environment. Plus they have plastic-reducing packaging and refill options which are great.
Read more about it here, Helmm Deodorant Review – Does It Work?
The Final Shave
If you are looking for an easy-to-apply, extreme odor-protection deodorant then maybe Huron Deodorant is your answer. With good quality ingredients at a slightly higher price that won't irritate your skin, it could be your next deodorant.
I highly recommend checking out the Huron Citrus + Eucalyptus Deodorant.