Eco-Friendly Deodorant That Works? Find Out…
In this Helmm Deodorant review, I reveal if it is a good deodorant. I wanted to try and also review Helmm Deodorant for a while now. It was just recently that I got around to buying it for myself to try out and also for this review. This is an interesting deodorant, and I have seen it advertised ubiquitously on the internet. I will be going over many features of the deodorant to help you determine if it is right for you.
Let's get swiping…
Full Disclosure
I purchased all the deodorant in this review with my own money. I would also like you to know I am an affiliate of Helmm and will make a small commission on purchased click links on my post. If you find this article helpful, I would appreciate your help supporting my website and bringing you honest content.
Table of Contents
What Is Helmm Deodorant?
Helmm sells exclusively antiperspirants and deodorants…that's it. Nothing else, just a precise focus on the quality of their products. This deodorant is geared toward men.
This is a clear and hard deodorant sold exclusively on Helmm's website. This is a unique and interesting deodorant.
Why? You might ask.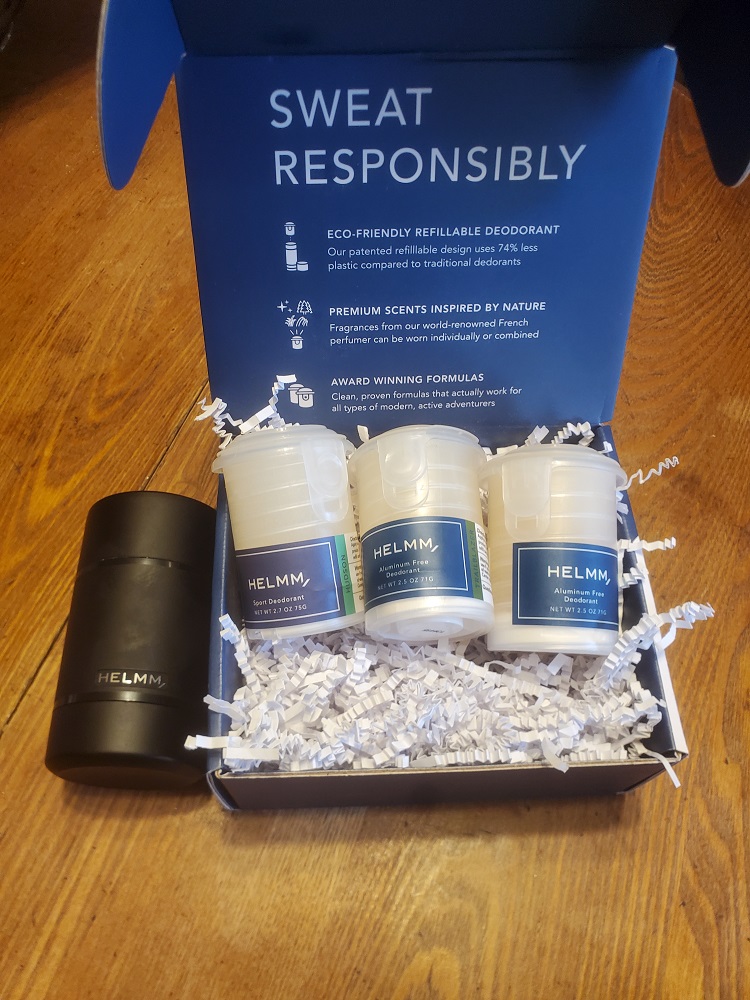 Well, It is an eco-friendly refillable deodorant as you purchase a one-time Helmm Container or Vessels (basically just the dispenser) along with the deodorant or antiperspirant of your choosing. Then, when you run out, you don't throw away the Helmm Container and just swap it out with a Refill Cartridge. The Refill Cartridge uses 74% less plastic when compared to other traditional deodorants.
Thus, there will be less waste and help save our environment. The Vessels are well-made, sturdy, and solid.
Three Options Available
Helmm has three basic options, and I will list them below.
Antiperspirant & Deodorant – For those wanting to stop sweating.
Sport Deodorant – For more powerful odor protection.
Natural Deodorant – For people looking to use more natural products.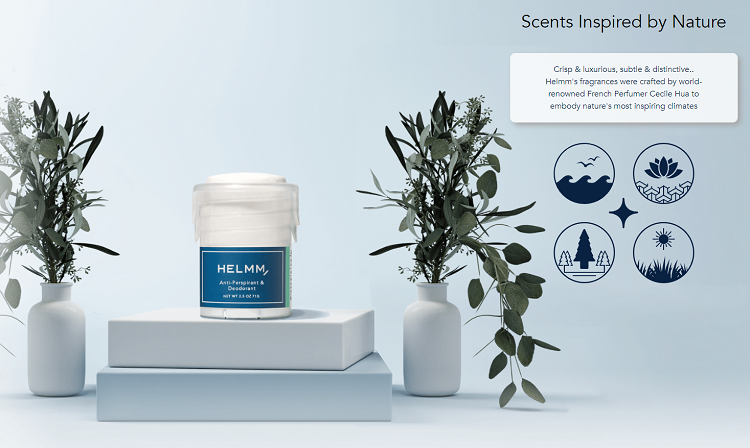 What Scents Are Available?
Helmm has four scents that are currently available in their line of deodorants. They have three scents for their antiperspirant/deodorant.
It is important to note how much care and thought go into the various scents from Helmm. Essential oils are used and not cheap synthetic, potentially harmful fragrance chemicals. These scents can also stand alone by themselves or be blended together or with your cologne.
Hudson
Coastline
Trailblazer
Night Market
Ingredients
I had a hard time finding their ingredients as they were not listed on their products or found easily on their website, but with some digging, I did find them on their site here, Helmm Ingredients. Check here if you have any questions or concerns.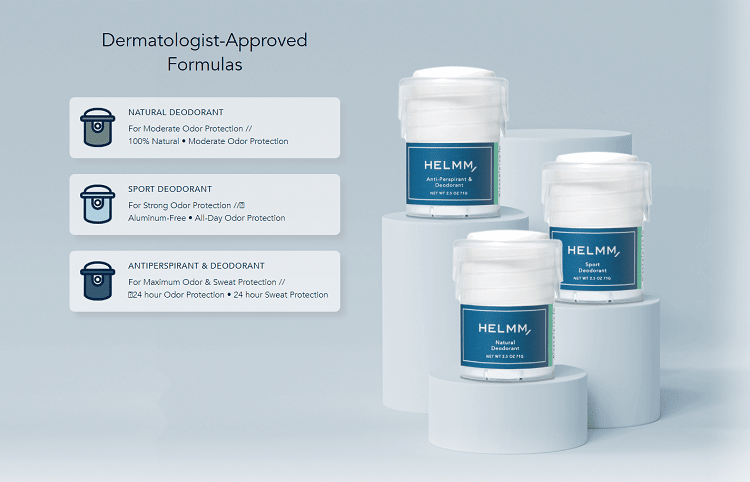 Each of the different formulas and scents has different ingredients and I will list just the main ingredients for each of the different formulas.
Free Of These Chemicals
Paraben-free
Phthalate-free
Gluten-free
Talc-free
Triclosan-free
Sulfate-free
Aluminum-free (Deodorant Only)
Antiperspirant & Deodorant Ingredients
Cyclopentasiloxane, Stearyl Alcohol, PPG-14 Butyl Ether, Cetyl Alcohol, C12-C15 Alkyl Benzoate, Dimethicone 10 CST, Hydrogenated Castor Seed Oil, Behenyl Alcohol, Sunflower Seed Oil, Tapioca Starch, Steareth-2, Corn Starch, Fragrance, Vitamin E Acetate, Aloe Leaf Extract
Sport Deodorant Ingredients
Propylene Glycol, Water, Sodium Stearate, Fragrance, Dimethyl Capramide
Natural Deodorant Ingredients
Propanediol, Water, Glycerin, Polysorbate 20, Stearic Acid, Fragrance, Ethylhexylglycerin, Sodium Hydroxide, Sunflower Seed Oil, Aloe Vera Leaf Extract*, Chamomile Flower Extract, Comfrey Leaf Extract, Green Tea Leaf Extract, Safflower Seed Oil, Kelp Extract*, Witch Hazel Extract, Alcohol, Tea Tree Leaf Oil*. *Organic
Helmm Deodorant Does It Work? Is Helmm Deodorant Good? My Opinion
I purchased the Hudson, Trailblazer, and Coastline in order to review their deodorant. I then wore this deodorant for over a week at work. I work 10-hour shifts at my job in a stainless steel factory.
So, how did the Helmm deodorant hold up?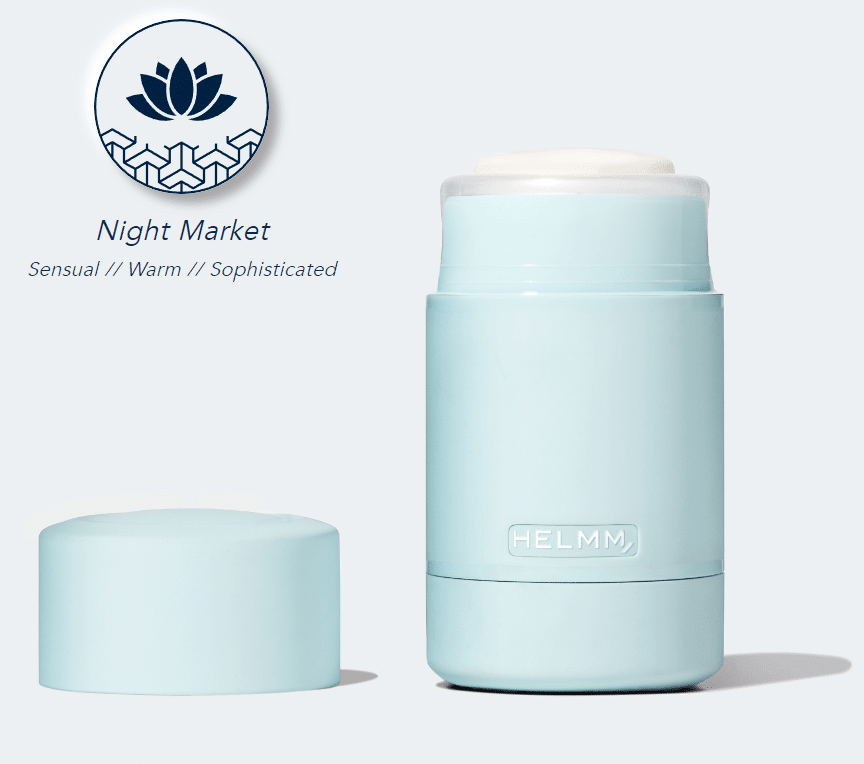 It easily lasted the whole shift. I sneakily and inconspicuously sniffed my armpits during the shift, trying not to look like a freak. But the things I have to do to review products…I will do that. I could smell it was protecting me, and oh yeah, it smelled nice too.
This even lasted well past when I got home. I say this holds up very strongly for protection.
The Scent Profile
I love the scents. I forgot to order the Night Market scent, so I can't speak of that scent. But judging from the other lineup of scents, I would have to say I would probably love that, too. They smell natural and clean and stay close to your body. By this, I mean they don't project into your environment. I prefer this!
Longevity
This hard deodorant easily distributes a clear and does not stain or leave white residue on shirts. The hardness should greatly increase the lifespan as this is a benefit of a hard deodorant. So this should last a good while.
Hard deodorants last so much longer than soft or medium-density deodorants. Which translates to having to spend less money buying less deodorant.
Overall
Helmm is a great deodorant if meets all the needs and even more. The reduced plastic, great scents, long protection, natural ingredients, longevity, great ingredients, and respectable price.
This checks all the boxes and I wonder why I slept so long on reviewing this great men's deodorant. It is one of the best I have reviewed for sure!!!

Pros & Cons
Pros
All the deodorants smell good. Very pleasing, natural, and not aggressive or overpowering is how I would sum them all up. I love this!
Great Performance! I got at least 14 hours of solid performance using Helmm Deodorants. This was doing manual labor for a 10-hour shift at my job.
Glides on really easily.
There is no staining or white powdery mess in the armpits of my shirts.
Deodorant should last a long time even though it is a smaller size. This is because it is considered a hard deodorant, and I have found they last a lot longer than soft or medium deodorant sticks.
Comes nicely packaged.
It can be bought as a gift set to give to someone with a nice box and packaging.
I love that the bottom of the deodorant doesn't have any holes like other deodorants have. When I inspect and take apart other deodorants that I used up all the deodorant in the stick, I can see some of the deodorants have pushed through the bottom, Wasting the deodorant. None of that B.S. here with Helmm.
There are many props for having an eco-friendly refillable design. They claim 74% less plastic compared to traditional deodorants.
The Helmm Container is quality-made and works great. Really solid and built to last.
They also have an optional subscription service where they will send you a Refill Cartridge replacement for either 6, 7, or 8 weeks.
Cecile Hua is a well-known perfumer who designed all of their fragrances.
Fast shipping got my order in less than a week from ordering it.
Five different Vessels/Containers to choose from. They have one metal and leather vessel and four different colored vessels. Pick your favorite.
Made in the USA.
The Refill Cartridge is transparent, so you can clearly see how much deodorant is left on the side of the Vessel. It is a great design feature that goes the extra mile.
Another great design feature is the smoothness around the top of the refill cartridge, as there are no sharp edges. This helps avoid scratching yourself when using it. It's a great little feature.
The whole shebang, the vessel, and the refill cartridge have a good heft and weight to them.
Want to change your deodorant? Easy: just simply switch them out, as this is super easy.
Cruelty-free.
The fragrances have a lot of natural essential oils, as the perfumer that designed these fragrances loves using more natural fragrances and avoiding the more harmful synthetic chemical fragrances. Not a lot of people know this, but it is good to see.
The scents are designed to be worn separately or layer together. A lot of thought went into this, and I had never seen this before.
Cons
A smaller size of deodorant. The size and weight of the Helmm deodorant stick are 2.7 ounces and smaller in weight than the average size, which is around 3.4 ounces. But also keep in mind this is a hard deodorant, and these last a lot longer than softer deodorants.
I hate using antiperspirants, and they sell them. As I have found, they leave yellow stains on my shirts and also use Aluminum in their ingredients. Aluminum is highly suspect and may have long-term effects on your body.
The Heritage Starter Kit is expensive, but thankfully, you can buy the Compass Starter Kit for a much cheaper price.
Questions & Tips
What Is The Difference Between The Sports Deodorant and the Natural Deodorant?
Sports Deodorant has a different list of ingredients that have better odor protection than Natural Deodorant. If you really have stinky underarms, go for the sport. If you are more concerned about a more natural product, go with the Natural Deodorant.
How Long Does Helmm Deodorant Last?
This can vary depending on how often you use the deodorant, but typically, it can last between 5 and 10 weeks. Helmm states that the most common users, on average, buy the 7-week refill.
Can Women Use Helmm Deodorant?
Although mainly targeted and designed for men, women could also wear this deodorant as the scent profile is not too far toward the direction of a man's scent—a slightly uni-sex fragrance.
How Does This Compare To Other Deodorants I Have Reviewed?
This is the best hard deodorant I have reviewed to date. So, if you are looking for a hard deodorant, look no further. But if you are interested in other high-quality deodorants, I will list some of them below.
Dr. Squatch Deodorant – This is a soft deodorant that has fantastic performance, and all of its scents are geared towards men. You have gotta try the Pine Tar Deodorant—such a great scent. You can read my full review if you want more information here: Dr. Squatch Deodorant Review – Smell Like A Man.
Native Deodorant – This has one of the highest selections of scents available for both men and women. Plus, they have fantastic ingredients, too. This is a medium-hard deodorant. I love Native Deodorants. Find out more here: Native Deodorant Review – Does It Work?
Bend Deodorant – This has one of the best ingredients used. It is all-natural if you have sensitive skin. Fantastic soaps, too, as they are made from goat's milk. Pretty good scents, too! Read my review here: Bend Soap Co Deodorant Review – Works? Stink Protection?
The Final Thoughts On Helmm Deodorant Review
There are so many well-thought-out ideas and implementations built into every aspect of Helmm deodorant that it is tough not to love the product.
I am very impressed with the deodorant and everything about Helmm. From the scents to the reduced plastic waste, it gets a strong recommendation from me—so many positives with very few negatives.
Highly Recommended!!! Get some if you are looking for an exceptional deodorant.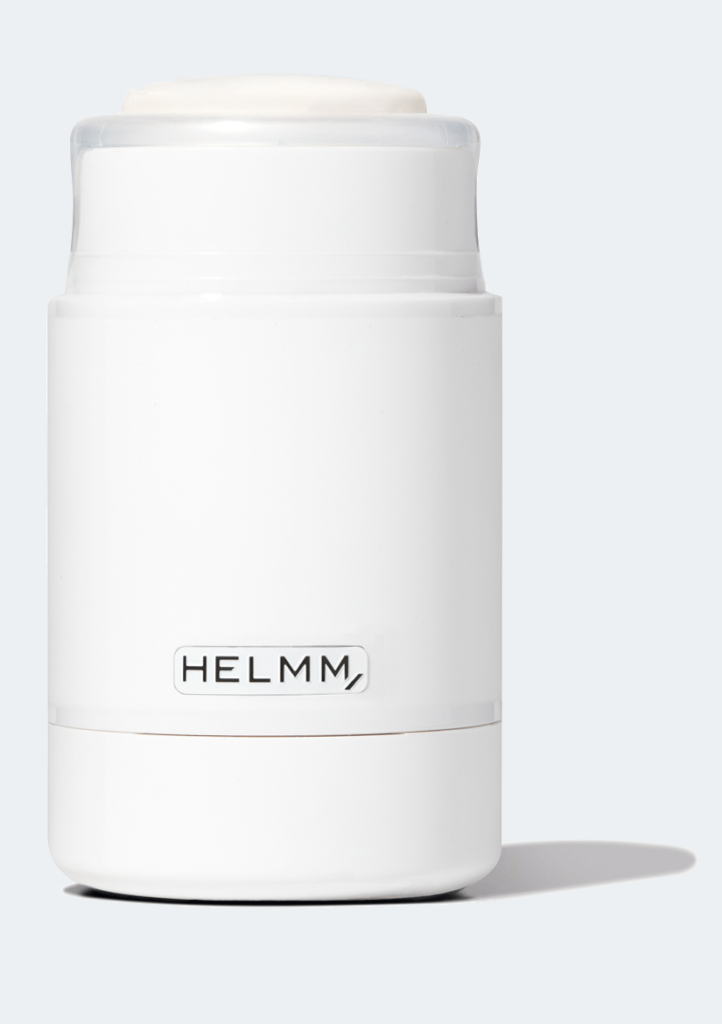 Any comments or questions? Please feel free to leave them below.