Handmade Soap That Is Infused With Pheromones To Attract The Ladies – Yes…Please!
I know this sounds pretty gimmicky, right? A soap that attracts females but maybe this could be true and even more. We are looking specifically at Grondyke Tactical Soap today and finding out if it lives up to the hype and marketing. I ordered 6 different Grondyke scented soaps in order to see how good the soap is and also to see if it attracts the ladies and also boosts your confidence. The results at least to me are quite surprising.
In my best Val Venus voice...Hello Ladies.
Full Disclosure
I am an affiliate of Grondyke Tactical Soap and will make a small commission on purchased links clicked at no additional price to you. Even though I am an affiliate I purchased with my own money 6 bars of soap from Grondyke. This will not affect the review as I provide honesty here at BackShaverForMen.com. If you find this post helpful in any way please help support my site. Thanks!
What Is Grondyke Soap?
Well, what is Tactical Soap anyways? Please explain…
Man soap is the best way to put it. Soap that is infused with pheromones helps boost confidence and attract the ladies. Grondyke teamed up with a clinical psychologist and a pheromone expert to help create their specific formulas to add to their soaps.
Their various soaps names are based around the ultra-macho good-looking movie star leading actors. You'll see below what I am talking about. Their soaps are all-natural and made in small batches.
List Of Soaps From Grondyke
They have a total of nine different scented soaps from which to choose.
Bond
Bond 2
Bond 3
Durden
Durden 2
Durden 3
Maverick
Maverick 2
Maverick 3
What Are The Ingredients?
Each of the different soaps has a different set of ingredients. You should refer to their website for a closer examination if concerned. But in general, they all have a great set of ingredients I will post the tactical Bond Soap below to give you a better idea of what is in the sauce.
Tactical Soap Bond Ingredients
Olive Oil, Coconut Oil, Water, Sodium Hydroxide, Organic Palm Oil, Shea Butter, Activated Charcoal, Musk Fragrance, Androstenone, and Grondyke Hero Blend.
Does This Soap Do What It Claims? Worth Getting?
First off, I felt more confident after using this soap, as the soap lingers on the skin for hours. I was quite surprised by this fact as I continued to smell my arm at work as the hours kept going by and the smell was still present. Even though I could smell it around me throughout the day but had to check anyways.
The scents were more of a natural smell and not a cologne smell. If you know what I mean. I love this smell and prefer it.
I have personally struggled with self-confidence for my whole life and anything that boosts that from a good haircut to smelling great is a winner in my book. Every time I showered with any of these soaps I felt more sure of myself and more comfortable with who I am. Mission Impossible turned into Mission accomplished in this category.
The soap lathers well and performed its job as any soap should. The list of ingredients is another crucial determining factor for me and Grondyke Tactical Soap didn't let me down in this feature as well. A great set of ingredients that cater to all-natural men. As some soaps have anti-testosterone properties to them and thankfully Grondyke had none.
How Does It Smell?
My Favorite Scent is the Bond Tactical Soap. This smells clean but manly and slightly sophisticated. I can clearly see and smell why this is the most popular soap from Grondyke. For sure if you are going to try this brand get the Bond.
Out of all of their soaps, I didn't hate any of the scents I had purchased. They all smelled good or great. Each soap has its own unique scent profile and this made me happy.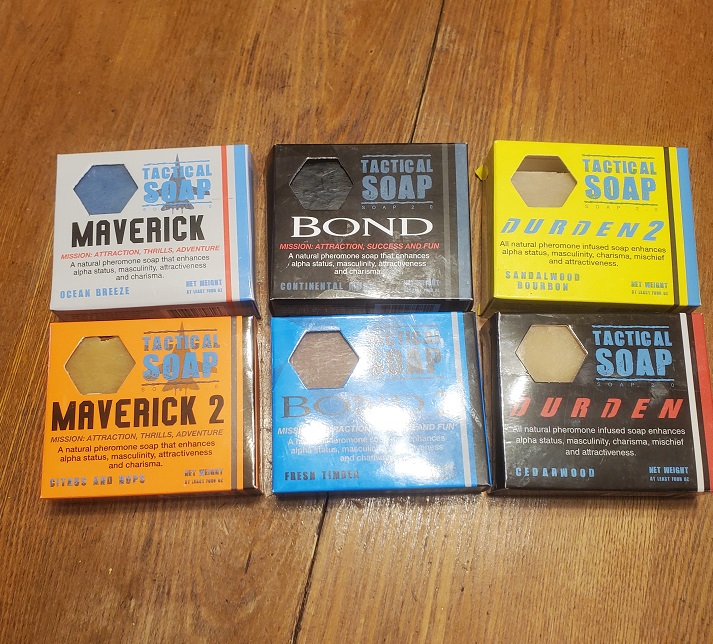 Worth Getting?
Pretty much after seeing an ad on YouTube from Entrepreneur In Cars, I knew I had to get some of this soap and review it here on my website. Richard Cooper runs the channel and is all about being a man and addressing life head-on as a man. If he was supporting and using Tactical Soap I knew I should be too and after trying I know why. I respect that dude.
So, yeah it is worth getting. Try a bar yourself or get a bundle of six and save some money. This soap boosts your confidence, makes you smell good, and has a great set of ingredients.

Pros & Cons
Pros
Great Performance! The scent stays on your skin for a long time.
Can you put a price tag on confidence? Yes, confidence from using a bar of soap. Priceless.
This is almost like a cologne (but not a cologne) the scent lingers on your skin for many hours after your shower. I thoroughly enjoyed this!!!
The scent projection is moderate, like a couple of 3 to 6 inches from your skin.
Quite a large selection of different scents to try and is sure to please anyone.
Can buy in a bundle (6 soaps) to save money and try all their scents.
No chemicals are added that reduce testosterone. Very important to us men, as we need to be manly. Right?
I actually got some compliments throughout the day!
Made in the USA.
Have great deals with buying more than one soap. Check their website for their current deals.
Free from parabens, sulfates, phthalates, and testosterone-reducing chemicals.
Great guarantee! If you don't like it they pay for it and no questions asked.
All natural ingredients.
Soap is made in small batches.
Decent price.
Cons
I can't come up with one. I could say the price but I've seen pricer soaps that smell horrible with bad ingredients sold for a lot more. The price is in line with a good quality soap.
Would like to see a soap with exfoliant added maybe in their future.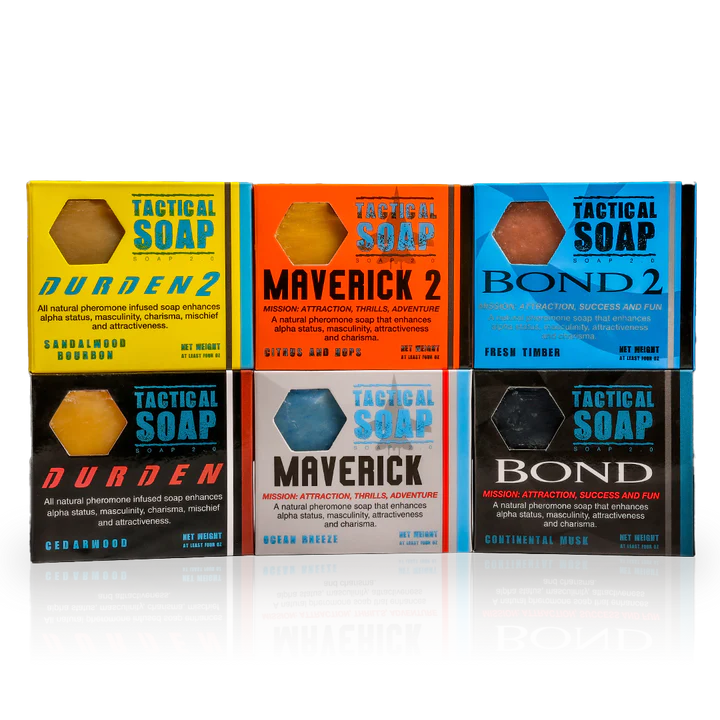 How Does This Compare To Other Soaps?
I love a good-smelling soap but I also require it to have quality ingredients. As far as confidence building I have never used a soap that compares to Grondyke Tactical Soap. It leads the way in confidence.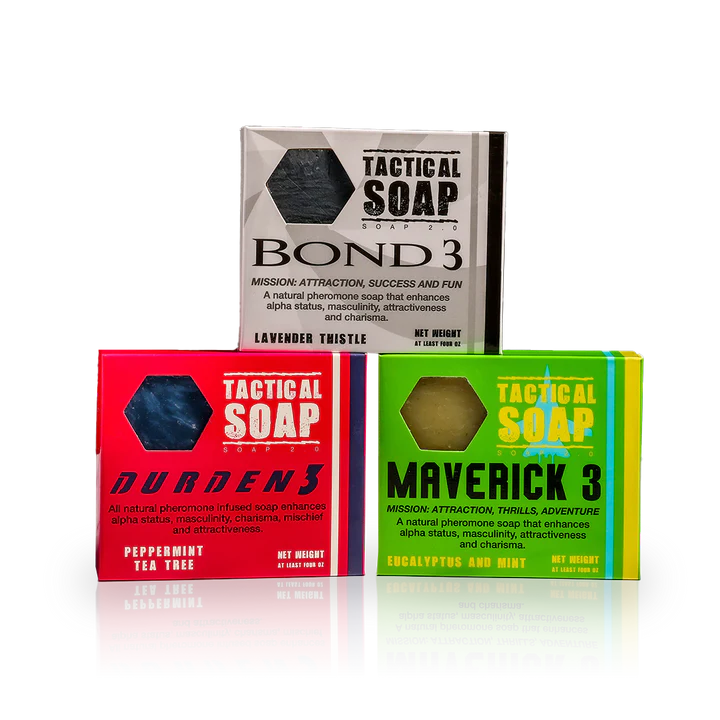 Other Soaps I Recommend
Bend Soap Company – This is a fantastic bar of soap that checks all the boxes and then some. Super great for sensitive skin as it uses goat milk. Which is great for skin conditions. Check out my review here for more information, Bend Soap Company Goat Milk Soap Review – Is It Any Good???
Dr. Squatch Soap – Another company that makes soaps for men and designs scents around what men should smell like. I just love their Dr. Squatch Pine Tar Soap. They also make other great products too. Read my full review here, Dr. Squatch Pine Tar Soap Review.
The Final Shave
I really enjoyed using this soap and the lingering effects of scent throughout the day. I even felt it boosted my confidence…or maybe it was just a placebo effect I don't really know but I do know I felt more manly and more confident. A bar of soap that boosted my confidence…I mean come on a must-have.
So it worked for me. The scent is very pleasing and also has a pretty decent list of ingredients too. So if you are looking to up your machismo game or to just have a good quality soap.
Get it and be more manly. Highly recommended!!!