I've been using this brand on and off again for many years, as I was tired and worn out from wearing various Old Spice deodorants. Yeah, I'm never going back!
So, I have come to rely on and trust Native Deodorant and for some reason, I never thought of reviewing on this website. To close to it, I guess, but I would now like to share my experience, as I feel many people are looking for a better product to stave off the underarm stink. I hope to answer common questions and showcase this deodorant in this post, Native Deodorant Review – Does It Work?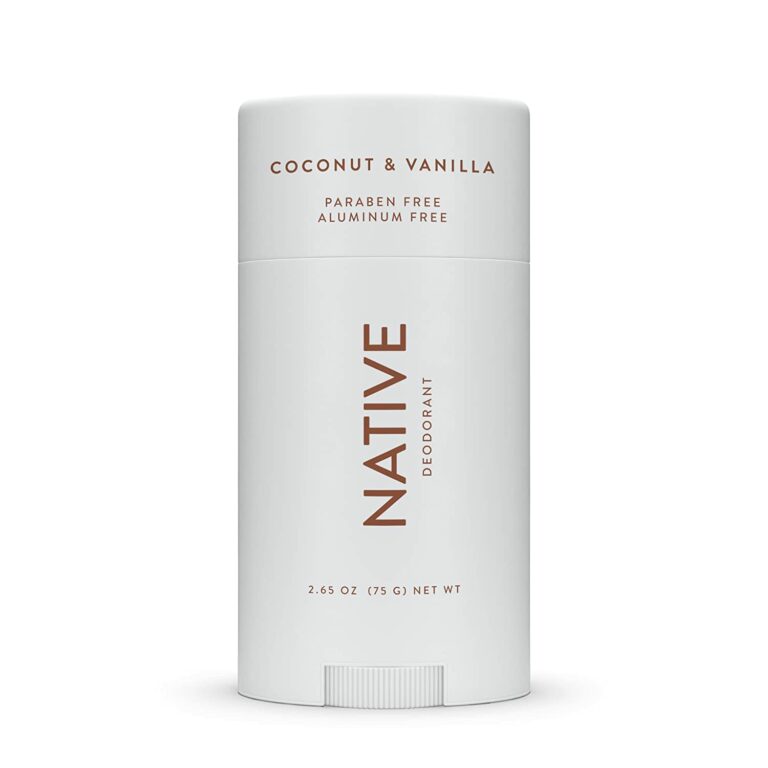 Let's get to some swiping some armpits people, shall we?
What Is Native?
Native is an honest and transparent company that sells a plethora of essential grooming products, from deodorants to sunscreen. They clearly like to show the cards they are holding and make efforts to gain the public's trust by being up-front and honest with ingredients and packaging.
Their products can be found almost anywhere from local drugstores to ubiquitously online.
Deodorant Scents Available
Currently at the time of writing this post Native has 16 scents for Regular Deodorants, 11 scents for Platic Free Deodorants, and 8 scents for Sensitive Deodorants. I have noticed over the years they have brought in new scents and also discontinued older scents as well.
All deodorants are 2.65 ounces.
Coconut & Vanilla
Eucalyptus& Mint
Sea Salt & Cedar
Buttercream & French Vanilla
Powder & Cotton
Cucumber & Mint
Citrus & Herbal Musk
Lilac & White Tea
Lavender & Rose
Sweet Peach & Nectar
Charcoal
Unscented
Aloe & Green Tea (Sensitive)
Cotton & Lily (Sensitive)
Limited Edition Scents
Tie-Dye Vanilla Cupcake
Fresh Peach Cupcake
Giner Lemonade Cupcake
Mint Cookie Cupcake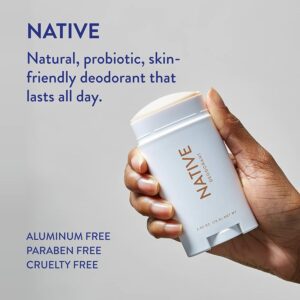 Ingredients For Regular Deodorant
Coconut Oil
Shea Butter
Baking Soda
Tapioca Starch
Probiotics
Ozokerite
Caprylic/Capric Triglyceride
Magnesium Hydroxide
Cyclodextrin
Glucose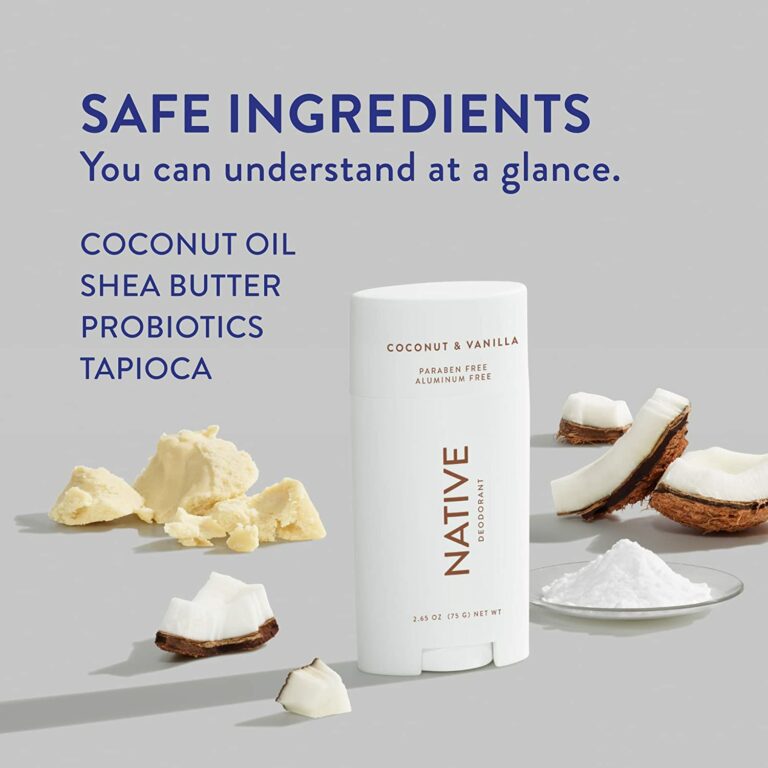 Ingredients For Sensitive Skin Deodorant
Coconut Oil
Shea Butter
Tapioca Starch
Ozokerite
Beeswax
Caprylic/Capric Triglyceride
Arrowroot Powder
Stearyl Alcohol
Castor Oil
Glyceryl Caprylate
Jojoba Esters
Glucose
Soybean Oil
Glyceryl Undecylenate
Vitamin E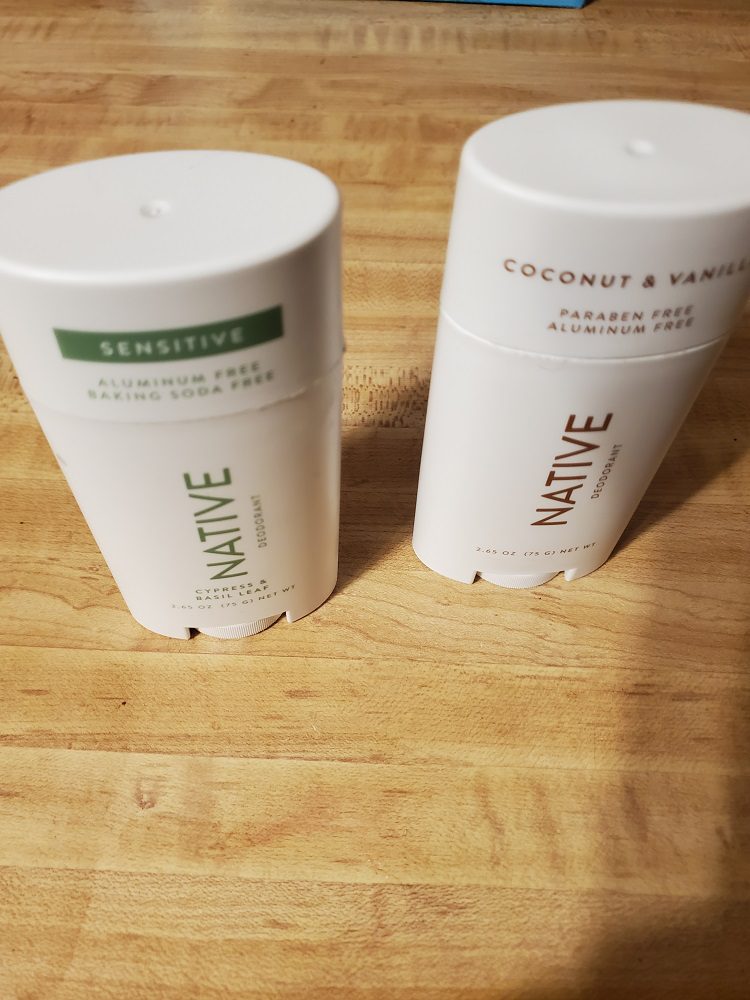 My Experience & Does It Keep You From Stinking?
As mentioned above, I have had the pleasure of using this product for many years and have never once been let down from using it. It has always held up no matter how hot or humid it was and leaving me still smelling fresh and most importantly not stinking. This has held up like Cal Ripken Jr. for me always dependable. Never did it not show up or let me down. Solid as a rock.
What I look for in deodorants is something that smells natural and has all-day protection. That is basically it. I do not want to smell anything like Axe Body Spray or the old Old Spice cologne. Long gone are those days and now that I am older I want to smell more natural but also have protection. For me to like deodorant, it has to smell good and be naturally smelling. Sure everything else is just icing on the cake, like natural ingredients, no aluminum, or plastic-free packaging. Thankfully these options are also available at Native too.
This product line offers one of the most available scent lines for deodorants that I have seen with more natural smells. I have liked every scent I have bought from the Native Product line. My current favorite is the Coconut & Vanilla scent. A very pleasing scent for sure and works for both men and women.
How Does It Apply?
These are considered a solid deodorants but also go on easily. I never had any problem with staining or product coming through the other side of my shirt and I wear mostly black t-shirts at work.
All-day protection and one of the best deodorant companies in the world. I easily recommend this product.
Pros & Cons
Pros
They smell good. Someone has spent time and effort blending these scents to formulate pleasing and appealing fragrances, not an easy thing to do.
Gentle scent and is not overpowering and in your face.
Non-greasy.
Aluminum-free on all their deodorant lines.
No parabens, phthalates, or talc.
Doesn't crumble as other natural deodorants do.
Applies evenly and smoothly.
Full all-day protection from the underarm stink. I use this regularly at my job for 10 to 11-hour shifts and it has never let me down.
They have plastic-free deodorant packaging that is made from paperboard for those looking to cut down on plastics in their lives and contributing to the whole garbage problem we face here on our beautiful planet. All in the same great scents and price as their standard packaging. Fantastic!!!
They also have a line of Sensitive Deodorants for people with sensitive skin as well.
Never tested on Animals.
Made in the USA!
They offer an Unscented deodorant as well in all their deodorant lines (Regular, Plastic-free, and Sensitive deodorants).
A big line of available scents to choose from. I love options.
Some Uni-sex fragrances can be worn by both men and women.
Offer limited edition scents at various times.
The product lasts a long time, as it is medium density not too hard or too soft. I find softer deodorants don't last as long as denser ones.
Cons
Not organic.
They only have two scents available in the plastic-free packaging for sensitive skin (Cotton & Lily, and Aloe & Green Tea) would like to potentially see more.
Can be considered pricey but as of late everything seems overpriced. Am I right or what?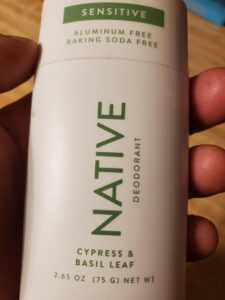 Tips & Questions
What Is The Difference Between The Regular Deodorant & The Sensitive Skin Deodorant?
The biggest difference is that Sensitive Skin doesn't have any baking soda. Which some people have an allergic reaction to. But there a quite a few different ingredients added to the sensitive skin and you can compare them to the regular deodorant above in the Ingredients section.
Is This Product Organic?
No, the products are not organic. But they do source some of their materials from non-GMO corn and their probiotics are non-dairy cultured.
What Is Their Most Popular Scent?
Everybody agrees that the Coconut Vanilla scent is their most popular going by reviews and sales. This can be worn by men and women. The scent is not blaring out in any way and the vanilla takes the forefront slightly ahead of the coconut. This is my favorite as it is a good clean smell and is very appealing and natural.
Other Noteworthy Deodorant
If you are a man another great deodorant is Dr. Squatch Pine Tar Deodorant. This is another favorite of mine and is worthy of a look.
Check out my review here, Dr. Squatch Deodorant Review – Smell Like A Man.
The Final Shave
If buying online the biggest area of risk is not exactly knowing how it smells before purchasing it. You can get a general idea of the scents from the item description but nothing can replace putting your nose up to it and smelling it. But I feel that these scents are all very pleasant smelling and natural smelling but this is my nose and it differs from everybody else's sense of smell. But if you are unsure you can always try their unscented deodorant as well.
So, if you are repulsed by in-your-face fragrances this is a good alternative to those other harsher-smelling deodorants. This has the protection that lasts all day. I love most of the scents but some of the scents are more in line with a women's fragrance.