Simply Soap For A Man
In today's review, we will be looking in depth at Huron Men's Bar Soap to determine if it is worth buying. There are so many different soaps available online and at just about every store you walk into that it almost seems everyone is making or selling soaps. Not all of them are great or even smell good. So I purchased a couple of bars of soap from Huron to check them out and review.
Let's find out if Huron Bar Soap is any good or not.
Disclaimer
I am an affiliate of Huron and I will make a small commission on purchased clicked links on my website. I purchased with my own money soaps I reviewed here in this review. I believe in actually using the products I review and honesty. Highlighting the positives and negatives of every product. If you find my site helpful please help support me to continue to bring interesting content.
What Is Huron Bar Soap?
Right out of the gate you should know that Huron makes grooming products for men specifically.
Huron soap is a triple-milled soap which makes it much smoother than regular soap and also has a super creamy lather that is highly sought after. Also, this soap is a lot denser which means it will last a lot longer too. All important aspects of owning a quality soap.
The bars come in 5-ounce bars and have a unique curve shape to them which makes them easier to hold and also prolongs the life of the bar. Currently, there are only two options for scents available at Huron.
It is important to know right away what is NOT in Huron soap and I will list what is not below.
No Parabens
No Phthalates
No Silicones
No Aluminum

Soap Available At Huron
The two available soaps at Huron are:
Original Citrus + Eucalyptus – Citrus, juniper, eucalyptus, mint, and aromatic greens.
Sandalwood + Black Pepper – Sandalwood, energetic black pepper, cedarwood, and creamy amber..
Ingredients Used
The two soaps are exactly the same ingredients except for the fragrance used from what I can tell.
Original Citrus Ingredients
Sodium Palmate, Sodium Palm Kernelate, Water, Glycerin, Fragrance, Titanium Dioxide (CI 77891). Butyrospermum Parkii (Shea) Butter, Cocos Nucifera (Coconut) Oil, Sodium Chloride, Tetrasodium EDTA, Hamamelis Virginiana (Witch Hazel) Leaf Extract
Sandalwood + Black Pepper
Sodium Palmate, Sodium Palm Kernelate, Water, Glycerin, Fragrance, Titanium Dioxide (CI 77891), Butyrospermum Parkii (Shea) Butter, Cocos Nucifera (Coconut) Oil, Sodium Chloride, Tetrasodium EDTA, Hamamelis Virginiana (Witch Hazel) Leaf Extract
Performance & Is It Worth Buying?
I've been using this soap for over a week now and can happily say this soap is a winner. The creamy lather is one of the best I have ever tried. Right away the soap forms a rich and thick lather with little effort which is quite pleasing. This is one of its many strong points.
The ingredients used in Huron soap add much hydration and don't even hint at slightly drying out your skin. In fact, it adds moisture.
Also when you use this soap it just seems like the bar of soap remains the same size it was originally. Even after using this for a week, it looks like a brand-new bar of soap. This is because it is a dense soap, ingredients used, and triple milled soap.
Scent Profile
The Original Citrus has a very natural and pleasing scent that is quite complex. The scent profile is very balanced where the citrus is the front runner that hits your nose first but the other scents blend the middle and finish nicely.
The Sandalwood + Black Pepper smells also very natural. I love any quality sandalwood scents and this smells good and is of quality. The black pepper is quite surprising in this blend but works. This is definitely a manly scent but might also be a hit or miss for some men but I like it.
Overall Thoughts
This soap sells at a good price and has a long life and will not disappear down the drain in two weeks. Add to this a quality list of ingredients and pleasing scents and you have a real winner. I have seen far lesser soaps sell for much more money. Thus making this a great buy.
A must-buy and highly recommend it. Oh and I forgot about the creaminess of the lather and the hydration. Give it a try and see what I am talking about.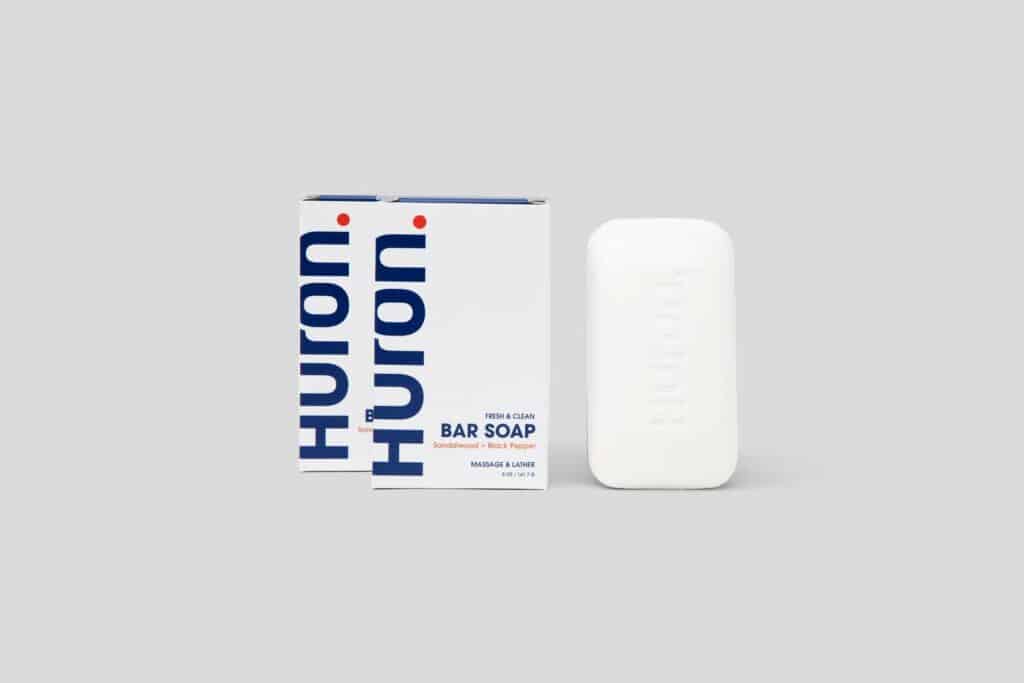 Pros & Cons
Pros
This is one of the most impressive soaps for creating lather and suds when using. It takes almost little effort to get a rich impressive lather.
A hard dense soap that should last a long time. Harder and denser soaps last a lot longer than softer soaps. So, you get more for your money, and who doesn't want that?
Very good at hydrating the skin. When using it feels like you are bathing with heavy cream. Left my skin smooth and feeling fantastic.
Easy to hold! The shape of the soap isn't your straight rectangle bar of soap, it has a curve in the middle for better holding and to also make the bar last longer. Found it easy to gasp and to hold.
Enjoyable scents! I love sandalwood scents and their sandalwood is divine!!! Citrus is good too!
Made in the USA.
100% Vegan.
Cruelty-free.
Rinses very cleanly and has no residue.
Has witch hazel which is a natural astringent and helps provide odor protection.
100% recyclable packaging.
Great price for a quality soap ($8.00) and even cheaper by 25% if you set up auto-delivery ($6.00).
Helps wake you up! The scents really make your nose come alive when you use them and I find this helps me to feel alive when I take my morning shower.
Great for men with dry skin conditions.
Cons
Would like to see more variations and different scents available to purchase. The scent lineup is sparse (just 2 scents).
Would also like to see a soap with exfoliant added. After all, you are making soap for men and men get dirty and need that extra scrubbing power of an exfoliant.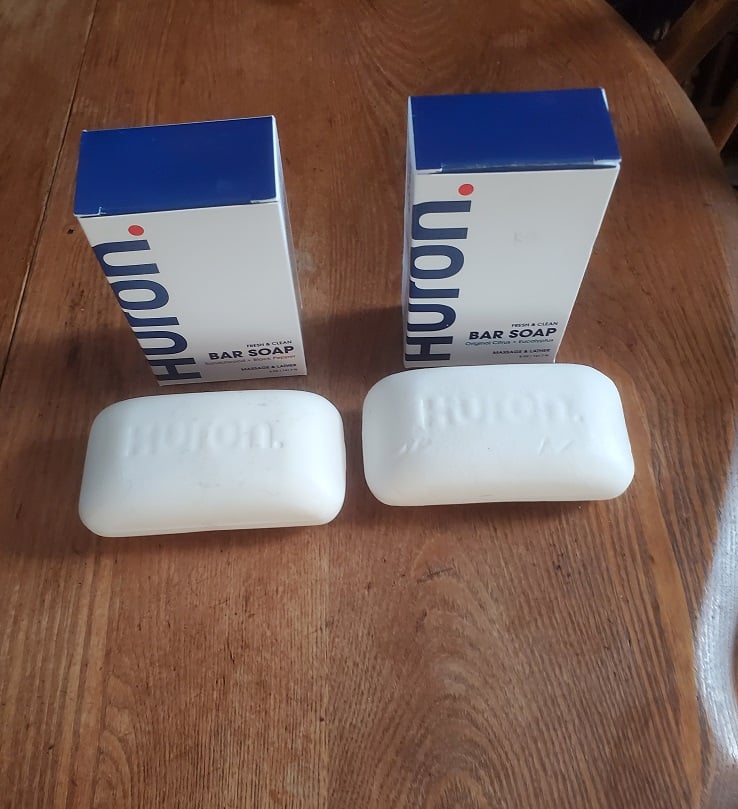 How Does This Compare To Other Soaps I've Reviewed
Having a good quality bar of soap that smells amazing sure makes taking a shower much more enjoyable.
Huron soap ranks toward the top of the list compared to other soaps I have reviewed. It sells at a reasonable price but provides a high-end soap. I will list other soaps I have used and reviewed below that are on the same level as Huron or even slightly better in some categories and are worth checking out.
Another soap company that makes soaps only for men and also makes great soap.
But not only that they infuse their soaps with pheromones that are proving to attract women. Thus they boost your confidence. Highly recommend at least purchasing the Bond Soap!!! A must-get!
Read why I love Grondyke soap so much here, Grondyke Tactical Soap Review – Does It Work?
Bend Soap Company makes the most natural soap I've come across. It uses goat's milk in all of its soaps and only quality natural ingredients. Plus it smells good too. Goat's milk is known to help people with skin conditions or people with sensitive skin. One of the best all-natural soaps on the market.
Check out my full review here, Bend Soap Company Goat Milk Soap Review – Is It Any Good???
I love Dr. Squatch Pine Tar soap. Such a unique scent that is constantly being copied because it is that damn good. Out of all their soaps, this is their best…but their other soaps are not bad either.
Full review here, Dr. Squatch Pine Tar Soap Review.
The Final Shave
A bar of soap that almost last forever. Okay…maybe not forever but a whole hell of a lot longer than softer soaps and a good price. A no-brainer if you ask me.
The richest lather that hydrates and doesn't dry out the skin. I think most men would also enjoy the many aspects that Huron soaps brings to the table. Can't wait to try their other grooming products.
Highly recommended! Get some…