Meet The Ballsy B2 Balls & Body Trimmer
In this Ballsy B2 Balls & Body Trimmer review, we are going to be looking at the Ballsy B2 Balls & Body Trimmer today in this review. I will review the positives and negatives of this multipurpose trimmer to determine if it is any good and worthy of purchasing for you, the consumer.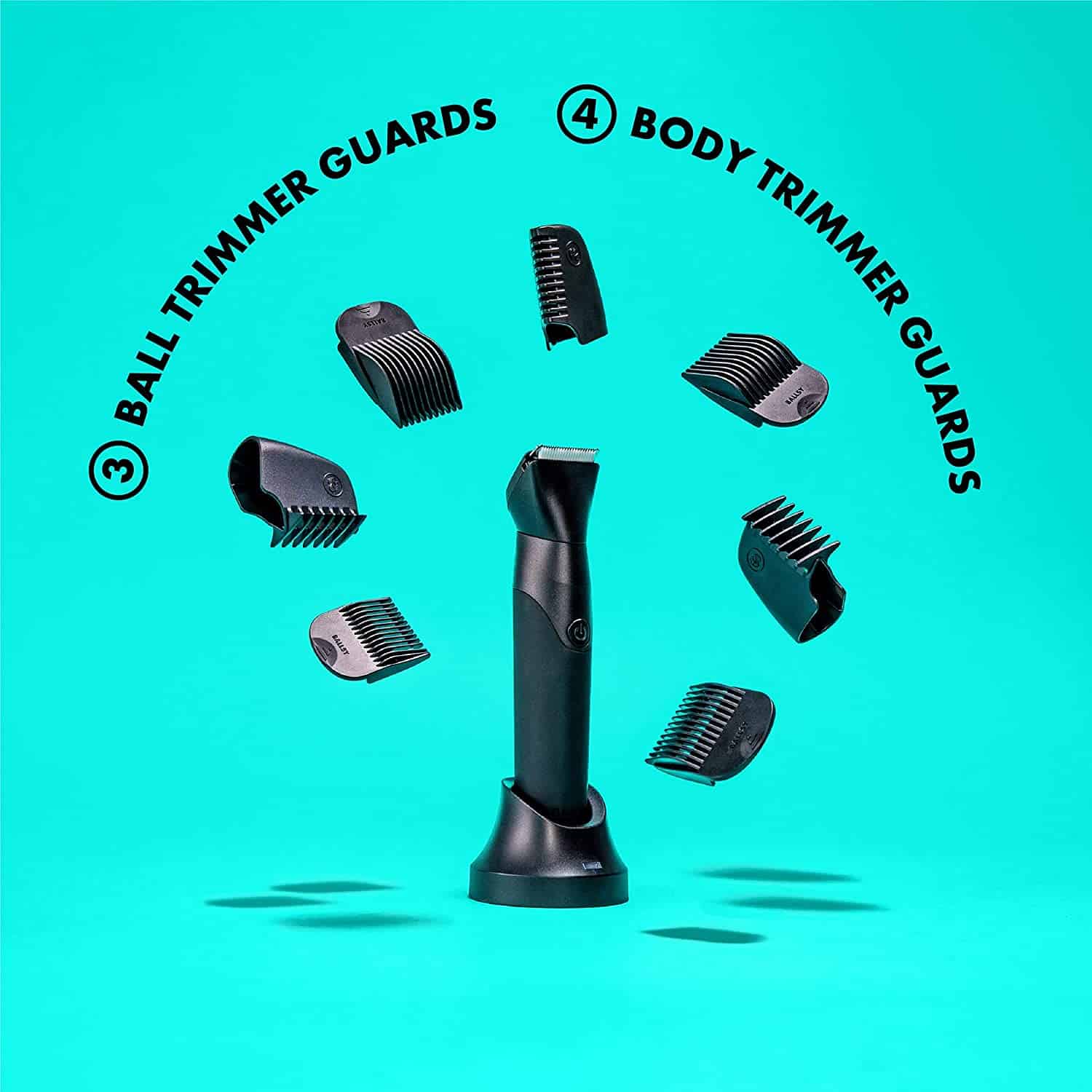 Disclaimer
Currently, I am not an affiliate of Ballsy (although I have applied). I was though sent this Ballsy B2 Trimmer for review from Ballsy. I bring honest content from actually reviewing the products I write about. If you find this information helpful at all, please help support my site.
Table of Contents
What Is Ballsy B2 Trimmer?
The Ballsy B2 Balls & Body Trimmer is a rechargeable hair trimmer that gives you two different trimming heads. One for your balls and one for the rest of your body hair. As it would probably be hygienic to keep them separate. So, it is a multipurpose trimmer to trim unwanted hair.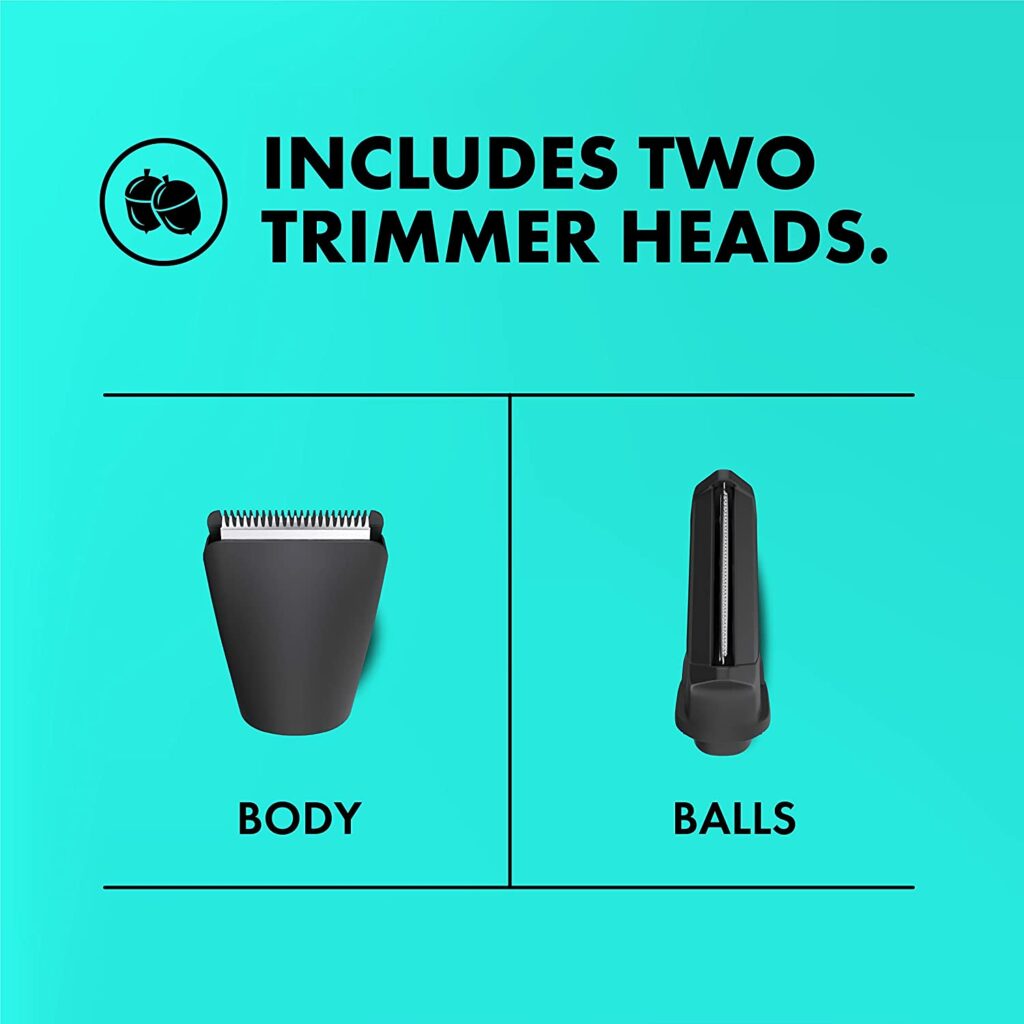 These two different trimmer heads are quite different with one being designed vertically and the other one being the standard trimmer design. You get a total of 7 different guide combs (3 for the Ball Trimmer Head and 4 Guide Combs for the Body Trimmer Head).
What Is Included With Purchase?
1 – Ballsy B2 Groin & Body Trimmer
1 – Ball Trimmer Head
1 – Body Trimmer Head
1 – Charging Dock
1 – USB C Charging Cord
1 – Set Of Instructions
1 – Nylon Black Bag
1 – Cleaning Brush
3 – Ball Trimming Guards (2mm, 3.5mm, and 6.5mm)
4 – Body Trimming Guards (3.5mm, 6.5mm, 9.5mm, and 13mm)
Specs Of The Ballsy B2 Body & Groin Trimmer
Lengths & Widths
There are two different lengths depending on what trimmer head you apply.
With the Ball Trimmer Head attached, the length measures 7 11/16″ inches long. The Trimmer Head trimming surface measures 1 11/16″ inches wide.
The Body Trimmer, when attached, measures 6 1/2″ inches long, and the trimmer blade measures 1 1/4″ inches wide.
Blade Material
The Beard/Body Trimmer Head is made of ceramic. The Ball Trimmer Head is made from stainless steel.
Motor & Battery
This has one of the fastest motors I've seen in a rechargeable trimmer with a 7,000 rpm motor…and it sounds like it, too. The battery is a Lithium Battery 14500 with 600ma.
How Well Does It Work? Is It Worth Getting? My Take!
There are two different attachments (different trimming heads), so I will write about both in separate sections below and give my overall opinion.
How Well Does The Groin Trimmer Work?
Did it nick me?
No, it did not. As I am not a novice groin trimmer. But it could have nick me, I am sure, as any trimmer on the market can nick your ball sack, FYI. The skin down there is so weird. But I took my time and made sure I attacked at the right angles. Along with some tugging of the skin as well. No nicks or cuts, and I am happy.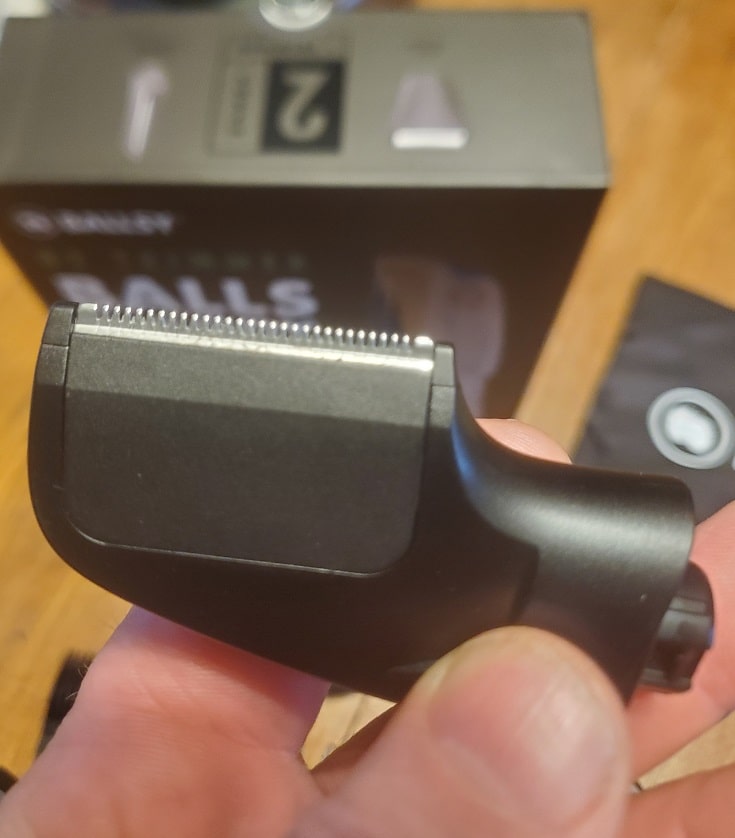 It performed its job well. I like the different approach to the design of this specific trimming head. It was easy to tilt and trim hair. It really allows you to get close to the skin. I also think it would work great for trimming body hair as well as the groin if you don't mind trimming these same areas with the same trimmer head.
How Well Does The Beard/Body Trimmer Work?
The beard trimmer works adequately. In all fairness, it didn't blow me away with how well it performed, but it also didn't let me down in any way either. It's a solid beard trimmer and never bogged down from trimming any hair. As a multipurpose grooming trimmer, it performs with high marks. This isn't the cheap junk (trimmers) that can be found almost anywhere nowadays.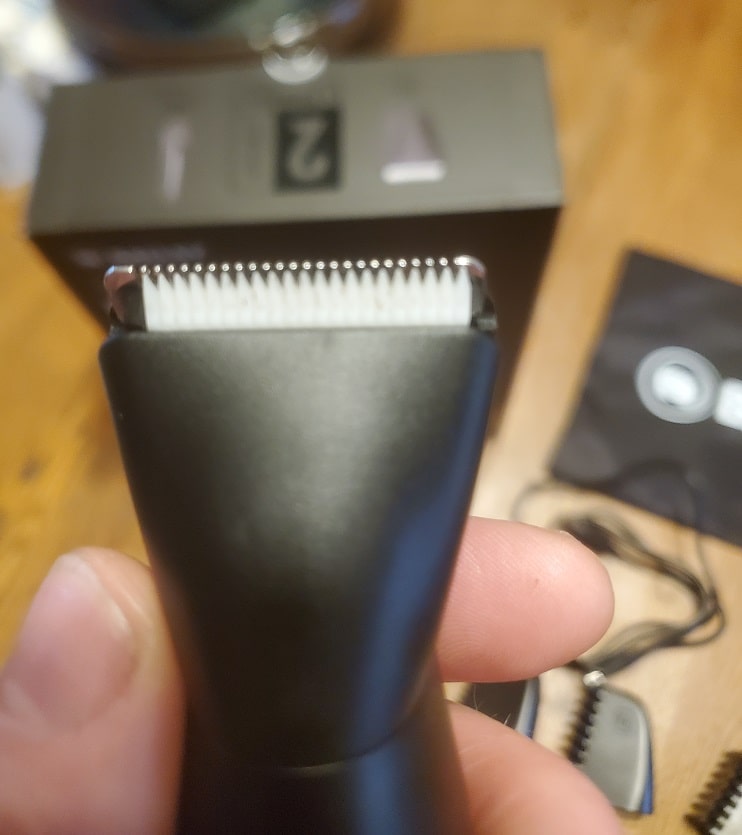 It handled trimming my overgrown beard with ease. I usually use to using a larger trimming blade (the Ballsy Body Trimmer head measures 1 1/4″ while some trimmers are around 1 5/8″). But the trade-off to this is that it gets into tighter spaces much easier and can get more detail when needed. Which I also appreciate.
All the guide combs slip on and off easily as well as stay on when used.
Overall
It's a good trimmer that performs more than one grooming task and gives you options. It is well-built with one of the fastest motors I've seen in a rechargeable trimmer. It has a decent battery and a lot of guide combs to choose from.
This is a good trimmer for someone looking to perform multiple grooming needs.
With this, I can highly recommend the Ballsy B2 Balls & Body Trimmer!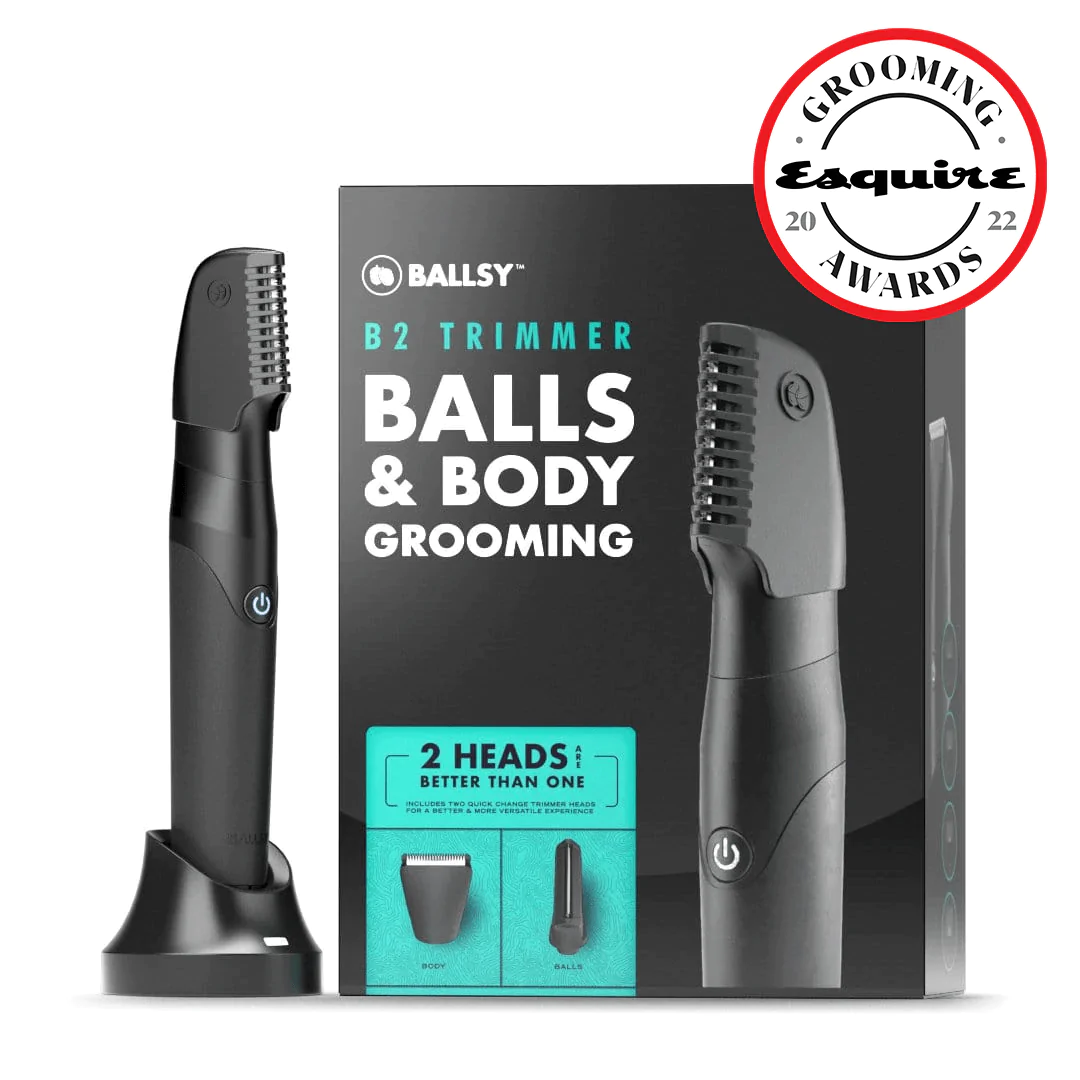 Pros & Cons
Pros
A powerful motor makes short work of any hair. 7,000 rpm motor, to be more precise, which is one of the highest I have seen in a rechargeable trimmer.
Both Trimming heads trim hair with ease.
The battery is a lithium battery.
Comes with a drawstring bag for storage. I love this, as you can keep all the small parts together in one place without losing them. This is mandatory with this many attachments.
This comes with a small cleaning brush and is crucial for keeping your trimmer clean and working properly. If your trimmer is pulling sometimes, it might be a good idea to clean it.
The Ball Trimmer Head can be used with both right and left-handed people. Refer to the directions on how to use it properly.
It's a great set of instructions to get you going on trimming whatever you want—packed with humor.
Changing the different heads is easy. Push straight on and pull straight off to take on and take off.
I like the charging base/station.
Free shipping on orders over $40.00.
Can order through their Ballscription (which is a subscription) with automatic deliveries and save 20% and free shipping. A great way to save money. You can cancel anytime!!!
Has a charging light to let you know when it is done charging. White is fully charged, and red is charging.
Comes nicely packaged and boxed.
The design and angle of the Ball Trimmer Head is great! It really helps to get as close to the skin as possible.
It does have a ceramic blade on the Body/Beard Trimming Head and a stainless steel blade on the Ball Trimmer Head.
It is labeled as waterproof Ipx5.
Guide combs are easy to put on and take off.
1-year warranty.
Cons
Does not come with a charge at all. So you are just going to have to wait 2 hours to trim your body parts, brother!
Can be a little on the noisy side when running but not horrible with the Ball Trimmer Head attachment.
Tips & Questions
How Long Does It Take To Charge?
The charging time should take less than two hours to get a full charge.
What Is The Run Time On A Fully Charged Trimmer?
The battery life on a fully charged trimmer is anywhere from 60 to 90 minutes.
Should You Use The Guards When Trimming Your Nuts?
If it is your first time, I would recommend using the supplied guards while using the proper technique. But you don't have to; it's just about using the proper technique when trimming the balls to avoid those little nicks and cuts. Follow the directions and slow down both mentally and physically. It is not a race.
Once you are comfortable, ditch the guards, as you will remove more hair when doing so.
How Does This Compare To Other Groin & Body Hair Trimmers?
A very similar-looking product is the MicroTouch Titanium Trim to the Ballsy Trimmer. Do not buy the MicroTouch! I was not pleased with its construction or performance, and it performed well where it needed to perform. The Ballsy Balls & Body Trimmer is much better and more versatile than the MicroTouch.
If you are okay with this being a multipurpose grooming tool, it is a solid performer, but how does it compare to my favorite groin trimmer…the Meridian Trimmer Plus? I still think the Merdian Trimmer Plus is the best trimmer I have used to date, but the Ballsy falls just below the Merdian. You can read my full review here: Meridian Trimmer Plus Review – Worth Getting? Find Out.
Maybe in the future, I will directly compare the two. Let me know if you want to see this in the comment section below.
Promo Code:
Buy One, Get One 50% Off Just use the code HOLIDAY at Meridian. Offer expires December 15th at 11:59pmPT 2023.
The Final Thoughts On Ballsy B2 Balls & Body Trimmer Review
With many good features and not hardly any real negative features, I think the Ballsy B2 Balls & Body Trimmer is a good deal. I've owned and seen so many crappy trimmers over the years that I get burnt out on trimmers, but that is not the case here.
I found the overall quality of this device fantastic. I highly recommend it! Can't wait til I review their other products as well.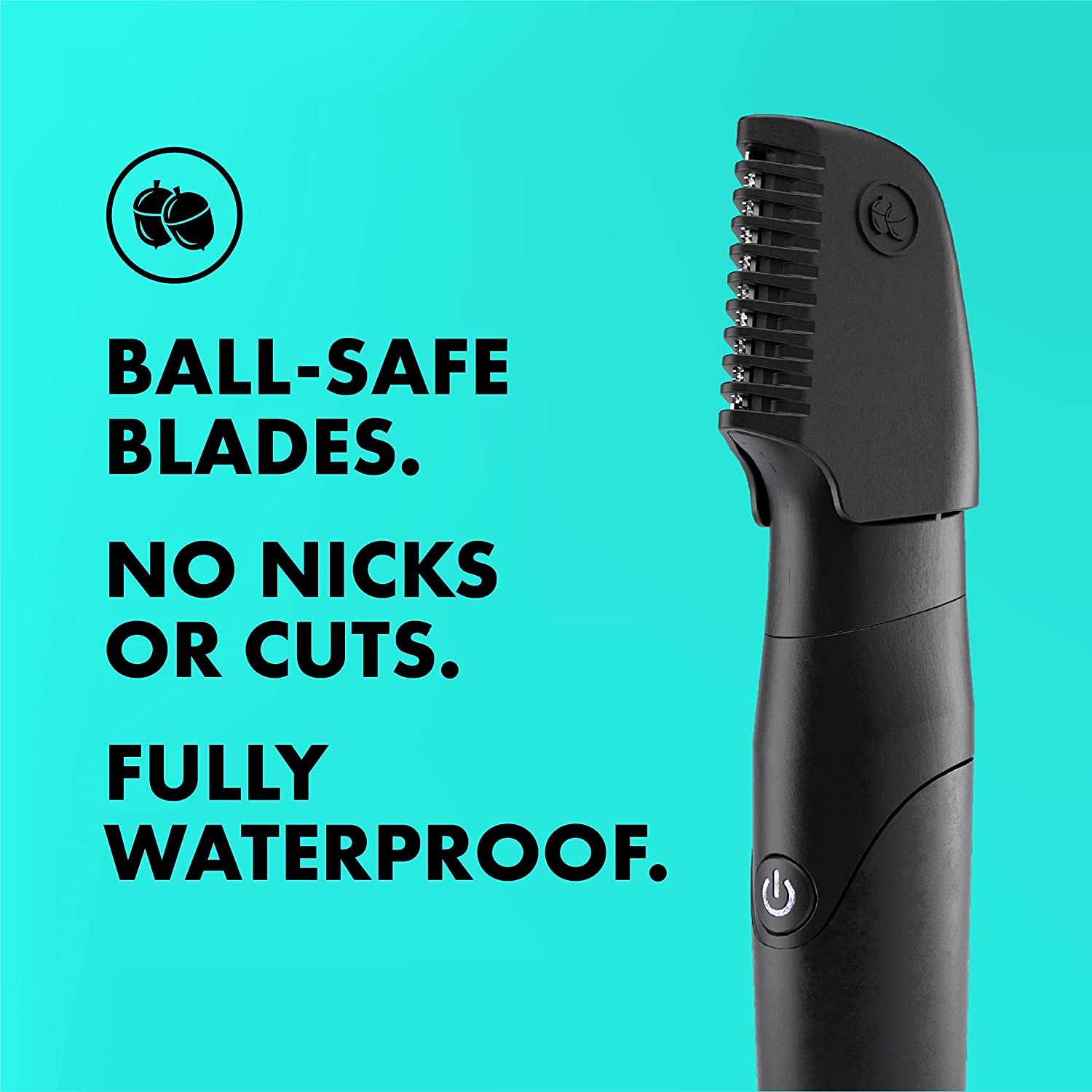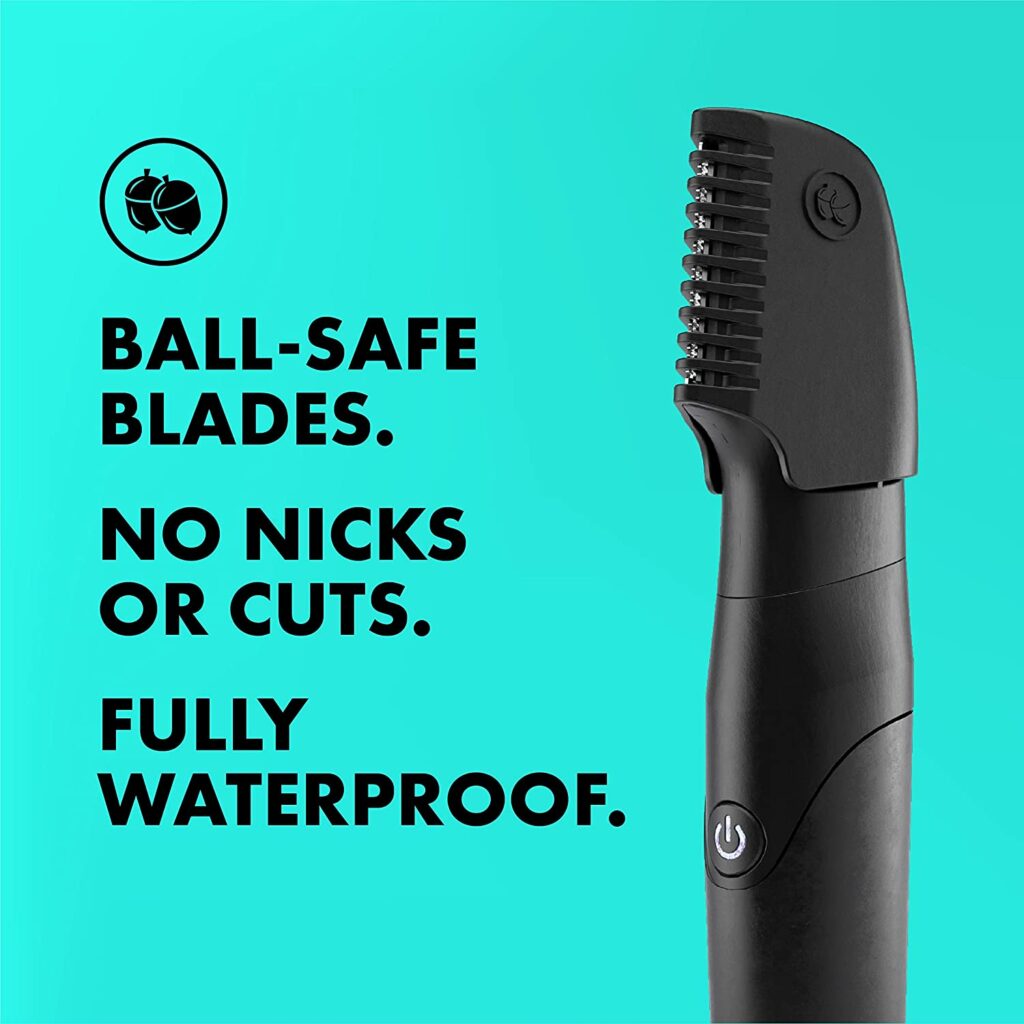 Any questions or comments? Feel free to post them below.