Pete & Pedro Review
Holding underarm stink at bay is a significant industry with many companies nowadays selling some type of deodorant. So, many options are available nowadays, way more than in the recent past. It seems every company has its own deodorants and the case is no different with Pete & Pedro. I will be highlighting both the good and the bad of this product in this Pete & Pedro Deodorant Review.
Full Disclosure
I am an affiliate of Pete & Pedro and will post links on this page and this website so that I will earn a small commission on purchases at no additional cost to you. I will highlight both the negatives and positives of every product to help you make the most well-informed decision. I bought the deodorant shown in this review with my own money.
What Is Pete & Pedro Deodorant?
This deodorant was just recently launched around 10 months ago.
Pete & Pedro Deodorant comes in a standard 2. 65 ounces tube and is medium-density deodorant. This only comes in one scent (Super Fresh) at the time of writing this. As I hope to see an expansion into other scents. The scent can be used by both women and men as it is just a nice fresh and clean scent.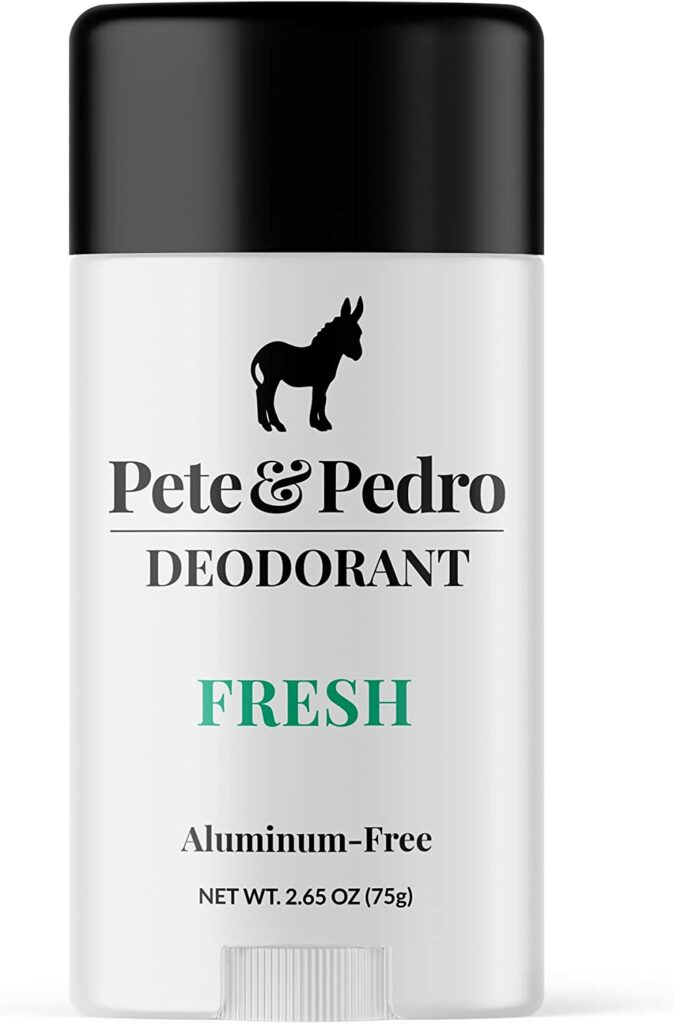 This is a naturally-derived list of ingredients that glides on smoothly and is vegan, aluminum-free, paraben-free, and sulfate-free.
Scents Available From Pete & Pedro…They Have Only 1
There is only one scent currently and that scent is Super Fresh. This is mainly a Eucalyptus and Spearmint and is excellently blended into a very refreshing and clean scent. This is also a unisex scent and I wouldn't see any person having a problem wearing this very neutral scent.
Ingredients – Safe? Natural?
Caprylic/Capric, Triglyceride, Tapioca Starch, Ozokerite, Ricinus Communis (Castor) Seed Oil, Cocos Nucifera (Coconut) Oil, Fragrance, Butyrospermum Parki (Shea) Butter, Zinc Ricinoleate, Tocopherol, Helianthus Annuus (Sunflower) Seed Oil.
Performance – How Many Hours Does It Last? Does It Smell Good?
Tired Of Overpowering Deodorants? Get This!!!
Some deodorants smell so strong they can overpower your cologne. Yeah, I know because I have reviewed quite a few of those deodorants. But not here with Pete & Pedro.
A big part of choosing a quality deodorant is how it smells. This is so the case for me and maybe for you as well. The good news is the Super Fresh scent is actually super fantastic. This is a winner!
I usually don't really enjoy eucalyptus scents but this is just masterfully blended with spearmint and other scents to create something that smells very natural and "fresh".
The scent doesn't project out into your immediate environment either. I hate this when the guy 10 feet across from you can tell you are wearing a deodorant. The scent stays very close to the skin and doesn't constantly remind you that you have deodorant on.
One of the best natural fresh deodorants I have ever smelled. 10/10!!!
Performance
This is also a very decent performer as I get through a 10-hour shift very easily with no hints of any foul odors emanating from my armpits. The scent last under my arms for about 12 to 14 hours and then starts to fade away but I've noticed the protection last for around up to 24 hours.
Your mileage may vary, of course, but this is what I have experienced.
Overall
In general, I have found Pete & Pedro grooming products to be of high quality and it is no different with the Pete & Pedro Deodorant. This is a solid performer and has a great scent to boost. Along with this it has a pretty decent list of natural ingredients and should take you a while before needing to buy another deodorant.
So making this deodorant a high recommendation from me and a must try if you don't mind paying slightly up for this.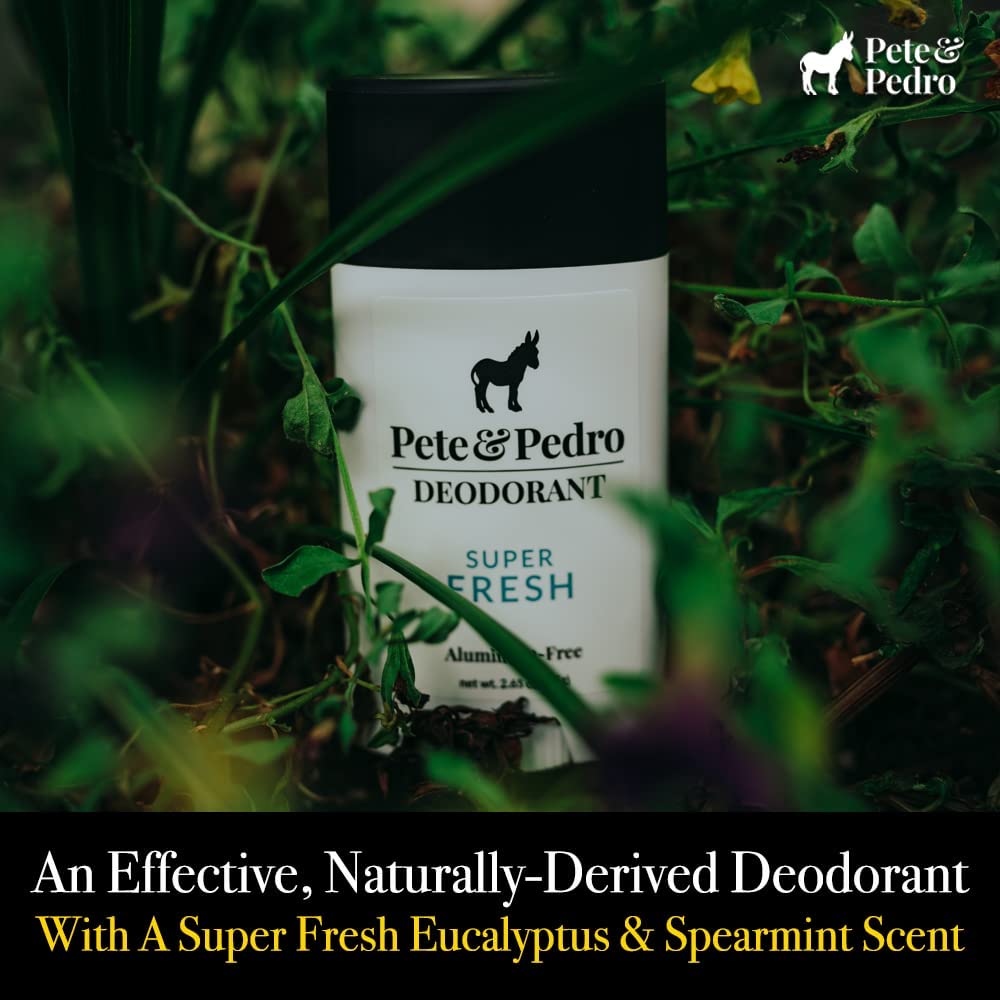 Pros & Cons
Pros
Unisex scent. Very gender-neutral scent and any person can wear this.
Anti-chaffing properties.
This is mostly a skin scent as it doesn't project. I prefer a skin scent.
I have been using this for two weeks and I have experienced no skin irritation.
Very well blended scent.
Easy to apply. Glides on very easily and has no clumping effect.
Great performance! The scent lasts me for around 12 to 14 hours but protects at least 24 hours.
Amazing fresh, natural, clean, and pleasing scent. They knocked it out of the park with this scent and the name really fits (Super Fresh).
Can save a few bucks by subscribing and saving 15% off. If you love this deodorant it is a good way to save money on it.
Not greasy or oily.
No Aluminum! This is a deodorant and not an antiperspirant, not a huge deal.
No pit staining the product goes on clear and doesn't stain black t-shirts.
Paraben free.
Sulfate-free.
Vegan.
No baking soda.
Made in the USA.
Medium-density deodorant so you should get a decent lifespan out of a stick of this deodorant.
Cons
Very limited scent selection with only one scent available. A lot of room to expand for sure with other various scents and even an unscented deodorant would be nice. But I believe this scent is a real winner. I believe new scents are scheduled for next year.
Kind of on the pricier side of deodorants.
Some people have a problem with deodorants containing anything with a fragrance in the list of ingredients.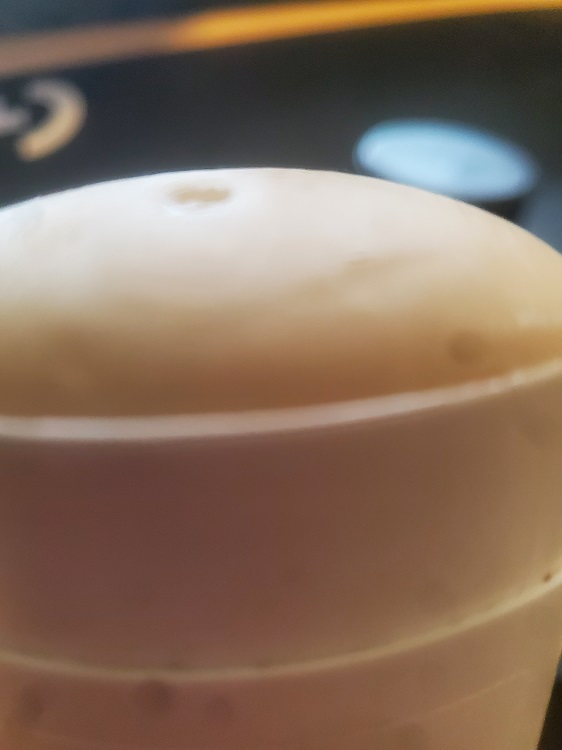 How Does It Compare To Other Quality Deodorants? Other Recommendations
This ranks up toward the top of the best deodorants I have used but you are paying more for it too. I have found many fantastic deodorants that are also more affordable and are more in line with your pocketbook potentially. I will recommend some other quality deodorants worth looking at below.
Harry's Deodorant – I highly recommend the Redwood deodorant. The best scent that I prefer. This is a clear and hard deodorant that is very affordable (one of the cheapest you can find) and should last a really long time. You can read more hear Harry's Deodorant Review – Worth Getting?
Native Deodorant – Native has one of the biggest scent lineups available for deodorants. Oh, and they smell fantastic. They have a very gentle scent with great ingredients. Offering very decent protection. Highly recommended.
Promo Code
Use the code DNAGEL10 to save 10% off all purchases.
The Final Shave
This has all the right boxes checked!!!
Every time I review a product from P & P it never fails to impress me. I have always gotten a quality working product. Pete & Pedro deodorant is no different, it is quality through and through.
They do charge a slightly higher price for a stick of deodorant but it isn't the highest I've seen. This deodorant will last through the entire day protecting you from foul odors. There are a few minor negatives, like the biggest one only one scent but that one scent is a real winner.
Highly recommend! A great deodorant.