Long Lasting Whole Body Deodorant
I love finding unique grooming products to use and review and today is one of those different products. In this Mando Deodorant Review – Does It Work? I will be going over why this is pushing the boundaries in the world of deodorants and helping you determine if it is a product you should buy.
I enjoy helping people by presenting both positives and negatives of a product to better help them make informed decisions.
Full Disclosure
I bought the three deodorants picture below with my own money. I am not affiliated with Mando. I am affiliated with Amazon and make a commission on purchases through links on my site.
What Is Mando Deodorant?
Mando claims it has Super Hero status in the form of odor protection of 72 hours. So, essentially 3 days of protection from odor.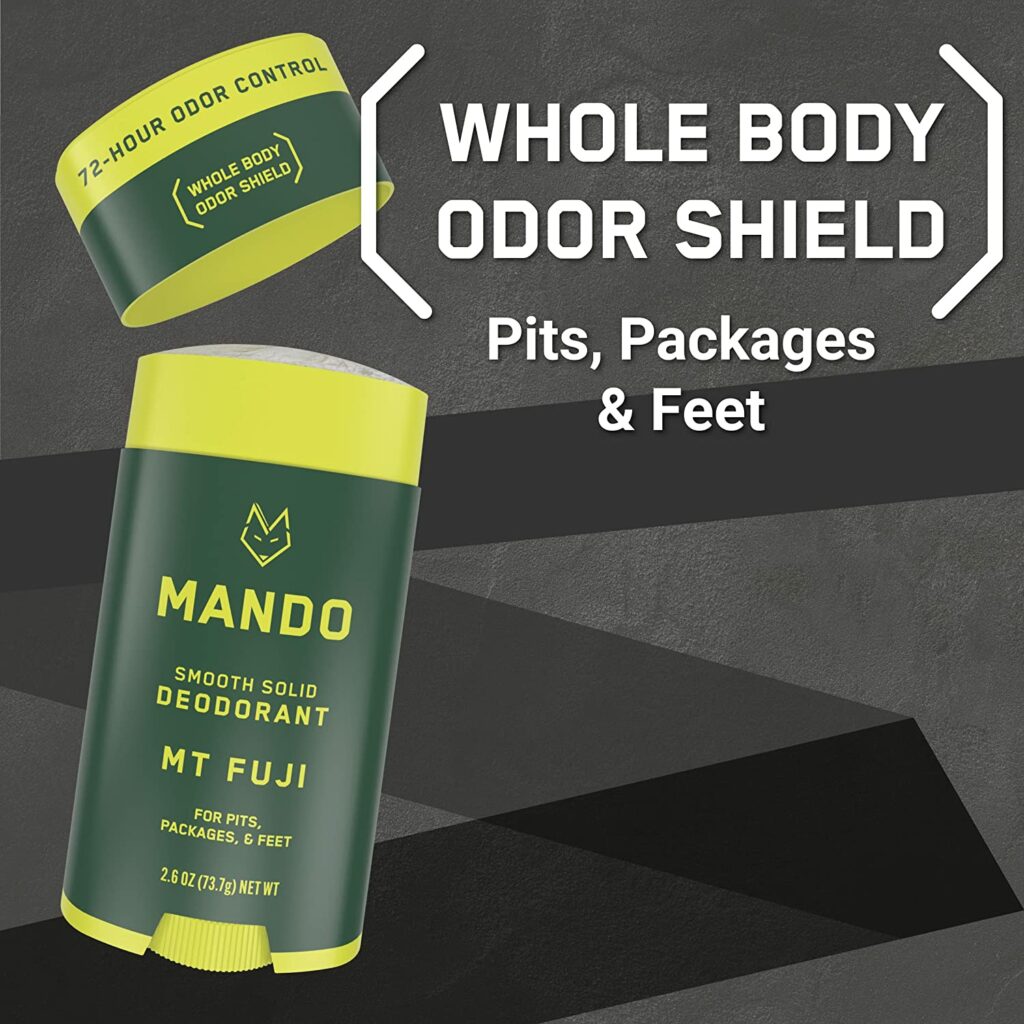 Wow! That is a lot. Mando it's deodorant is clinically proven to block body odor all day and continues to control odor for 72 hours.
It also states that it can be used on multiple areas of the body. Places like armpits, ball sack, butt crack, inner thighs, feet, or anywhere else you have an odor that you don't want.
This is why I think Mando is very unique. As I have often seen deodorants claim 24-hour protection but have never seen 72-hour protection.
Mando Deodorant comes in the standard 2.6 ounces underarm deodorant dispensers but also can be purchased as a cream as well in 8.5 ounces.
What Scents Are Available?
You have four scents to choose from Mando.
MT FUJI – Cool, peppery green leaf, eucalyptus, citrus, cedarwood, and wild mint.
BOURBON LEATHER – Warm leather with bourbon vanilla.
PRO SPORT – Freshwater elements with a blend of citrus (mandarin, lemon, and lime).
Unscented – This was just recently added to their lineup (7/13/23) and really glad to see this.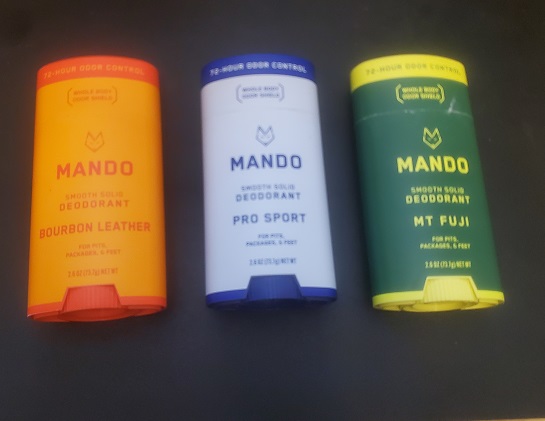 Ingredients
Neopentyl Glycol Diheptanoate, PPG-15 Stearyl Ether, Zea Mays (Corn) Starch, Ozokerite, Stearyl Alcohol, Isododecane, Isopentyldiol, Maranta Arundinacea Root Powder, Lauryl Laurate, Mandelic Acid, Sorbitan Oleate, Fragrance, Silica, Panthenol, Caffeine, Ethylhexylglycerin
How Well Does It Work? Do I Recommend It?
Odor Protection
As far as odor protection this work great. I went two days without washing it off and it still was doing its job with no signs of letting up either. I did not try the 72 hours though, as I like taking showers and being clean. That to me is a little too long for me to go.
The deodorant is soft and it applies evenly and smoothly. I have noticed with softer deodorants I go through them much quicker than a harder deodorant. I have only been using this deodorant for two weeks so I can't say.
Scent Profile & Scent Projection
After wearing these three deodorants for two weeks I only really liked one out of the three scents – Pro Sport is the winner in my book. Maybe for you, the other scents are more appealing and I could easily conceive that point. As it often comes down to personal preference.
Pro Sport has a very clean and refreshing scent that doesn't overload my sense of smell as much as the other two do. This doesn't project into your environment as much as the other scents do. As I prefer skin scents as opposed to scents that project to a few feet around your body.
Bourbon Leather is blended very well and has a nice leather scent that is better than some leather-scented colognes I own. I enjoy the leather scent but I have a personal aversion to alcohol scents. Don't get me wrong I do enjoy my social lubricating drinks I just don't like wearing them. If you are a fan of quality leather scents get this.
MT FUJI I initially loved but after a few hours of wearing this, I was burnt out on it. It has a unique scent profile and is blended well but it projects too much for my taste.
Unscented was just recently launched on 7-13-23 and is a very welcomed addition to their lineup of scents. I haven't tried it but plan on purchasing this and giving it a go as I love the protection but the other scents project too much and are strong smelling. A great addition for those with sensitive skin as this would make a better purchase option. I will update you when I get this scent but I assume their is no scent to this formula.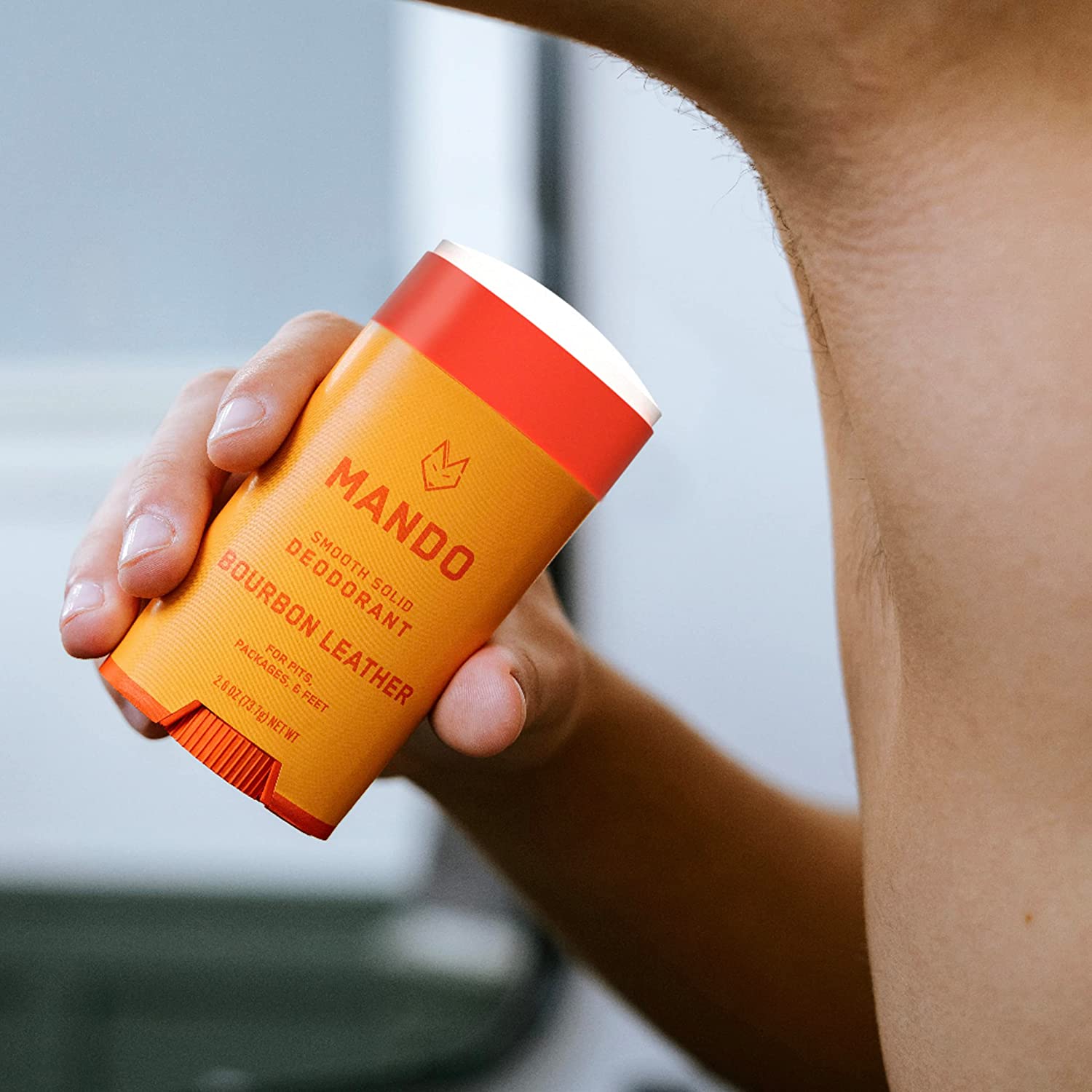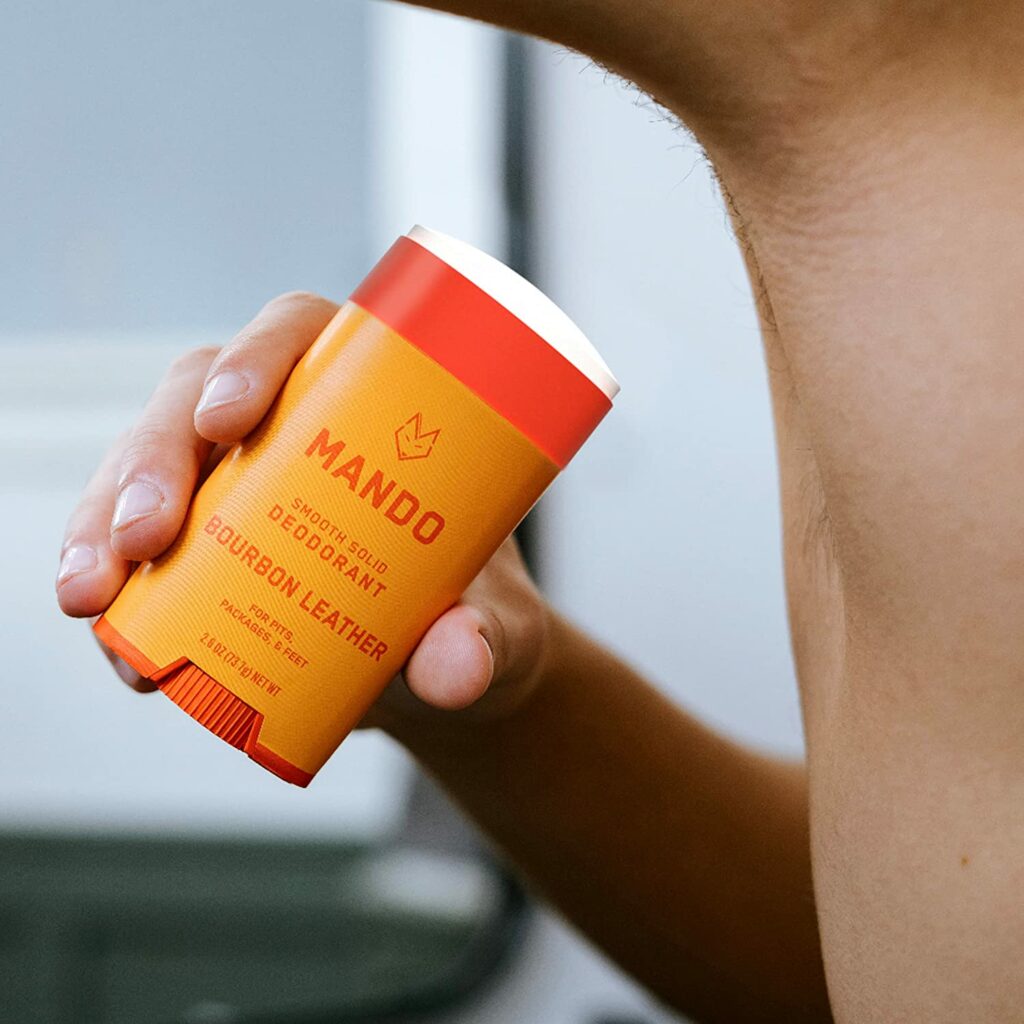 Overall
The odor protection provided by Mando is terrific and would be hard to beat. I just wished the scents didn't project out into my immediate area so much. It doesn't project across the room but a couple of feet for sure. Thankfully, they just added an unscented version.
Pros & Cons
Pros
Options baby!!! Stick or cream. You can purchase a regular deodorant stick or a deodorant cream to apply to your body. Since this is a whole-body deodorant applied to specific areas like your feet or groin area it might be easier to buy the cream.
Aluminum-free.
Paraben-free.
Baking soda free. Some people have a problem with baking soda on their skin. I do not.
The plastic dispenser is made from 95% post-consumer recycled plastic. Earth friendly.
Deodorant glides on smoothly and evenly.
Vegan & cruelty-free.
Doesn't stain clothes. I wear black T-shirts at work and have never experienced staining on my clothes from this deodorant.
A great deodorant to have on hand or use when traveling, camping, or anytime you are unsure when your next shower is coming.
Has anti-chaffing properties.
They offer an unscented version now. Just recently added it and I love that they offer this as I find the other scents too strong and projecting. Great also for people with sensitive skin.
Cons
Expensive. Going towards the high end of what most deodorants cost. But with that added level of protection, it is possibly worth it.
Not a fan of every scent they have, as I'm not too fond of the Bourbon Leather scent. I don't prefer smelling like alcohol. Although I wouldn't say I like this particular scent it is still a quality scent that is complex and well-blended. It is just not my bag…baby.
Scent projection. The scent projects from your body and I don't enjoy this aspect of this deodorant. I prefer a skin scent that doesn't remind me and others around me of what I am wearing. I like flying low under the radar…unnoticed.
Not the best list of ingredients. I am not a chemist or play one on TV but there are a lot of chemicals named in the ingredients listed. So if naturality is your game I would search elsewhere.
Limited scents. There are only 3 scents available at the time of writing this.
A soft deodorant doesn't last as long as a hard deodorant does.
People have complained of skin irritations from using this product. Even commenting on this particular page down below in the comment section. I did not experience any problems myself but worthy of noting.
Other Great Deodroants Worth Checking Out
For a great hard deodorant that is very affordable and protects against odor, I highly recommend checking out Harry's Deodorant. I have written a full review here, Harry's Deodorant Review – Worth Getting?
Native Deodorant has an amazing deep lineup of a variety of scents that have fantastic ingredients. A great deodorant for both men and women. To see more head on over to my post, Native Deodorant Review – Does It Work?
Tips & Questions
Who Makes Mando Deodorant?
Mando Deodorant is made by Lume Deodorant which was founded by Shannon Klingman M.D. Lume is focused on female grooming products and Mando is just a separate company focused on men's grooming products.
The Final Shave
I am very particular about the scents I wear on my body. I judge on these merits but I also understand other people have different preferences. In this Mando Deodorant review, I have found some of the scents enjoyable but the scent projection on some is too much for me to handle.
This is an excellent product for those people that can't regularly shower or have problem areas that need addressing but it would also make a good everyday deodorant for your pits too.
This is a pretty high-priced deodorant but with that, you get 72 hours of protection. You'll have to decide for yourself if it is worth that level of protection. I love the versatility of Mando as it can be applied to a lot of areas of the body. Makes a great camping or traveling deodorant. Solid performance!!!