I've reviewed most of the products that Happy Nuts has for sale I've found they offer great products to men and I wanted to see if their soap was any good too. Their soap is called Happy Nuts Man Slab Natural Soap and I went out and purchased each soap for this review to find out if it's worth buying.
In full disclosure, I am an affiliate of Happy Nuts and will receive a small commission on clicked link purchases made on this site.
What Is Man Slab Natural Soap?
The soap comes in 5-ounce bars that are cold poured by hand and made right here in the United States. Currently, they only sell three different scented soaps. The soaps are high medium to hard density bars of soap.
What Scents Do They Offer?
They only currently offer 3 scented soaps at the time of writing this, although I purchased 4 scented soaps as they must have discounted one of their scents. The scent that is not available anymore is Grapefruit Zest.
Man Slab No Blue Balls – Citrus infused, hints of jasmine, rose, and musk.
Man Slab Cedarwood – Cedarwood, and a hint of Tea Tree.
Man Slab Naughty List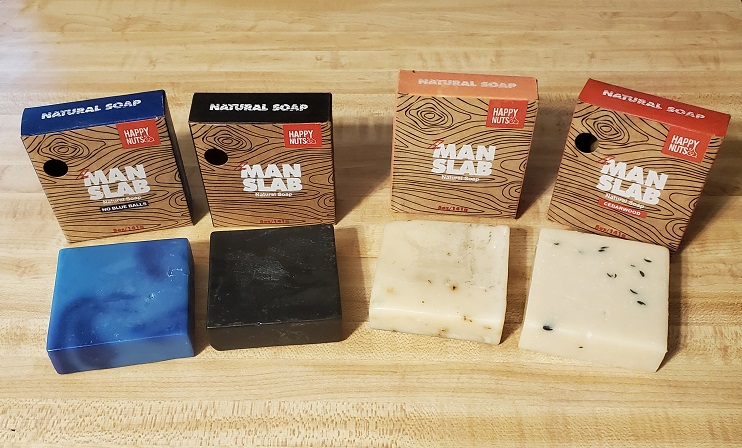 What Are In The Ingredients?
In order to properly determine the quality of any soap, we have to look under the hood so to speak and see what is actually used in the ingredients. Each soap is different and has different ingredients used in making it. I will list the three soap and their ingredients below.
No Blue Balls Ingredients
Olive Oil, Coconut Oil, Soybean Oil, Corn Oil, Sunflower Oil, Organic Shea Butter, Water, Lye, Fragrance, Colorant
Cedarwood Ingredients
Cocos Nucifera (Coconut Oil), Canola Oil, Glycine Soja (Soybean Oil, Butyrospermum Parkil (Shea) Butter Organic, Water, Sodium Hydroxide, Olea Europaea (Olive) Fruit Oil, Helianthus Annuus (Sunflower) Seed Oil, Sea Salt, Activated Charcoal, Fragrance.
Naughty List Ingredients
Olive Oil, Coconut Oil, Soybean Oil, Corn Oil, Sunflower Oil, Organic Shea Butter, Water, Lye, Activated Charcoal, Fragrance.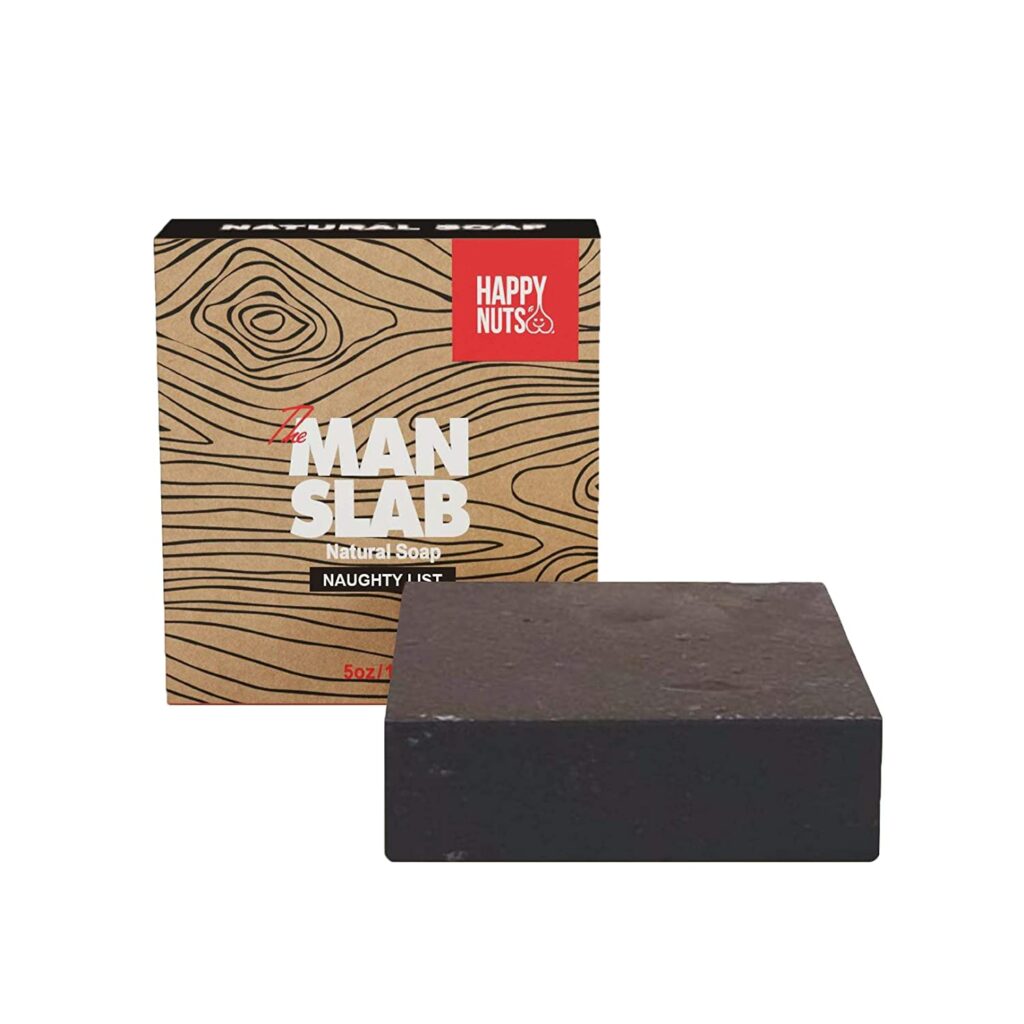 Do I Hate Their Soaps? Do I Love Their Soaps?
What I Hate!
The scent is everything to me and Happy Nuts Soaps smell like nuts on a plastic mannequin. Synthetic. Sorry…not sorry! Just spitting the truth.
I don't like companies selling premium-priced soap that uses cheap fragrance oils. For 9 bucks I expect more both in quality and in fragrance like for example actual essential oils. I am quite a stickler when it comes to this. I expect more and get less with this soap. The scent profile of this soap is just run-of-the-mill soap nothing exciting and nothing noteworthy.
I know I can go down to the local big box store and find better-smelling soap for cheaper. Shame on you Happy Nuts!
Essential oil is the real deal for a quality scent profile and even then there are cheap essential oils and high-quality essential oils available believe it or not. The scents are not invigorating or awe-inspiring in the least. Blah comes to the forefront of my mind. I want a scent to help spark energy and make me feel alive. These soaps make me feel dead inside like going to work on Mondays.
What I Like!
I would have used Love above but like is more appropriate in this case.
I like that the soaps are made with some quality ingredients. The soaps are a medium to a hard bar of soap and should last a good bit, as I find softer soaps don't last as long.
Which Is My Favorite Soap Of Happy Nuts?
If I have to pick one I guess I would go with the Naughty List soap for the one I like the best but they all are hum-drum if you want to know the truth.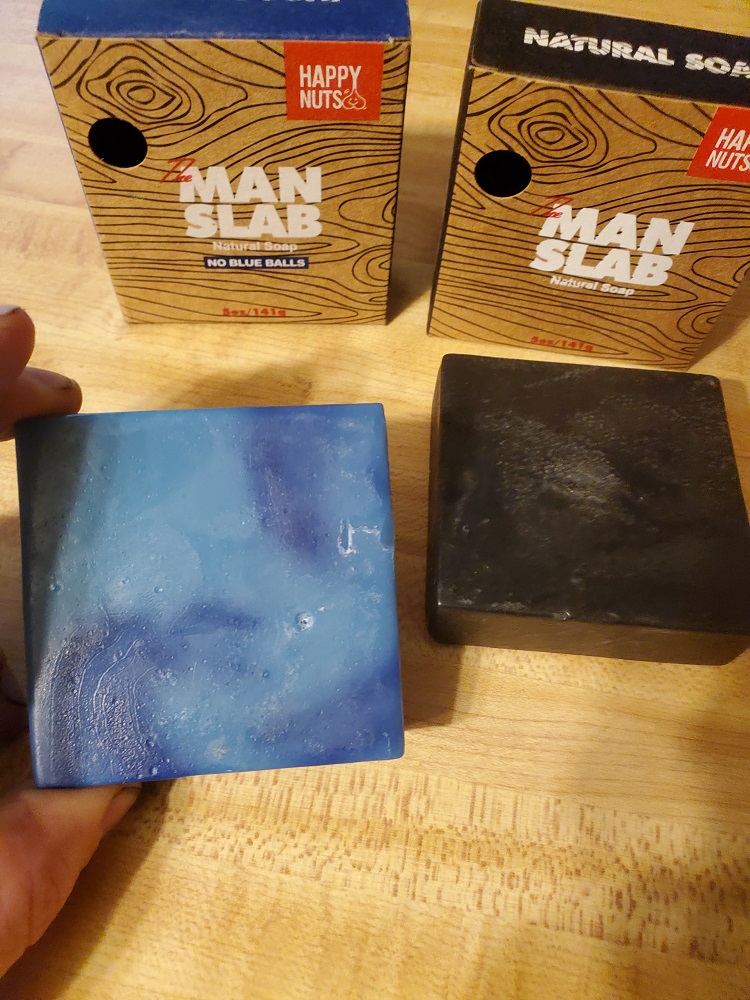 Pros & Cons
Pros
Some of the ingredients used are of good quality.
Suds up decent enough.
The bars of soap are pretty hard which means they should last a while.
Made in the good ol' USA.
Never tested on animals.
A little hint of some exfoliant is used in some of their soaps.
Offer a discount on soaps if you subscribe to have sent to you.
Cons
The price can seem pretty pricey. Currently, at the time of writing this article, it is $9.00 for a one-time purchase of a soap bar. The price does come down to $7.65 with joining their subscription.
The white lettering on the back of the cardboard packaging is hard to read.
Scents are nothing to write home about, your standard cheap fragrance oil scents are used. I prefer natural-smelling essential oil over cheap less appealing synthetic fragrance oil. A big miss in my book!
It's all on their description on their website with terms like hints of jasmine or hints of tea tree. Hints of nothing.
How Does This Soap Compare To Other Soaps?
This is toward the bottom to low mid-level of soaps out there. What soaps do I recommend checking out, well thankfully there are better soaps out there and I will list a few of them.
Sudsy Bear is probably one of the best high-quality and best-smelling soaps out there. Check out my review of them here, Sudsy Bear Soap Review.
Dr. Squatch Pine Tar Soap is another amazing soap that smells great too. Highly recommend checking them out as well. Check out my full in-depth review here with promo code too, Dr. Squatch Pine Tar Soap Review.
Why Not Save Money? Use Promo Code!!!
Although I don't really recommend checking out their soaps as I find nothing unique or anything worthwhile I will still provide a Promo Code if you are interested in checking them out and saving a little bit of money.
Use the Promo Code BACK10 at checkout to save 10% off.
The Final Shave
I am kind of disappointed in Happy Nuts as I have reviewed three other products they have for sale and was pretty impressed with their other products. Not so much with their soaps. While not being a horrible soap just expensive and does not smell great, is all. I think their soap is a big miss and I would search elsewhere for a good soap.
Not impressed to say the least.