I've seen a lot of praises of Bearsville soap while surfing the internet and social media but you have to look hard. It's kind of underground and not that well known as other soap brands, but those that use it swear by it. Often these people would say it is one of the best soaps out there. So naturally, I went out and purchase some of their soaps in order to review them on my website and give my first-hand experience and opinion on the soap as well as the scents they provide in this Bearsville Soap Review.
Let's see…
What Is Bearsville Soap?
Bearsville Soap is a premium men's soap that is handcrafted and cold processed to retain natural glycerine. This glycerine is great for nourishing the skin and is a natural moisturizer that other big-name commercial brands strip out. This removal of glycerine can dry skin out instead of nourishing and hydrating the skin. You won't find any unpronounceable chemicals listed in their ingredients. Just easy to understand wholesome ingredients.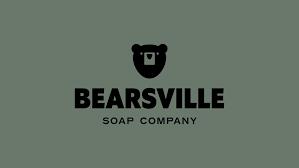 This company is based in Bearsville New York smack dapped in the Catskill Mountains.
Bearsville soaps are sold in 5-ounce bars and measure 3.25″ wide x 2.5″ high x 1″ thick.
What Else Do They Sell?
They also make shampoo bars, moisturizers, beard oil, beard balm, and candles.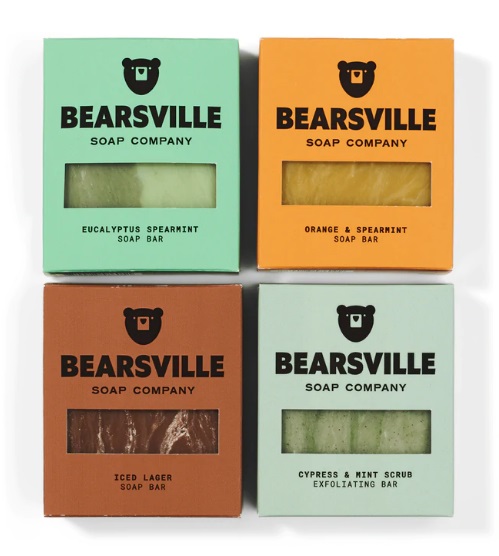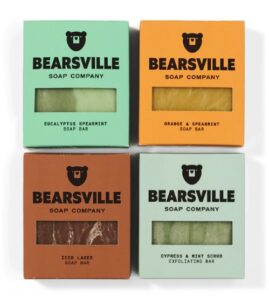 Soaps For Sale At Bearsville
Bearsville has a large variety of different scents available for purchase on its website. They have currently for sale a total of 18 different scented soaps.
Bourbon & Oak
Cedar Scrub
Forest Fir – Organic ingredients used.
Campfire Charcoal – Organic ingredients used.
Pine Tar & Lemongrass
Cedarwood & Citrus – Organic ingredients used.
Eucalyptus Spearmint
Fresh Citrus & Herbs – Organic ingredients used.
Iced Lager
Cypress & Mint Scrub
Spiced Charcoal
Vanilla Incense
Orange & Spearmint
Summit Air
Sandalwood & Myrrh
Tobacco Blossom
Smoke & Clove
Woodland Musk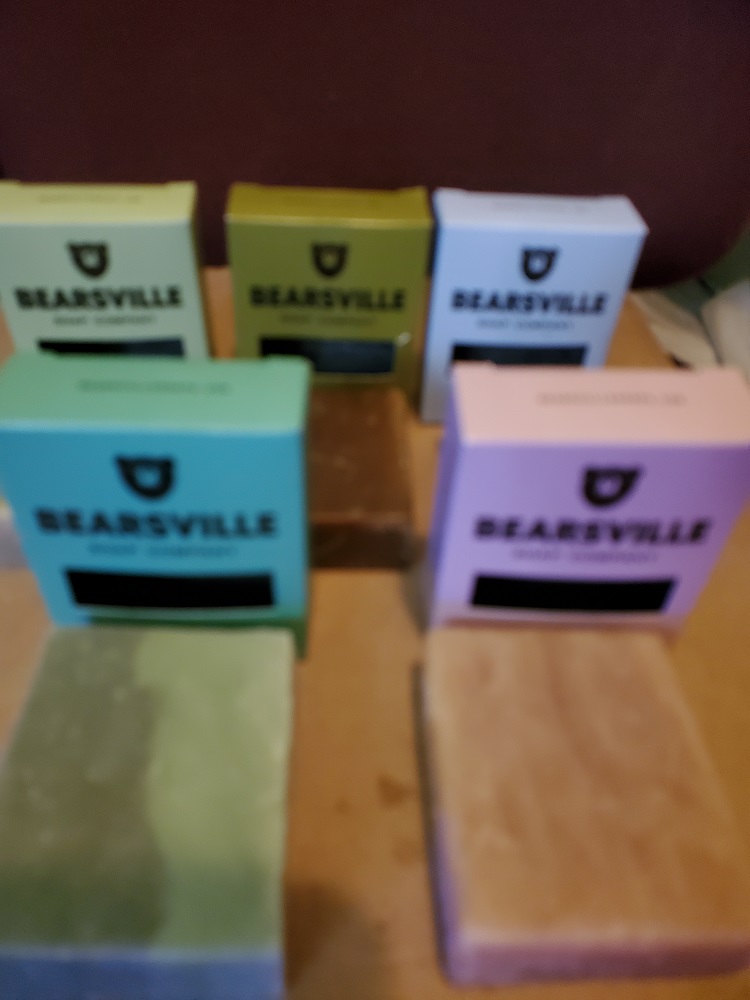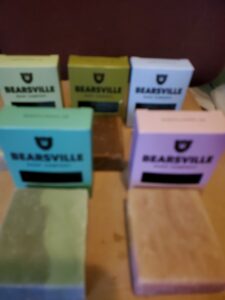 What Is In The Soaps (Ingredients)?
Each soap has its own unique list of ingredients but there is a baseline of ingredients.
Olive Oil
Coconut Oil
Shea Butter
Lye
Sunflower Oil
Water
Palm Oil
Essential Oil
My Opinion On Using Their Soaps & Scents
I purchased five Bearsville soaps in order to review their soap. I purchase what I thought I would like for scents the best out of their line of 18 soaps. Here is what I purchased Forrest Fir, Eucalyptus Spearmint, Sandalwood & Myrrh, Pine Tar & Lemongrass, and Summit Air.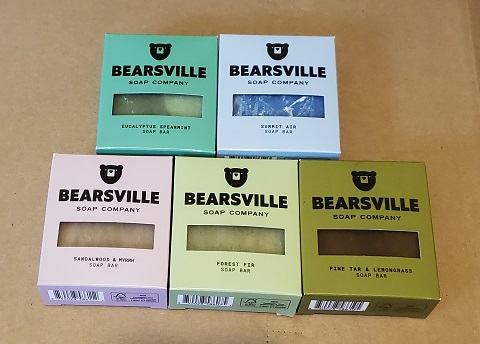 All of the soaps I have bought really make my skin feel softer after using them. It doesn't dry out my skin after using their soaps. There is a more noticeable pleasant slickness to the soaps as compared to commercial mass-produced soaps. I would assume this is the result of all the natural oils used in its ingredients. The soap lathers up really nicely and you don't have to work hard to get the bubbles going.
The soap is a medium density soap that is a nice comfortable size to fit in the hand. I also love the simple natural ingredients used to make Bearsville Soap. A few of the soaps (4) are organic see below for which ones are but even if they are not organic they use only simple ingredients the old fashion way. This I believe is healthier as well as produces better results for your skin.
Scent Profiles
Every different scent profile I received I found either highly enjoyable or acceptable. Some left me blown over with positive praise and others were just okay. This is to be expected as most people don't like every scent. I love that natural essential oils were used in the ingredients for fragrance in Bearsville Soap. I can not stand synthetic fragrance oils and thankfully none are used in any of their soap lines. Cheap fragrance oils smell synthetic. This makes it a high-end soap in both performance and fragrance.
My Favorite Soaps
Eucalyptus Spearmint – This is such an invigorating scent and clean scent. Yes, it smells a little like Wrigleys Spearmint Gum with Eucalyptus added but it is a great scent to use in the morning in the shower to help wake you up. It's like a shot of espresso but for the nose and will help shake the morning sleepiness off of you. The eucalyptus is blended well with the spearmint and helps add more depth to the scent profile.
Sandalwood & Myrrh – I just love anything sandalwood and this Bearsville soap doesn't disappoint and is packed full of sacredness. A more subtle scent profile that surely alleviates your mood
Summit Air – This is also a very pleasing light smell that is hard to nail down why it smells good. It also has the added benefit of having pumice added to it which makes getting hard to get off dirt or grease a breeze. This I would call a complex clean scent that has mass appeal.
Forrest Fir – Smells of fir needles and rugged manliness. I love it.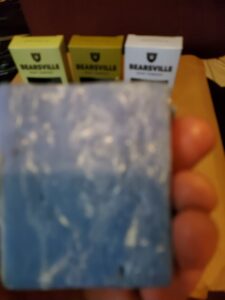 Pros & Cons
Pros
Made in the USA.
No GMOs or parabens.
I love the feel of using this soap compared to commercial brand soaps. It has a slicker feel when lathering up and makes my skin feel better.
Doesn't dry out my skin.
Lathers up decently.
Cold pressed soaps! This means that the natural moisture (glycerin) is retained when making it which is highly praised for its nourishing and hydrating properties. Big soap companies often times strip this away from the soap to make other products with this glycerin, leaving the soap in my eyes inferior.
Love the minimalistic packaging.
Never tested on animals.
They offer a subscription for soaps with a 10% discount. They offer a 4-pack, a six-pack, and an 8-pack of soaps to help you fully supplied in soap and never run out.
Some soaps in their line of soaps have added abrasive materials to help scrub the skin better. Love this as I work with dirt and grease in my full-time job and this really helps remove said debris.
Free returns. No questions. They have a great return policy. Not happy with a scent they allow you to send the unused item back within 30 days and they pick up the return postage.
Some products are labeled with organic ingredients while others are not. So they do offer four organic soaps.
Use essential oils in their soaps for fragrance. I actually prefer essential oils for fragrance over cheap fragrance oils. I love things that smell more natural scents and Bearsville surely delivers in this arena.
All the scent profiles I ordered are blended well and are pleasing to the nose.
They also release Limited Edition soaps during certain times. So keep your eyes peeled on their website.
Cons
Since Bearsville soap is made with no harsh chemicals and because of the high glycerin content of the soap it can break down much easier in the shower if sits in water or is not allowed to fully dry between uses.
Not a good soap for long-term storage or for doomsday preppers as it doesn't contain any preservatives or harsh chemicals. This is both good a bad as I want natural ingredients but it doesn't store for the long term. It is recommended to use within one year for best results.
Some soaps are organic and some are not. This makes it confusing to search for the organic soaps but at least they have the option.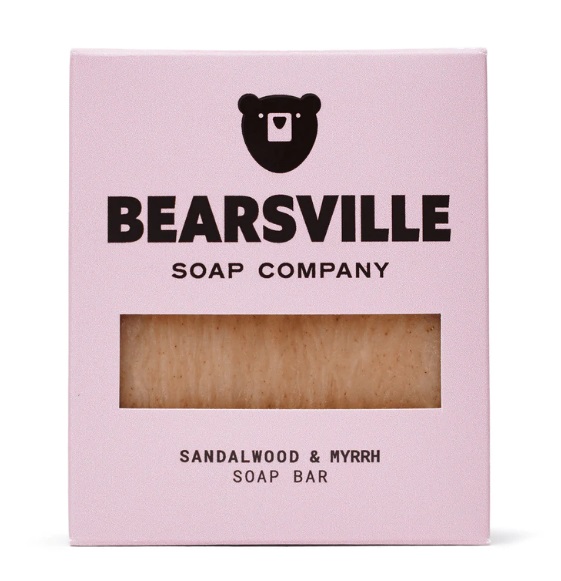 How Does This Compare To Other Soaps?
As far as ingredients are concerned they stack right up next to any other soap company out there in the high-end soap world. They blow mass-produced household name soap brands out of the water.
As far as scent profile in their soaps I would rank them in the middle to high end depending on the soap. Their blends of different scents are good but I have seen more pleasing scents from other soap companies.
I love pine tar soap and if I stacked the Bearsville version of pine tar soap (Pine Tar & Lemongrass) with Dr. Squatch's Pine Tar Soap I would easily say Dr. Squatch Pine Tar is way better in scent profile and having exfoliant added to their ingredients. Dr. Squatch is the best Pine Tar soap out there. I didn't hate the Bearsville Pine Tar & Lemongrass, I just didn't love it. It was just okay.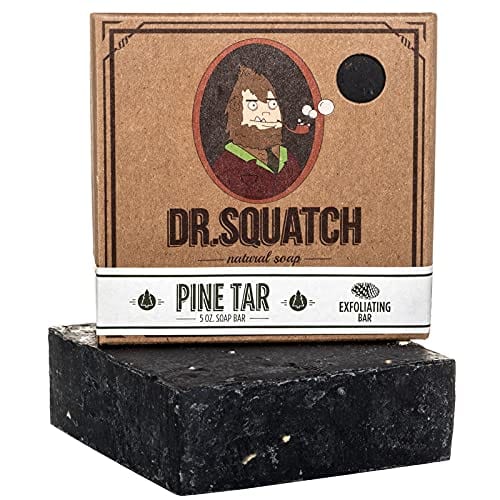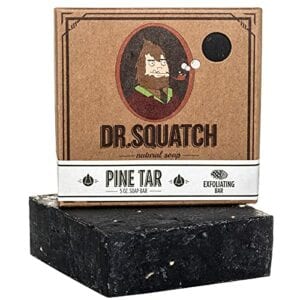 Questions & Tips
Do They Have A Subscription Service?
Yes, they offer three subscription options four bars, six bars, or eight bars. They also offer you the ability to choose which soaps you can choose from their line of 18 different soaps. You also have the added benefit of choosing how often either every month, every 2 months, every 3 months, or every 4 months.
Which soaps are organic?
If you are looking for purely organic ingredients from Bearsville Soap I will list the four soaps below for easy reference below.
Forest Fir
Campfire Charcoal
Cedarwood & Citrus
Fresh Citrus & Herb
Which soaps have exfoliants added?
I just love soaps with added exfoliants as these really get off hard to get off dirt and grease in little to no effort.
Cedar Scrub
Cypress & Mint Scrub
Summit Air
Does Bearsville Have Sample Soap?
Unfortunately, they do not have sample soap to try out and see if you like it.
The Final Shave
I would highly recommend checking out Bearsville Soap if you are looking for a quality natural soap. Their scents are pretty darn good but the ingredients they use are amazing.
Definitely, a must-try!