Slap Some On And Have No Worries?
Maybe you have an uncomfortable situation down in your nether regions. Problems with odor, problems with chaffing, or maybe problems with access moisture. That is where this post, Happy Nuts Comfort Powder comes in. A powder that you apply to problem areas for relief. I've put this product through its paces and will explain if this is a viable solution for those problems.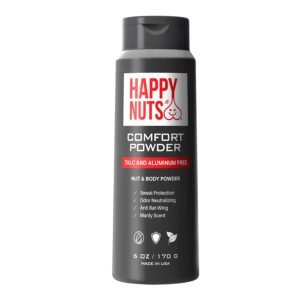 Let's get some! Grab your balls and come along for the ride.
A Quick Note
I put plenty of products on blast that I am an affiliate for. If the product sucks I let you know if the product rocks I will also let you know. I always highlight both the good and bad and share my experience using any product. So in full disclosure, I am an affiliate of Happy Nuts and I make a small commission on purchased clicked links from my website. My website is based on honestly reviewing products and I take that shit seriously.
What Is Happy Nuts Comfort Powder?
Before we get into the Comfort Powder it would be beneficial to learn about Happy Nuts the company and the products they provide. As Happy Nuts makes specifically grooming products for men mostly surrounding men's marbles. You know the family jewels. Some of the products they make are a groin hair trimmer, soaps, ball cream, and body wash.
Happy Nuts Comfort Powder is obviously a powder that you apply to your skin where ever you have high moisture or problems. Issues like chaffing, sweating, odor, or general discomfort. The powder is scented and provides a slick layer once applied.
Where Can You Use This Powder?
This can be used in a variety of areas of your body. I will list some of the major areas.
Groin area
Inner thighs
Feet
Hands
Butt
Armpits
Lower back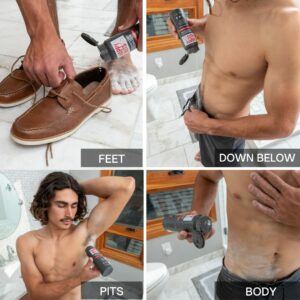 Do You Need This?
To be honest with you I never had real issues with any of these problems before. I never even thought of even buying this kind of powder or cream. That is until I recently reviewed these kinds of products because of this website. What I found out was I actually enjoy using them. They just make things better overall.
So, even if you don't have issues this product might surprise you in the general overall feeling after using it. I know I was quite impressed. Maybe you will be too.
What Are The Ingredients?
Nowadays it is important to know what is used to make a product to be better informed and also avoid certain health risks.
Ingredients: Tapioca Starch, Zea Mays (Corn) Starch, Aloe Barbadensis Leaf Juice Powder, Allantoin, Beta Glucan, Cocos Nucifera (Coconut) Oil, Prunus Amygdalus Dulcis (Sweet Almond) Oil, Caprylyl Glycol, Potassium Sorbate, Silica, Phenoxyethanol, Hexylene Glycol, Water, Fragrance.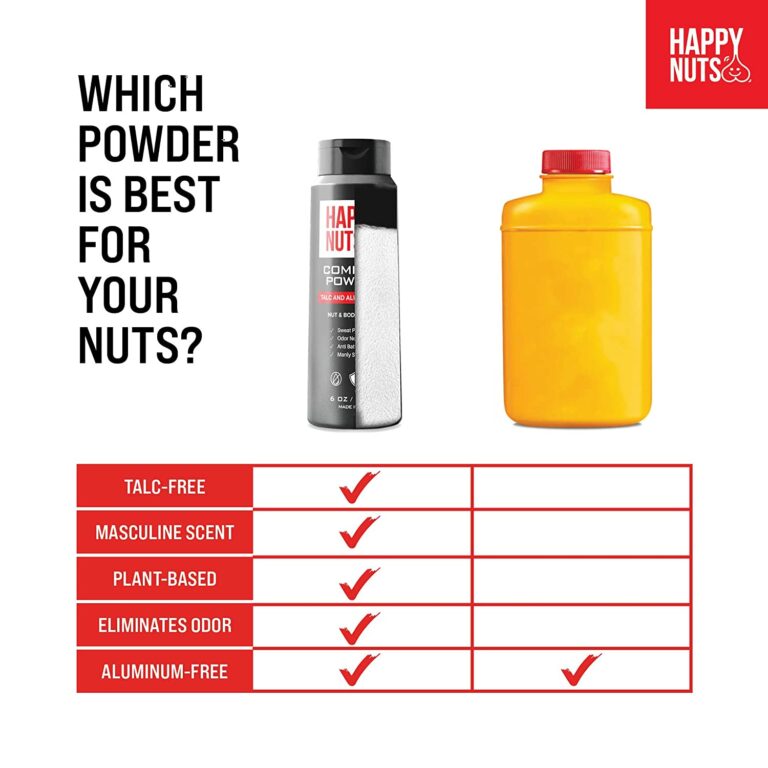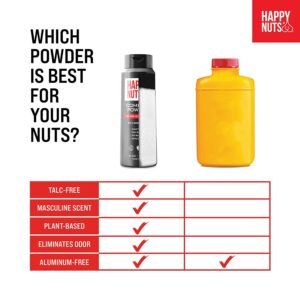 How Well Does It Perform?
This actually makes a huge difference. I just recently started testing this stuff out this week and luckily it has been really unseasonably hot and humid where I live. Quite unusual weather for the beginning of May around these parts. Prime weather to be testing this powder out in, which is great. I would come home from work after doing manual labor and check myself.
What I found was I still had the scent of the powder and I still had the dry slickness from the powder as well. Yes, I put my hand down there and then sniffed and tested my fingers. Though it was not as slick and the scent was less present but it was there. Worked fantastically!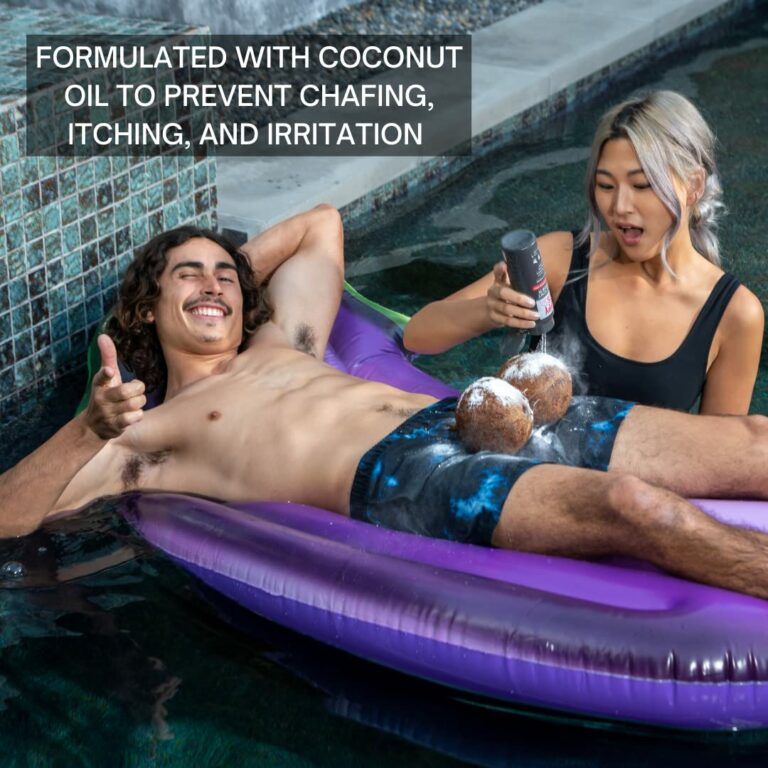 I also noticed no chaffing and just a better overall feeling down there. My groin area went unnoticed during testing in the sweltering weather. That is a good sign as I don't have time or the care to worry about my crotch area when I am doing work. Who does?
I was very pleased with Happy Nuts Comfort Cream and highly recommend it!
Scent Profile
What does it smell like?
This does have a sandalwood smell to it. I would definitely say it is a scent for a man. This is not overpowering and does not project. It provides a clean smell as well and I actually like this. It does not smell like cologne or Axe body spray but has a more natural scent profile.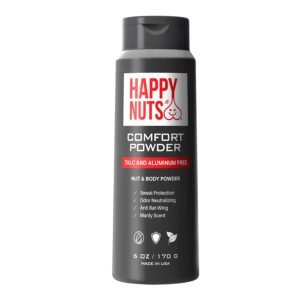 Pros & Cons
Pros
The scent is pleasing to me. I love most sandalwood scents and it has a nice natural clean smell to it.
The scent does not project out into the environment. This is important to me as I don't want this.
Talc-free powder! Happy Nuts uses a Tapioca starch instead.
100% vegan.
Happy Nuts have such a great sense of humor from their write-ups to their pictures and anytime you can laugh it is a positive attribute.
Great ingredients! I love everything in it.
I saw no issues with the powder caking after sweating.
Cruelty-free and never tested on animals.
Comes in a big container of powder. A 6 oz. magnum bottle should last a good amount of time.
The price point is very good.
Love the dispenser holes located in the middle and slightly to one side of the top of the bottle as this allows you to precisely put it in the palm of your hand as opposed to having the holes on the outside of the top which can tend to get all over the place. Love the little attention to detail here.
Cap firmly locks into place. This can be both positive and negative as it is slightly hard to open and might be a problem for older people with less hand strength.
Enjoyed using the product as I had no negative things to speak of from using this powder.
Cons
Would like to see the full ingredients listed on their website not just on the bottle.
The Cap is not the easiest to open and could be a problem for people with arthritis in their hands.
Only one scent is available for purchase. It would be nice if they had other scents as well as an unscented powder for those with extremely sensitive skin.
Other Happy Nuts Product To Check Out
Happy Nuts makes a pretty darn good ball trimmer called The Ballber. You can read my full in-depth review of it here, Happy Nuts The Ballber Electric Hair Trimmer Review.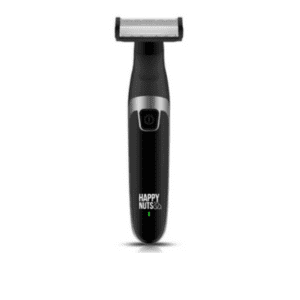 Happy Nuts also has Happy Nut Comfort Cream as well. It performs slightly better than the Comfort Powder but I do not like the scent as much. You can read more about the cream here Happy Nuts Comfort Cream Review.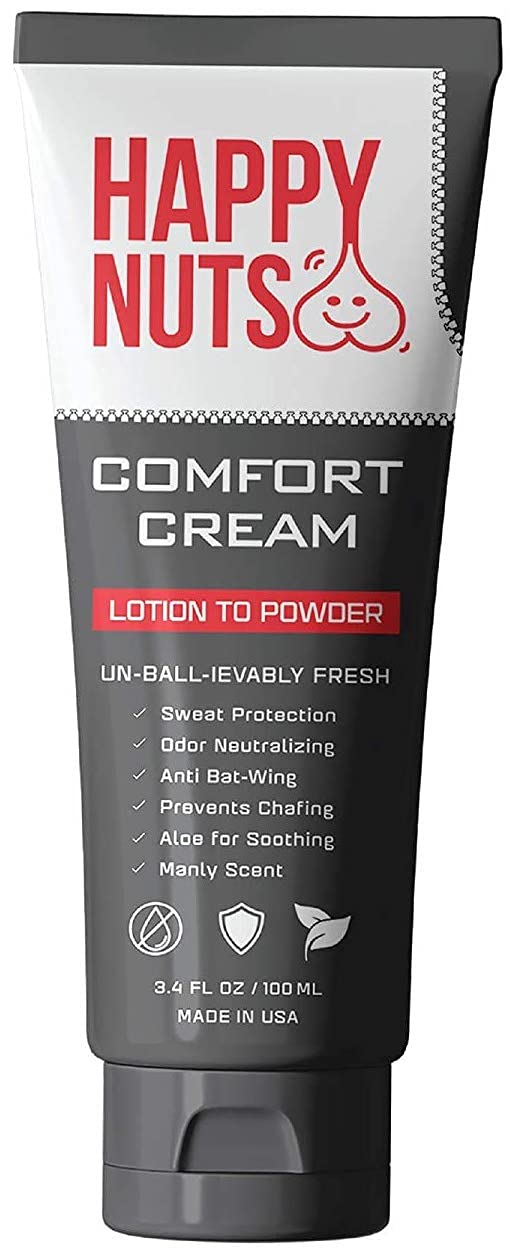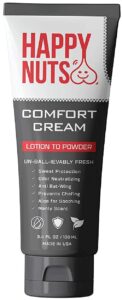 Use My Promo Code & Save Money
For readers of my website, I have a special promo code you can use at checkout to say 10% off anything from Happy Nuts at checkout. A great way to save money for great products.
Just use the promo code BACK10
The Final Shave
I am very pleased with the performance of this powder. You can feel guilt free too as it has great all-natural ingredients that work. It does its job and smells great and has a very reasonable price point, especially with the use of the provided promo code from above. What more could you ask for?
I have been quite surprised by ball powders to just make my work day more enjoyable and I am comforted that I don't stink down there as well.