I Was Skeptical At First…But After Using It, I'm Loving It!
In this Happy Nuts Body + Nut Scrubber review, I will thoroughly review this product's features and pros and cons to help you determine if it is worth purchasing. Spoiler alert: I enjoyed using the exfoliating product, and I think you will, too.
#amazon #amazonfinds #amazonbrands @MYHAPPYNUTS  
Full Disclosure
I am an affiliate of Happy Nuts. I will earn a commission through the links provided on this page. Links provided will be directed to Amazon. I am an Amazon Services LLC Associates Program, an affiliate advertising program designed to provide a means for us to earn fees by linking to Amazon.com and affiliated sites. Happy Nuts sent me this product (free) to review.
Table of Contents
What Is The Happy Nuts Body + Nut Scrubber?
This is an exfoliating body scrubber shaped in the outline form of balls that are made from anti-bacterial silicone. Thousands of soft bristles provide the exfoliating feature with an ergonomic no-slip handle on the back to secure a firm grip.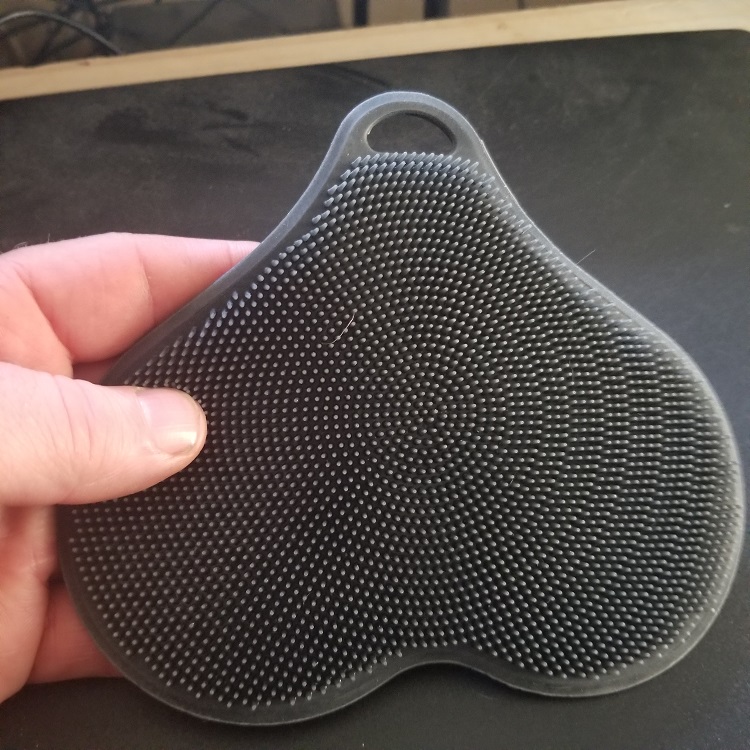 What Is Included With Purchase?
1 – Happy Nuts Body + Nut Scrubber
Specs
This measures 6 1/2″ inches wide and roughly 6 inches long. Happy Nuts Body & Nut Scrubber is made from anti-bacterial silicone.
Where Can You Use This Scrubber?
You can use this anywhere on the body, head to toe. The bristles are soft and can be used on sensitive areas of the body.
Is It Worth Getting – My Experience
As I mentioned above, I didn't think I would enjoy using this product. But I was pleasantly surprised by how effectively this scrubbed hard-to-remove dirt and grim. Even though the exfoliant bristles are soft, they still provide an excellent scrubbing experience. Hundreds of soft bristles provide a more forgiving scrub.
I don't particularly appreciate using a regular washcloth in the shower; I avoid it altogether as they do not dry before my next shower and quickly become funky-smelling. This is not the case with the HN Nut Scrubber, as it is super easy to rinse out and dry.
Exfoliating Experience
This is a soft exfoliator. This provides an exfoliating experience but is softer and more forgiving than similar products. Although soft, it still provides an effective exfoliant scrub. I often come home from my job with grease and grim on my arms and hands, which Happy Nuts Scrubber quickly took off and was far better than just soap.
Tackling even sensitive areas like your face and private areas. Believe it or not, some exfoliate scrubbers don't recommend using this on these areas of delicate areas. That is not the case with this scrubber.
Pros & Cons
Pros
Provides an excellent, softer scrub and exfoliating experience. Gentle, but it also works at getting the grim off.
This is well made and should provide years of use.
It works best with body washes, but regular bars of soap can also be used. The results of bars of soap vary with the brand you use in terms of sods.
It dries quickly and with no funky smell you get with a loofah.
Very lightweight.
The texture of the handle does an excellent job of helping to secure your grip.
The handle is very comfortable, ergonomic, and functional.
Funny shape. Happy Nuts leans into its playful nature with the shape of this product.
Great size. This helps scrub down your whole body quickly and in no time.
Makes a great (funny) gift to give someone.
Softer and gentler exfoliator; this is mainly due to the material used, which is silicone. Some people don't like rough but still want an exfoliator scrubber. This fills that want.
Can be on your face and other sensitive areas, as it is gentle enough.
Can also be used for women.
If you have a lot of body hair, the soft silicone bristles get in there quite well, better than other methods. All the while not pulling any hair.
I enjoy not adding to my laundry pile with daily washcloths. This is a more practical method.
Easy to clean. Rinse under the shower spigot, and you're all done.
Cons
I had a hard time finding a spot in the shower where I could hang or place this scrubber. This is part of my problem, as my shower is full of grooming products. The Happy Nuts Scrubber has a hanging loop, but I don't have a hook in my shower. You might have to buy a suction cup with a hook to hang this properly.
You might use more soap (bar), as I had to reapply it more often. As it doesn't hold Lather to be the greatest. I found I enjoy using it more with a body wash.
Need A Good Body Wash – Try This!
Happy Nuts also makes a great body wash – Happy Nuts Nut & Body Wash. It has a terrific sandalwood scent that is very manly and clean-smelling. For more information, head over to my post, Happy Nuts Nut & Body Wash Review.
The Final Shave On Happy Nuts Body + Nut Scrubber Review
This is a great body scrubber far superior to yesteryear products like foul-smelling loofahs, sponges, or standard washcloths. This Body + Nut Scrubber will clean and provide an exfoliating experience all the while staying funk-free as it is very easy to clean and also quick drying.
This shines in providing a softer, gentler exfoliating experience compared to other exfoliators. My wife enjoys this over harder and rougher exfoliators in my household, so this provides a happier medium that will check the right boxes for some people.
Look, this product works great, and if you are unhappy with your current situation in the shower, go ahead and pick this up. This product delivers, and I would say it is a must-have.
I highly recommend the Happy Nuts Body + Nut Scrubber.
Any comments or questions are always welcome.