Will This Unique Back Shaver Work Efficiently?
In this BackRaze Back Shaver Review, I will thoroughly review how well this works and whether or not you should buy it. I love seeing new and different back shavers, and this back shaver is quite distinctive from other back shavers I have used.
I am pleased to be reviewing this new and highly unique back shaver, so let's get into it.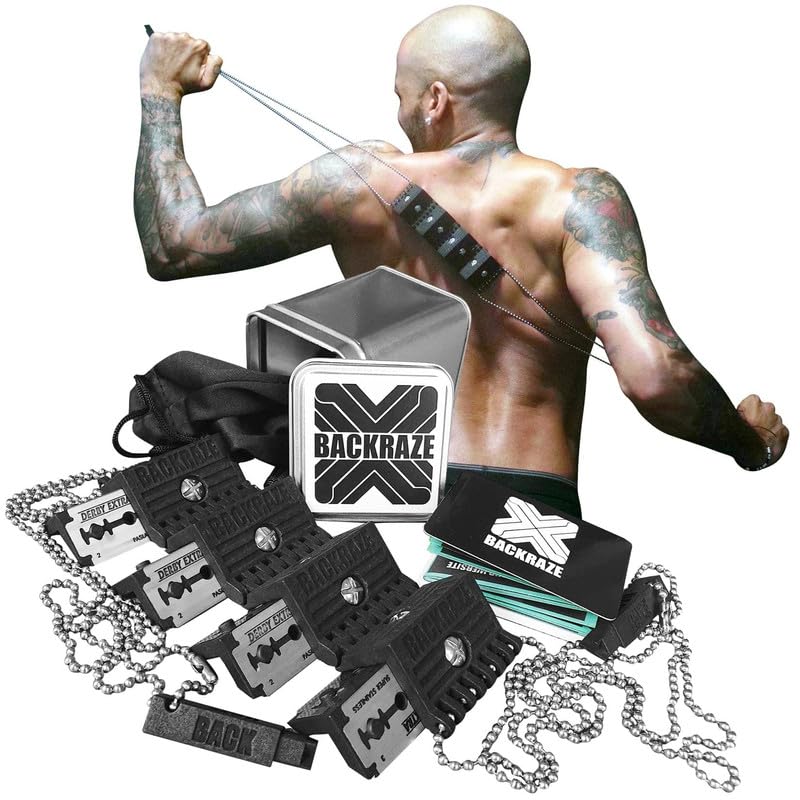 Full Disclosure For This Backraze Back Shaver Review
I am not affiliated with BackRaze. I bought this back shaver with my money to review here on this site. I am affiliated with Amazon and will post links on which I could potentially earn a commission. If you found my page useful please help support it.
Table of Contents
What Is BackRaze?
BackRaze is a manual back shaver.
BackRaze is a back shaver uniquely designed with two chains to the black middle section that holds eight double-sided safety razors. These razors are held in places with screws and nuts.
The BackRaze works much like drying your back with a towel by using back-and-forth movement. The BackRaze is pulled side to side with only a slight diagonal incline or deviation (see instructions).
What Is Included With Purchase?
1 – Middle Razor Holder
2 – Small Chains
10 – Derby Double Sided Safety Razors
1 – BackRaze Tin
1 – BackRaze Storage Pouch
1 – Instruction Pamphlet
2 – Plastic Screwdriver Device
Specs
The BackRaze middle piece is 6 1/2″ inches long when fully stretched out. When folded up for storage, it measures roughly 2 1/2″ inches wide. The width of this is 1 3/4″ inches wide. It holds eight double-sided safety razors.
With both chains attached, this measures 44″ inches long.
My Experience Using The BackRaze & Would I Recommend It
When I first saw this I was greatly pleased as this was a unique and different type of manual back shaver from what I am used to. I love seeing people thinking outside the box and inventing new ways of addressing problems.
How Well Does It Work?
It works decently enough, and it never once nicked me. There are some issues I would like to address, sort of nit-picking but relevant.
Overall, it will shave back hair just fine. It just takes more time than I am used to. I had to go over an area multiple times (instead of 2 to 3 times with my preferred back shaver). Even in their YouTube video, the man shaves his belly for demonstration purposes and goes over the area more than ten times. He is also shaving rather fast and in a much smaller area. Giving you the impression it is fast. The back is a lot harder to shave than the small belly area.
I found myself going over an area multiple at the minimum six times and oftentimes way more than that. I even held it in my hand to shave the back of my arm without using the chains, and I still had to go over the area a bunch of times. It is not fast compared to manual back shavers that will often work in one to two strokes.
It is a bit cumbersome to use. Maybe it wouldn't be so awkward after using this for at least a couple of times. As I often wondered if it was working. With the black holder containing all the razors, it is hard to tell if the razors are down on the right side. It often flips to the wrong side when transitioning to different areas of the back.
I found this was the least effective at shaving the top of my shoulders. This, for me, was the hardest. I took a look in the mirror when using it, and there was a spot on my shoulder blades that was concave, and the BackRaze missed shaving this area. It went right over the top straight without adjusting or shaving the concave area.
This is the smallest back shaver I have reviewed, as it fits in a pretty small pouch. T
I applaud the creator of this back shaver (for thinking outside the box), but for me, it is a hardened, fully experienced back shaver that has seen and used a lot of back shavers. I won't be grabbing for this over my top back shavers. There is a lot this back shaver gets right, but it fails to deliver in the more minor details.
A decent back shaver is just the middle-of-the-road back shaver. It never clogged with hair and never cut me in a compact design.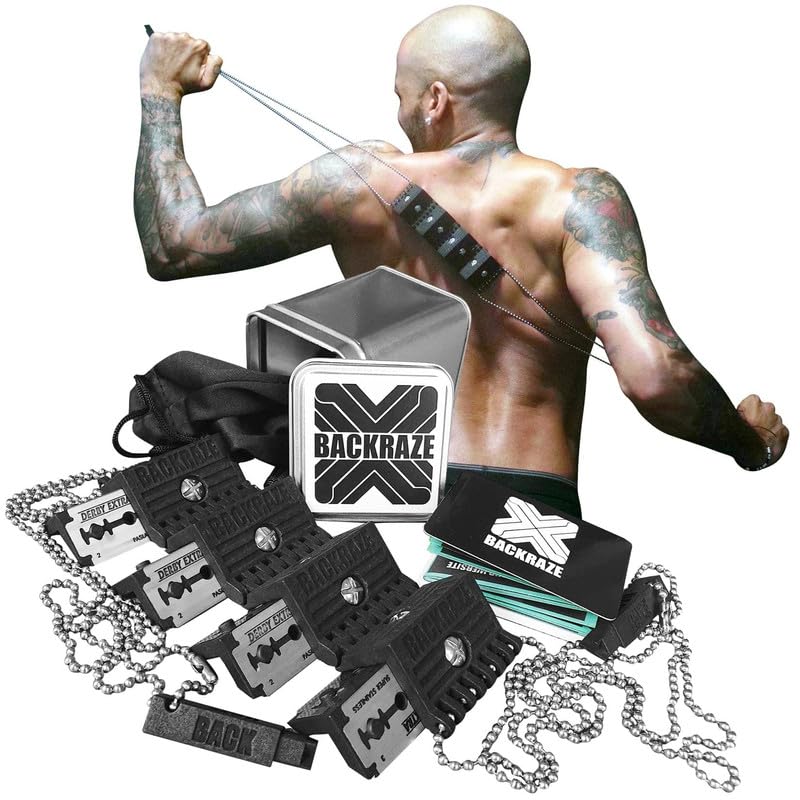 Pros & Cons
Pros
It's the most compact back shaver I have ever seen. This can easily be thrown into a small Dopp kit or travel bag. It is the smallest footprint for a back shaver I have ever seen, as its hinged design allows you to fold it into a compact form.
It is easy to store as it takes up far less room than a traditional back shaver with a long handle.
Doesn't clog with hair. I never even had to address this issue in the slightest.
Great on the back of the arms for removing hair, as I just forgo using the chains and held the black razor portion in my hand.
Very lightweight.
Cheap replacement razors. These can be bought in the hundreds for around a ten spot. Check out my article on the Best Safety Razors For Shaving Your Back.
It can be used elsewhere on the body to remove hair.
60-day money-back guarantee.
I love that they post a phone number on their website to get a hold of them: 07723078645
It's a very safe product. I had no cuts or nicks after using this product. So it does a good job of protecting you against nicks and cuts, even though I was highly skeptical about this feature.
Options. Although Derby razors are sent along with the purchase, you can use any of the many different brands of razors in the future. This gives you options as there are different levels of sharpness and different brands to try.
Can be used as a body shaver as well.
Cons
Lengthy initial setup. This took me roughly around 10 to 20 minutes to set up. As there are a lot of tiny screws and nuts, you have to deal with installing the razors. You are installing eight safety razors as well.
The length of the blade changes, too, for the same reasons mentioned above.
Lots of small parts that require some dexterity. By no means is it the easiest to change the razor blades, as this will take a significant time compared to other methods.
The two small screwdriver-like devices sent with don't work the best. You might want to find a good screwdriver instead. I was constantly fumbling around, trying to get this to fit into the screw.
There is a risk of cutting your fingers while installing the blades. BackRaze recommends using the provided cloth bag as extra protection.
Small razor width. We are shaving the back, after all, which has a large surface area and only covers a single razor width plus the slight angle deviation while pulling it back and forth. This is compared to a wider blade width of 2 or 3 razors.
The chain can tangle or potentially tie itself into a knot.
Sometimes, the device will flip or turn on its side when used, which can be somewhat frustrating. Doesn't always stay indexed correctly on the back.
This will take time to get the hang of using this unique back shaver. It is not hard to use, but there are different angles and such you are not used to doing.
Using this on top of the shoulders is awkward. I found just holding onto the black hinge part the easiest.
Leaves stubble. I went over an area of my back many times, and there is still stubble I can easily feel with my hand.
Around my shoulder blade, there was a spot I had a hard time removing hair from as it was a depressed area that the BackRaze just passed over without shaving it. You would have to work and focus on having the correct angle.
Have to go over the area multiple times to remove hair. Not once or twice but several or even more times. This leads to more time as well as slight frustration.
What Is My Favorite Back Shaver?
I highly recommend the Bakblade 2.0 Elite Plus for ease of use and results. It is the best-designed back shaver that just tears right the hairiest back hair.
If you want to see my complete list of back shavers quickly broken down, head on to my post, The Big List Of Back Shavers.
You can read my full review here: Bakblade 2.0 Elite Plus Review.
Questions
How Often Do I Need To Replace The Blades?
It is generally a good idea to change the blades about every 7 to 15 shaves. Keep in mind that the blades are double-sided, so you can flip them and get another shave. So you could get 3 to 8 shaves before needing to flip them.
Also, other factors weigh in, like how hairy and dense is your back hair or how often you shave your back, all determine how often you need to change them.
Are There Areas You Should Avoid Using This?
Yes, any skin protrusions such as moles, acne, scars, or skin tags. You should try your best not to shave these areas. Take your time around these spots.
The Final Shave On BackRaze Back Shaver Review
If you are looking for a small compact back shaver that performs decently, the BackRaze might be what you are looking for. There are some issues with performance, but with more investment in time, these issues might be just a small hurdle.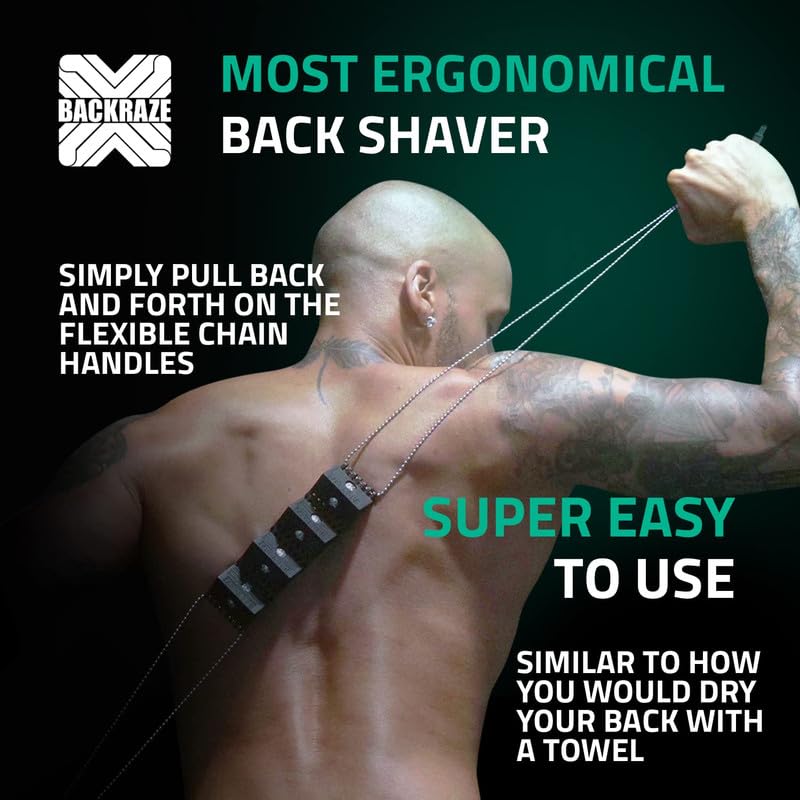 Any questions or comments please feel free to post them below.