Is MetaBlade Back Shaver Meta?
This is a new back shaver I found when looking on Amazon. I often go searching for new back shavers…I know how weird am I. Right? So today we will be diving into whether or not this is a good back shaver. I will be going over the positives as well as the negatives of the Metablade Back Shaver.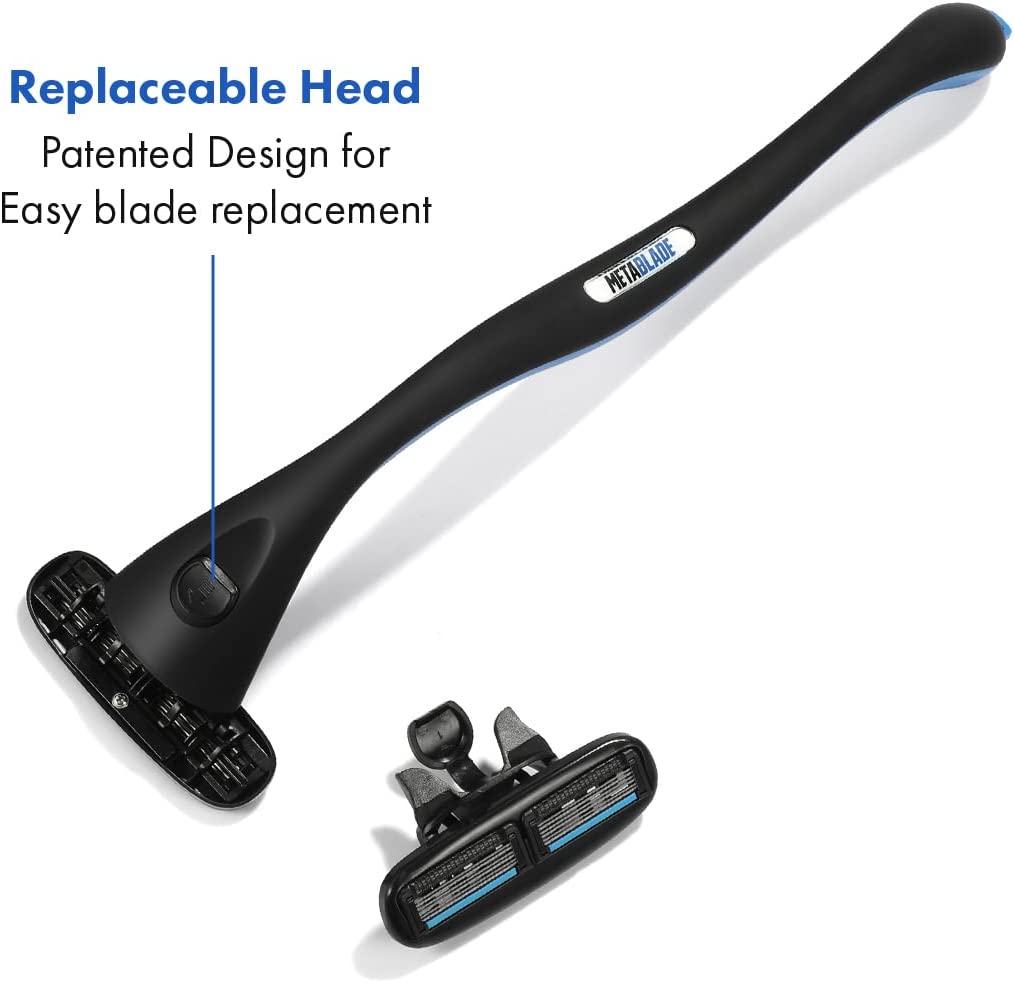 Full Disclosure
I purchased this back shaver from Amazon with my own money.
What Is The Metablade Back Shaver?
Metablade is an s-curved handle back/body shaver that has a replaceable shaving cartridge. The shaving cartridge has two beard razors placed inside. The handle is solid with ridges that help to hold it firmly.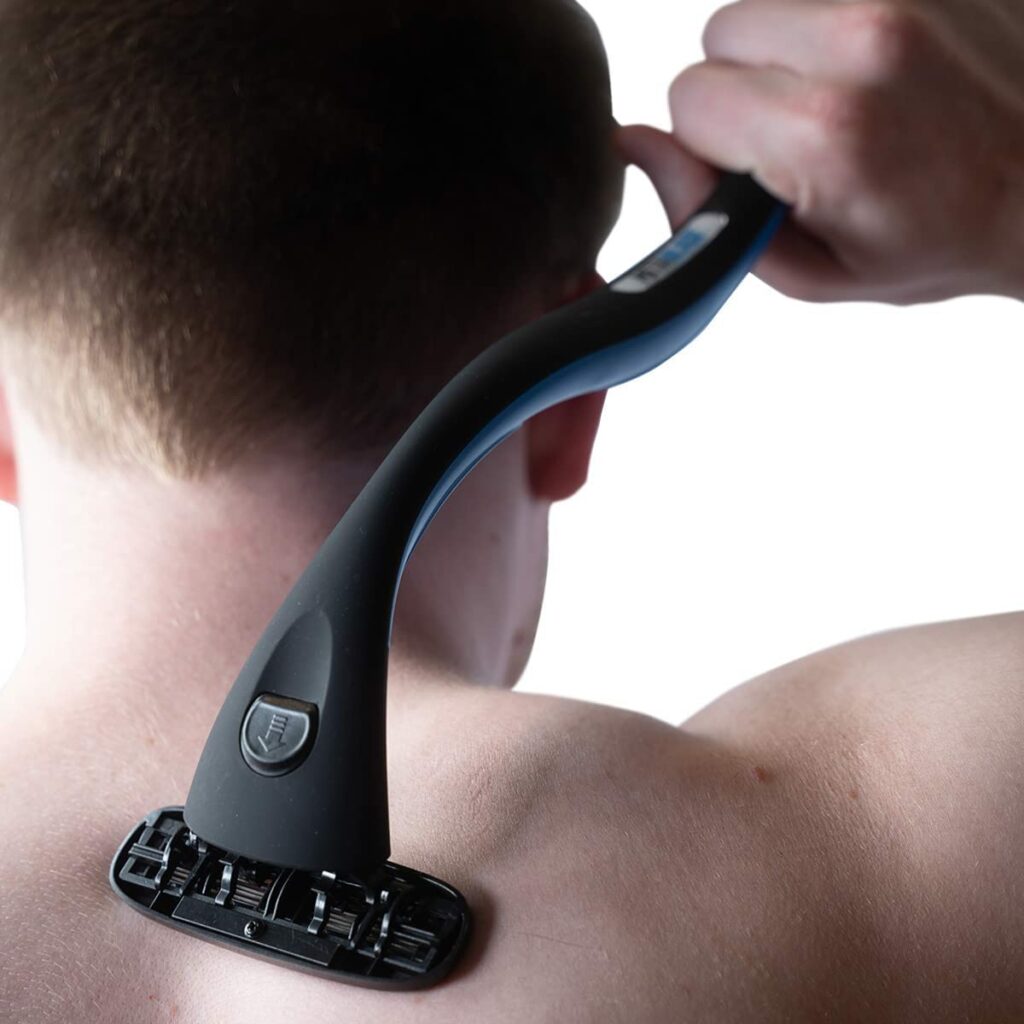 What All Comes With Purchase?
1 – Metablade Handle
2 – Replaceable Shaving Heads
1 – Lanyard
1 – Instruction Pamphlet
1 – Warranty Card
MetaBlade Specs
The handle measures 15 inches long with the shaving head measuring 3 11/16″ inches wide. The razor measures 1 3/8″ wide with a 3/8″ gap between the two razors.
How Well Does It Perform? Worth Getting?
Where to begin with this…
First off, stay far away from this frustrating to-use back shaver.
I stopped using this only after trying for two minutes to shave my back. I have a lot of experience back shaving with many different back shavers and this ranks towards the top of the junk pile of bad back shavers. Save your money and get my highest-ranked back shaver the Bakblade 2.0 Elite Plus.
Any beard razor-type design doesn't work for shaving the back and the Metablade has two beard-style razors. It just doesn't work well. I haven't seen one work well for shaving the back. This is like going back in time ten years ago. Yes, it will shave back hair but it is not optimal. The longer back hair will quickly clog the razors.
I both love and hate reviewing new back shavers. Why because sometimes it's great and sometimes it really bad. This is a bad back shaver with so many outdated and failed designs that just don't work.
The 3/8″ gap between the two razor blades is another bad design feature. This means every time you make a stroke with it the Metablade leaves a 3/8″ swath of hair.
The s-shaped handle is another miss, meaning it is a pain in the ass to get it to shave correctly. I struggled to get the shaving head to the right angle to shave hair while fighting this freaking handle. Such a pain in the ass, oh I said that already…oh well…I'll say it again.
Pros & Cons
Pros
The handle is very comfortable to hold. This handle is better than some of my top-rated back shavers but Metablade doesn't shave anywhere close to how they shave.
The handle can be choked up on it to grab it anywhere on the handle.
A lanyard is supplied to avoid accidentally dropping it. This is really important for mobility-limited people.
1-year warranty.
Cons
Very frustrating to use!!! Getting the correct angle to get the razors to work right was tricky. I mean it was tough and it was a few hits and misses with a ton of misses. Reminded me of when I first started reviewing back shavers, so many horrible designs that didn't really work.
Hair clogged up the razors right away.
Beard razors are used in the shaving head these are not ideal for back shaving. Totally different type of hair.
A wide gap between the two razor blades. 3/8″ of an inch this means with each stroke you are leaving a 3/8″ gap of hair with each pass.
I gave up using this after using this for 2 minutes. That's how frustrating it was for me.
The s-shape handle doesn't give you the best indexing and is not really practical. The s-shape handle was disregarded by Bakblade in its Bakblade 2.0 back shaver. Why? Because it doesn't work that well.
Replacement Blade Heads are expensive. How expensive? Try 2 for 20 bucks. Wow!
The handle is a bit short at 15″ and may not be long enough for taller people.
Outdated and failed design features from ten years ago.
A Better Back Shaver Than Metablade
Check out my post on the 5 Best Back Shavers In 2023 for a complete list of back shavers, back trimmers, and razor extension devices. These are the best out there unlike the Metablade.
The Final Shave
Save your money, your time, and peace of mind, and skip this worthless back shaver. With few positives to mention that is much more to say about this Metablade. I found the whole experience aggravating and frustrating.
I will post a link if you are still interested below.