Are You Looking For Something To Shave Your Back?
This is the best back shaver I know of…so why not shave your own back with baKblade? You probably are wondering numerous things about Bakblade, what is Bakblade? Does Bakblade work? Within this post, I hope to lay before you a detailed layout of what baKblade is and to help people suffering from back hair a miraculous solution. Bakblade is an amazing tool for controlling and shaving one's own back hair.
Check out my review of the newest and greatest back shaver from BAKBLADE here, BAKBLADE 2.0 Elite Plus Back Shaver Review. This is an older review before the 2.0 Elite Plus came out, this is still a great back shaver!!
Your first impression of the baKblade might be an overgrown razor. If this razor had an equivalent on the Game of Thrones, it would be the Giant known as Wun Wun. When I first received this razor and was just kind of shocked at its size. It is very similar to a standard beard razor which you shave your face with, with handle and blade placement, as well as the arch of the handle. It's just that it's a lot bigger.

How Does Bakblade Perform?
Pretty remarkable! Hot knife through butter comes right to mind. Watch the video below to see what I mean. Just cleanly and effortlessly shaves back hair.
Why is baKblade amazing?
Well, for many reasons…
First and foremost it works freaking great!
Have you ever tried to shave your back with a regular beard razor? It doesn't work for many reasons, it gets clogged up fast, and it doesn't reach your entire back too, just to name a couple of reasons. This is not the case with this overgrown razor. The razor on this Goliath efficiently and effortlessly removes hair quickly from one's back. It feels like you just do a couple of swipes and bye-bye back hair. All the while leaving a silky smooth finish.
Second, it allows you to shave your back without the assistance of another individual. Your wife is probably sighing in relief right now in the background. I know my wife did.
The design of this product allows you to "do it yourself", with no extra help from anybody. This unique design definitely fulfills a needed spot in the marketplace, for a shaver that allows oneself to shave his own back easily. Offering relief from asking your significant other or family members and saving you the embarrassment.


Thirdly, ease of use. If I had to describe this product in one word, it would be EASY. Everything is simple and it works, providing the user with a great experience. Unlike other methods of hair removal which literally can be downright excruciatingly painful. Every try waxing, I've seen 40-Year-Old Virgin, and I just don't need that amount of pain in my life if I don't have to.
Fourth, not to mention the embarrassment of having someone remove hair from you. At least I am that shy and would be embarrassed. You do it yourself, with self-sufficiency. God dang it, I'm a man.
Fifthly, (fifthly that sounds weird, right?) It's quite a substantial savings over other hair removal systems or products. See below for, a comparison of hair removal process prices.
Features of Bakblade
Their patent-approved design has these unique plastic teeth and blade placement that provide a remarkable close and fast shave. They also have a dryGlide technology which allows for either wet or dry shaving. Yep, how amazing is that?
The dryGlide technology controls the razor's flexibility which has lighter and significantly less friction between the cutting surface and the skin. Thus allowing for dry shaving with none of the shaving creams that are ubiquitous with facial shaving.
Here are the specs on baKblade:
The handle measures 17 3/4″ long. The handle is made of blue plastic with a slight arch of 1″ to better allow it to reach hard-to-reach areas and is highly ergonomically designed.
Blade width measures 5″ wide.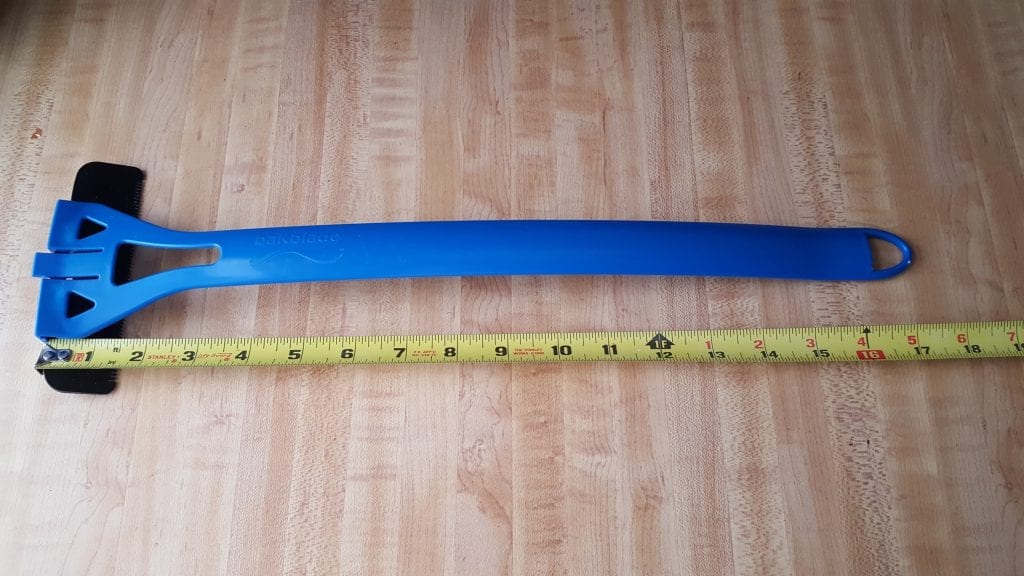 Pros And Cons
Pros
The best back shaver I have tested to date.
It works and it works well!!!!!! Quick and you will get a really smooth back when you are done.
Ease of use, this can't be overstated with baKblade. Takes the worry of cutting up your back out of the equation.
Very lightweight. I just love how light it is.
Compared to other back shavers, the baKblade more naturally gets the shaving angle right when shaving.
A well-thought-out design, that is very ergonomically to use. Not cumbersome at all.
Reaches hard-to-reach areas easily.
No need to use shaving creams, but it won't hurt if you do.
Can be used either wet or dry. Options! It won't catch like a regular razor blade when shaving your face with no shaving cream or prep.
The ability to place your hand just about anywhere on the handle, to either choke up on the handle or for the most reach at the bottom to get the maximum reach.
A Patented approved safety blade. I suffered zero cuts from using baKblade. So no painful cuts or irritation.
At a decent price, but I would be willing to pay a lot more for this. Why? Because it works.
Blades longevity – I got 7 to 8 shavings, this will, of course, vary depending on hair coarseness and quantity of back hair.
This is one hell of a back-scratcher as well. Reach for this when you have a scratch you can't reach. Then thank me later.
Changing blades is simple and fast.
Affordable refills, for a pack of 3 blades. This will last a while, at least it did for me.
Simpler is always better. No need for batteries or charging.
Doesn't clog with hair.
Just the right amount of springiness to the handle material to allow for proper shaving.
A big wide razor that really knocks down hair fast. Taking 5-inch swaths, your shaving time will be reduced significantly, if you try and use a regular razor on your back.
Cons
The only slight problem I had with baKblade, was shaving around my neck area, this by no means is a deal-breaker, it's just that the wide blade is better suited to shaving the wide flat area of the back over the narrowness of the neck. I just use my regular beard razor for this area. It is also called a "back blade" not a "neck blade". I find shaving my neck area easier with my elbow straight up and shaving vertically with baKblade, rather than shaving horizontally across my neck.
Now, what to do with that pile of hair?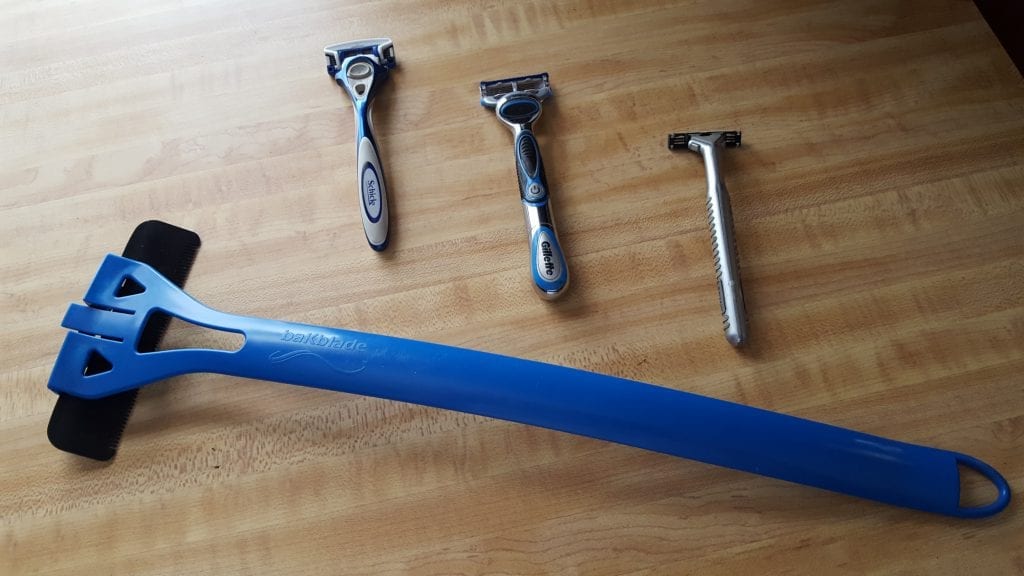 Tips On Using baKblade
I don't have many tips for using baKblade but I do have a few that you might find useful.

Keep an old firm toothbrush around to clean the hair out of the razor and any gunk as well. This will allow better shaving the next time as well as keeping the blade nice and clean. Then rinse it off and allow it to properly dry.
Try experimenting with shaving your back wet and dry to see which method you prefer. BaKblade will handle both wet and dry well, but you might have a preference for one over the other. If wet I would try right after a shower, so the hair is nice and soft from the warm/hot shower.
If you are so inclined to remove body hair from other parts of your body, this would work great as well.
Comparison Of Hair Removal Process Prices
If you are imploring any other method of removing back hair you just might be spending a lot more money and time than you need. Below, I will give a general price range for comparison to using baKblade. For a more thorough look at the many methods of dealing with back hair, head on over to my post on, Methods For Dealing With Back Hair: Find Your Best Method.
Waxing – Average prices range anywhere from $35.00 to $100.00 per waxing.
Laser Treatments – Upwards of $450.00 per treatment with little to no guarantee of it working.
Chemical Treat – This is relatively cheap as a bottle will generally cost less than $10.00 a bottle, but shaving might still be in need as you either missed spots or the product didn't dissolve all of the hair. Plus you are using chemicals that might potentially cause a reaction in your skin.
BaKblade – The razor with one blade cost is pretty good, for the amount of quality you get. Refills can be bought in threes for around 12 bucks. Much larger savings, as well as having a super smooth shave.
Where to buy baKblade
The best place I know of to buy the Bakblade back shaver and refills is online at Amazon. They ship just about anywhere and it arrives relatively quick.

Final Thoughts On baKblade
You will be hard pressed to find a better-performing back shaver than baKblade. This method leaves little room for improvement as its ease of use design and dryGlide technology within the razor easily separates hair from the skin leaving a fantastic smooth finish that is hard to replicate. But saying that, baKblade is in the process of designing a 2.0 version of baKblade and it looks just as functional and with more blades. Stay tuned for that review as well.
This is the best Back Shaver I have tested by far.
The most effective system with the least amount of risk as far as cutting your back is concerned. This just performs and kicks ass. So, stop suffering from leaving your shirt on and hiding your back. Take control of your hair growth and invest a little money in a great shaver with little risk.
[wp-review id="65″]
---
If you have any experience with baKblade or have any questions, or have a suggestion for a review on a back shaver please drop me a comment below. Thanks!
Save
Save
Save
Save
Save
Save
Save
Save
Save
Save
Save