Were Back Bro 2.2…Is Your Back Hairy?
Do we have a new Champ is in the house?
Maybe…this is an impressive and well-thought-out design that might just take the gold belt here boys and men. Stay tuned and keep reading.
I am actually excited about the features and performance of this back shaver. It has some problems but they are mild.
Read on to find out why this might make it to the Number #1 position.
What Is Bro Shaver 2.2 Saucy?
Is the newest back shaver from Bro Shaver. This allows a person to shave his own back without asking for assistance from another person.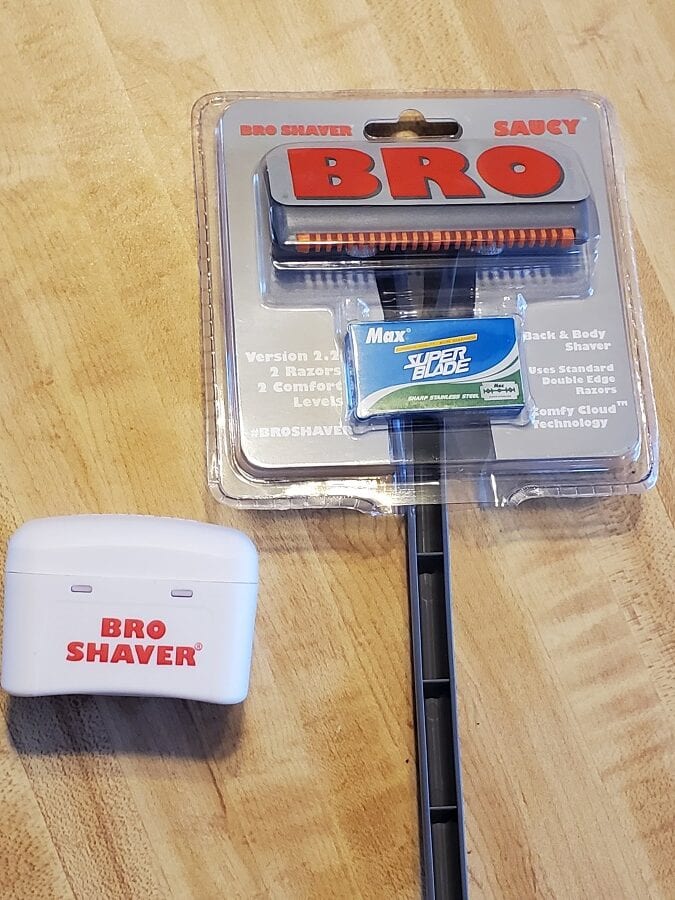 With a name like Saucy, it makes me think of barbeque for some reason.
I have reviewed the original Bro Shaver, you can read more about it here Bro Shaver Review.
What Did You Get…Brother?
1 – Bro Shaver 2.2 Saucy Back Shaver
5 – Max Super Blade Double Edge Razors
1 – Bro Shaver Dumpster XL Razor Disposal Case (freebie…nice)
1 – White Sticker with information on where to watch videos and where to get instruction manuals.
Bro Shaver 2.2 Saucy Specs
This unit comes in at 17″ long with a slight curve to help get those problem areas when shaving the back. You do not want a straight handle!
The shaving head comes in at 3 1/2 inches wide, with two double-sided safety razors inside that give you 3″ shaving swath.
Very light shaving unit and feels good in the hand too.
Saucy 2.2 How Does It Perform…Bro?
In my best Hulk Hogan voice, "Well you know something, BROTHER" it performs pretty well. This will knock hair down like the professional wrestler Stan Hansen giving his famous Lariat clothesline to an opponent.
While I do notice slightly more time it takes to shave my back, due to the reduction of 1 whole razor blade length from the older model. This needs to be said and addressed, as I own the older model, and is the knowledge I know.
This Bro Shaver will take names a kick butt.
Pros & Cons
Pros
Love Love Love this! Since this is one of the closest shaving back shavers on the market, I think this is their best feature. They call this feature Comfy Cloud technology. This allows you to adjust for an "M" mild shave or an "S" saucy shave. Great Feature!!!!
Easy enough to adjust the Comfy Cloud, just unscrew thumb screws and flip the orange comb thingy, and boom you're done.
You can register your shaver at Broshaver.com for a chance to win a back shaver, which I recommend in case of the unthinkable…
I love the free Bro Shaver Dumpster for safely disposing of your used razor blades. Very commendable Brah!
Thank you for the half-naked girl on your website Bro Shaver, it speaks to the man in me and I want to shave my back till it's dolphin smooth.
As stated in my last review of this company, I love the name.
Stainless steel knurled thumb screws are always a good thing to see.
A semi-redesign of the handle is a step in the right direction. As the handle length is shortened to 17″ from 20″ from the previous model. As well as the handle width is pleasantly narrower than the previous model and I feel fits the hand better.
Cheap razor blade replacement compared to a whole cartridge replacement of other models. This uses cheap double-sided safety razors. Love to see this on back shavers.
Easy and fast to change blades if they become dull.
The orange comb works well at channeling the hair to the razors. Snip.
Nice curved handle that allows attacking the back with no problems.
The Handle can be left off and you can use the razor to shave other areas of your body.
If you are extremely hairy I have always recommended any of the Bro Shavers as they are the katana sword of back shaving. Wicked sharp and able to handle any gorilla back out there.
Owners were willing to rethink their product without making it gimmicky and just making it more practical to use.
Lanyard hole or just a hole on the end of the handle to hang out of the way or for a more secure grip.
Cons
The name Saucy has me scratching my head…What?…I'm lost. Not a big deal though.
While the handle has been improved, it is still slightly uncomfortable in the hand as it is the same design just shrunken. As it has an open underside with sharp square corners. Same problem with the older version of the Bro Shaver. Not a deal-breaker by any means.
Probably not good for traveling if that means anything to you because the handle is straight and doesn't fold in half.
Videos linked in sticker sent with the Saucy Back Shaver for the video demos are from the older models of the Bro Shaver.
From Bro Shaver 1.0 to Bro Shaver 2.2 Saucy you lose one blade width, as the older version has 3 blades while the new one has only two.
Tips Bro Tips
Obviously, take full advantage of the Comfy Cloud technology, especially if you are new to back shaving. Start out with the "M" mild showing to find out how sharp this sucker is, then after a couple of times move up to the "S" saucy setting if you need a really close shave.
This will cut down on the nicks and cuts you might sustain from using this shaver.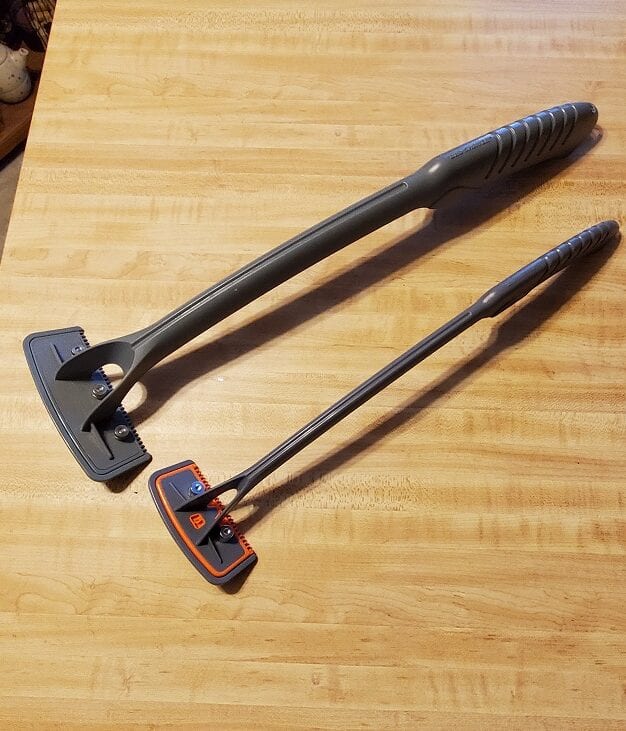 Take your time shaving your back. Don't rush yourself, as the more time you take the fewer nicks and cuts you will get. Slow down…
Here is the link to Quick Start from B.S. on tips and info about their product. Follow the tips given here to avoid cutting your back.
The Final Shave Broheim
I salute you like a brother in arms Bro Shaver, for improving your product, as I can see improvement and careful thought has gone into the redesign. This gets the privilege of being ranked in the top 4 back shavers easily.
So, don't hesitate about pulling the trigger on this "Saucy" shaver, as there are more positives than negatives. Along with that, the cost-effectiveness of buying cheap razors instead of expensive cartridges is a no-brainer.