Is Oars + Alps Good? Find Out!
In this Oars + Alps Soap review, I will review every aspect of this soap to help you determine if it is worth picking some up for yourself, from the ingredients used to the scent profiles and everything in between.
A good bar of soap will not only get you clean and smell great, but it can also boost your mood. Having quality ingredients is another important factor. Maybe you are sick and tired of the soap you use and need a switch to something else.
Let's delve into shall we…
Full Disclosure
I am an affiliate of Oars + Alps. I will post links on this page that I will earn a commission on. This is how I keep my website up and running. I am all about honesty and helping people. I only review products I have used or own, so there are no fake reviews here, just real experiences. I also purchased three soaps from Oars + Alps with my own money (pictured below).
Table of Contents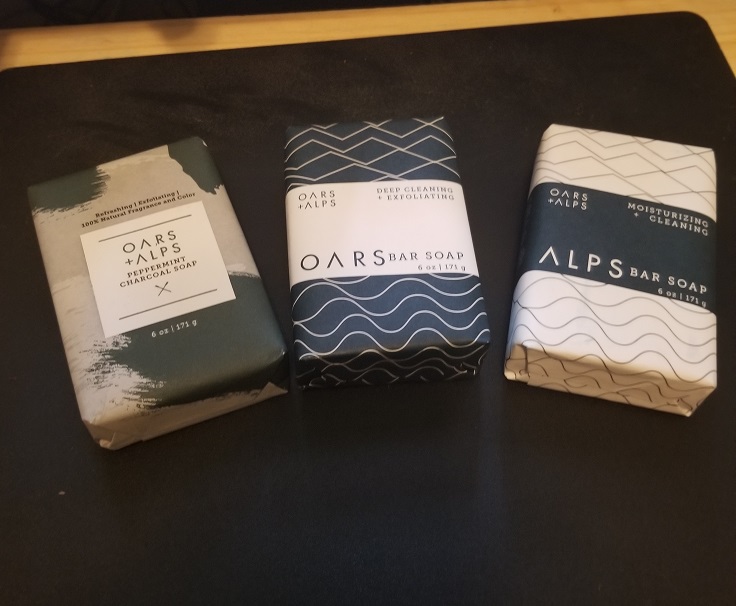 What Is Oars + Alps Soap? & Why Should You Care?
Oars + Alps soap is mostly an exfoliant bar of soap but not all of them have exfoliant. Just most of them. These are hard-density soaps and should provide a long lifespan.
These come in 6-ounce bars that measure 2 5/8″ inches wide, 4″ inches long, and 7/8 inches thick.
What Soaps Are Available At Oars + Alps?
Currently, Oars + Alps has six soaps available to purchase.
Blue Charcoal Oars Bar Soap – An exfoliant soap (Volcanic Sand).
Moisturizing Alps Bar Soap – A moisturizing and exfoliant soap (Crushed Juniper Berries).
Supermoisture Bar Soap – A moisturizing soap.
Superfoliant Bar Soap – An exfoliant soap (Jojoba Esters).
Peppermint Charcoal Bar Soap – An exfoliant soap (Volcanic Sand).
Epsom Salt Bar Soap – A moisturizing soap.
Ingredients
I will post one set of ingredients, as every soap from their lineup contains a different set of ingredients. So you can get a general idea of what is in the soap.
Blue Charcoal Oars Bar Soap
Sodium Palmate, Sodium Cocoate (Or) Sodium Palm Kernelate, Water, Glycerin, Coconut Acid, Butyrospermum Parkii (Shea) Butter, Fragrance, Pumice, Carbon, Sodium Chloride, Sodium Gluconate, Galactoarabinan, Hamamelis Virginiana (Witch Hazel) Leaf Extract, Ultramarines (CI 77007), Spirulina Maxima Extract, Cladonia Stellaris Extract (Alpine Caribou Moss), Volcanic Sand, Iron Oxides (CI 77499).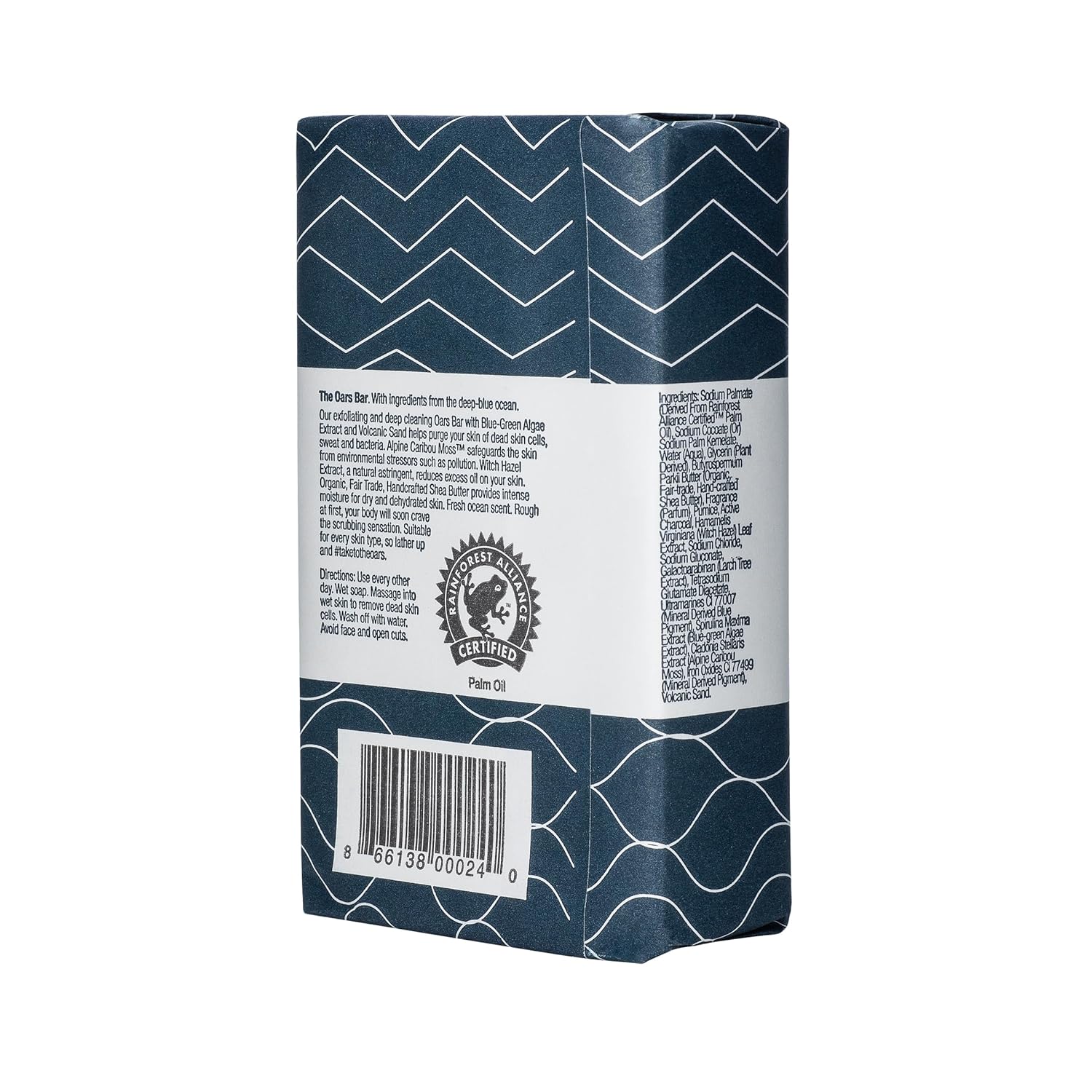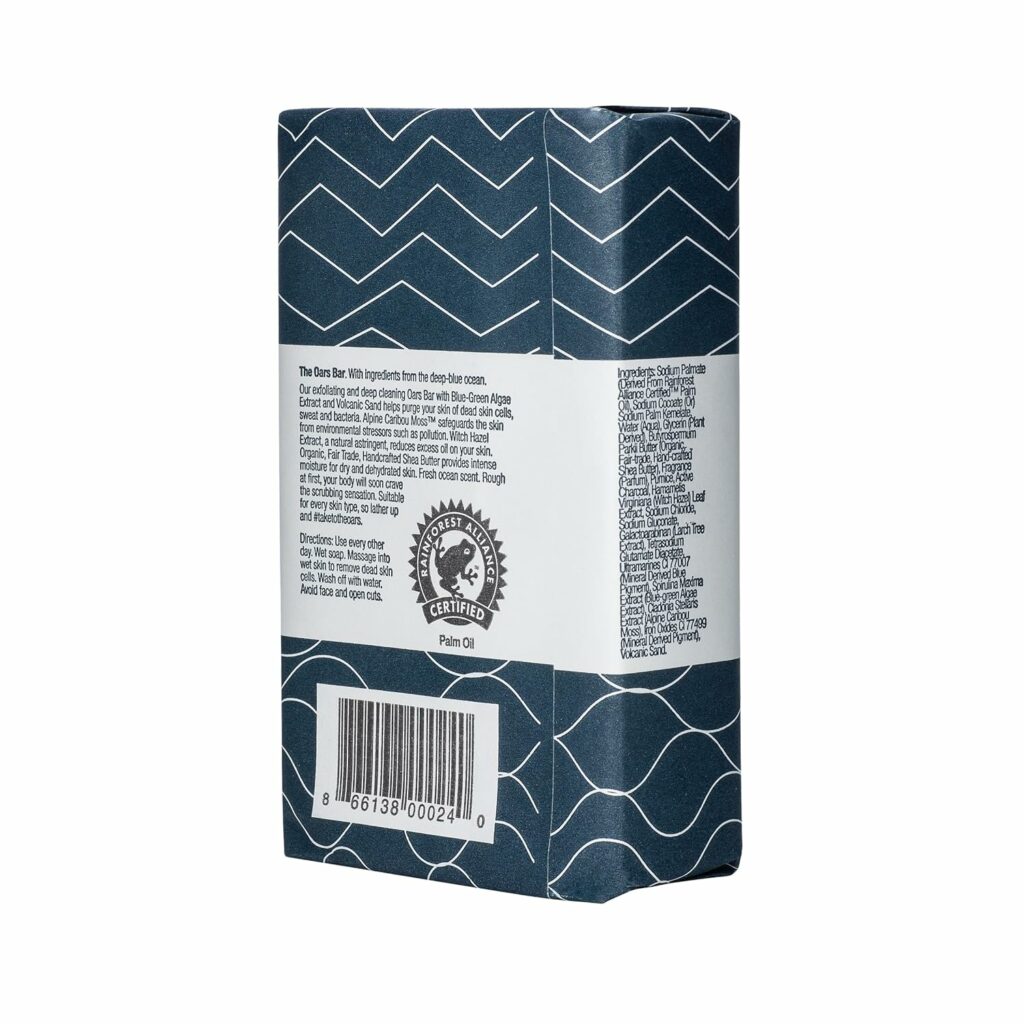 My Opinion & Experience Using Oars + Alps Soap – Is It Any Good?
Having only purchased three out of the six soaps, I wished I had purchased all six varieties.
Why?
Because they are that damn good!
They have great scents and great ingredients, and they make a hell of a bar of soap.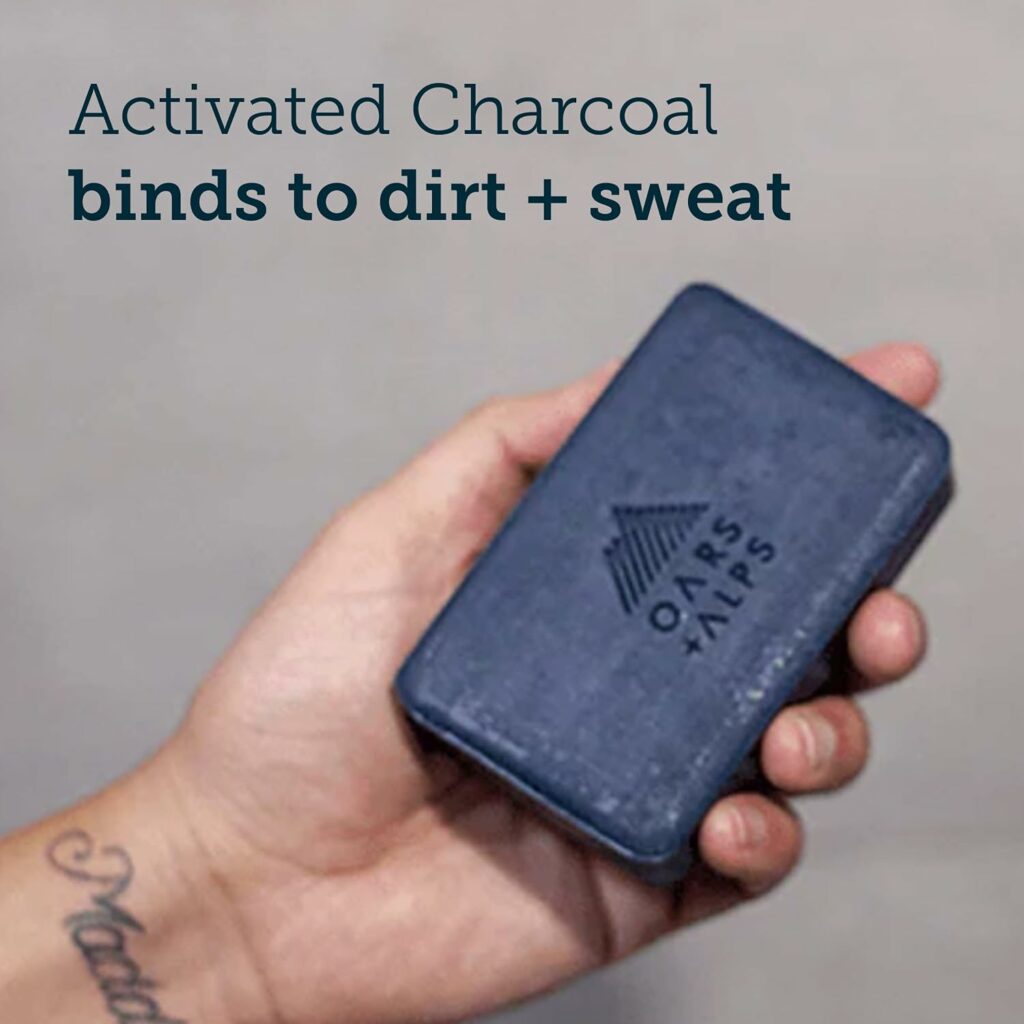 Upon opening the package, I could smell the soap right away, and I knew I would love it. The scents smell freaking fantastic and natural. Just has a natural and clean scent and is very worthy of a quality soap bar.
I love using a good quality mint-scented soap in the morning as this stimulates my mind and helps wake me up when I am groggy. The Oars + Alps Peppermint Charcoal is just damn good, and you can tell it has quality peppermint and gets you going. Love this soap.
They give you a nice big bar of soap. Six ounces of soap while typically a bar of soap is around 3.5 ounces. So, it is almost double that of a standard bar of soap.
The soap easily forms suds and provides a good lather, letting you know visually where you have scrubbed.
Negatives
There are potentially only a couple of negatives I could see: the price for some people, and they don't recommend using their soap on your face.
I think they have a fair price on their soap. Considering it's a more oversized bar of soap and it is hard density. Meaning it won't dissipate into your shower drain after a week of use.
I believe they recommend you not use their bars of soap on your face daily because of the exfoliants, as they could be too harsh on the facial skin. I did it anyway, and I had no problem. I don't want to have trouble using two types of soap in the shower. I will forgo the caution.
Overall
I would say this is some quality soap. I love finding products like this that deliver quality, and I am so happy to use this product. The slightly elevated price is not so pricey when you consider how big the bar is and that it is also a hard-density bar of soap. Meaning it will last a lot longer.
What Is My Favorite Scent?
I have only tried three out of the six (please keep in mind), but I still have my favorite, and it is the Peppermint Charcoal. All the soaps I tried smelled of quality, clean smelling, natural, and very pleasing.

Pros & Cons
Pros
This is a bigger bar of soap and comes in at 6 ounces. In contrast, a typical bar of soap weighs 3.5 ounces. So you get a bigger bar of soap.
Smells freaking fantastic!!! Every bar of soap I purchase smells good. Granted, I didn't buy them all, but the ones I did smell fresh, clean, and very natural. Great fragrances. A+++++
The scents are blended very well. Someone knew what they were doing.
All of the soap suds very well.
I used this soap daily, and I had no problem with dryness at all.
Vegan.
Cruelty-free.
Dermatologist tested.
Sulfate-free.
Paraben-free.
Gluten-free.
Rainforest Alliance certified palm oil.
Exfoliant added to all of the soaps. I love using soaps with exfoliants as it helps me get clean after coming home from my job, where I have dirt, grease, and grim that is often hard to remove. These all did wonderful at removing this dirt. If you come home from work dirty, get this soap. It helps.
Longevity. These soaps are of a hard density and should last a long time and not fade away down the drain in a week or two, as softer density soaps don't last long.
The soap is big but not awkward to hold.
Made in the USA.
Free shipping on orders $50+.
Always free returns!!!
Cons
Oars + Alps doesn't recommend using their soap on your face, sensitive areas, and open cuts due to the exfoliants used in the ingredients. I am a rebel, used it on my face anyway (lightly), and had no problem, but I am a barbarian. So, you might have to use a different soap for these areas. I don't ever recall seeing this in other soaps I have reviewed.
Could be considered pricey by some people, but it is relative to the buyer.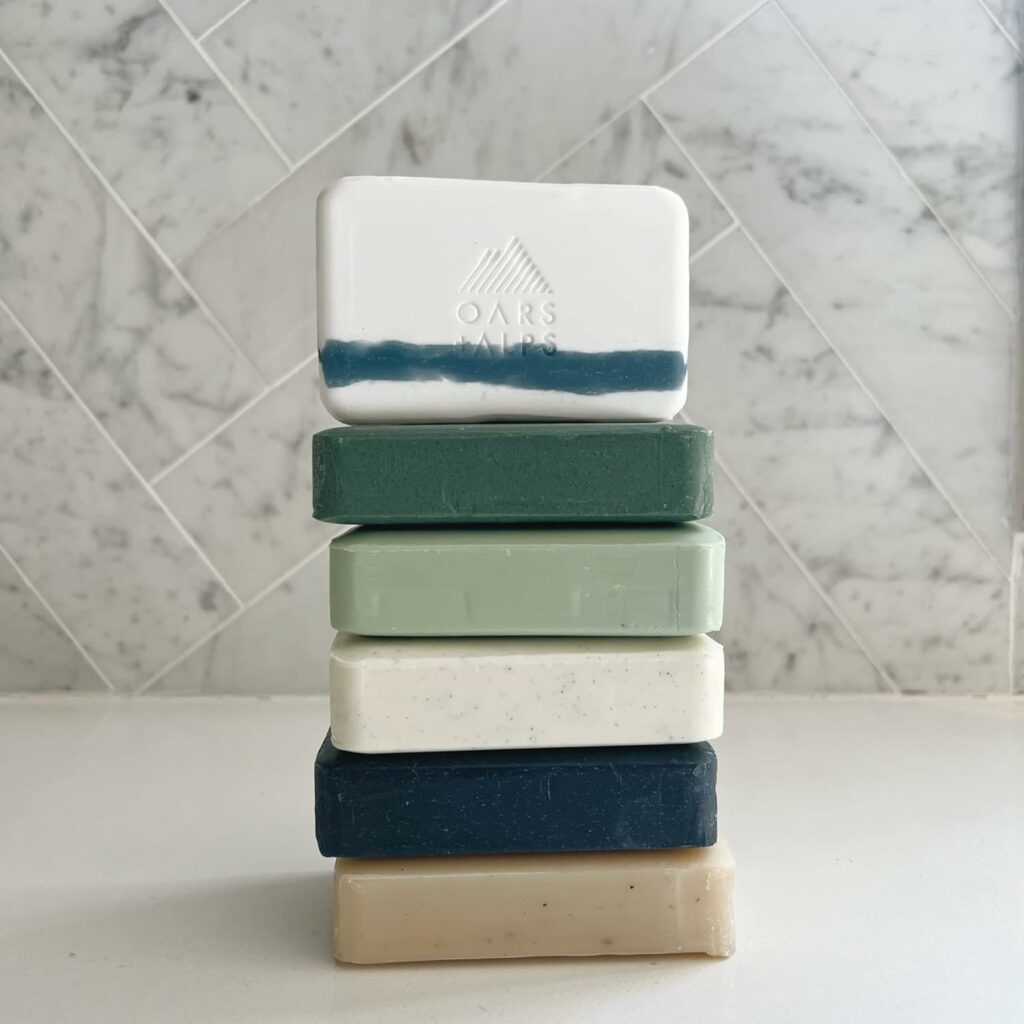 How Does This Compare To Other Soaps I've Reviewed?
For me to patronize a brand of soap, it better smell good. I would have zero hesitation in reordering soap from Oars + Alps. Their soaps smell fantastic. This is one of my biggest concerns when buying soap. I want the soap to uplift me, clean me, and leave my skin refreshed and hydrated.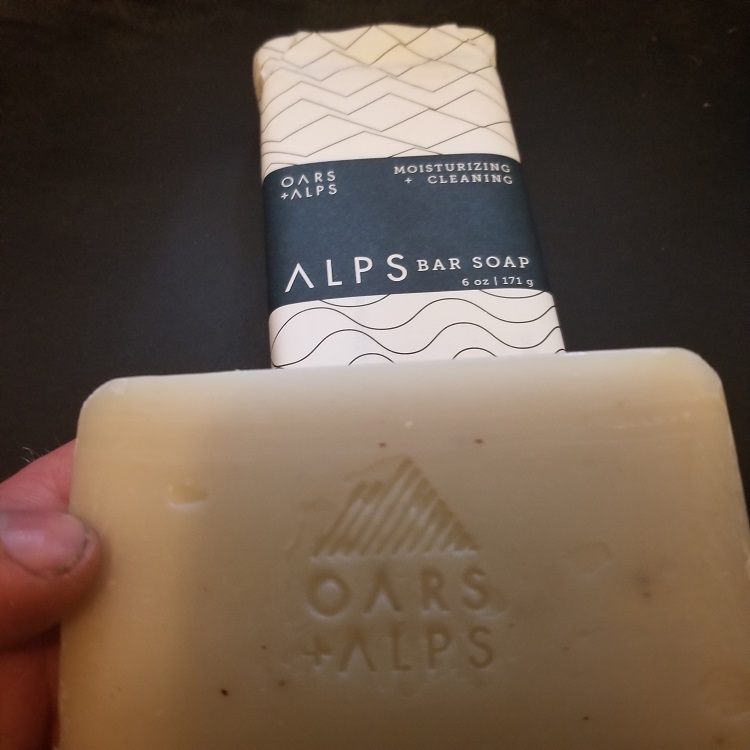 I would rank this soap towards the high end of all the soaps I have reviewed for the scents, hydration, and exfoliant factor. Some people may not like the exfoliant, but I, for one, love it.
Other worthy soaps you should also consider. I will provide links to my reviews below for you to learn more about them.
The Final Shave On Oars + Alps Soap Review
If you love an exfoliant bar of soap, then you need to try Oars + Alps Soap. They also have other soaps that don't have exfoliant added too.
I enjoy using Oars + Alps Soap. It is of good quality with good ingredients and lavish scents.
I highly recommend giving them a try!!!

Any questions or comments are always welcome.