Okay…Is The Hype Real Or What?
Today, the post will be Dr. Squatch Soap Review. You have likely seen an ad for Dr. Squatch on one or multiple social media sites. They seem to be everywhere and almost impossible to miss. Dr. Squatch posts some high-quality videos and ads with a flair for comedy. So, to wade the muck and mire, I purchased almost all of Dr. Squatch's soap to review them and help you, the consumer, find out if it is any good or not.

I will highlight the positives and negatives of their soaps and give my opinion on the best soap they offer and what to avoid.
Full Disclosure
I am not an affiliate of Dr. Squatch. I will post links to Amazon and may earn a few bucks with no additional charge to you for clicking these links. I also purchased all the soaps pictured in this review with my own money. I pride myself on owning the product I am reviewing, actually using the product, and writing an honest review and highlighting both the positives and negatives of the product.
Table of Contents
What Is Dr. Squatch Soap? What Makes Them So Special?
First and foremost, Dr. Squatch's soap is for men.
They cater their business to providing grooming products to men specifically. They do this with their soaps in two ways: by providing a scent profile that smells like a man should smell and sometimes adding an exfoliant to their soaps because men get dirty and are always mucking around with stuff like oil and grease.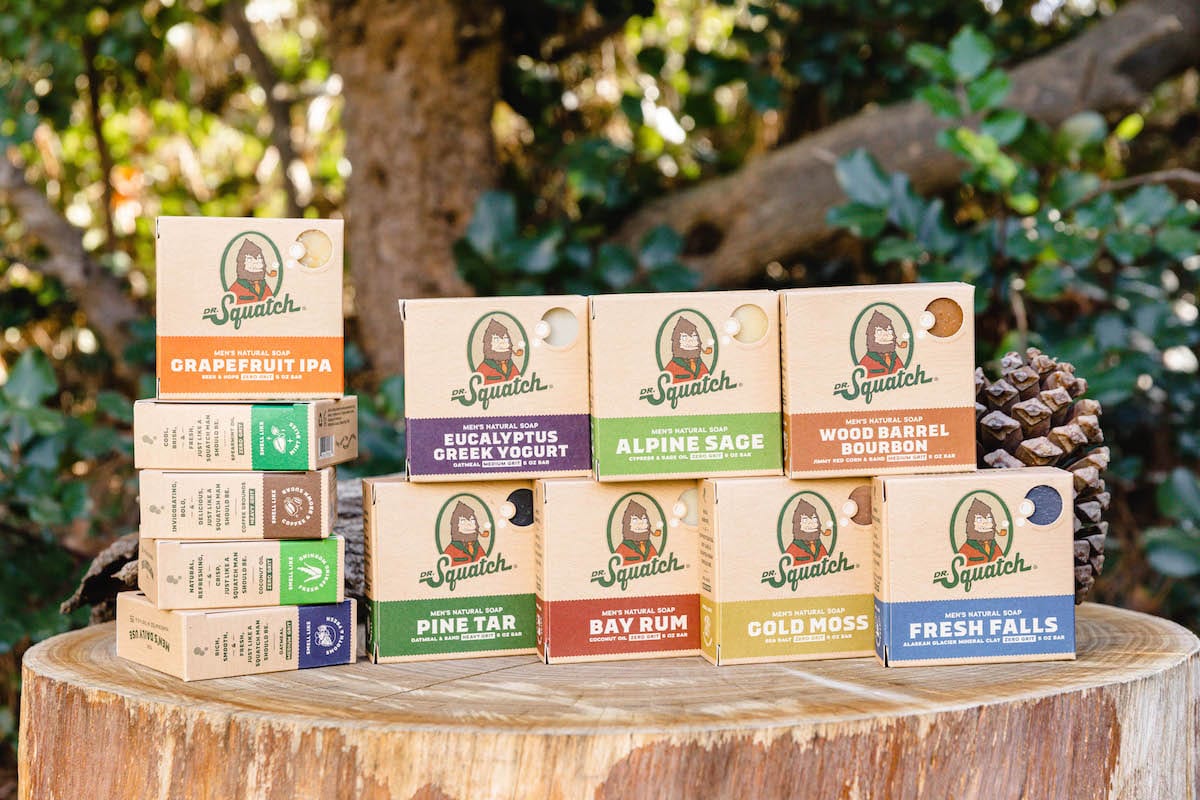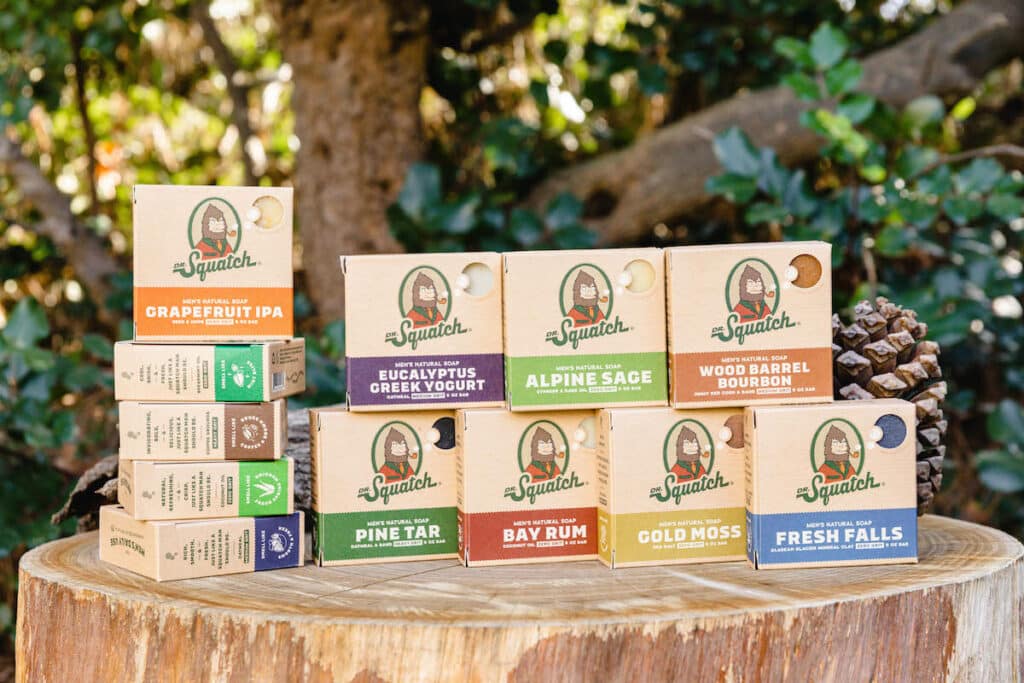 The second thing you need to know about Squatch soap is that it doesn't have all the cheap industrial chemicals found in well-known soap brands sold everywhere. They use natural ingredients such as olive, coconut oil, hemp oils, essential oils, mint, oats, and more. You get the idea.
So basically, it's a natural soap.
All of their soaps are sold in 5 oz. Bars and come packaged nicely. The soaps are cold-process soaps, meaning they have a silky smoothness and a rich lather.
What Are Soaps Available At Dr. Squatch?
Okay…Dr. Squatch has a lot to choose from (27 different soaps) when it comes to scents, and they always seem to add new scents. More are added seasonally or whenever they create a new scent, so keep an eye out as they often drop new scents.
Pine Tar Soap
Dope Soap
Summer Citrus
Coconut Castaway
Bay Rum
Spidey Suds
The Batman Collection (2 different soaps included)
The Star Wars Collection I (4 different soaps included)
The Star Wars Collection II (4 different soaps included)
Cool Fresh Aloe
Alpine Sage
Fresh Falls
Wood Barrel Bourbon
Deep Sea Goat's Milk
Cold Brew Cleanse
Gold Moss
Birchwood Breeze
Spearmint Basil
Eucalyptus Greek Yogurt
Grapefruit IPA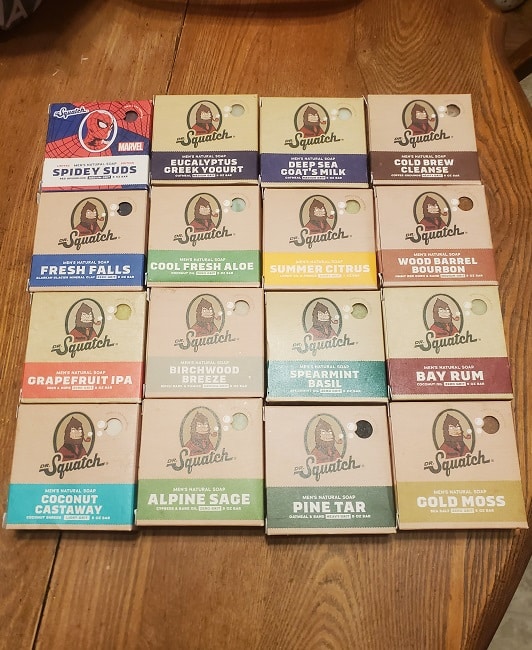 Ingredients Used
Every soap in their lineup has a different list of ingredients. But we can understand the general list of ingredients used by looking at just a few soap ingredients. I will post two examples below of my favorite soaps from Dr. Squatch.
For more information, you can check out the individual soap or head over to their Ingredient Glossary, which explains each ingredient in more detail.
Dr. Squatch Pine Tar Soap
Saponified Oils of (Olive, Sustainable Palm, Coconut), Shea Butter, Orange Essential Oil, Pine Fragrance, Pine Tar, Oatmeal, Sand, Activated Charcoal, Kaolin Clay, and Sea Salt.
Dr. Squatch Coconut Castaway
Saponified Oils of (Olive, Sustainable Palm, Coconut), Shea Butter, Natural Fragrance, Coconut Shreds, Coconut Milk, Coconut Water, Titanium Dioxide, Kaolin Clay, Sea Salt
How Good Are The Soaps? Scents? Worth Getting? My Opinion
Despite all the marketing you might see surrounding this product, it truly lives up to being a fantastic product! I enjoy using their soaps and their scent lineups over the years.
They have great ingredients, and it shows when you use them. All the soaps easily form a rich, luxurious lather. This is from their natural and great list of ingredients without using cheap, harsh chemicals.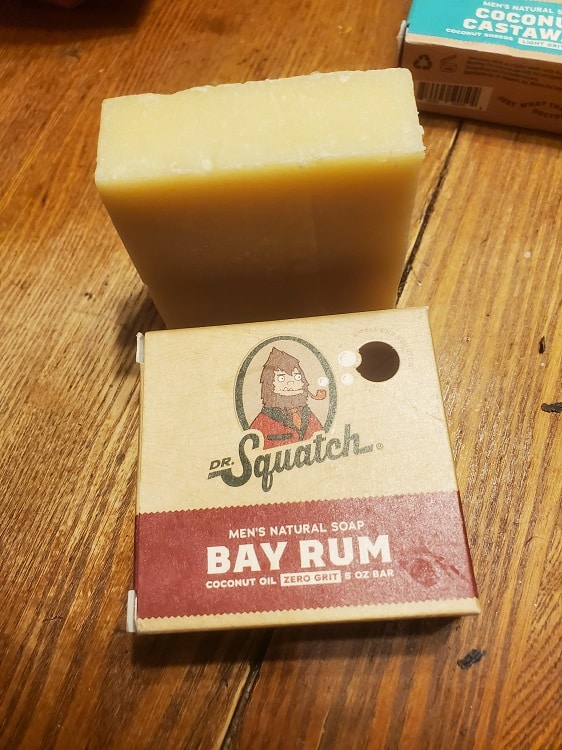 Unique scents are another reason why their soaps just simply ROCK! The quality of the scents is good, and they smell natural. While I don't love every scent in their lineup of soaps, I do like all of their scents.
I highly recommend their soaps and to give them a try. They check all the right boxes, and they are worth getting.

What Are My Favorite Soaps?
Dr. Squatch Pine Tar Soap
My favorite soap is the Dr. Squatch Pine Tar Soap. I love how natural it smells and its unique scent profile. It is the best-smelling pine tar soap I have used. This is a must-try soap for sure. It's invigorating, and I love the grit of the exfoliant added to help me get cleaner.
I have reviewed and used a lot of different soaps, but this one always sticks to the forefront of my mind when I think of my favorite soaps I have used.
Over a year ago, I wrote a review of the Pine Tar Soap here, Dr. Squatch Pine Tar Soap Review.
Dr. Squatch Coconut Castaway Soap
This is another remarkable scent that I just got my hands on. It is one of their newer scents that I just got around to trying. I love a good coconut scent, which didn't disappoint. This is a must-try as well and is a real crowd-pleaser.
Honorable Mentions
Bay Rum – I thought I wouldn't like this, but I do…I do.
Birchwood Breeze has a unique scent that is enjoyable.
What Soaps I Don't Like?
I don't hate any scent from Squatch, but some scents are not as earth-shaking as others. They are just okay.
Gold Moss – Smells natural and clean. It just doesn't move me. This is typical with any moss scent that I have ever smelt.
Wood Barrel Bourbon is not my favorite scent.
Pros & Cons
Pros
A large diversity of scents to pick and choose from. (Currently, there are 27 scents)
I am a massive fan of the Pine Tar Soap. I love the scent and the soap. A real must-try!
Coconut Castaway is another must-try!!!
Sustainably sourced ingredients.
Great lather. The lather is
Always expanding their lineup of soaps and products. Great to see.
They use essential oils instead of cheap synthetic fragrances. The real deal, folks.
Soap rinses cleanly off with no residue.
Soap made for men!
Soaps have various amounts of exfoliant added, either none, light, medium, or heavy grit. Surely something for everyone.
Made from natural oils.
No harsh chemicals, just easy-to-understand ingredients.
Decently price. I would say on the medium side of the price.
Cold process soaps.
Dr. Squatch has an 8-quick question quiz if you don't know which scents are best for you. Take the Quiz here, Dr. Squatch Quiz.
100% guarantee, and Dr. Squatch will cover the cost if you are unsatisfied.
Dr. Squatch has a rewards program to help you save even more money. Easy to sign up with to start earning points.
Cons
Not a massive fan of every scent available but they have plenty to choose from. Nothing I hated; it just didn't "wow" me with every soap.
Soaps don't last the longest. They typically last 2 to 3 weeks in the shower.
Expect to pay slightly more for their Star Wars Collection Limited Edition Box of soaps.
How Well Does This Compare To Other Soaps?
I reviewed a lot of different soaps out there, and this ranks toward the top out of all the different brands. It has it all: the scent, the natural ingredients, the lather, and the quality.
How To Save Money At Dr. Squatch
Who doesn't want to save a little bit of money?
Am I right, or am I right?
Squatch has a subscription service where you can save up to 15% by subscribing to have soap shipped to you on a regular basis. They are also running some holiday deals, so be sure to check them out.
Tips & Questions
Which Dr. Squatch Soaps Have Exfoliants?
For some of us men who work dirty jobs where we get pretty grimy, we need that extra scrubbing power of exfoliant added to our soaps to get us clean. Exfoliants are added to soaps to give you a rougher texture that helps remove dirt and grease, such as oatmeal, sand, mica, coffee grounds, salt, and more.
Thankfully, Dr. Squatch has plenty of options here. I will list all of the available soaps with these extra exfoliants added. There are four grit levels: Heavy, Medium, Light, and none. The soaps not listed have no exfoliants added.
Pine Tar (Heavy Grit)
Cold Brew Cleanse (Heavy Grit)
Wood Barrel Bourbon (Medium Grit)
Deep Sea Goats Milk (Medium Grit)
Birchwood Breeze (Medium Grit)
Eucalyptus Yogurt (Medium Grit)
The Batman Bricc (Medium Grit)
Summer Citrus (Light Grit)
Coconut Castaway (Light Grit)
The Star Wars Collection I (all soaps have exfoliants added)
The Star Wars Collection II (all soaps have exfoliants added)
Can Women Use Dr. Squatch Soap?
Yes, 100% they can. Even though Dr. Squatch is marketed toward men, their products and soaps are unisex and can be used by both men and women.
Scents
I have used many of their products, and their scents generally fall directly in the middle ground, so both sexes can comfortably use them. So, you can buy with confidence.
Two scents I think lean more towards the manly side of things and maybe should be avoided by women are the Bay Rum (which is fantastic btw) and Wood Barrel Bourbon.
Exfoliants
Also, another word of caution would be the level of exfoliant provided in some of their soaps might be a little too rough for some ladies. (See list above) I love the heavy grit, but my wife finds it too hard and prefers the medium to light or none. So, keep that in mind, too.
Where Can I Buy Dr. Squatch Soap?
You have three options on where to buy Dr. Squatch Soap.
Amazon – You can get free shipping with an Amazon Prime account.
Locally – I have seen their products sold in my local stores, but generally, the prices are quite a bit higher than I can buy online.
The Final Thoughts On Dr. Squatch Soap Review
Dr. Squatch is an excellent company providing quality natural ingredients in whatever they sell. I've enjoyed using their soaps mainly because of their high quality and natural ingredients and, let's not forget, their unique scents as well.
Great lather, great scents, and great ingredients. The trifecta. I've been using this soap for years now, and I enjoy using it, and I think you will, too.
I highly recommend checking out Dr. Squatch's Soaps.
Any comments or questions are always welcome.