Philips Norelco Cheap Solution To A Multipurpose Trimmer – Worth It?
Philips Norelco is a well-known and respected grooming company, so I recently went online and purchase the Bodygroomer 1100 to review for my website. To see how well it performs and maybe help someone out looking for a good multipurpose trimmer. I will be going over the negatives as well as the positives of owning and using this trimmer to help you determine if it's worthy of purchasing.
Let's get some…
What Is the Philips Norelco Bodygroom Series 1100?
This hair trimmer is specifically for body hair. So, don't even try it on your beard, as I did, you will regret it very quickly. This is a microblade trimmer that is bi-directional meaning it trims hair both by pulling and pushing. Giving you versatility when using it.
This can either be used dry or wet as it is 100% water resistant. So, it can be used in the shower or rinsed under the tap for cleaning. This is a bidirectional trimmer as it can trim hair by pulling it or pushing it. This also comes with a AA battery as there is nothing to plug in or charge.
What Is Included When You Buy It?
1- Philips Norelco Bodygroom Series 1100 Trimmer
1 – Shower Strap
1 – Trimming Comb (1/8″)
1 – Skin Protector Guide Comb (1/32″)
1 – Cleaning Brush
1 – Instruction Pamphlet
1 – AA Battery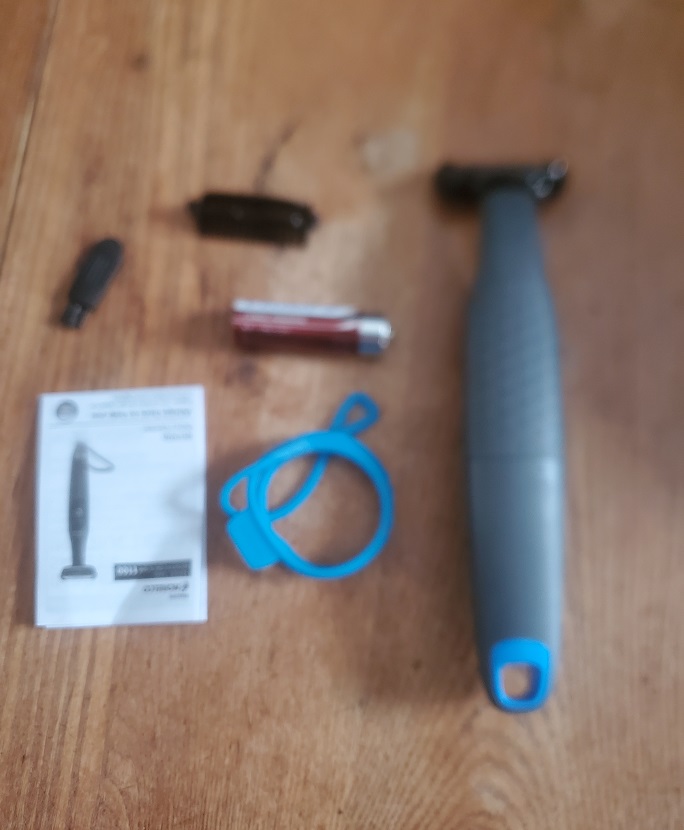 Specs Of This Trimmer
This measures 6 3/4″ inches long with a trimming head width of 1 5/8″ and an actual blade width of 1 1/4″ wide.
This takes 1 AA battery and one is provided with purchase.
The trimming guide combs are the Trimming Comb (1/8″/3mm) and the Skin Protector Comb 1/32″/.05mm).
Where Can You Use This?
Trimming underarms.
Chest hair.
Arm hair.
Groin hair.
Leg hair
Abs.
Back Hair. Would have to have a partner help though.
How Well Does It Work? Is It Worth Getting?
This is a cheap trimmer that will trim hair below the neckline pretty darn well. The motor is powerful enough to handle this hair. If you are looking for a multipurpose trimmer for the beard as well I would skip this. But if not, this is a really good little trimmer. As it does not claim to or actually handle beard hair. Trust me…don't use it on your beard.
Groin Trimmer…Yes!!!
I experience zero nicks or cuts using this down in the groin area. It does a good job of protecting you and you quickly feel comfortable going anywhere with it. Gets the hair really down low to where you can't even notice it. Pretty decent groin trimmer! I used the smallest of the guide combs (the skin protector comb) and it worked with no complaints.
I wasn't expecting this to perform as well as it did and it is nice to be pleasantly surprised.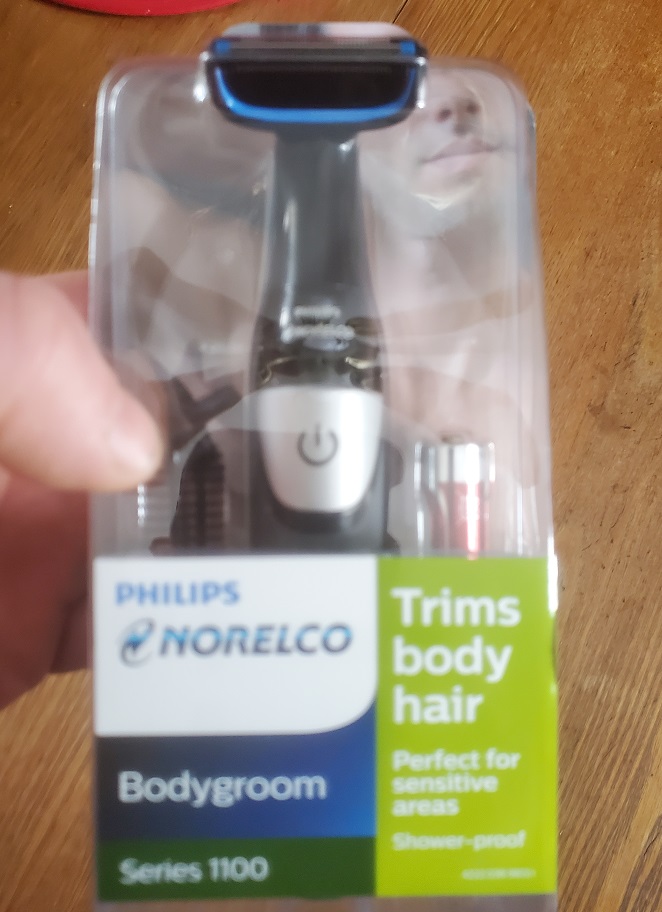 This mows through the arm, leg, groin, and body hair pretty fast and never bogs down. Hair does seem to accumulate around the guide combs but it is easily removed. I did all my trimming dry trimming meaning I used no water and had pretty good results.
The guide combs are easy to slip on and off and work great. The handle is also very comfortable along with the highly useful supplied shower strap which you place over your wrist to prevent drops. As dropping this type of trimmer can be a problem as the teeth are very fine and are easily damaged.
A highly affordable trimmer for body hair and I highly recommend it!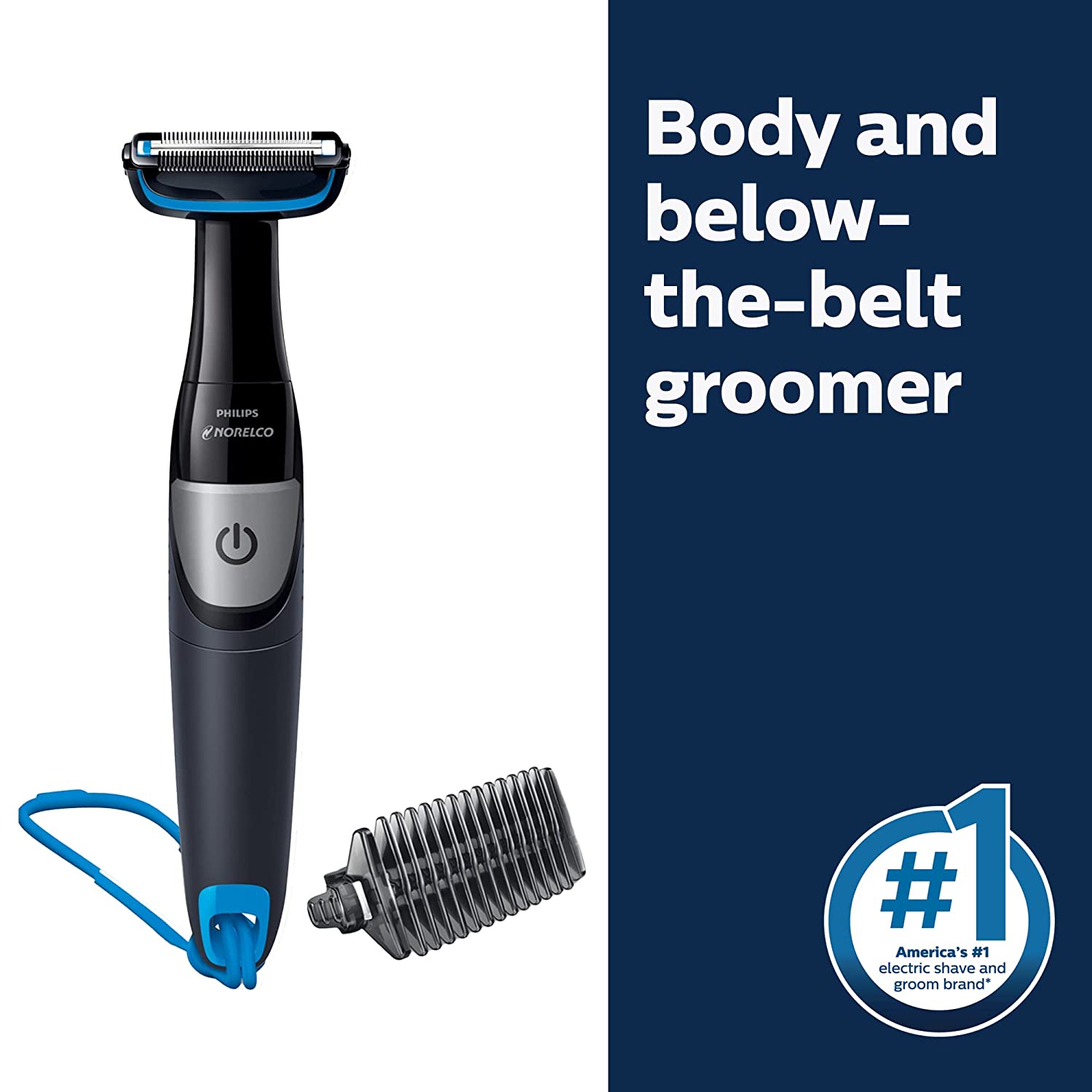 Pros & Cons
Pros
Works well for a ball trimmer as I experience zero pulling and grabbing. It handled the job well.
Waterproof. Can be used in the shower if that's your thang.
Bi-directional trimmer. It cuts both pulling and pushing giving you the option of choosing how to best use it.
Guard works great and prevents nicking.
They supply the AA battery which is included.
Love the shower strap. Keeps you from accidentally dropping it and damaging the easy-to-damage trimming head.
45-day money-back guarantee.
Full two-year warranty. See the instruction pamphlet for details.
The On-Off slide switch is great. As you don't accidentally switch on or off the trimmer.
Guide combs are easy to attach and unattached.
Can attack hair from any direction.
Very affordable trimmer (around $20 bucks)
Comfortable handle and is very wieldy.
This product claims the blade will stay sharp and doesn't need replacing.
Not extremely loud and not the quietest trimmer. Medium loudness.
Good close trim and leaves your private area almost like a shave.
Zero skin irritations.
Easy to clean.
A slim trimmer head can get into tight spots.
Cons
Beard trimming is horrible. Don't even try it! I have used better micro trimmers other than the Bodygroom 1100. This is designed for trimming thinner lighter hair than beard hair.
It grabs and pulls hair when using it on my beard. I had about two weeks of growth and the Bodygroom really struggled and couldn't keep up. One of the worst trimmers I have used on my beard. Philips Norelco doesn't claim this trimmer is for the beard though.
Hair clogs with hair when using either of the guide combs. It's not hard to clean out but it is noteworthy.
Hair is harder to cut with this trimmer when wet of hair is wet.
Can be easily damaged if dropped.
Other Trimmers Worth Looking At
Philips Norelco knocks it out of the park with this trimmer. This is one grooming tool I use every week. It is that damn good. This thing just rocks!!!
This trimmer works so well that it is almost like shaving but faster. It trims hair so close to the skin. I have been using this for over a year now and I am still using the same blade and it has never let me down. Just a workhorse. This tool can handle a beard unlike the Bodygroomer 1100 and it can handle the hair on the rest of the body too. It cost more but I think it is really worth it.
I've written a review highlighting all of its features here, Philips Norelco OneBlade Face & Body Review.
Tips & Questions
Can You Use It On The Groin Area?
Yes, it works great and doesn't cut you.
Guide Comb Won't Go Back On
The guide combs are keyed and have an indention on top. There is a small arrow on top of the guide comb, this should always be on top. If it doesn't fit flip it to match the slot to the top of the trimmer head.
Can You Use This On Your Beard Or Neck?
No, it is not designed for this purpose.
How Long Does The Blade Last?
The Blades should stay sharp for years. As this has self-sharpening blades.
Can I Use It In The Shower?
Yes, but the manufacturer says it works better with dry skin and dry hair.
The Final Shave
If you are looking for a cheap device that trims hair below the neck then maybe this is the right trimmer for you. It handles trimming the hair with a powerful motor that I could never bog down unless I tried it on my beard. It doesn't feel all that cheap as the motor gives you a nice sound when operating and everything seems sturdy enough.
For the price, you will not find a cheaper groin trimmer that works this well.