Today's article, Mangroomer Platinum Pro Review is reviewing the newest electric back shaver from the best manufacturer of electric back shavers on the market to date. I've been reviewing Mangroomer products for years now and I can honestly say they work great. I will be reviewing and highlighting the many features of this back shaver to help you determine if this is right for you personally.
So, let's get cracking…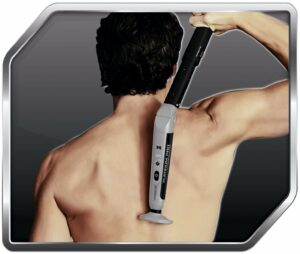 What Is The Mangroomer Platinum Pro?
This is Mangroomer's most recent and 8th generation back shaver. They claim that it is the most advanced back shaver they have built to date. Having been in the game for over 18 years with research and development this says something about their company. Mangroomer makes the best electric back hair shavers in the world, I know because I have reviewed about everyone on the market and nothing compares to Mangroomer in the electric back shaver world.
This back shaver is a rechargeable cordless electric back shaver that has three different shaving/trimming heads. One for shaving (foil type shaver) and the other two options are for trimming the hair, these two vary in width. The handle is very comfortable and adjustable allowing you to adjust the angle up to 135 degrees.
Features
Power Burst button for immediate more power.
Extendable Handle
Patented  135 Degree Angle adjuster that is adjustable in 15-degree increments.
Pro XL Extension Lock Button
2 Trimming Heads
1 Shaving Head
Lithium battery.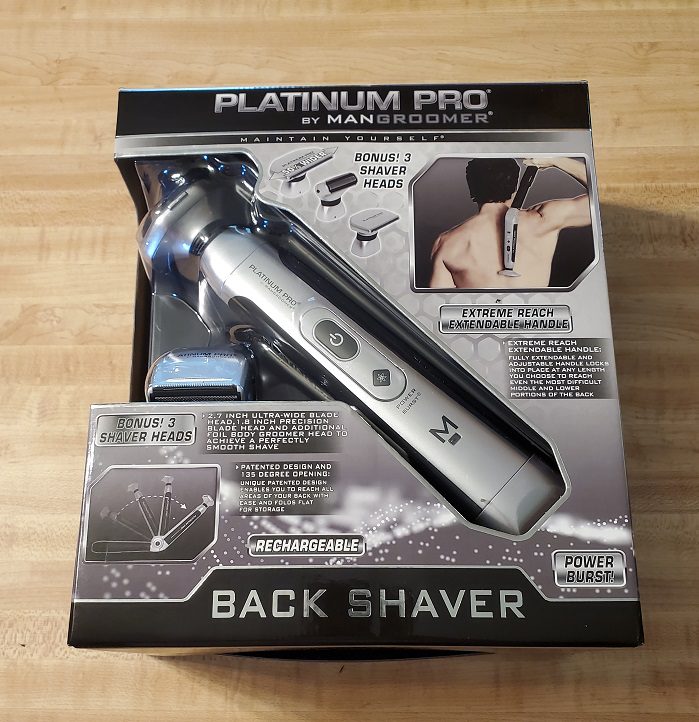 What Is Included?
1 – Mangroomer Platinum Pro Back Shaver
1 – Shaving Head (Foil Shaver)
1 – 2 1/2″ inches Trimming Head
1 – 1 3/4″ inches Trimming Head
1 – Charging cable
1 – Storage Case
1 – Small bottle of lubricating oil
1 – Instructions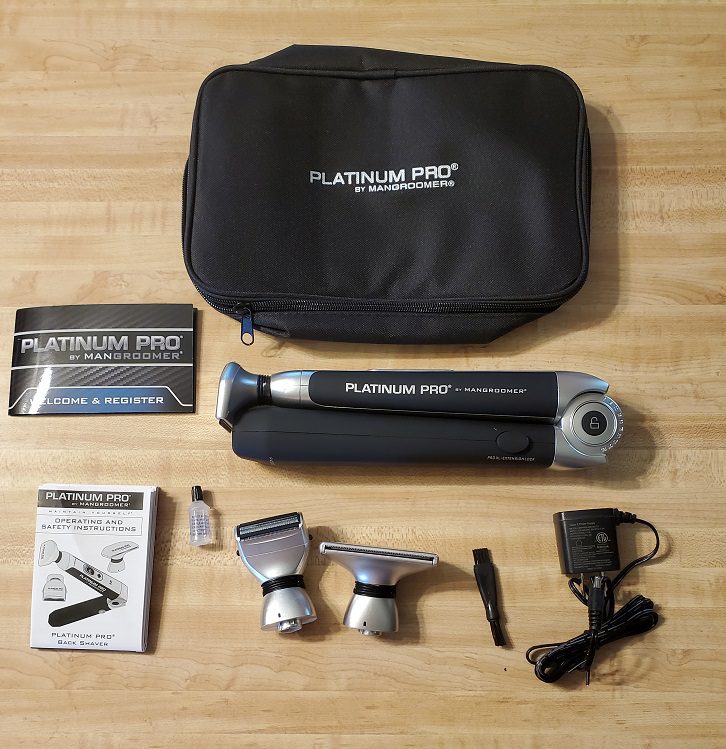 Mangroomer Platinum Pro Specs
When fully collapsed it measures 10 1/2 inches long and when fully extended it measures about 22 inches long. This weighs roughly 1.2 pounds.
Does It Work? How Does It Perform?
Yes, it works and it performs pretty well. I was using the smallest trimming head without the handle extended and was pretty perplexed by the lack of indexing. This is the ability to easily hold the trimmer flat against the skin. But upon extending the bottom half of the handle using the button located on the lower half of the handle I found indexing became much easier. This extra angle increased the length and also increased the ability to correctly index the trimming head.
I have always loved the handle for its comfortable grip as it has a nice rubberized feel to it and fits great in the hand.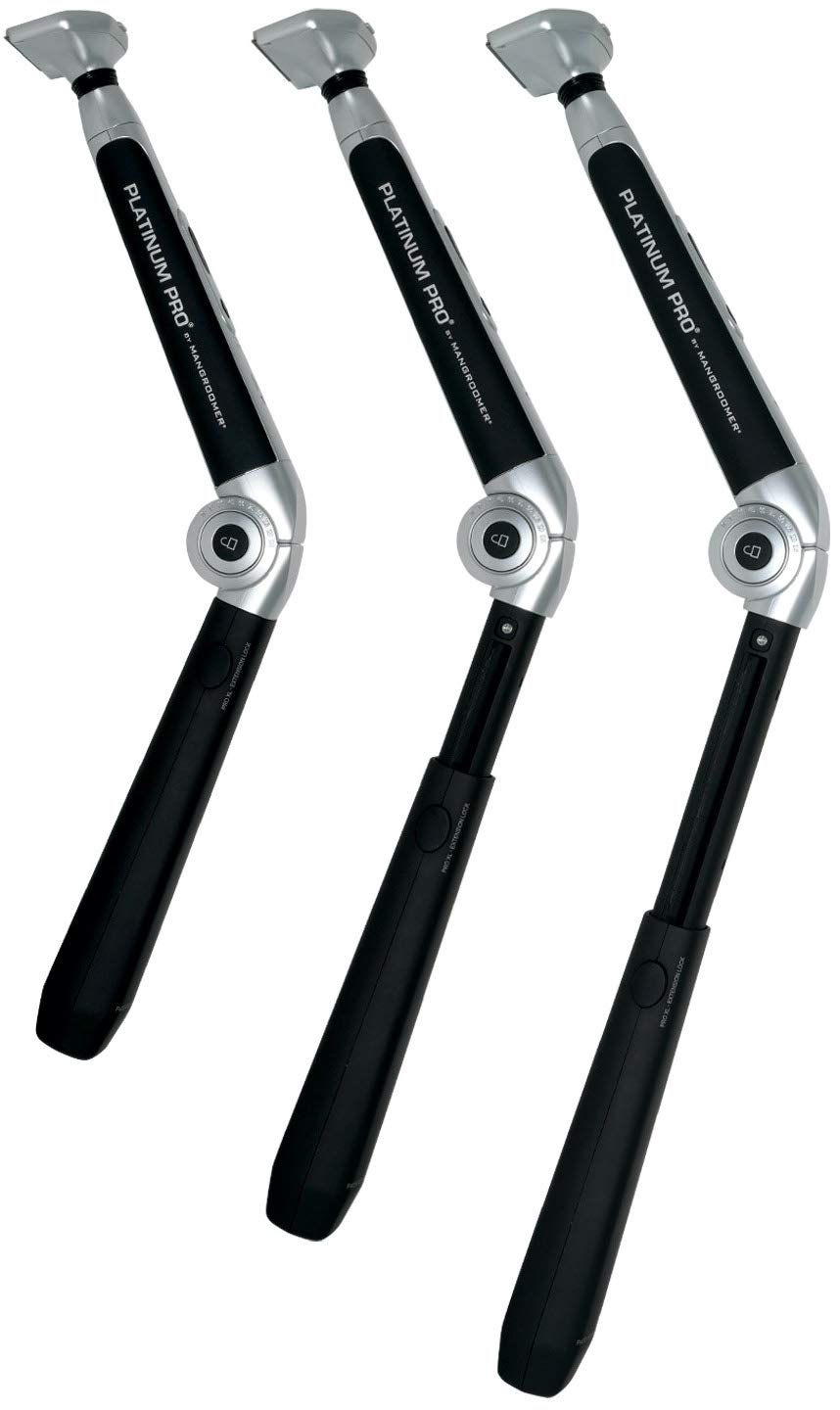 Some areas of concern are in the wider trimmer head provided. As it didn't have the same sound as well as performance as the less wide head provided. The wider head also seemed easier to bog down with hair as compared to the smaller head.
They have a great design and all of their products work great.
I don't see any major improvements overall as compared to the older higher-end models like the Mangroomer Lithium Max Plus and the Mangroomer Lithium Max. The only major difference is the second trimming head provided. As the older models only come with one trimmer head. It is also the first time a storage or travel bag is included.
You can read my other review of these here:


Will I Use The Mangroomer Platinium Pro For My Back Shaving?
No, although I can safely recommend this back shaver to most people, I prefer a manual back shaver that takes far less time. Time nowadays is in short supply, so if I can save myself 10-20 minutes you bet your ass I am going to save time. Plus I prefer razors on my back shaver to shave my back. To check out my number #1 back shaver head on over to my review here, Bakblade 2.0 Elite Plus Back Shaver Review.
Pros & Cons
Pros
Best electric back shaver company there is.
Has a smaller wall wart (charging cord). This is very appreciated as I have seen some large and cumbersome wall warts.
The handle is super comfortable.
Lithium rechargeable battery! For faster charging and holding a charge longer. Great to see.
Love the storage case as this allows for keeping all the components in one spot and avoid misplacing them.
Handle length is more than enough to get all areas of the back.
Love the power burst button, if you need more power just press it.
Has a charging light so you know when it is charged and needs charging.
Some men don't want to shave their back, this is a great option for them. As you could just use the trimmer head to take the back hair to just above skin height and avoid the problem of shaving.
2-year warranty but you must register at their website after purchase.
Love the option of having a wider trimming head.
The handle is highly adjustable in angles as well as length, as it has a button on the lower handle section that lengthens the handle. This makes shaving much easier!
The extendable handle is amazing.
Mangroomer recommends starting off with the smaller trimming head instead of the wider one. I wonder if the wider head doesn't perform as well as the smaller trimming head. I can definitely hear a difference between the two. Do they know something? I don't know but I suspect.
Changing the different trimmer heads and shaving head is simple and a great design.
Have an active duty military discount on their Mangroomer website.
The foil shaver head is bi-directional that allows you to shave both pushing and pulling.
Cons
Takes a long time. Getting your back hair completely removed with this Mangroomer will take a longer time than a manual back shaver. As effectively you will have to go over your back at least twice, once with the trimming head and once with the shaving head.
The wider trimmer head seems to have more slop in it, I judge this because of the noise it makes. Seams to be cheaper.
The wider trimmer head seems easier to bog down with hair as well.
When going fast with the shaving head has a tendency to pull hair. Ouch! I found taking is slow really elevates this. So slow down.
Hard to index when shaving without the handle extended to a longer length, as the shaving head wants to turn and not remain flat against the skin when shaving. Using some sort of mirror helps keep the trimming/shaving head flat against the skin.
Not really sold on the feature of the shock-absorbing neck. Maybe it helps but not really sure.
Mangroomer recommends replacing the blades every 6 months depending on use, to maintain you're getting the best trim/shave. This needs to be figured in if you're considering the long-term costs.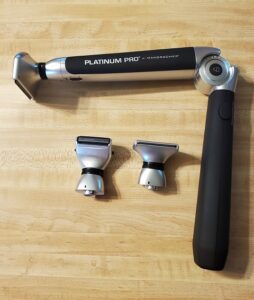 Tips On Using This Back Shaver
I always use the trimmer head to shorten the length of the back hair first, then switch to the shaving head to get the hair down even further.
I always use the power burst mode for trimming back hair. I don't want to mess around. Give me the power burst mode always.
When using the foil shaver always go slow and do not press hard.
Make sure the handle is extended this allows for more easily shaving and trimming back hair. The button is found on the lower half of the handle.
I had a slightly rough time keeping the shaving/trimming heads flat against my skin when using. This is called indexing and not very pleased with how much effort I need to exert to get it to shave. This got a lot better extending the extendable handle to the full length. Using a mirror helped a lot as I could make the adjustment needed. I have recently reviewed a mirror that allows you to see your back more when shaving, The Lipfi's Barbershop 360 3 Way Mirror Selfcut Review.
Always take the time to clean out (shaving head) as well using the little brush supplied to clean out the trimming heads after each use. They recommend to rinse with water and wipe clean. Then apply a small amount of oil (also supplied) to the moving parts to keep this shaver in top working form.
Common Questions Answered
How Long Does The Charge Last?
I don't know have only used it twice since purchasing this. But I do know it lasts 5 times longer than a NiHD/NiCad battery.
What Is The Warranty?
Yes, there is a 2-year warranty but you must register the product when purchased.
Is It Waterproof?
No, it is not waterproof and should not be used in the shower.
What Type Of Battery Is Used?
Mangroomer uses a Lithium battery.
The Final Shave
This performs pretty well for an electric back shaver. All the benefits of their past higher-end models with a few extras like an additional trimmer head and storage/travel bag. I was a bit disappointed in the performance of the wider trimming head as I think it needs to be better designed and perform up to the smaller trimmer head performance. If you find shaving your back with an actual razor to be problematic (irritations, cuts, etc.) I would highly recommend the Mangroomer Platinum Pro right up your alley.