After recently reviewing both the OneBlade Core Razor and the OneBlade Hybrid Razor I thought I would highlight some of the differences and share my experience using both of the razors to help others properly decide what razors are right for them. So, let's get reviewing and Compare OneBlade Core vs. VS OneBlade Hybrid.
I've been wanting to try out these new razors as I've been seeing them all over social media for a long time now. So, I just broke down and bought one, then I was hooked even though it wasn't quite the right fit for me personally. As I purchased the Core Razor not really reading it was a less aggressive cut. I liked the Core so much that I purchased the next step up in the line from OneBlade, the Hybrid Razor.

I haven't really been shaving for years, but now I find myself wanting to shave and actually enjoying the whole process.
My Reviews of Both Razors
As stated above I have reviewed both of the razors and for a more detailed look at the razor individually I recommend checking out my reviews below.
Features Of The Core
The cheapest razor sold at OneBlade.
Polymer and stainless steel construction.
A beginner blade is great for the inexperienced.
Men with fine facial hair.
Less likely to nick or cut yourself while shaving.
No razor bumps, razor burns, or skin irritations.
Beautifully designed razor.
Uses one single bladed razor blade.
Open slots on the back of the razor to allow water to rinse hair out. Works decently.
Lifetime Warranty!
It has a nice heft to it.
Easy to install and remove blades.
Comes in two colors. (black & white)
Pivoting head.
Who Is The Core For?
The Core Razor is for the inexperienced shaver. The angle is set to be more forgiving, which means you are far less likely to cut yourself. It is also for men that have fine facial hair that just shaves once in a while.
It is for anybody looking to avoid having any skin irritations that go along with shaving your face.
This shaved my face, which is pretty dense with facial hair but it took a while. The first time I used it, it seemed to take a long time to shave my face. But the more I used it the better I seemed to shave with it. It just takes longer and I knew I wanted a more aggressive razor. I mean I could use it but I would want it to shave faster than it did.
Features Of The Hybrid
The middle-priced razor at OneBlade.
Polymer and stainless steel construction.
Beautiful and sleek razor.
Lifetime Warranty!
Wider Slot on the back of the razor to rinse out the hair. Always removed hair and never clogged.
Uses 1 single-bladed razor.
It is considerably heavier than a standard cartridge beard razor.
A significantly more aggressive cut than the Core.
Zero razor bumps, razor burns, or skin irritations.
Super easy to remove and install blades.
For intermediate users with a moderate amount of facial hair That shaves on a semi-regular basis.
Comes in two colors. (black & white)
Pivoting head.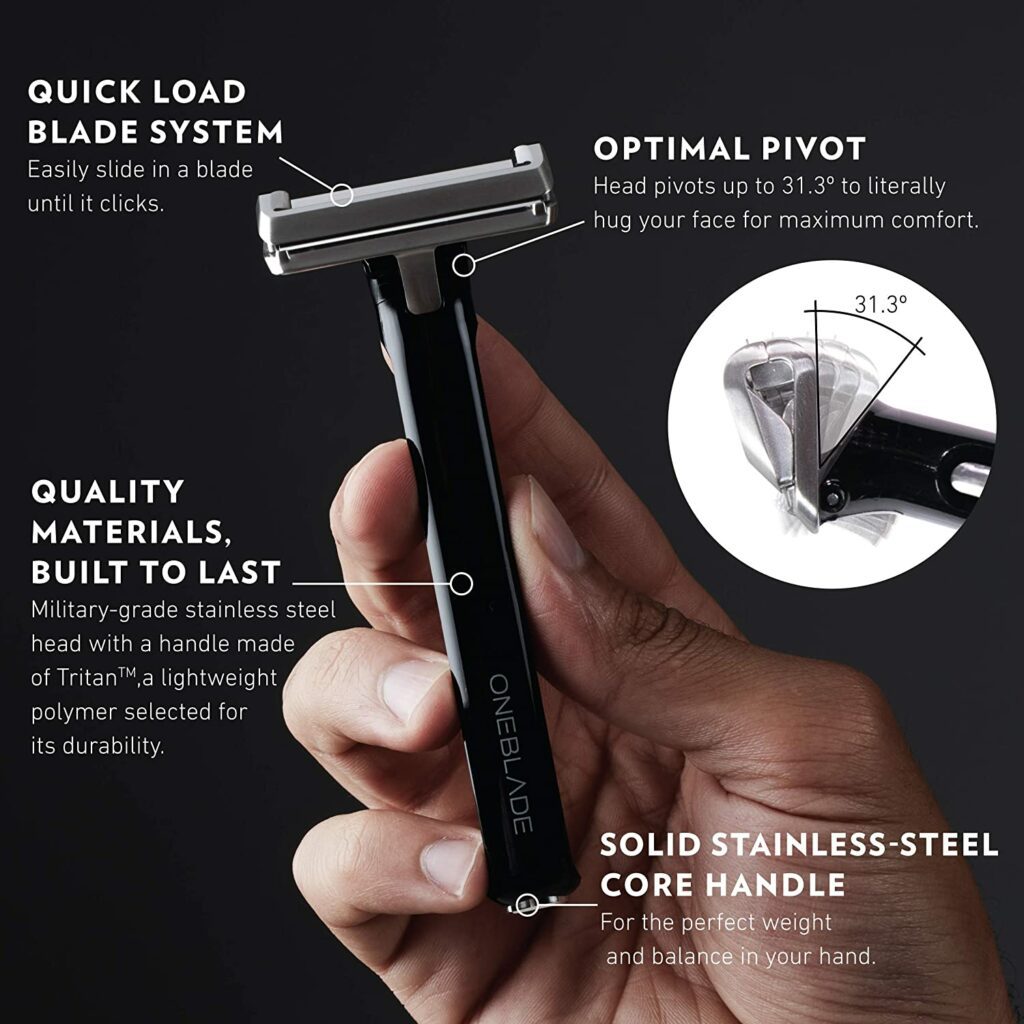 Who Is The Hybrid For?
The Hybrid Razor is for intermediate users that have been shaving for years and familiar with safety razors. This is a definite step up from the Core Razor in terms of aggressiveness. It takes less work to shave but is also more able to nick or cut yourself.
Just because this is more aggressive doesn't mean it causes skin irritations because it doesn't. I have the same results from the Core Razor as I do from the Hybrid Razor in terms of skin irritations. Zero, zilch, nada!
This is also designed for men with a moderate amount of facial hair and who shave on a semi-regular basis.
What Are The Differences?
The biggest difference and most notable is the aggressiveness of shaving is in the two. The Core is more forgiving and takes less hair off compared to the Hybrid. The Hybrid is definitely more aggressive and I never struggled with taking hair off with each pass. This isn't marketing fluff it is the truth. There is a very noticeable difference.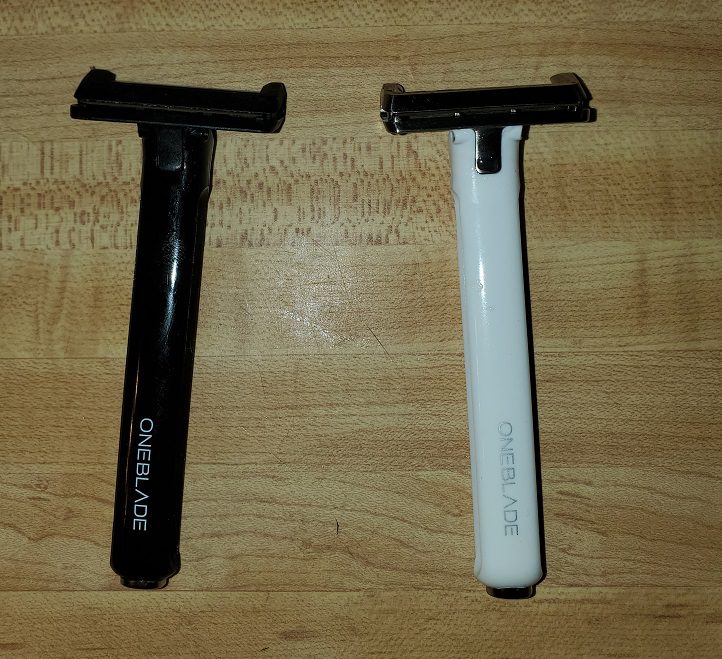 Also, the head of the Hybrid is handcrafted just like their top-of-the-line Genesis Razor. These are not mass-produced like the Core Razor is. The head is handcrafted one at a time having stricter tolerances in machining metals. More attention is put into the head of the Hybrid.
I Hate When Razors Clog, Don't You?
Very rinse friendly, both of them. Night and day difference compared to standard cartridge razor blades.
The other difference I noticed is the holes in the back of each razor. These are water openings so you can rinse out after each pass of the razor. These both work well but the Hybrid works better. This is because the Hybrid has a huge rectangle cut-out (compared to the Core) opening as the Core has three smaller square cuts in the back.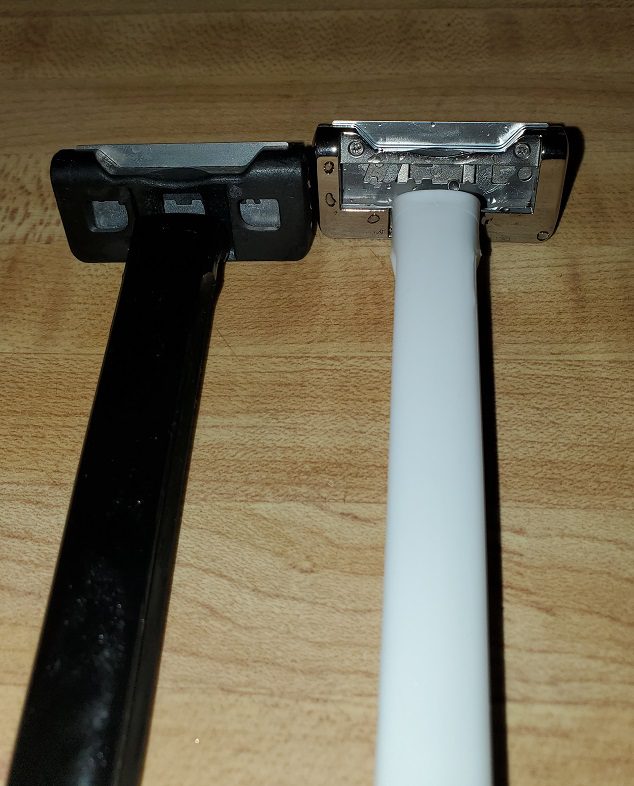 This allows much more water to enter and flush out hair and debris. I paid close attention to this while using both razors as I would rinse after each pass. The Core had a few hairs stuck in there after the rinse and the Hybrid never had any! The Hybrid was left clean after each water rinse-out.
Also, you can remove the razor blade to make flushing the hair and gunk out of the razor much easier.
Price
Another difference is price. Considering all OneBlade Razors are guaranteed for lifetimes you can't really go wrong. If something broke or you dropped it and it broke or something you contact them and they will take care of you.
The Core is the cheapest and can be had for around $30.00, prices often vary with deals and other reasons.
The Hybrid is the middle of the pack at OneBlade, coming in at around the high end at $125.00. This can seem a lot for a razor, right?
But you do get a real quality piece and a lifetime warranty. Plus it is a great razor too!
Which One Is Better?
The best one is dependent on your beard growth and experience.
The Core offers a reduced risk of nicks and cuts but the shaving performance is hindered. This is designed for a man sporting a fine beard growth and not shaving as often. If you are such a man this would be for you.
The Hybrid offers a drastic boost in performance but increases the risk of nicks and cuts. This shouldn't be scary or anything just need to be aware of it. Common shaving techniques and prep, along with just slowing down really alleviate any risks. This is meant for men with moderate beard growth and who shave on a semi-regular basis.
I Prefer The OneBlade Hybrid
A truly transformable experience I am having with the Hybrid. It offered everything I wanted in a razor. Done are my days with the common fair of razors bought at the local drugstore. I'm not ever going back to using them again as the deal-breaker for me was finding a razor that performed great and didn't irritate my skin.
But what I prefer is not what is relevant to you, I just shared my experience to help better inform you. Get the one that best suits your needs, whether it's the Core, Hybrid, or Genesis.
Rest assured both are great razors for their intended purposes!