Look Balls Can Stink. What Are You Going To Do About It?
To keep odors in check and for a bump in confidence using a good ball deodorant can make life a lot easier for a man. So we will be looking at Meridan The Spray today and doing a full deep dive into this product and see if this spray does an excellent job of keeping things fresh down below.


Full Disclosure
I am an affiliate of Meridian. I purchased the spray with my own money in order to use it and review it. I will earn a small commission on purchased links that are clicked on this page. I only review products I have used or own and report back on this website the results. If you find this page helpful please help support it.
What Is Meridian The Spray?
This is a small spray bottle that comes in at 1.9 oz. and is used to help neutralizes odors, relieve redness, and increase skin hydration.
So basically, a ball spray for your junk to keep things smelling fresh and clean.
This is made by Meridian which focuses its business on dealing with general hygiene products. Meridian makes the best groin trimmers hands down. I have been using their products for almost two years now and I have been really impressed with their quality. A great company.
I initially was introduced to The Spray when I purchased The Maintenance Package from Meridian. Which included the Meridian The Trimmer, two replacement blades, and The Spray. I initially thought I would hate The Spray but actually found that I really liked it and it opened my eyes to ball deodorants. Since they sell The Spray both individually and in a package deal I thought I should do a proper review.
How To Use It
Meridian recommends using 1-2 pumps on your groin after a workout, shower, or whenever you feel the need for a quick refresh.
Ingredients
It's important to check any product that you will be applying to such a sensitive area of your body. So I have listed the ingredients below.
Water, Butylene Glycol, Turnera Diffusa Leaf Extract, 1,2-Hexanediol, Witch Hazel Water, Moringa Pterygosperma Seed Extract, Green Tea Leaf Extract, Glycereth-26, Hyaluronic Acid, Octyldodeceth-16, Allantoin, Coconut Acid, Proline, Bergamot Oil, Sandalwood Oil, Pelargonium Graveolens Flower Oil, Sunflower Seed Oil, Glycerin, Ginkgo Biloba Nut Extract, Panax Ginseng Root Extract, Tomato Fruit Extract
Performance – How Well Does It Work? Is It Worth Getting?
This is the first ball deodorant or ball spray I used as I got it with the Meridian Trimmer. It really helped me open my eyes to using this kind of product. Even if you don't have a swamp crotch or a real stink problem, it can increase your confidence. You would be surprised, at least I was.
How Does It Smell?
This is a subtle smell but what comes off initially to me is a light citrus odor with just a hint of sandalwood.
This I find very refreshing light and enjoyable and I really like it. It smells nothing like cologne but just a hint of natural scents. Very appealing. The scent also doesn't project, it stays very close to the skin.
How Long Does The Protection Last?
As mentioned before the scent is pretty subtle and so you would not expect the scent to stick around for long. As subtle scents usually don't have a long lifespan. But I do believe the odor protection is still there and will probably get you through your day without any odor problems. If not just spray a few sprays and your good to go.
Overall
This is a pleasing subtle-smelling ball spray that will help your balls smell better.

Pros & Cons
Pros
Very gentle natural clean and pleasing scent. Nobody wants a cologne smell reeking from your crotch.
Just one or two sprays will do you for the day.
Super easy application. Spritz, spritz, and you are done for the day.
The small bottle can be kept just about anywhere (pocket, desk drawer, etc.) for easy access whenever you might need to refresh.
Uni-sex. A man or a woman can use this.
After showering I usually spritz some on for added protection, which boosts my confidence for some reason. I enjoy using it.
Excellent distribution of product when sprayed. Two sprays should easily cover any area.
Made in the USA.
Can be purchased with the Meridian Trimmer or Meridian Trimmer Plus for a discount too. Also, don't forget about my Promo Code down below too.
Cons
No real anti-chafing protection at least compared to other products I have reviewed.
Other ball deodorants might offer longer protection as The Spray scent seems to be gone after around 3 hours. At least this was my experience.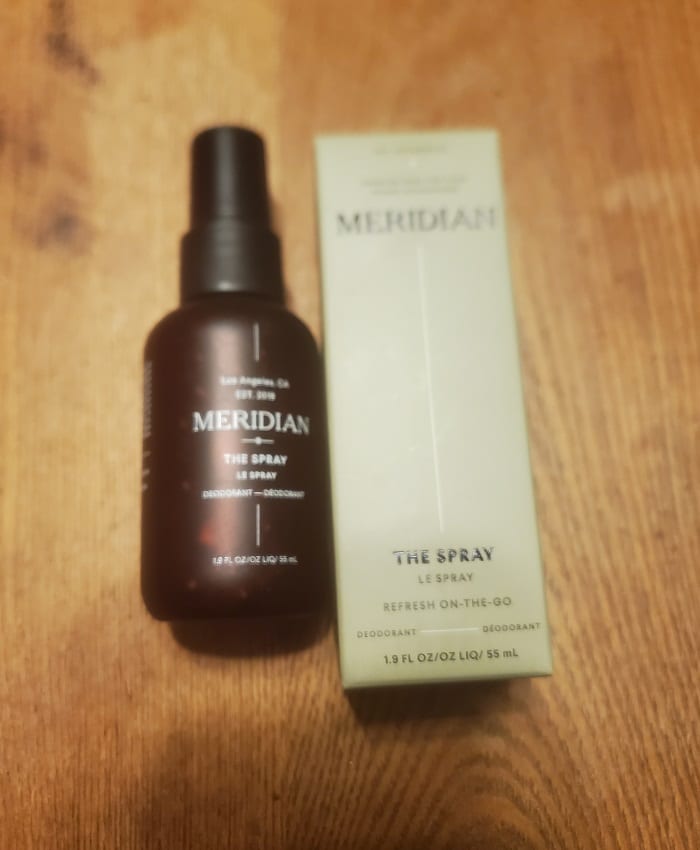 Tips & Questions
Promo Code
Use the coupon code SPRINGINYOURSTEP to save 10% OFF the sitewide offer until May 31, 2023.
Do You Need A Ball Trimmer? Get This!
Part of taking care of your "package" is also maintaining its appearance. This is taking care of your jungle down there…your pubes. Trimming your groin hair has a few benefits along with appearance benefits, for example, reduced sweat and stink. As the hair can trap heat and give bacteria more places to live.
Meridian also in my opinion makes the best ball trimmer, the Meridian Trimmer Plus. This thing just simply just hair without nicking you. It's that simple. A real quality-made device. I just recently received and reviewed the Meridian Trimmer Plus and this is the best ball trimmer on the market.
I've reviewed both Meridian Trimmers (The Trimmer & The Trimmer Plus) and they have never nicked or cut me. Both trimmers are great but I would recommend the Trimmer Plus because it has more features than the older model.
Check out my reviews below if interested in more reading.
The Final Shave.
If you're looking for a naturally smelling ball spray that is made with high-quality ingredients then Meridian The Spray is the ball spray for you. It will boost your confidence as well and help stave off bad odors.
If you are having problems with chafing it might be better to look into a different product.
I highly recommended it!