How Are They Hanging? So Fresh? So Dry?
I sure hope so, as nobody wants wet moist balls or the discomfort from chaffing or worse yet stinky balls. Many of these types of issues men suffer from need a workable solution to help control and eliminate the excess moisture, stink, and chafing. Today I will be reviewing Fresh Balls Soothing Anti-Chaffing Cream in this post, Fresh Balls Lotion Review – Does It Really Work?
I have reached out across the internet and to of all places Amazon and purchased some ball cream (boy, that doesn't sound good does it?) in order to slap some on the old boys and give this product a proper trial and review and to help determine if this is worth purchasing.
Let's see how this works and performs…
What Is Fresh Balls Soothing Anti-Chafing Cream?
All of us men know that depending on our level of physical activity or environment (sticky hot humid weather) or a combination of the two can lead to a feeling of discomfort and possibly some stank as well. Fresh Balls is a men's product to help alleviate these conditions. This comes in a 3.4-ounce container and holds a lotion that applies wet but quickly dries into a thin powder that helps avoid bad odors, chaffing, and excess sweating for your balls.
Directions On How To Use
Shake well before use.
Apply with your hands to the desired area.
Reapply if needed.
After you apply wash your hands.
Guys That Might Need This Or Situations It Might Be Needed
All men, I don't care who you are, might sometimes need a ball cream. Whether you play sports or just work a manual labor job out in the hot sun or anything in between sometime in your life you might get some kind of problem "down there". Nobody is really going to tell you about your sweaty and gross ball smell. That is something that you should be paying attention to and addressing.
Maybe you don't think you have a problem down there but in reality, you actually might. Or maybe you are all good, I don't know.
Ingredients Used
I couldn't find the ingredients anywhere listed on the internet so I had to break out my readers and struggle reading the back of the very small writing on the back of the product. Would be nice if Fresh Balls would put this on their website.
Water
Tapioca Starch
Propanediol (Corn Derived) "Zemea"
Phenoxyethanol (Preservative)
Carbomer
Ethyhexylgly (Preservative)
Aminomethyl
Propanol
Polysorbate-60
Xanthan Gum (Natural Thickener)
Aloe Barbadensis (Aloe Vera) Leaf Juice
Coco-Caprylate/Caprate
Avena Sativa (Oat) Kernal Extract
What Does It Smell Like?
Me personally, I don't wear offending or projecting colognes, deodorants, or soaps. I just can't stand that kind of scent anymore. Thankfully, this scent is very light and clean-smelling. I don't know about you but I don't want a clubbing scent projecting from my groin area throughout the day, nauseating me and my fellow co-workers.
To me, it smells like aloe vera with a touch of baby powder thrown in. It doesn't project but stays really close to the skin and is very natural smelling. For this, I give it high marks and a high recommendation as well. They live up to their name "Fresh Balls" as they will leave your nuts smelling very fresh and natural.
So, it smells good and natural. Winner!!!
Performance
This lotion comes out like any other lotion wet but quickly dries to form a thin film. It takes about 2 to 3 minutes for me for this to happen. But once it dries it has a slickness to it that really reduces friction.
After wearing this lotion on my balls for a week I really like how it handles everything down there. Everything from the scent to the almost frictionless feeling in my groin area makes using this very pleasurable and rewarding. Things just move better down there, with more sliding and less friction. It's the small things in life that make them better and so are the case with Fresh Balls lotion.
Granted it is cold where I live right now at the time of writing this review, but I do physical labor at a factory and I do work hard. So, I do get my physical activity ramped up throughout the day. I would like to put this through the test when it is 90 degrees out with 90 percent humidity as well but I will have to wait.
I really enjoy the comfort I feel when I use this. I never had any foul odors emanating from my groin either. Believe me, I checked but not too often that would be weird, right?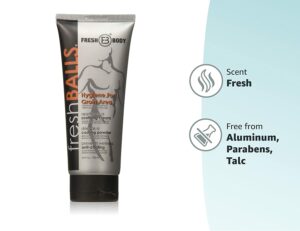 Pros & Cons
Pros
Smells pleasantly natural and clean.
Dries quickly. It only takes a minute or two to thoroughly dry once applied and start working.
A very pleasant fresh and light clean smell. Not overpowering in the slightest.
Not tested on animals. Just humans.
Hypoallergenic.
No Talc, No Parabens, and Aluminum Free.
Made in the USA.
When applied things just glide more and things don't bind or chaff. This makes a sticky situation less likely to occur and more enjoyable.
You usually can save a little money by buying multiple tubes of Fresh Balls over just buying one tube.
Cons
Couldn't find anywhere online posting the ingredients. Had to resort to my failing eyes and a pair of readers to read the ingredients posted on the back of the actual product. I'm getting old, I guess…
FAQs & Tips
Does Fresh Balls Lotion Expire?
I can't read any born-on date or any expiring date, so my guess would be that it doesn't really expire. But according to the directions, it should be shaken before use. Over time it might begin to separate. So just be sure to shake well before using.
Looking To Shave Them Nuts Too?
You don't have a ball trimmer yet? Come on, get with the times plus it helps to keep odor and sweat to a minimum by trimming that hair off. Hair traps heat and sweat and makes it a ripe breeding ground for bacteria. Another great way of reducing odors.
Two of my favorite ball trimmers are the Meridian Trimmer and the Happy Nuts The Ballber Electric Hair Trimmer. These two dedicated ball trimmers work great and most importantly don't nick or cut you "down there". These two trimmers have never nick me and I have been using them for years now.
You can read more about them here:
Promo Code
Use the promo code for the Meridian Trimmer JAN10OFF to save 10% off the offer good til Jan. 31, 2023.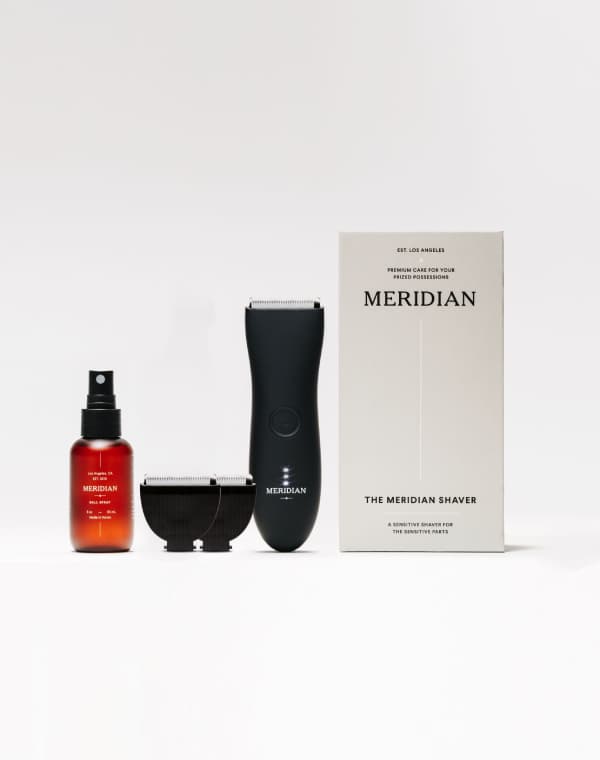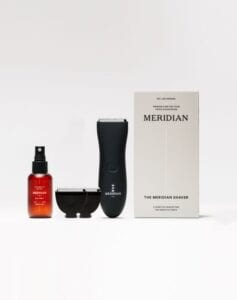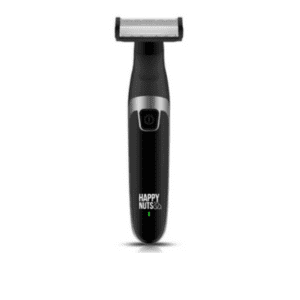 The Final Shave
This is the best-smelling ball cream I have tried to date plus it makes things feel/slide around "down there". This makes being a man more enjoyable and less of a chore.
It performed its job very well and with this, I can highly recommend trying this product especially if you have moisture or odor problems or just want things to feel better.
Great product!!!