Today we will be dipping our toes again into a new and emerging world of micro-teeth trimmers. That is the King C Gillette Style Master Trimmer to be more precise. I have purchased this trimmer myself in order to bring content and information that buyers might find useful in determining if this is a good product for their use. So let's get into this King C Gillette Style Master Trimmer Review to see if it is worth buying it. Shall we…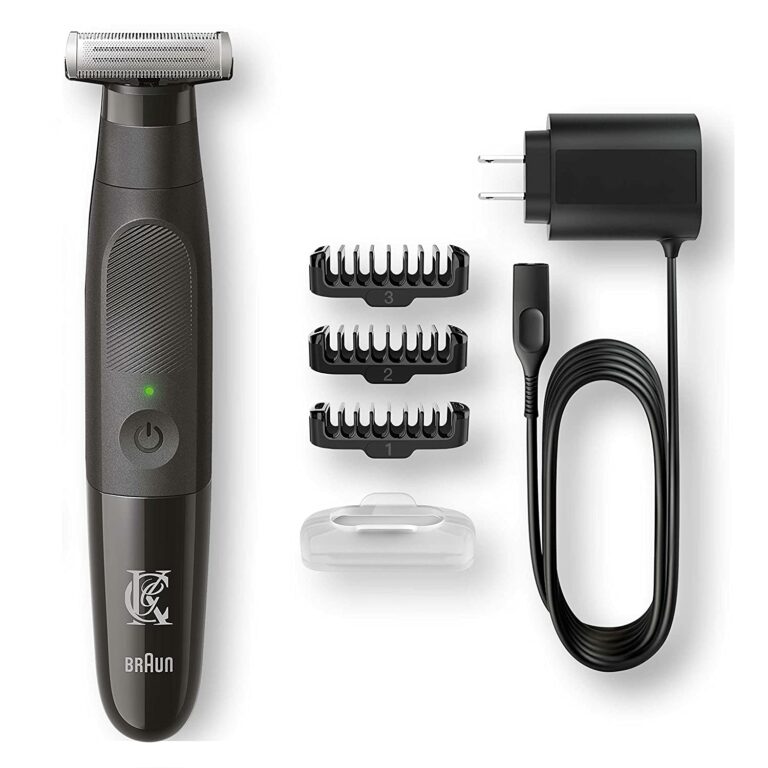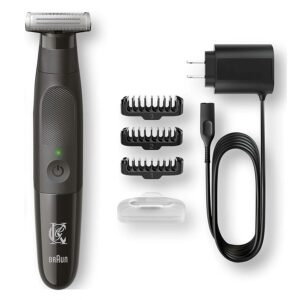 What Is King C Gillette Style Master Trimmer?
This is a rechargeable electric trimmer/shaver grooming tool that can be used to trim hair on various parts of the body. This is marketed as a 4D Blades that can trim both long and short hairs. This confuses me as I don't understand the 4D, maybe I am just being dense, I don't know.
The unique feature of the blade is that it has micro-teeth that can get really close to the skin and can be used to get precise edges when using. This is a popular design that many companies have adopted and marketed. There are two trimmer blades one on top and one on the bottom that can be used for both pushing and pulling. There is also a small foil-type shaver in between the two trimming blades.
The King C Gillette product line is named after of course the inventor and American businessman King C. Gillette. He innovated the best-selling version of the safety razor blades which was thinner and less expensive than the current design at the time.
Where You Can Use It On Your Body
Beard
Body Hair
Possible groin area with a guide comb attached.
Eyebrows with or without guide combs.
Sideburns
Goatee
Groin Area
You could use this with a guide comb attached and it would work but would I recommend it. Probably not, as it will not work as well as a quality-made dedicated ball trimmer. You can get the job done with the Style Master but it will take more work and more time.
If you are looking for an awesome ball trimmer I would highly recommend you check out my review here, Meridian Trimmer Review – Best Male Pubic Trimmer?
A really great ball trimmer that won't cut you!
What Is Everything That Is In The Box?
1 – King C Gillette Style Master Trimmer
1 – Recharging Cord With Wall Wart
1 – Set Of Instructions
3 – Guide Combs (1mm, 3mm, and 5mm)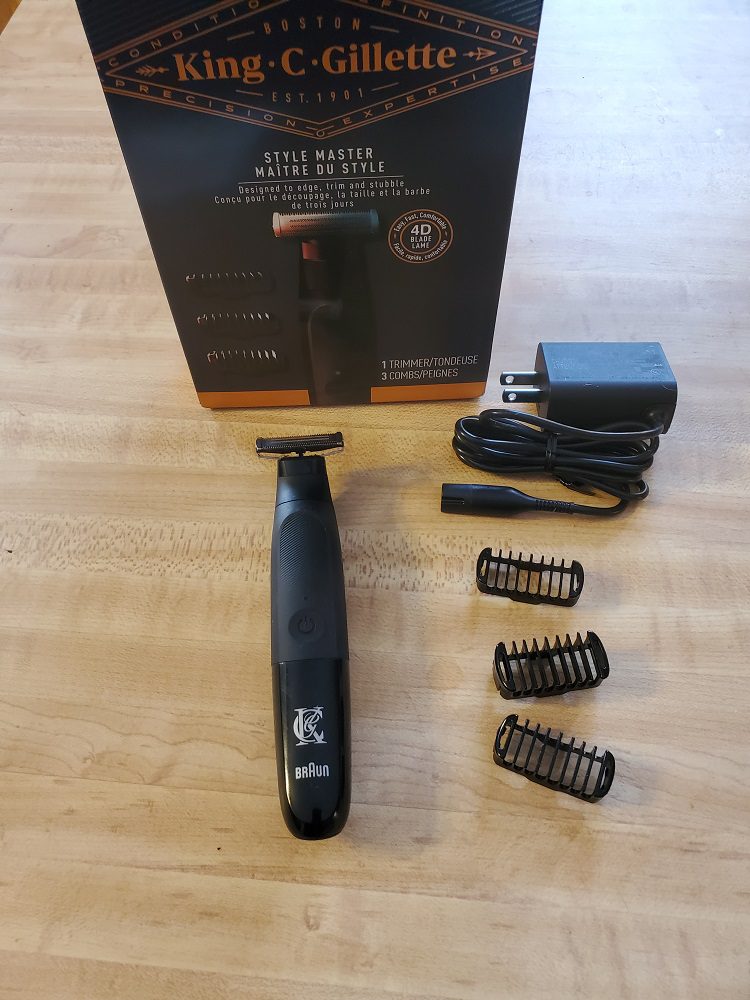 Specs Of The Style Master
Lengths
The Style Master trimmer measures 5 15/16″ inches long and the trimming blade measures 1 5/16″ wide. The trimmer head pivots for going around the edges. The blade looks to be stainless steel and the company states the replaceable blades stay sharp for 6 months. My guess would be longer but that is me speculating.
Guide Combs
There are 3 guide combs that can be attached to the trimming/shaving head and they are 1mm, 3mm, and 5mm. This fit right over the blade and are quite easy to take off and put on.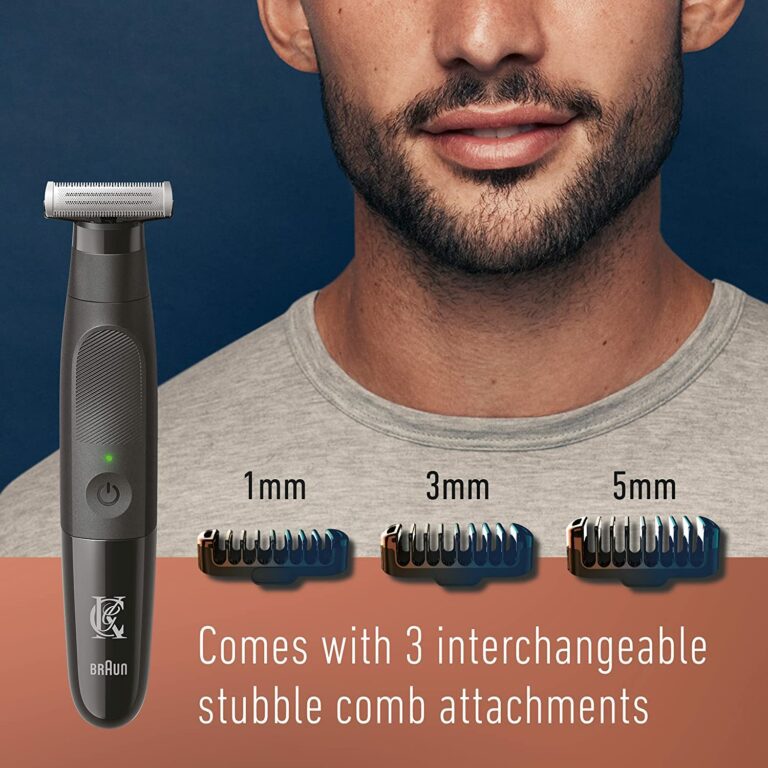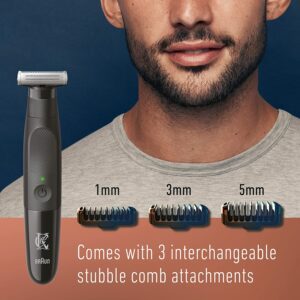 Battery
I had a really hard time finding out what battery is used but found the information on the actual trimmer body. It says Ni-Mh battery. There are definite positives and negatives to this type of battery compared to Li-Ion batteries. On a full charge, you can expect to get a 45-minute run time.
How Well Does It Work? Do I Recommend It?
I immediately wanted to try this on my beard and facial area as I believe this is where most people will want to use this but it can also be used elsewhere on the body as well.
It trims hair decently on my face. The slim blade design and sharp lines really make trimming areas around the mouth and under the nose easy. I did have to occasionally go over areas twice without a guide comb attached to get every hair. The handle design is a great and effective design that makes maneuvering the blade seamless and transparent.
It did grab hair/pull the hair on my neck twice I think this was the foil shaver and not the trimmer blades. Ouch! The stubble length was average when compared to other similar devices I have used as it definitely left stubble length a little longer than my preferred micro teeth similar designed trimmer. Decent but not the best.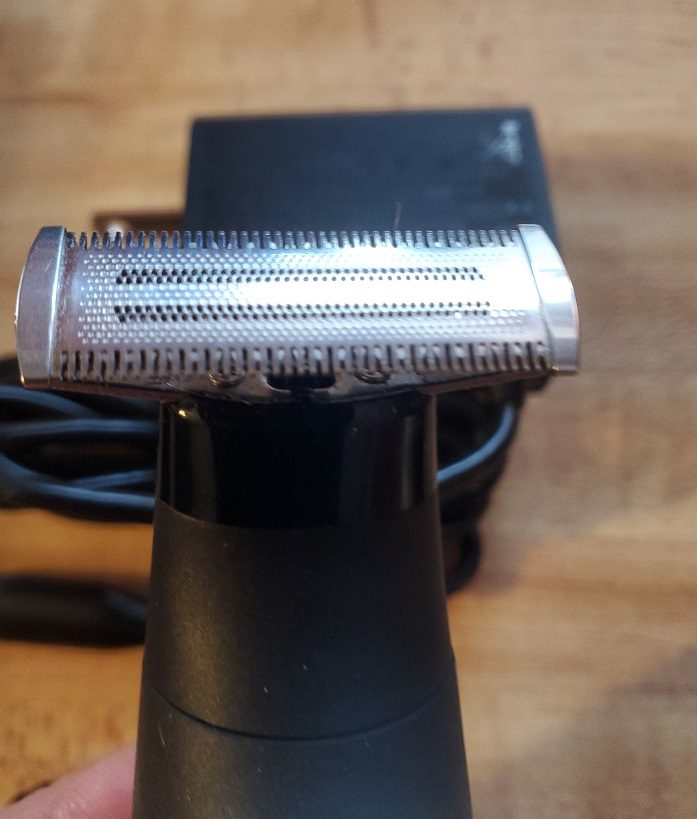 I also used the 1mm guide comb on my so-called beard and I easily got consistent stubble length in a short manner of time.
Back to the foil-type shaver that is located in middle between the two trimming blades I just don't like any foil-type shaver. Never had and probably never will I just don't like the way they make my skin feel after shaving with one. So, I am not a fan of it and would much rather have them (Gillette) leave it out of the product altogether.
If you actually look at it, the foil shaver really has such a small footprint and it seems very impractical.
Pros & Cons
Pros
Gives a decently close trim/shave. Not the closest trim I have experienced with similar devices.
Comes in a very nice box and is neatly packaged.
I like the cord provided as it is a one-piece cord/wall wart. Most of these types of trimmers come with a wall wart and power cord as two pieces.
The instruction booklet is thorough and detailed and easy to read.
I like the slim handle design as it fits very nicely in the hand. I prefer this style of handle for this device.
Texturized rubber on both the back and front of the handle makes for a firm secure grip.
This is waterproof which is great for cleaning the blade.
The noise level when using this product is about normal. Not the quietest and not the loudest.
Easy to replace trimming head with a simple twist and easy to put back on. Nothing complicated about replacing the trimming head.
Comes pretty well all charged up right out of the box and ready to use. Love seeing this as I hate waiting to use anything.
Guide combs are quite easy to attach and unattached.
One speed setting…just on! I always want full power so just give me one setting and you did!
The power button is situated in a good location and is recessed. As I never experienced any accidental powering on or off when using it.
Easy to clean.
I used the 1mm guide comb on my beard and I got consistent stubble length in a short amount of time.
Cons
Not the best trimmer/edger I have used. See below for the best trimmer/edger that I highly recommend.
I have never liked using any type of foil shaver and this is no exception. I would rather have just the trimmer feature and ditch the super small foil shaver altogether.
Super small foil shaver! Is it really worth it?
Trimming around the mouth the trimmer wouldn't always cut the hair overhanging my mouth and I would have to go over the area a couple of times.
It did twice grab/pull the hair on my neck when using it. This I am sure is the foil-type razor's fault. This didn't happen anywhere I used it and it only happened twice but it is worth commenting on.
No trimmer guard was included in my package even though it says that one came with it. These types of trimming heads can be easily damaged if dropped or banged hard against something. It is always recommended to use the guard attachment when not used to avoid damaging the trimming/shaving head but there wasn't any included with this trimmer even though the directions say there is one.
Would like to have some type of storage bag included to put all the pieces together and to keep from losing them.
Instruction shows more parts than you actually get! It shows 4 guide combs, 1 sensitive body comb, 1 body comb, and a protective cap. That leaves me feeling like I lost something or was short-changed. I checked and rechecked the packaging many times to make sure I didn't miss anything.
I wish there was more information written about how to properly use this other than the picture diagrams in the instruction booklet.
My skin was irritated slightly after using this. That damn foil shaver part is what I blame.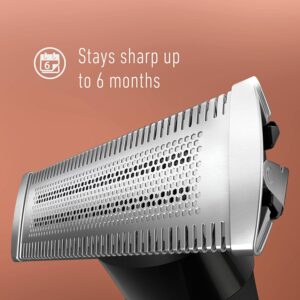 Tips On Using It & FAQs
Read The Directions
There is a right and wrong way to use this device. The instructions clearly show through pictures how to properly use the device. So you should quickly scan them over before using this on your body. Stick with their recommendations to avoid any possible problems.
How Long Does It Take To Fully Charge On A Dead Battery?
It can take up to 10 hours to fully charge from a dead battery.
Can You Trim Your Balls With This?
Yes, you can trim your groin hair but it is recommended in the instruction pamphlet for trimming sensitive areas to use the guide combs attached. I would not use it without a guide comb attached for trimming down there.
What To Do If You Drop Or Damage The Trimming Blade?
These types of trimmers have very fine trimming heads which can be easily damaged. If you drop it or bang it hard on something you should always inspect the teeth and make sure there is no damage. If it is damaged you could end up cutting yourself.
If the teeth are damaged I would recommend ordering a replacement blade as soon as possible. Also refrain from tapping it on the sink to help clear out debris, as this can also alter the micro-teeth on the trimming head.
The trimming head easily comes off by rotating the trimming head counterclockwise and to put it on just twist it clockwise to reattach.
You can order a replacement blade here on Amazon, King C Gillette Style Master Blade Refill.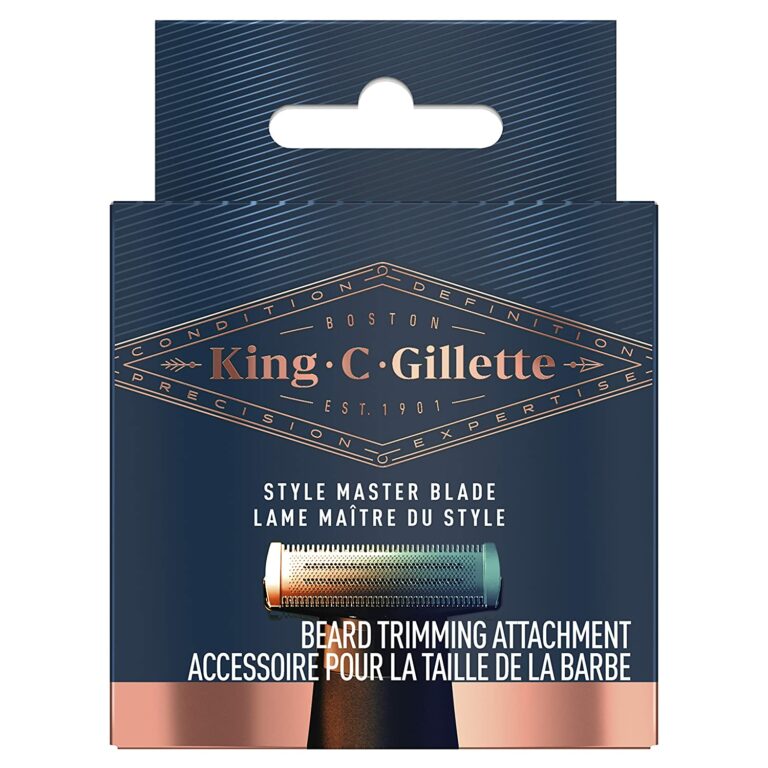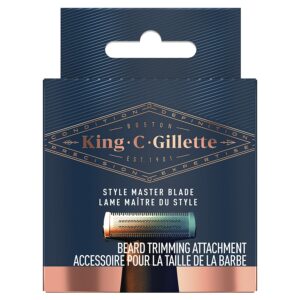 Storage
No storage bag or container is included and this comes with small pieces that can be easily lost.
I would either keep the box for storing all the pieces that come with this trimmer or get a resealable plastic sandwich bag to store all the pieces together. Keeping the box to store your items in seems a little impractical because there is so much empty space and it wouldn't be a good use of space.
I frequently keep grooming equipment like this in Ziplock-like bags which helps to keep all the parts and cords together so I am not searching everywhere for them when I need them.
Other Similar Products Worth Checking Out
I have used and reviewed four similar devices and I definitely have a favorite. Well, what is your favorite?
Hands down it is the Philips OneBlade. You can read why I really love this product here, Philips Norelco OneBlade Face & Body Review. It has a longer running battery life and more importantly it provides a better trimming experience in that it gives a really close trimming/shave length (the best I've seen).
Let me repeat that, the best I've seen. It's just a great all-around grooming product and I highly recommend it. I love this so much because it works so well. I use it every week and it has become a tool I reach for when I need to work on my beard. Such a fantastic grooming tool.
The Final Shave
I wanted to like this product more than I actually did before I used it. I was hopeful as the name suggests a top-of-the-line product. Well, it did perform decently I just wasn't that impressed as I have used a better product before that I would reach for over this one. I hated the foil shaver but that's my opinion on all foil-type shavers.
There are better products but it does its job decently.