Neck hair quickly becomes a mess, at least it does for me. Having a well groomed neckline really is a signed of a put together man, whether coming from the barbershop or having done it yourself. That is where the EdgUp 2.0 Neckline Shaving Template Review comes in to see if it is worthy of buying it or not.
Trimming or shaving your own neck can be a real hit or miss scenario and often times missing more than hitting. This product hopes to up your batting average with having a more presentable apperance.
So batter up and let see if this works…
What Is the EdgUp 2.0 Neckline Shaving Template?
This EdgUp 2.0 is designed for the individual to take care of his neck to give you a solid line in which either/or trim or shave the back of the neck hands free. As this has an elastic band which is adjustable to stabilize the silicone template and allow you to perform a bang up job.
Who Would Need This?
People who let their hair grow out and avoid a barber but still want a good neck hair game.
People who cut their own hair.
People who want to maintain a groomed hairline in-between haircuts from a barber.
People who want to avoid public areas (barbershops & salons) during a pandemic while maintaining good grooming.
Men who shave their backs.
Any self-reliant man.
Men who shave their backs.
What Is Everything That Is Included With This?
1 – EdgUp 2.0 Neckline Shaving Template
1 – Instructions sent on packaging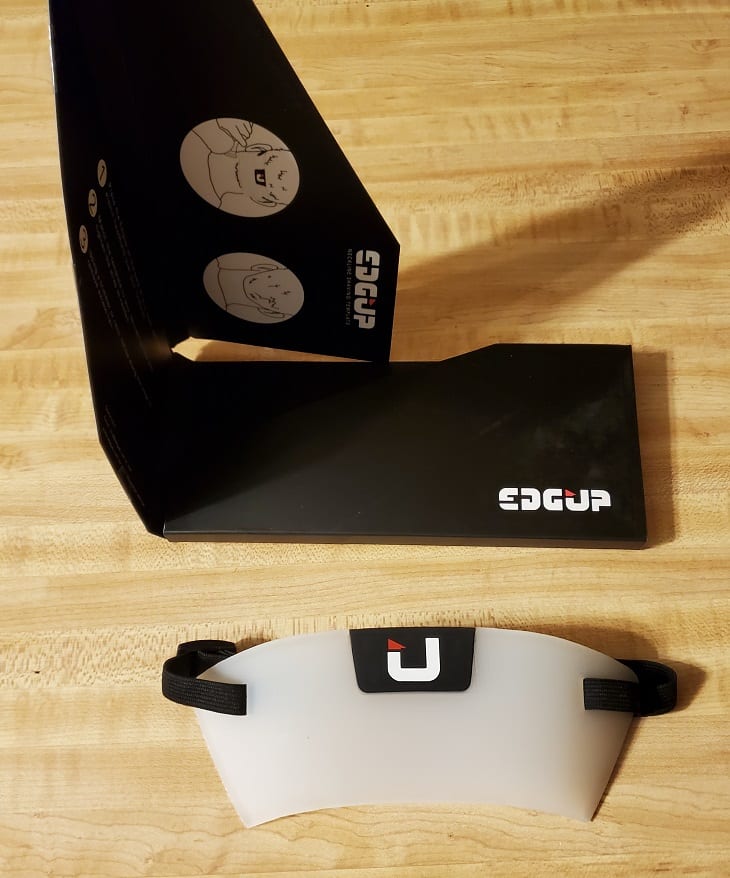 The Brass Tacks – How Well Does This Work?
It works pretty good. It never moved on me when either shaving or using the hair shears. This is a must! I made multiple checks on making sure the EdgUp 2.0 aligned and centered properly on my cranially endowed head. Yeah…I have a big noggin.
This is the third neckline shaving template I have used and reviewed and it did a decent job. I could use the shears and razors right next and tight against the template with no movement or catching. I really like the heavy thick silicone used on the template, as I thought it was going to be some cheap-ass type of stiff plastic. The silicone has a nice bending and contouring to it so it fits around the neck well.
There is one problem with the neckline but I also seen other people complain about this is the lower portion of the neckline guide has two flairs on its end, instead of a flat line. After using it left two tails instead of a straight line, not a real fan of this. I guess you could take a scissors to this and just snip both of the ends to form a nice straight line.
Pros & Cons
Pros
Easy to adjust on your head to get the correct fit.
Thick and flexible. Was surprised by how thick it was.
Skin-safe Grade A Silicone and is latex-free.
This can easily be thrown into a Dopp Kit for travel to help maintain the neckline during long trips or vacations.
Unique origami packaging with instructions printed on it and no plastics.
The EdgUp 2.0 stays in place and never moved on me.
Devices like this empower you to take control of your neck game in between haircuts or for people that cut their own hair.
Doesn't require you to use your hands to hold it when shaving.
Great way to save money by doing it yourself instead of paying a barber or hairstylist.
Cons
Left two tails on both sides of my neck. I believe there is a design flaw as the ends have what seems like tails. This might just be flat when contoured to the neck but I have other neck shavers that are designed straight.
Some people with bigger heads have complained about a tight fit.
Tips On Using It
Take your time and don't rush through this. I would also suggest starting slightly lower on the neck than you want to work out any evenness issues. Have a friend or partner look at it and tell you how you did, to make sure it's straight and looking right.
Always a good idea to prep the area before shaving. Either after a hot/warm shower or just splashing some warm water on your neck a couple seconds before you start tearing into it.
Check the mirror to make sure everything is spaced evenly, use your hands and mirror to check distances on both sides of your ears to make sure the distances are the same on both sides. Check the tops and bottoms of the ears as to where the straps are laying making sure this is sitting on your head evenly.
Other Neck Hair Templates & Neck Shavers I Have Reviewed
Quality Time Neck Hair Guide Supremium Review
LVL Neck Shaver Starter Set Review – This is a great neck shaver and since using it been my go to neck shaver.
The Final Shave
I love products that work and give results. This gave good results but was not really happy about the weird tails on the template. Maybe it just the results I have but others also stated this as well but to be completely fair other say it leaves a straight line on their necks. The jury is still out on my book.